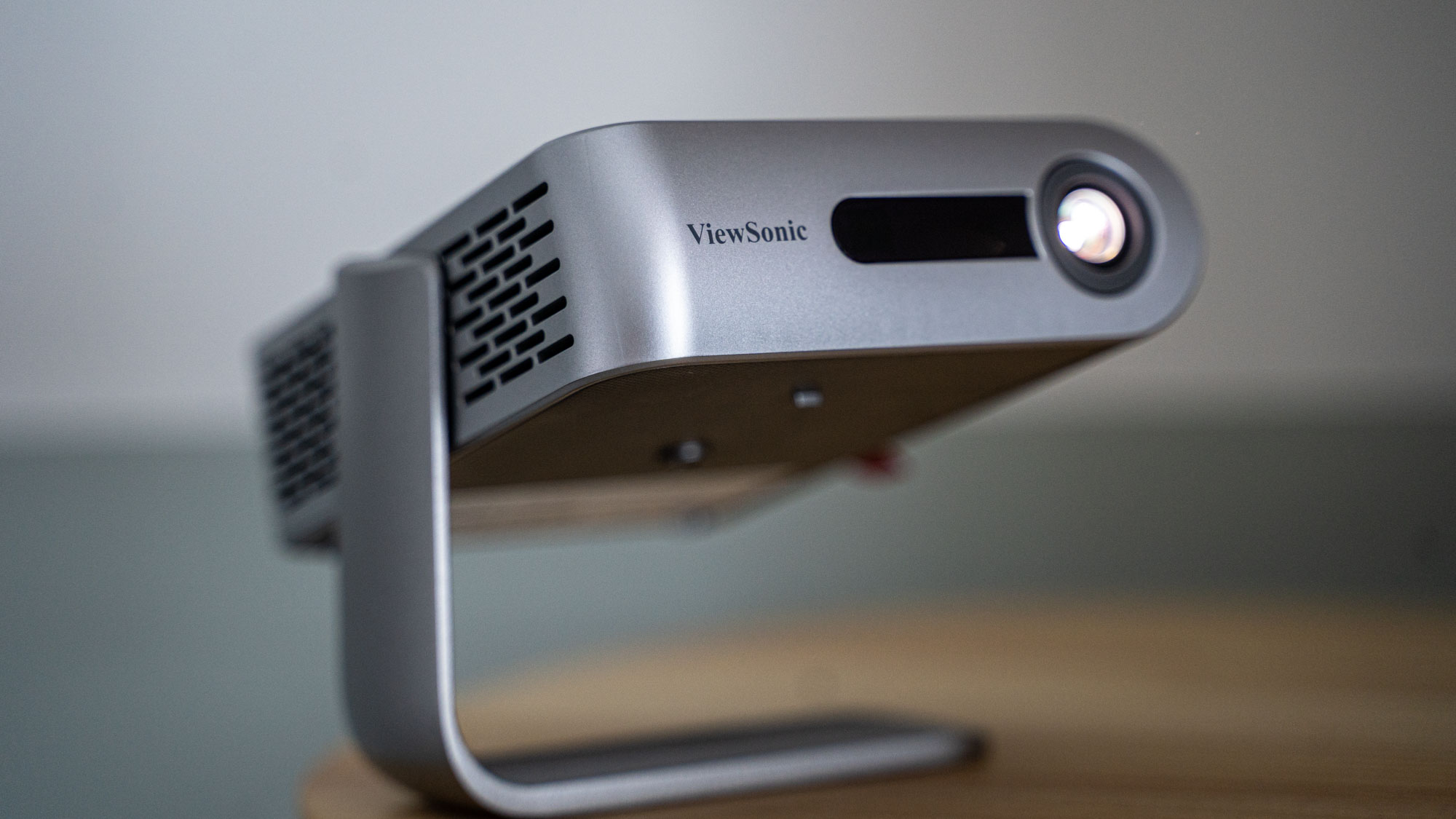 Last week I wrote a post titled - Challenges In Shopping For A Portable Projector, explaining how frustrating online shopping is, more specifically when looking for a decent portable projector. Even after deciding which device to buy, there are still decisions to make where to buy them. I wrote last week how two of my initial orders were cancelled and I was waiting for the third order to be successful. The very next day, I received an email saying that order was cancelled as well. At that point I was ready to give up, but had to try one last time. I did place my fourth order, again on a completely different platform.
For a change, the fourth order didn't get cancelled and the ViewSonic M1+ has arrived today. "Finally! Success!" ~ I yelled out loudly in my mind. I opened box, and inspected that everything was in place and nothing was missing or damaged. The device was fully charged and as soon as flipped the stand, it turned on fast and started projecting the main menu. It literally took seconds. Without any configuration, or plugging into a power or attaching any other wires. Remote worked great. It took a minute to get used to it, but it worked. So far so good.
What comes next is a complete disappointment. The resolution of this portable projector is really bad, picture quality is not good, pixels are easily visible. Not impressed. I thought I have set it up properly. Maybe I could configure some things in the setting and it could improve the picture quality. Anything I tried didn't help at all. Smaller text is not easily readable.
I tried the apps menu. There was something called Aptoide, that was suppose to the a menu for apps and a place to instal apps. It didn't have anything interesting or useful. Maybe I need to update the this software or something. But for now I don't see any use for it.
Next, I had to try the wireless connection, mirroring an iDevice screen, and screen casting. I was easily able to connect to the local wifi. But I couldn't screencast a youtube video played on the iPhone. Then I tried screen mirroring, which worked ok, but the projected screen was too small. Maybe, iPad could do better? This time instead of screen mirroring, I connected the iPad with a USB-C cable. It connected ok, but still the screen mirrored was too small. I tried to play a video and it worked ok too. I still couldn't figure out how to make the video screen bigger. Connecting ipads and iphones works wirelessly and with a wire. However, the problem is the screen projected is smaller.
Next step was to see how image files, videos, and powerpoint presentation would be displayed using a USB flash drive. I found some test files, moved to a flash drive and connected it to the M1+. All files appeared in the USB reader menu, and all of them worked great. Image was displayed as expected. Video played great. And the powerpoint presentation opened without any issues. However, all of them still had lower resolution issues. It is very clear the the picture quality is bad.
One thing that was really good is the built-in Harman Kardon speakers. Speakers are really clear and loud. Volume can easily be controlled by the remote control. What good are good speakers without good picture though.
Another disappointment was that the keystone feature doesn't work as expected. I thought it was supposed to correct the images automatically from any angle. Sometimes it does, sometimes it doesn't. It is definitely not perfect.
I am not impressed by ViewSonic M1+, a portable projector that was received good design award in 2021. I guess the overall design of the device is good. They just forgot the include picture quality in designing the product. I doubt I will be using it much if at all. It may work ok with presentations, if the presentation itself is designed taking the low picture quality of the projector. Maybe. I am not sure. The test powerpoint presentation was okish. I wouldn't use it as replacement for tv or computer screens. I won't be using screen mirroring from an iphone or an ipad either. So, there isn't much I can do with it, for now. And this is why I do not like online shopping for and buying devices without an ability to see and test the features.
One last thing I will need to try is to see if there is a newer software available for it and if this software could change how this projector works. If I see any significant changes I will let you know, otherwise consider it a failed project.
Posted Using LeoFinance Beta