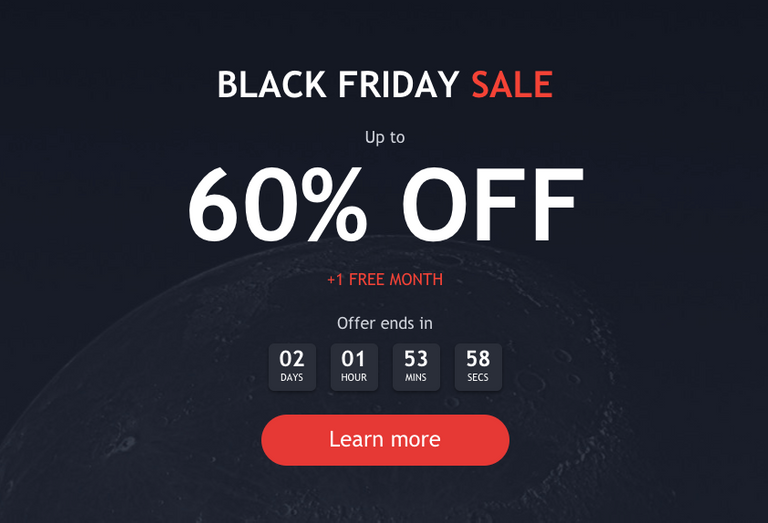 If you are involved in trading stocks or crypto chances are you already know what Tradingview is. If you haven't used Tradingview yet, I do recommend it. Tradingview has not paid for this post, neither have I any benefit praising them. I just found myself using Tradinview on daily basis for last coupe of years and I really like it. While it is more than just a charting platform with real-time data, for me it has been beneficial in studying charts, using various indicators, and writing my own code for indicators using their Pine Script programming language. They also, have social trading ideas sharing features or more. However, I have not used them yet.
While anybody can use Tradingview for free, it has tiered subscription plans that gives users more features. This week Tradingview is offering Black Friday deals of 40%-60% discount deals plus one free month. In fact, I have been waiting for this offer for a year. I saw this offer last year, but didn't take it for various reasons, one of them being they didn't have an option to downgrade a plan at a later time. It seems to me that has changed, and users can downgrade plans in the future if they choose to.
There is two more days left on this discount deal. While I am almost sure I will be taking this deal, I have not decided which subscription plan to take.
If you trade often and like what Tradingview offers, you may want to consider this offer. It may take another year to see such offer. For those who don't use charts, indicators, and scripting customized indicators free plan may be more than enough. Free plans do provide real time price feed for charts. It also includes ability to use up to three indicators on the chart. However, users can only have one chart, one tab open at a time. Free plan also have annoying pop-ups on the screens like ads. Still, for an average stock market or crypto enthusiast who uses charts once in a while or even on daily basis it may be more than enough.
For those who want to use more features, these discounts can be a good deal. Anybody who considers paid plans on Tradinview should evaluate their usage of these services for the next year to make that decision.
If you would like to see what each plan offers, please visit here. Also, these discount offers are based on annual pay instead of monthly. Plan you choose will determine how many indicators you can use per chart, how many charts can be used per chart, number of saved chart layouts, how many price alerts can be set, etc. All paid plans are ad-free. Visit the link above and see if this is something would help you with your trading.
Posted Using LeoFinance Beta