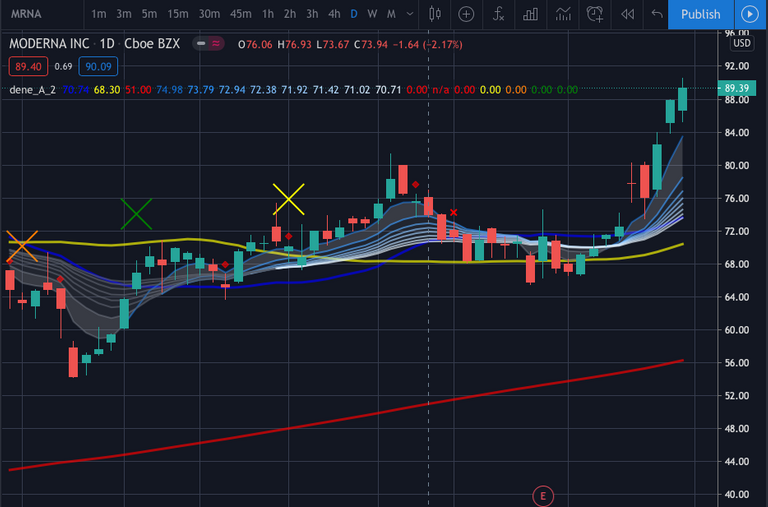 A couple of weeks ago I wrote
Is Moderna $MRNA still a good buy?
when it was priced around $67.50. It was a follow up for even a previous post
Is Moderna $MRNA a good buy at $69?. While didn't go all in, it seemed appealing to participate in the trade just because of the news and rumors around vaccines. The trade after the initial post did end up being profitable. However, the stock price did drop more again. That is when it made me think more to take another small position. Luckily it worked out even better than a previous trade and $MRNA jumped up to as high as $90.
Normally, I do not trade based on news and rumors. But this one seemed interesting because the it seemed and still does seem like a successful vaccine would/will play a significant role in ending the Covid crisis.
So what did make $MRNA price jump up this high? In my opinion, and many say the same, is/was that Pfizer news that their vaccine has proven to be 90% effective in their phase 3 trials. Since $MRNA uses similar technology, I think there is optimism that it will be effective as well and ultimately deliver a successful vaccine. We don't know that for sure. But that seems to be the market sentiment.
I closed my position. I do still believe Moderna stock is overpriced. At this price range I am not going to take a position again. But will keep an eye if it drops back down to $70 range again. There is still plenty of time until we can see a final successful vaccine either from Pfizer or Moderna. I hope they will deliver a successful vaccine and help with ending the Covid crisis. There are still many questions regarding the effectiveness of either vaccine. At this point any trade seems to be risky, while I understand it can be rewarding as well.
I am just glad I was able to participate early on. What do you think? Can Moderna stock price go further up. Or is this top? Keep in mind last time the highest it went was $95.
Posted Using LeoFinance Beta