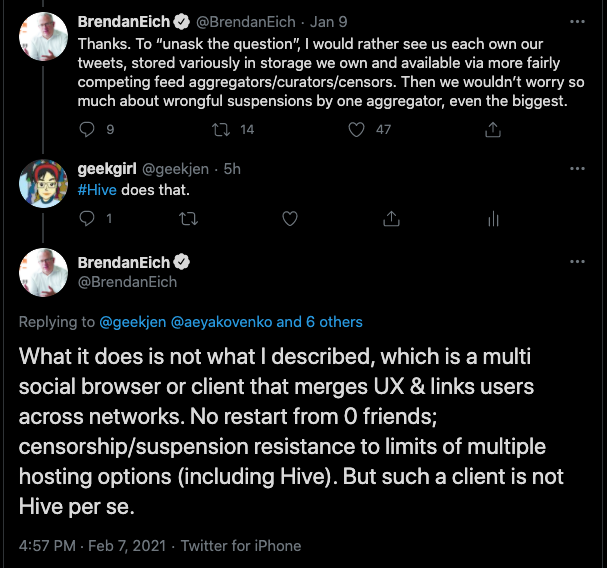 Earlier today, general of Hive campaign efforts on Twitter, @nathanmars alerted me about Brendan Eich showing interest in decentralized solutions for social networking and media. As soon as I saw that, of course I had to let him know Hive is that best for that task. :)
Brendan Eich doesn't need an introductions. He is a creator of JavaScript, CEO of Brave, wizards of the internet, an inspiration for many. I didn't expect a response from him. I shared more detailed response to his recent tweet, just because I like to to spread the word about Hive.
He writes as a response to Nathan:
Check out thread ending near this tweet and the Solana-oriented thread linked from its top tweet. There will never be a blockchain that real users would want to hold posts, likes, etc. Wrong tool for task. But there should be client side multi-social/own-your-posts+likes options.
I left my usual talk about Hive as a response:
"I think I am a real user. I hold my posts, likes, and financial assets in #Hive blockchain just fine. I love the fact only I own my account and access to it. #Hive is great for this but may need privacy features added in the future. If #Brave and #Hive unite web3 will come sooner."
Please read the full thread above and see the interactions by Brendan Eich to Hive users. He offers some interesting insights.
Then as he suggested in his tweet I went to the other thread. Once I read the conversation there, as usual my conclusion was that is what Hive does. And I left a comment saying:
#Hive does that.
I didn't expect him to respond to that. But he did. That was amazing. He writes:
What it does is not what I described, which is a multi social browser or client that merges UX & links users across networks. No restart from 0 friends; censorship/suspension resistance to limits of multiple hosting options (including Hive). But such a client is not Hive per se.
While yes he disregards Hive as a solution, he does acknowledge that he know about Hive and hive can be part of it.
I still do feel he doesn't fully understand Hive. However, I won't even attempt to respond to this genius of the internet. He is the grand wizard of the internet. That's why I am calling all Hive Wizards to share some technical aspects of Hive and how it is a solution for the decentralized web. I hope you don't mind me tagging some of you for this purpose.
@gtg, @blocktrades, @pharesim, @good-karma, @themarkymark, @ausbitbank, @khaleelkazi, @aggroed, @yabapmatt, and everybody else.
Please read the following thread on Twitter and see if you could explain how Hive is or can be the answer.