A few days ago I mentioned I had bought a Trezor wallet to store my crypto-tokens offline. I had previously been under the impression that if they were secured in an online wallet, (I use Exodus), that they were safe but apparently not. So...I bought the Trezor...And it sat unopened on my desk for a few weeks. I felt some trepidation in respect of getting it set up and my crypto-millions transferred to it and as I wasn't in the right frame of mind decided, somewhat prudently, to leave it until I was feeling better.
That day was yesterday; Friday is a feel-goodish sort of day for me...Not as good as Saturday or Sunday, but way better than the other days of the week at least. So, what better day to tackle this little job?
It's really quite simple I guess. One just goes to trezor.io/start and plugs the unit into the computer by the supplied USB cable and it automatically begins the process offering steps along the way, double checking and reconfirming. Pretty fool-proof...Only...I was stumped at the first instant.
No stress though, I simply had to download Trezor Bridge as it didn't recognise my unit when I plugged it in. That done and the process was smooth sailing the rest of the way.
The Trezor isn't self-powered so draws power via the USB cable. When it first started up I was asked to update the firmware which wen't smoothly. From there it was on to the 24-word seed code thingamyjig which also went smoothly. They provide two small cards to write the seed-words down and they make you step through it twice using a button on the Trezor unit itself to advance to each subsequent word as one writes them down. Legit simple.
Next is the PIN which is done by inputting the numbers on a 9-number keypad on the Trezor wallet interface on the computer. With the Trezor connected one needs to look at the small screen for the 9 numbers and input a random password into the computer. Again, this needs to be done twice.
The cool thing is that moving forward, each time the Trezor is plugged in, it will ask for the PIN but the numbers on the Trezor unit randomise so the positions pressed on the computer are always different. (They are not numbers on that computer keypad, just dots). It's just an additional security feature I guess.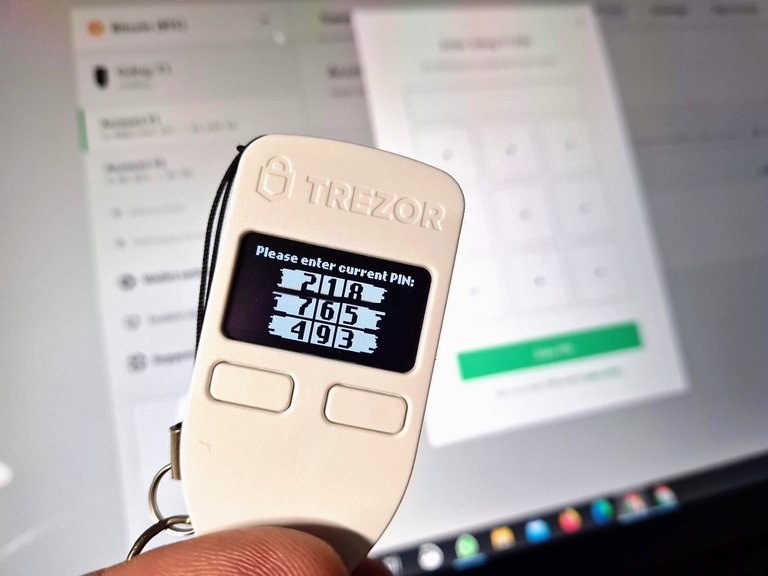 This image shows the Trezor PIN screen. The positions of the numbers are randomised each time it asks for a PIN and the operator presses the corresponding number on the computer to input the PIN. Obviously the Trezor needs to be plugged into the computer (My PIN is 298162 in case you're wondering)
From there is was another firmware upgrade and I was in business.
They are really careful with each step giving the operator time to double check which is good...Especially for clueless blokes like me.
So, the Trezor was set up and I had an online wallet...Now to move my crypto-billions to it and have them all nice and snuggly and safe offline.
As I said above, I use the Exodus wallet; I headed over there, did a small transfer of 0.01BTC and abracadabra it arrived in my Trezor wallet...Just like magic. Perfect.
One thing I noticed was that Exodus support Trezor; They have a partnership deal so I was able to sync my Trezor to Exodus which means both wallets appear on the Exodus interface. Easy! This makes it very seamless when moving funds from one to the other although it works just as well the traditional way....I did the transfer and the funds arrived. Yay, the G-dog is all over this!
The great thing about the Trezor is that even if I was to lose it my holdings are safe, and recoverable, using the 24-word seed - That's why it's so important it is kept safe! Lose the trezor and all I have to do is buy another one and recover my crypto-trillions with my seed-thing.
It was kind of funny when I was writing it out on the supplied cards actually...All this technology and digital security...But the seed is written with a pen on a small paper card. Just seemed amusing to me.
I plan to engrave my seed-key thingy onto a small piece of metal in the next week or so which I think will give me a little more security over a simple card. There's a place nearby that sells little coloured pieces of it for engraving pets ownership tags and they have a small piece that will perfectly take the 24-word seed, about the size of a credit card. It's aluminium so won't rust and once inside one of my fireproof safes will be about as safe as it can get. It is also very lightweight in the advent of me having to travel with it.
I know there are other devices that do the same thing and I've been told they are also very good, if maybe a little more complicated. I haven't used them but now I've got the Trezor up and running I have to say that it was quite easy and not as daunting as I had thought it would be.
I'm pretty happy with myself for getting it sorted...And I didn't fuck up once! Come on...Admit it, some of you were hoping I would right? 😂
---
Design and create your ideal life, don't live it by default - Tomorrow isn't promised.
Be well
Discord: galenkp#9209