GPTs (generative pre-trained transformers) were introduced by OpenAI in 2018, interestingly based on an architecture invented by Google in 2017. Why is it interesting? Because now Google is playing catchup, with their GPT application Bard giving the wrong answer in a short ad, while OpenAI's Microsoft-backed ChatGPT is on everyone's lips.
Artificial Intelligence in Science Fiction Movies
As we know, science fiction has often prompted scientific discoveries, even if they come decades later and in a different form. Let's think about the first communication devices from Star Trek (the late 60s) and the flip phones from nowadays, for example, which resemble them greatly.
Artificial intelligence has been a regular presence in fiction, whether from an utopian or dystopian perspective.
The first roles we gave artificial intelligence, at least in movies, were utopian. If we think about R2-D2 from Star Wars or Data from Star Trek - Next Generation, they were both helping humans. Well, in the case of Data, things are a bit more complicated, because it had an evil twin (or rather one with emotions, which Data didn't have). So, we can already see the possibility of a battle between the two facets AI can take.
I'm not sure if it's the first with this perspective on AI, but Terminator is definitely representative for its dystopian view on artificial intelligence, which sees humans as the enemy and decides to kill them all.
Our Fascination with Machines to Help Us Is Not New
But fiction aside, we have always been fascinated by creating machines to help us. One discovery that continues to have a mark in computer science is the Turing machine, which was invented in 1936. As simple as that machine is, it is capable of implementing any computer algorithm from today. That is why, when we talk about programming languages from present, their Turing completeness sometimes comes up, meaning their capability to simulate a Turing machine (practically, to run any type of program).
Artificial intelligence and its study has been with us for a long time. At the turn of the millennium I studied both "Artificial Intelligence" and "Neural Networks" at the university. They've come a very long way since then though, like most things in the technology field.
ChatGPT and Its Growing Impact
ChatGPT (and other AIs specialized in certain domains like creating images) are talked about so passionately these days, because they are different. They resemble us in a way, they talk like us or draw like us.
There wasn't as much fuss when we talked with chat bots for support on various websites. But those were very limited and you could see the difference from a human.
With ChatGPT, it isn't that easy, because the text it produces can be mistaken with what a human creates, sometimes. An emotionless, neutral text, but still very well written.
And let's keep it like that, shall we? An AI with emotions bring to my mind the evil Data from Star Trek, to go back to our science fiction prelude.
ChatGPT also doesn't do fact-checking on the information provided, and there are at least a few high-profile cases when it included information based on nonexistent sources, which doesn't paint it in a good light.
At the same time, many people have started to think about how to integrate it into their work. This is becoming a slippery slope, particularly because it is doing such a good job in some cases to ease up the work load humans have.
AI and Its Threat on People's Jobs
While I know AI will be all around us and we'd better get used to coexist, especially in the digital space, but in the physical space too, this transition will probably be harsh for many.
When I think about it, this image comes to my mind. I saw a documentary once with truck drivers who help train AIs mounted on their trucks, while doing transports on an interstate in the US. They practically train their replacements and they know it, but they need these temporary jobs.
Some things take time though. Auto-pilot exists for a long time for airplanes. It probably became smarter over time, but human pilots are still required. Even more, as far as we know, even sophisticated drones need human pilots, although there aren't human lives on-board.
Specialized AIs, while they can and probably will replace various categories of jobs, would also be more productive or better at those jobs and, at the same time, less likely to create a dystopian reality than an AGI (Artificial General Intelligence - an AI more intelligent than human in all domains that matter).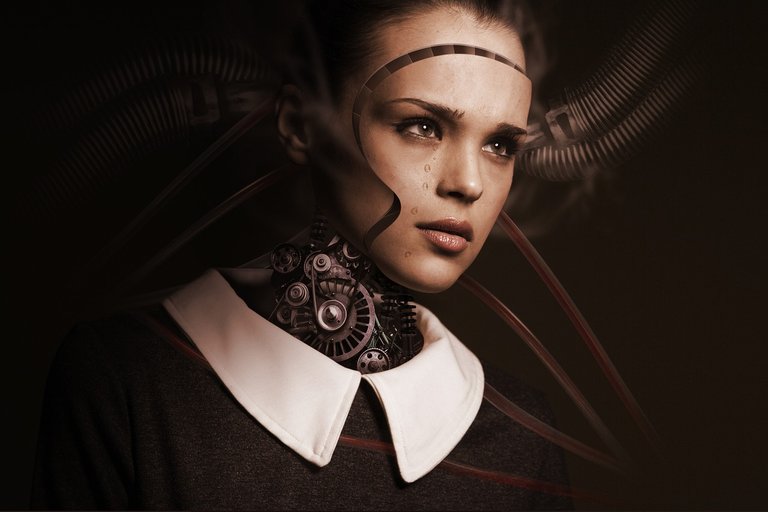 Source
Examples of Domains Where AI Is Likely to Have an Impact
Logistics is something AI would do better. Imagine a warehouse full of robots controlled by a logistics AI. Humans are incapable of the level of optimization and cooperation these machines would make possible. Not to mention they don't need to rest.
This probably already exists to some degree, but traffic control in large and crowded cities is another thing where AI can be useful. We already have GPS telling us the best route to a destination. What if a traffic AI would direct traffic in a way to avoid traffic jams (as much as possible)?
ChatGPT showed us coding bots are very close. But every task requiring to process text, images and even video will soon be on the radar of AIs. Some people started using ChatGPT instead of a classical search engine, and many see it as the future of search engines. Hmm, good bye SEO and therefore, SEO experts?
AI seems to have a future in the medical field. Whether we are talking diagnosis, recommending treatment or even performing surgeries, AI seems to be discussed everywhere.
Conclusion
As someone who tangentially crossed path with the AI field, I am both amazed and, to some degree, fearful about the rapid developments in the field recently, but most importantly, the different directions these developments can continue on. Frankly, I hope AGI will not be achieved during my lifetime. I'd hate to witness how the world would change after that, and what will be the fate of mankind, once we are no longer the smartest animal on the planet.
Posted Using LeoFinance Alpha