Crypto exchange Altilly is informing their users they noticed suspicious activities on their servers this week. The servers performed suspicious reboots and system user accounts were created on the servers.
They assume the servers got hacked.
Today they placed an update on their website that their offsite storage account was also compromised and all backup files were removed.
The message on the altilly.com: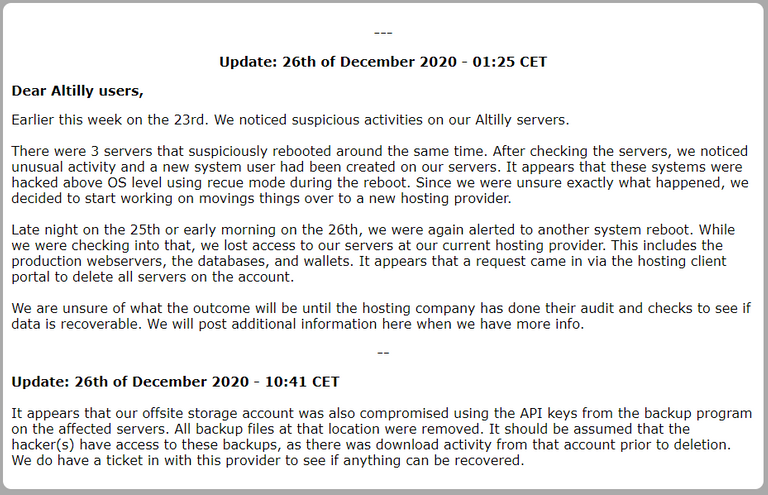 This looks like a advanced and planned attack. The hackers seem te be well prepared since they also removed the backups. I'm afraid for the content of the wallets if they ever manage to restore their servers at all.
This is not the first crypto exchange that fell victim of hackers. Some of the big ones lost millions of crypto in hacks in the past two years.
Uniswap - April 18, 2020 - $300,000 and $1.1 million in imBTC tokens
Binance - May 7, 2019 - 7000 BTC
Bithumb - March 29, 2019 – 3 million EOS and 20 million XRP
But the list is much longer:
https://blog.idex.io/all-posts/a-complete-list-of-cryptocurrency-exchange-hacks-updated
These messages always make me scared. I don't have a lot of crypto coins at any exchange at the moment, but I certainly wouldn't trust having large amounts at any crypto exchange at the moment.
You should be aware that all exchanges can get hacked. If you have large amounts of crypto coins at any exchange I would advise you to move some to an offline wallet since you are the one on control of the security then.
Image source:
https://pixabay.com/nl/vectors/hacker-computer-programmering-5471975/


You can get free crypto in the Coinbase learn to earn program!
Free Stellar Lumens : ($8 up to $48)
Free Compound : ($9 up to $59)
Free Band : ($3 up to $43)
But also $6 Filecoin, $6 Celo and $6 Maker
No Coinbase account yet? Create one!




My Cryptobrewmaster beginners guide
Posted Using LeoFinance Beta