I have been running a demo node for experimental reasons that I will share with the public.
My Storage Node Stats ✔️
The following images have been taken on the 30th of August and may not reflect the end of the month picture.
This will probably be the last post I do about this experiment.
My personal life might be about to chance soon, and I need to reduce the time as much as possible on things like this (hobbies). It's just not possible to me. It was a very enthusiastic season to write about at least and on the pro of all the reasons for doing it, I did it exclusively to share the experience. And I am so proud about it. Learned a LOT too.
After this I might or not jump into a production line of all the experience I have acquired. It might later on, result in another post, but effectively immediately this series is done. 😅

This month, I have been a bit away of all this, but we went from last post version 1.9.5 to the current 1.10.1. I didn't notice much "behavior" differences, with exception of the uploads being a bit more "active", which is all around a great sign.
July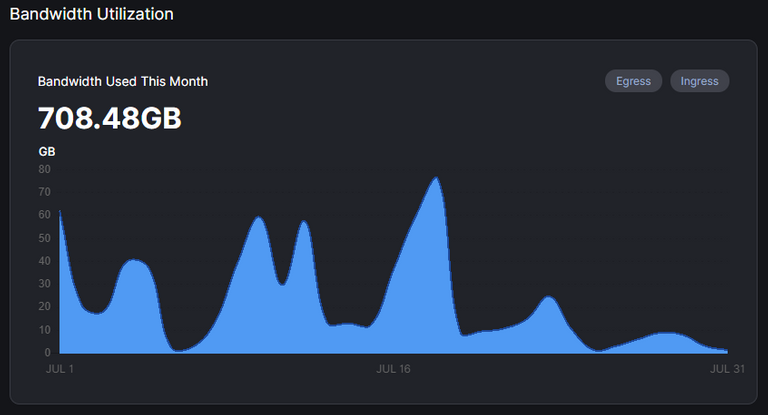 August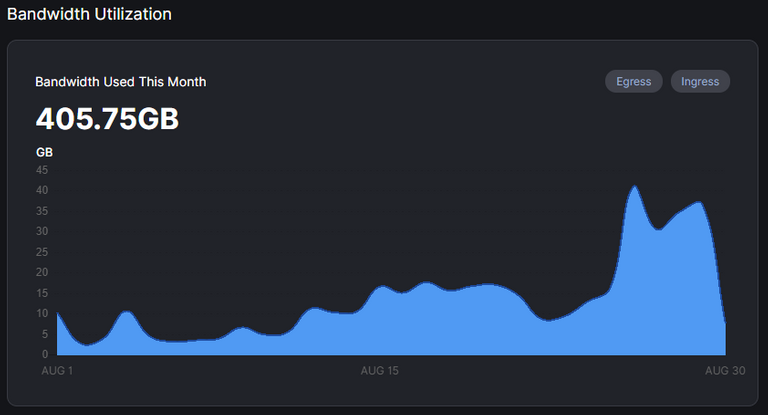 This month I did a big change, that I will describe further bellow. But in terms of bandwidth this proves that when your node is full, the downloads go almost to null (as you will see ahead). Leaving most of the traffic to uploads.
Last month it was great to see that I did for the first time break the costs and started to be productive. Even if the real transferred amount is not sufficient (because of the held component), I find important to estimate how things would be in case I would not fail servicing the network.
This month: more than $5.69🤑 (against ~$4.68 from last month)
July


August


I am super happy this is becoming more attractive as an opportunity to run a business. I really have to think about it. You will understand further ahead with this month changes.
Last month I said something here about the held amount that was not true. The held amount never get's to zero. In fact, it's always there, to protect the network. It's assumed you will always get it if you don't leave the network.
The earned amount is the real component that is transferred to my account in STORJ tokens worth. In resume the July earnings are split into two components in August, some held and the remaining already paid off.
Uploads
July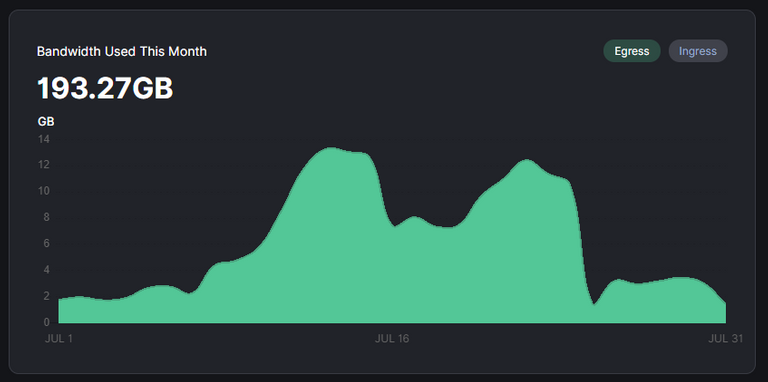 August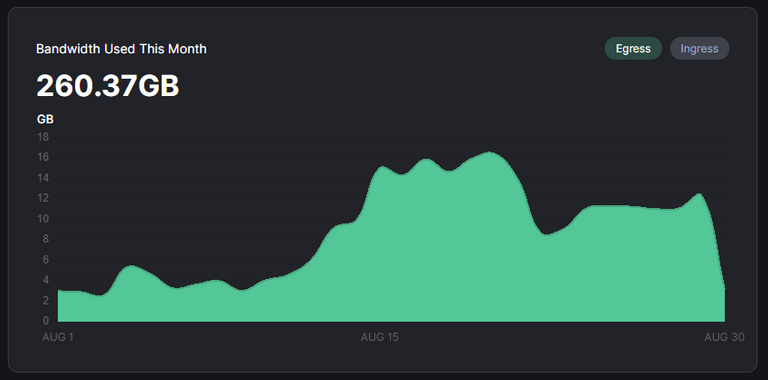 This month was not the super double evolution thing but did still increase to my surprise. More users? Better stability? Maybe a mix of the two.
In any case, still way under the capacity I have. So, this next month, I am looking for further positiveness into the incrase of capacity!
Disk Space
July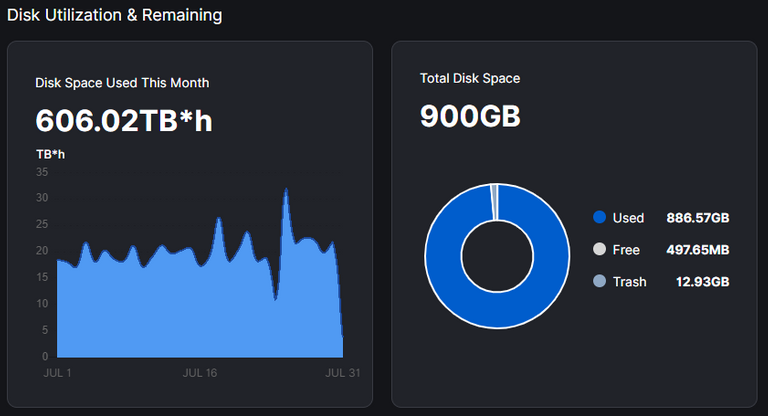 August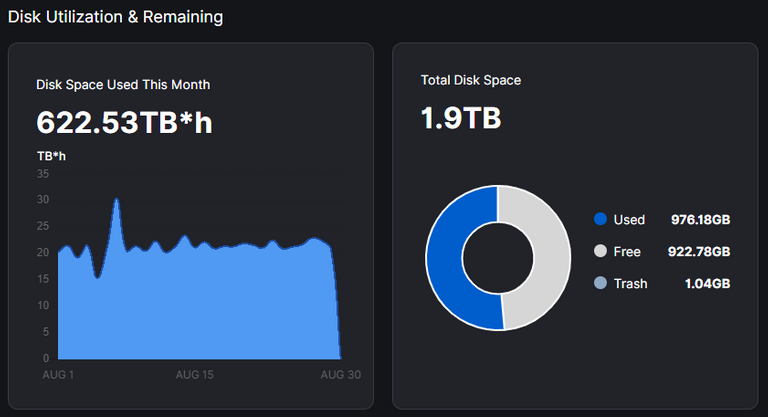 That's right, this month I moved from the 1TB disk to the 2TB disk. The experience was rather interesting.
First, be sure to remember that most of the data is mostly about very small files, so, this will take some time.
Although I have found a quicker path, in order to keep up-time and still be able to migrate with no worries. If you are on Linux, just use rsync (easy peachy), on Windows you basically need sorts of a replication tool, that can "mirror" the files to another disk while you are still running the node. Then, after the first pass, you would do a second one, until you are fast enough in time to stop the server, do a final sync and migrate effectively to the new disk on a few seconds (or the shortest possible).
In this process you will need to either have an already ready configuration for the takeover or change your existing one when you are ready to swap disks. Because I did it on Windows, I just had to swap the disk letters on the yaml file so those reflect the secondary disk (2TB) exactly as the previous one was.
With a 2TB disk is where I consider the minimum barrier spot to become break even in terms of costs without worrying about the uploads. Above that capacity, you can have profit just for storing data. But the ROI of the disks expenses might take a while to recover.
My rule of thumb is, start cheap... and grow as your node has more demand for capacity. But of course, think about the expandability of the server as soon as possible.
Downloads
July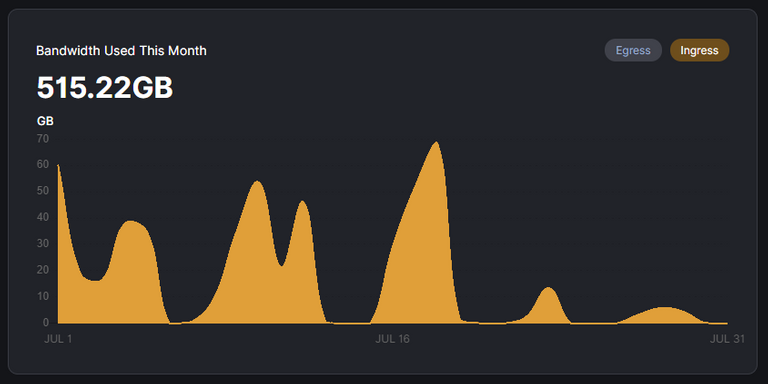 August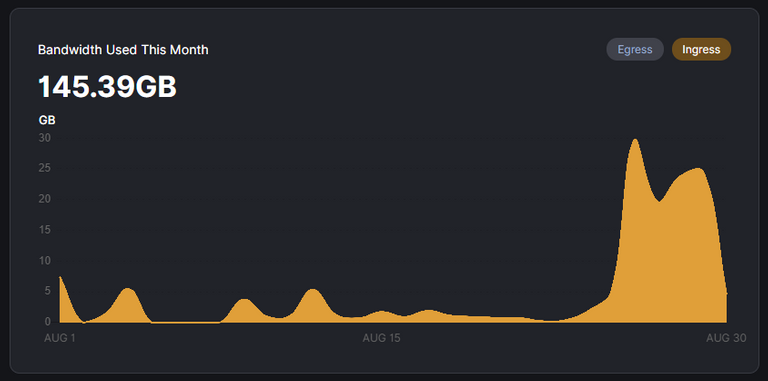 Downloads are down and that is just normal... as the user base increases the amount of data deleted, diminishes, statistically.
This month, I have increased the capacity so you can guess how it's going to be next month. Surprisingly enough I am already seeing lots of repair traffic. This means that there is still a lot of unstable nodes on the network.
Latest updates
I have done no homework again, but everything seems very "stable" and fluid as before. Therefore I guess it must be great work.
Again, the versions and the update details are available at the GitHub repo. The latest version (at the time of this post) is v1.11.1
How much DID I GOT 🤑 paid?
I need to wait a few days for the payment to get in as usual, but I will let you know (by updating this post) as soon as it kicks in and I am able to share it. Last month payment was: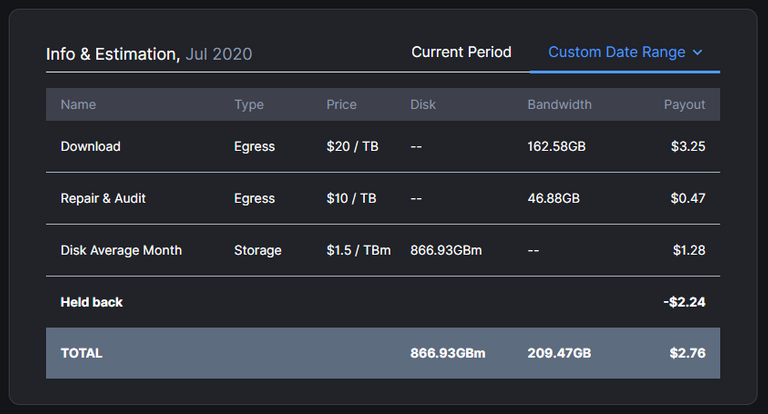 August Payment (UPDATE PENDING)
I will edit this section once I have received payment. Let's see if it matches the newly prediction section of the payout:
Predicted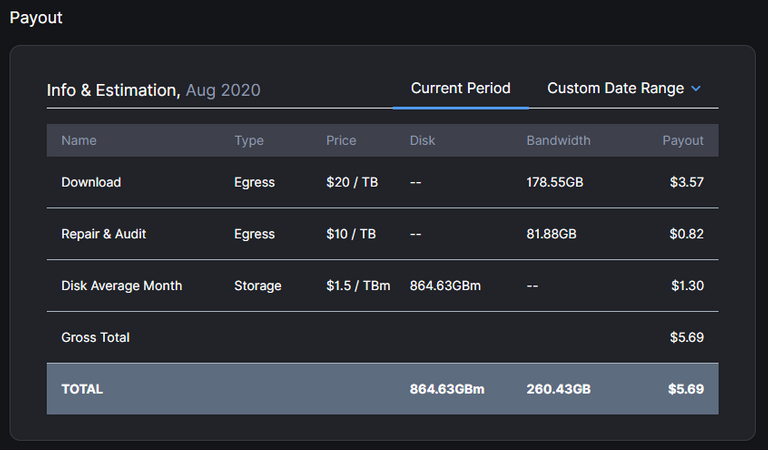 Previous months held amounts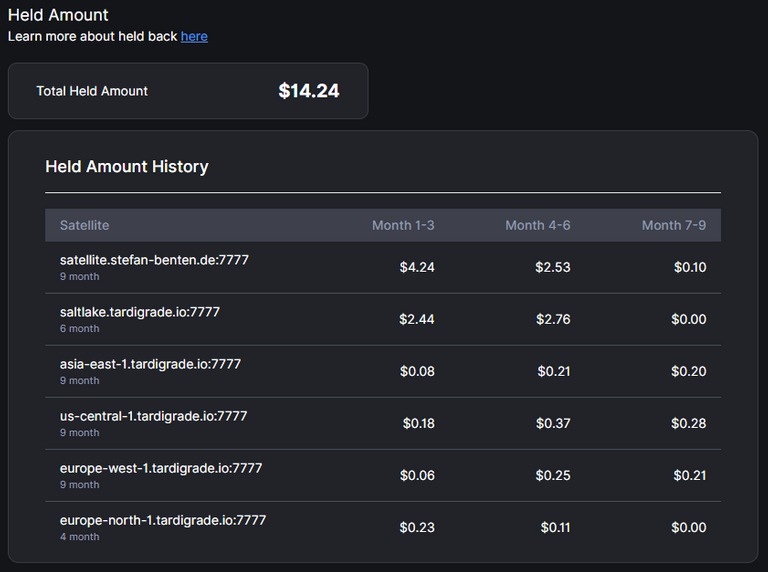 Real Payout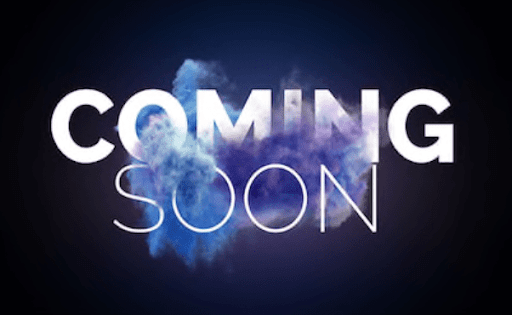 Previous Posts
For convenience... here is some retrospective:
Let's see next month... ⏳
This was the BEST month so far, and to prove the effort, the first profitable month! If you have questions, check out the Forum or the Blog section. Both have been quite useful to me. If you are looking for documentation on how to set up a node, then check the documentation page.
Do you find this information helpful?
I do spend some time preparing these posts, always trying to be as transparent as I can. If you feel like supporting me, please "buy me a coffee" via Ko-fi Platform. I will make sure to mention my appreciation on one of my next posts (whatever social network you are at) and use the entire donations to purchase HIVE.

Disclaimer: If you don't like to see this kind of posts, please let me know so I can understand if the effort is worth it. I don't intend to massacre the network with them and my sole intention is to provide additional and personal feedback of my own evaluations/reviews.
---
Check these Cryptocurrency 💳Cards