Hi All, love me some good data and stumbled onto some. However just like any data I may have got something wrong so if I have please reach out and correct me. Below I have collected the LEO tribe earning data for the last week.
Also, I am going to keep this first one light because I really want some feedback from all of you. Please let me know what you like, what is boring and what else you might like to see. For those who want to get straight to the good stuff skip down a little bit and we get to the hard data.
---
However when I ran this for POB the feedback was it can be a little dry, so with that in mind before we get into the data let's welcome to the LEO Earning Awards!
Now a bit like the Dundies in The Office these awards are meant as a bit of fun and mean nothing, however, I will be handing out some prizes! Also if you have any other suggestions for awards please let me know, you might even win a prize. Now I am going to tag the winners, I don't really know equities for LEO yet so if it's poor form let me know.
---
Consitantor award
Ok the first award is the Consitantor award for most consistent earnings across the week. This Lion not only managed to earn every day of the week, the only varied by 4.41% (I had to remove wleo.pool for being to consistent)! Congratulations @pervitin you won 0.419 LEO, 10% of your average earnings!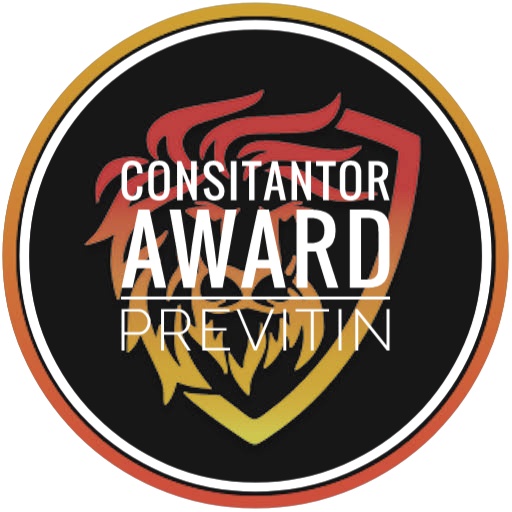 !)
---
Roar from Nowhere Award
Ok the second award is the Roar from Nowhere award for someone who earned every day but had the biggest swing in earnings! This Lion not only managed to earn every day of the week, they varied by 165. Fold , managing to jump from a low of 0.01 up to 4.84! Congratulations @alnash
you won 0.70 LEO, the median of your weekly earnings!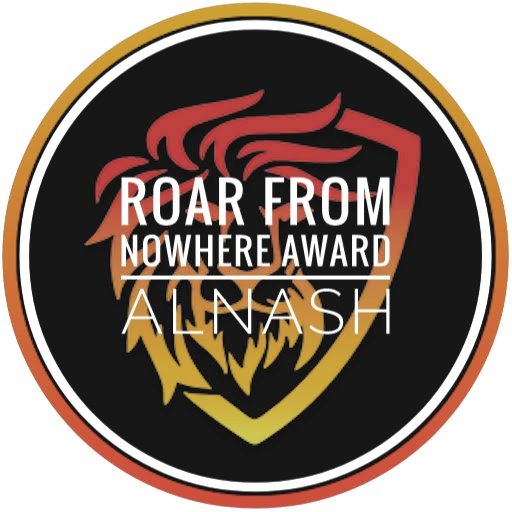 Absent Lion Award
Ok the third award is a bit awkward, the Absent Lion award for someone who earned only on one day but earned nothing for the rest of the week, with the winner decided by the highest earner! This Lion managed to earn 19.092 LEO ! Congratulations @penderis you won 0.05 LEO, that your daily earning for the whole year assuming you never post again!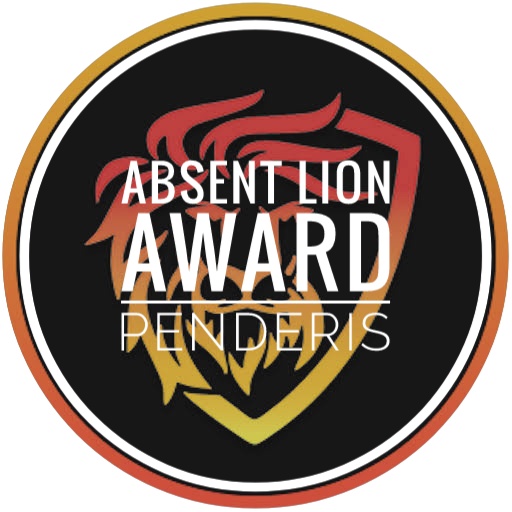 Average Cub Award
Ok the fourth award needs no introduction, but I will anyway, the Average Cub award for being middle of the earning pack for the week! This Cub managed to earn a perfectly average 6.336
LEO! Congratulations @driedfruit
you won 0.5 LEO, because the number felt right!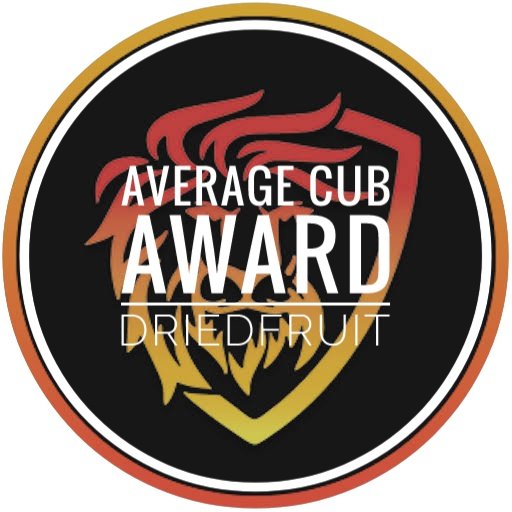 Thirsty Lion Award
Ok the last award I debated about and please don't take it as a slight, we all love collecting a little dust (looking at you palnet). This award does to the dustiest Lion who earnt every day but also earnt the least. This Lion managed to earn a perfectly low 0.016 LEO ! Congratulations @amigareaction
you won 0.16 LEO, your earning have increased 10 fold!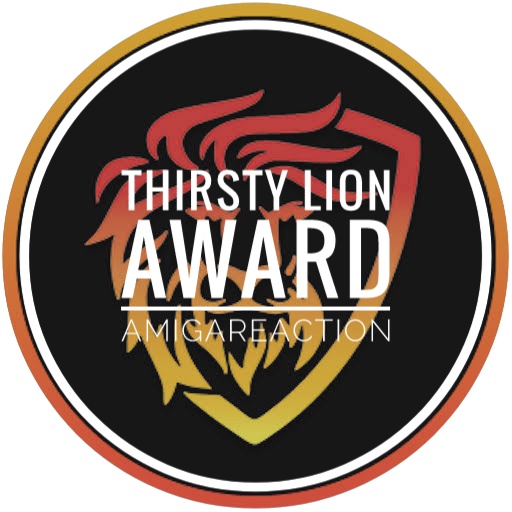 Ok hope you all enjoyed these awards in the fun spirit they are meant to be enjoyed in! LEO will be sent out to the "winners" shortly!
---
Ok on to the data! Now I only play around with Leo I don't post that often so its had to have a gut feel for good data. Please let me know If I have got something wrong.
Now originally I had a dream to graph everyone's name which would have been really fun but as you can see below it gets crowded! So unfortunately I have had to concentrate on the top 20 and 30s so the data can be seen cleanly and visually.
However, In the interest of following my own Karama model, I have dumped the full data set at the bottom of this blog so you can:
a) Look up yourself
b) Maybe do something better than I have with it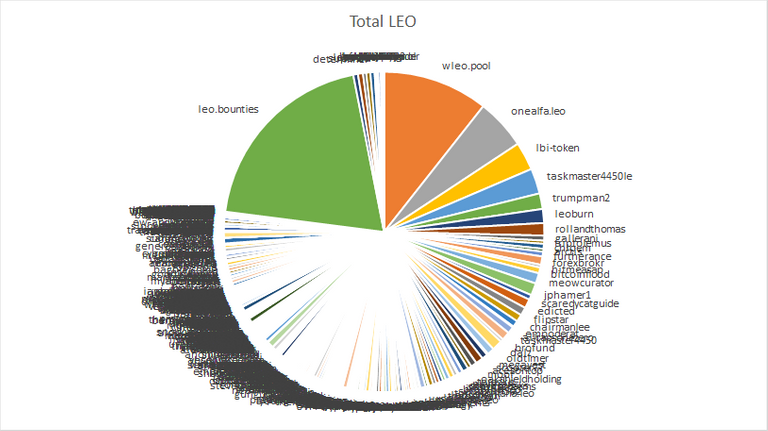 Top LEO Daily Earning over the Week
Ok let's look at the earnings over the week for the top 20. I'll go into more details in later blogs but I think some top big well-known names pop out but also some names that a new to me at least. I also head to remove Leo.bounties & wleo.pool for being to big name messing up my data.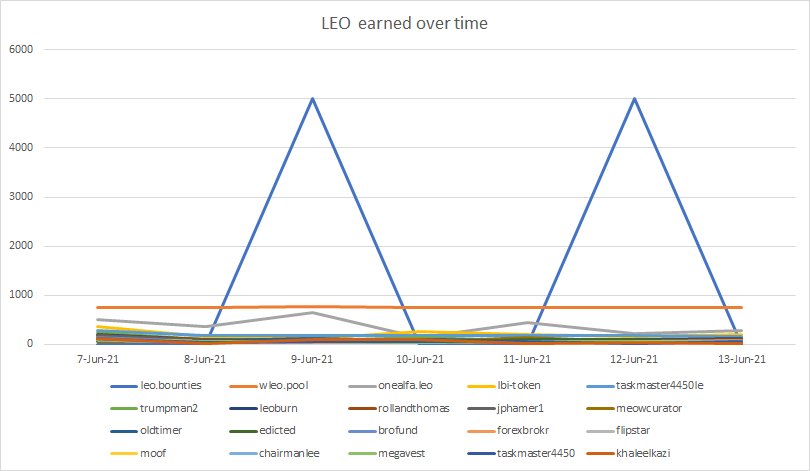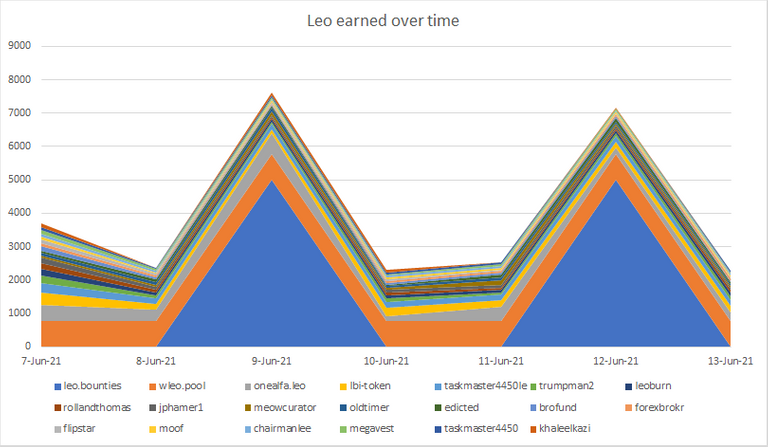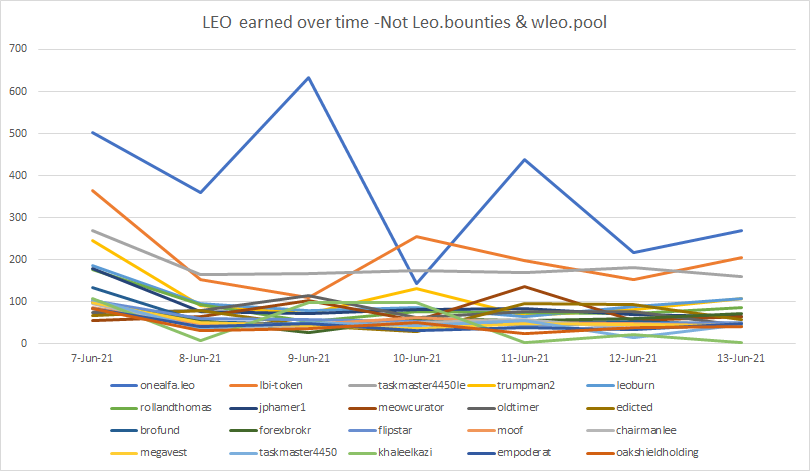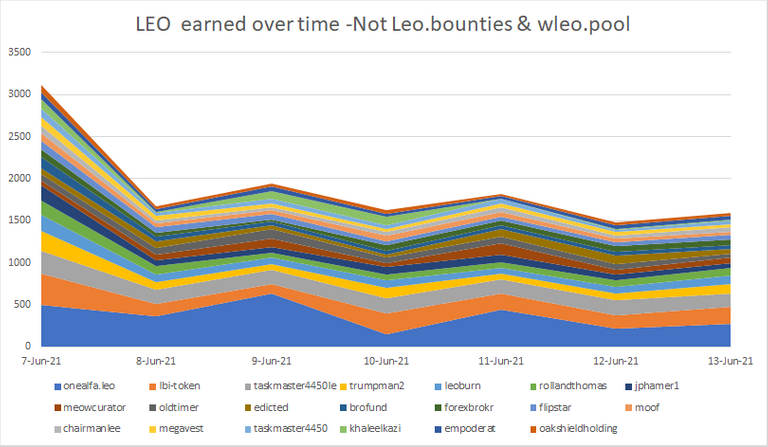 Top Leo Earning for the Week
Ok and as hinted at by the last graph here are the top earners for the week. Again some big well-known names jump out but also some people I was not aware of.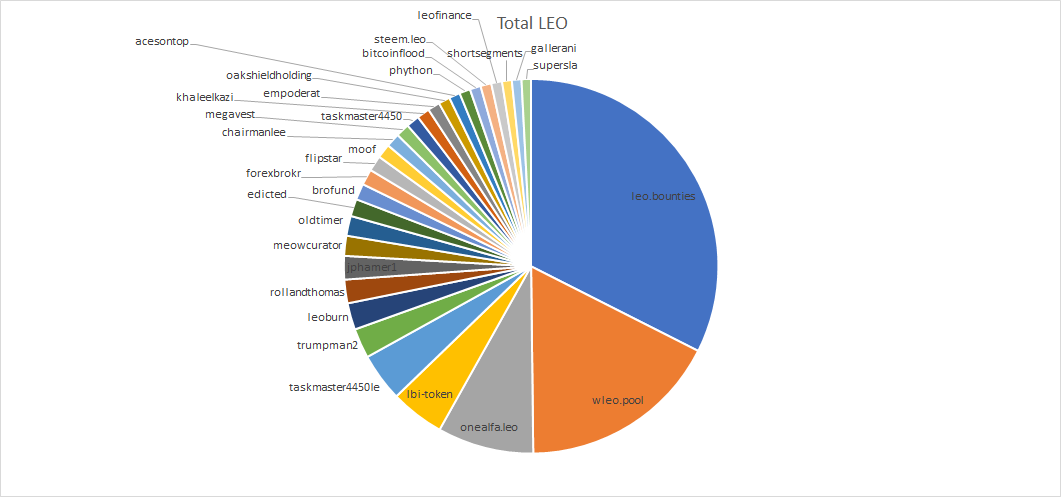 Unique Users Earning for the Week
Next up how many unique users are getting paid, I would have thought of more but what do I know :)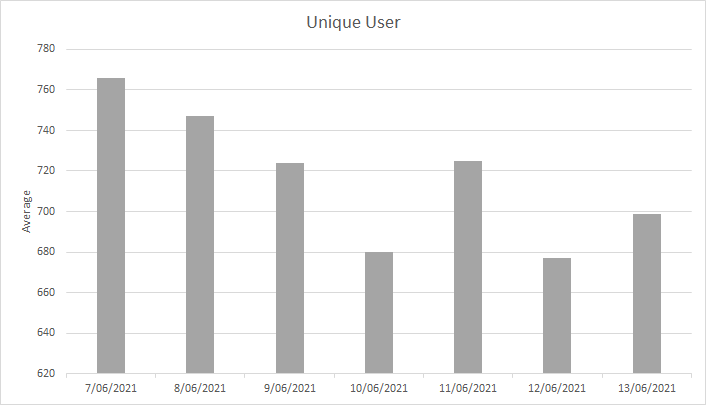 LEO Paid for the Week
And Leo paid out :)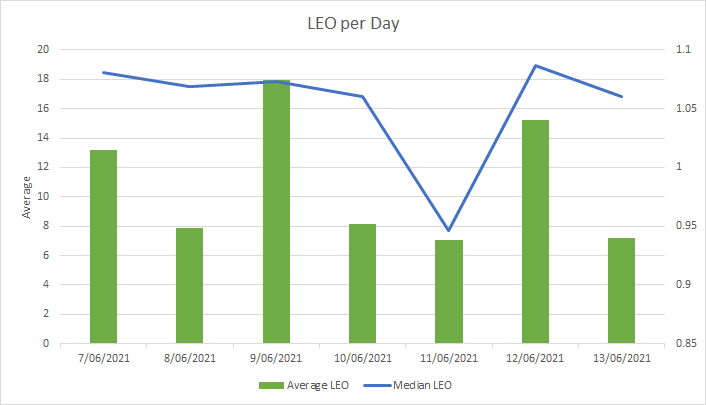 And as promised here is the master list!
| Names | 13-Jun-21 | 12-Jun-21 | 11-Jun-21 | 10-Jun-21 | 9-Jun-21 | 8-Jun-21 | 7-Jun-21 | Total |
| --- | --- | --- | --- | --- | --- | --- | --- | --- |
| wleo.pool | 763.2 | 216.442 | 763.2 | 763.2 | 765.85 | 763.2 | 763.2 | 5345.05 |
| onealfa.leo | 270.068 | 151.858 | 437.218 | 142.227 | 634.15 | 359.343 | 502.599 | 2562.047 |
| lbi-token | 203.914 | 179.983 | 197.564 | 255.404 | 109.47 | 152.145 | 363.284 | 1433.639 |
| taskmaster4450le | 160.256 | 80.733 | 169.816 | 173.187 | 167.037 | 165.426 | 269.332 | 1285.037 |
| trumpman2 | 107.711 | 87.949 | 67.158 | 129.984 | 70.721 | 89.47 | 245.18 | 790.957 |
| leoburn | 107.691 | 71.029 | 65.5 | 86.011 | 79.669 | 95.891 | 186.245 | 708.956 |
| rollandthomas | 85.464 | 1.06 | 73.449 | 75.718 | 52.899 | 92.938 | 177.396 | 628.893 |
| gallerani | 82.469 | 0 | 2.12 | 92.064 | 0 | 0 | 77.489 | 255.202 |
| triptolemus | 80.696 | 1.159 | 0 | 78.093 | 1.194 | 0 | 0 | 159.983 |
| chloem | 80.499 | 1.175 | 0 | 72.569 | 0 | 1.216 | 91.302 | 246.745 |
| arctis | 77.359 | 1.067 | 3.24 | 1.06 | 60.498 | 3.237 | 3.265 | 149.834 |
| furtherance | 76.176 | 58.92 | 1.072 | 79.462 | 1.06 | 2.142 | 79.753 | 240.732 |
| forexbrokr | 71.21 | 0 | 55.205 | 60.045 | 26.16 | 53.791 | 96.853 | 422.184 |
| hitmeasap | 67.473 | 30.649 | 0 | 78.095 | 0 | 0 | 0 | 145.568 |
| bitcoinflood | 64.537 | 54.587 | 31.548 | 27.802 | 31.774 | 70.024 | 32.737 | 289.071 |
| meowcurator | 64.009 | 69.723 | 135.521 | 54.324 | 103.627 | 65.336 | 55.638 | 533.042 |
| jphamer1 | 63.701 | 17.412 | 82.91 | 81.943 | 70.68 | 75.3 | 179.119 | 623.376 |
| scaredycatguide | 59.318 | 93.146 | 7.176 | 10.976 | 17.775 | 54.601 | 76.224 | 243.482 |
| edicted | 56.352 | 47.876 | 94.667 | 29.055 | 42.813 | 77.932 | 66.992 | 460.957 |
| flipstar | 50.88 | 35.068 | 42.4 | 51.94 | 58.3 | 60.42 | 101.936 | 413.752 |
| chairmanlee | 48.76 | 33.977 | 57.24 | 50.88 | 43.46 | 39.22 | 94.516 | 369.144 |
| empoderat | 47.995 | 0 | 37.819 | 30.194 | 46.817 | 41.539 | 84.542 | 322.883 |
| allcapsonezero | 46.819 | 15.069 | 1.015 | 0.826 | 0.582 | 0 | 1.55 | 50.792 |
| taskmaster4450 | 46.519 | 52.204 | 54.895 | 42.949 | 49.805 | 35.246 | 104.072 | 348.555 |
| brofund | 44.52 | 0 | 49.82 | 53 | 45.58 | 51.94 | 133.464 | 430.528 |
| dalz | 43.329 | 75.764 | 53.672 | 0 | 0 | 27.787 | 26.15 | 150.938 |
| oldtimer | 42.239 | 45.773 | 77.1 | 62.892 | 115.075 | 79.756 | 74.436 | 527.262 |
| megavest | 41.816 | 14.877 | 46.868 | 36.626 | 43.535 | 49.222 | 97.156 | 360.996 |
| scooter77 | 41.609 | 34.191 | 0.946 | 0.567 | 3.364 | 1 | 1.449 | 63.812 |
| acesontop | 41.564 | 47.788 | 32.359 | 12.831 | 34.68 | 36.23 | 102.486 | 294.341 |
| moof | 41.34 | 37.203 | 49.82 | 61.48 | 45.58 | 47.7 | 84.8 | 378.508 |
| oakshieldholding | 39.718 | 15.829 | 23.795 | 50.883 | 37.002 | 31.779 | 84.522 | 304.902 |
| tarazkp | 37.729 | 23.32 | 39.44 | 37.334 | 20.023 | 21.764 | 18.029 | 190.148 |
| phython | 36.841 | 0 | 52.636 | 40.489 | 89.159 | 14.072 | 34.329 | 290.846 |
| stevespeaks | 36.704 | 29.68 | 0 | 1.157 | 0 | 0 | 0 | 37.861 |
| steemstreems | 33.92 | 2.751 | 29.714 | 24.38 | 29.68 | 39.396 | 31.8 | 218.57 |
| jk6276 | 33.833 | 23.8 | 2.276 | 2.08 | 5.524 | 3.434 | 2.619 | 52.517 |
| brofund-leo | 32.946 | 36.304 | 23.95 | 38.476 | 15.95 | 25.826 | 33.796 | 194.744 |
| seraphim502 | 27.56 | 26.588 | 24.38 | 34.98 | 32.86 | 26.5 | 52.116 | 234.7 |
| tonimontana.leo | 26.5 | 18.964 | 32.86 | 28.62 | 27.56 | 22.26 | 54.148 | 218.536 |
| leoschein | 25.542 | 0 | 8.599 | 10.59 | 21.413 | 16.894 | 55.162 | 157.164 |
| trumpman | 25.233 | 19.141 | 78.619 | 22.02 | 15.526 | 28.847 | 8.173 | 178.418 |
| lordneroo | 23.921 | 30.619 | 0.694 | 1.103 | 62.506 | 61.126 | 1.27 | 169.761 |
| spinvest | 23.799 | 30.233 | 26.978 | 0.909 | 40.702 | 38.069 | 1.06 | 162.136 |
| mindtrap-leo | 22.753 | 3.453 | 28.317 | 31.177 | 33.366 | 25.857 | 51.64 | 223.343 |
| spinvest-leo | 22.46 | 25.528 | 3.975 | 4.986 | 4.247 | 5.264 | 11.019 | 55.404 |
| llibertat | 21.2 | 48.021 | 11.66 | 14.84 | 10.6 | 16.96 | 29.856 | 130.644 |
| shortsegments | 20.664 | 7.26 | 19.733 | 43.613 | 1.762 | 36.917 | 88.467 | 259.177 |
| wiseagent | 19.516 | 25.034 | 23.812 | 0.525 | 7.85 | 1.041 | 4.757 | 64.761 |
| jongolson | 19.179 | 0 | 7.727 | 17.637 | 18.738 | 17.985 | 7.367 | 113.667 |
| penderis | 19.092 | 3.57 | 0 | 0 | 0 | 0 | 0 | 19.092 |
| cryptospa | 18.735 | 0 | 3.954 | 8.178 | 13.342 | 11.436 | 15.978 | 75.193 |
| themarkymark | 18.338 | 0 | 37.263 | 0 | 45.083 | 0 | 0 | 100.684 |
| revisesociology | 17.532 | 16.435 | 13.669 | 20.49 | 26.677 | 10.591 | 0 | 88.959 |
| tomhall.leo | 16.181 | 27.808 | 12.853 | 17.175 | 14.421 | 15.698 | 28.85 | 121.613 |
| mcoinz79 | 16.043 | 3.561 | 14.364 | 15.927 | 14.964 | 16.958 | 3.103 | 109.167 |
| agr8buzz | 15.296 | 4.153 | 14.195 | 18.139 | 17.821 | 13.986 | 22.862 | 105.86 |
| mawit07 | 15.026 | 4.24 | 4.002 | 5.076 | 7.936 | 0.638 | 3.356 | 40.187 |
| xabi | 14.215 | 3.936 | 12.079 | 5.3 | 13.479 | 15.613 | 4.24 | 69.166 |
| niallon11 | 13.971 | 0 | 1.612 | 66.324 | 29.807 | 19.836 | 0.877 | 136.363 |
| mistakili | 13.71 | 0.557 | 14.529 | 1.815 | 8.66 | 0.925 | 5.668 | 45.307 |
| kerrislravenhill | 13.661 | 50.14 | 1.375 | 0.589 | 0.5 | 0.613 | 13.472 | 30.767 |
| chekohler | 13.581 | 5.097 | 3.236 | 11.263 | 7.866 | 10.1 | 16.211 | 112.397 |
| pouchon.tribes | 13.515 | 2.269 | 16.072 | 7.81 | 8.868 | 33.244 | 14.683 | 99.289 |
| no-advice | 13.167 | 0 | 5.44 | 14.389 | 5.193 | 2.762 | 6.809 | 50.029 |
| kennyskitchen | 13.007 | 0 | 0 | 12.323 | 0 | 0 | 0 | 25.33 |
| junior182 | 12.999 | 0 | 0 | 0 | 0 | 0 | 0 | 12.999 |
| kraken99 | 12.763 | 18.451 | 0 | 0 | 0 | 0 | 1.041 | 13.804 |
| revise.leo | 12.67 | 41.579 | 12.403 | 22.657 | 10.752 | 18.959 | 47.948 | 143.84 |
| dalz1 | 12.343 | 39.028 | 17.609 | 5.041 | 4.384 | 32.897 | 54.063 | 167.916 |
| melbourneswest | 12.15 | 8.45 | 18.347 | 19.809 | 14.963 | 15.092 | 8.352 | 127.741 |
| cryptoandcoffee | 12.052 | 17.714 | 13.45 | 4.025 | 1.219 | 9.548 | 30.856 | 79.6 |
| leovoter | 11.89 | 10.633 | 13.327 | 14.67 | 16.234 | 21.643 | 45.087 | 140.565 |
| amr008 | 11.785 | 9.528 | 18.25 | 24.316 | 7.839 | 70.906 | 7.768 | 151.497 |
| leeyh2 | 11.768 | 0.919 | 14.536 | 9.482 | 13.906 | 9.563 | 17.657 | 86.44 |
| brianoflondon | 11.766 | 6.36 | 0.932 | 3.717 | 4.535 | 3.269 | 5.606 | 30.744 |
| trumpikas | 11.66 | 7.42 | 4.24 | 2.12 | 3.18 | 2.12 | 2.12 | 31.8 |
| kolbjorn | 11.66 | 14.238 | 2.12 | 6.36 | 4.24 | 4.24 | 9.54 | 45.58 |
| jfang003 | 11.333 | 1.71 | 33.108 | 5.617 | 6.179 | 30.479 | 4.595 | 105.549 |
| khazrakh.leo | 11.003 | 65.598 | 0.556 | 4.912 | 7.476 | 5.034 | 5.841 | 36.532 |
| cryptowendyo | 10.762 | 5.342 | 6.67 | 95.21 | 0.503 | 0 | 9.291 | 188.034 |
| azircon | 10.553 | 6.533 | 10.706 | 20.152 | 18.02 | 15.982 | 32.2 | 112.955 |
| josediccus | 10.216 | 0 | 7.465 | 2.137 | 11.093 | 7.16 | 28.532 | 73.136 |
| apshamilton | 10.177 | 2.017 | 0 | 0 | 0.555 | 0 | 1.676 | 12.408 |
| bearbear613 | 9.725 | 0 | 5.238 | 2.292 | 30.09 | 1.672 | 7.979 | 59.013 |
| qsyal | 9.418 | 0 | 0 | 0 | 0 | 0 | 7.728 | 17.146 |
| funmiblog | 9.122 | 3.492 | 0 | 0 | 0 | 1.762 | 0 | 10.884 |
| coyotelation | 9.037 | 9.812 | 6.122 | 4.879 | 1.624 | 2.72 | 8.417 | 36.291 |
| globalcurrencies | 8.744 | 3.945 | 8.783 | 25.504 | 14.394 | 13.849 | 20.028 | 101.114 |
| spk.beneficiary | 8.682 | 12.896 | 2.283 | 4.828 | 4.623 | 5.049 | 2.146 | 31.556 |
| queengaga | 8.48 | 3.947 | 11.66 | 12.72 | 11.66 | 6.36 | 23.408 | 87.184 |
| thebluewin | 8.455 | 3.104 | 2.7 | 3.486 | 2.217 | 2.025 | 1.494 | 24.324 |
| cryptowingnut | 8.417 | 0.808 | 0 | 0 | 0 | 0 | 0 | 11.521 |
| solominer.leo | 8.396 | 8.94 | 0 | 0 | 0 | 0 | 0 | 9.204 |
| amr008.leo | 8.393 | 0 | 7.483 | 6.997 | 6.324 | 7.333 | 5.787 | 51.257 |
| oaldamster | 8.296 | 0 | 0 | 0 | 0 | 0 | 0 | 8.296 |
| lupafilotaxia | 8.098 | 10.684 | 0 | 0 | 0 | 0 | 0 | 8.098 |
| gattino | 7.984 | 15.865 | 8.873 | 11.235 | 6.969 | 11.83 | 9.68 | 67.255 |
| cryptictruth | 7.979 | 8.48 | 2.667 | 1.014 | 1.188 | 32.69 | 9.518 | 70.921 |
| atma.love | 7.42 | 5.3 | 11.66 | 9.54 | 8.48 | 9.588 | 19.08 | 74.248 |
| jjb777 | 7.42 | 2.867 | 2.12 | 8.48 | 5.3 | 2.12 | 8.568 | 39.308 |
| dragosroua | 7.323 | 34.122 | 0 | 0 | 22.149 | 0 | 0 | 32.339 |
| madstacks | 7.209 | 12.385 | 38.833 | 35.593 | 36.751 | 36.567 | 31.502 | 220.577 |
| therabbitzone | 7.205 | 5.043 | 6.778 | 0 | 17.196 | 10.652 | 7.858 | 62.074 |
| he-index | 6.839 | 11.964 | 5.501 | 3.901 | 5.074 | 6.273 | 10.031 | 42.662 |
| young-boss-karin | 6.75 | 5.741 | 6.234 | 8.399 | 6.173 | 1.333 | 2.312 | 43.165 |
| urun | 6.696 | 8.019 | 12.683 | 14.88 | 10.409 | 3.318 | 31.612 | 85.339 |
| mk-leo-token | 6.684 | 0 | 11.602 | 5.855 | 7.859 | 7.105 | 5.755 | 52.879 |
| pjansen.ctp | 6.541 | 8.625 | 0 | 0 | 0 | 0 | 0.001 | 6.542 |
| preparedwombat | 6.536 | 2.257 | 7.766 | 9.675 | 6.381 | 8.706 | 14.435 | 62.124 |
| cmmemes | 6.365 | 5.358 | 1.111 | 4.275 | 1.816 | 17.472 | 6.174 | 39.47 |
| gualteramarelo | 6.273 | 0 | 3.053 | 2.336 | 3.3 | 1.73 | 11.615 | 33.665 |
| saachi | 6.235 | 10.781 | 0 | 0 | 0 | 0 | 0 | 6.235 |
| tbnfl4sun | 6.177 | 8.265 | 9.254 | 9.759 | 7.929 | 9.596 | 29.266 | 82.762 |
| leomaniacsgr | 6.163 | 2.094 | 8.347 | 10.531 | 7.067 | 6.582 | 5.534 | 52.489 |
| burlarj | 6.121 | 7.157 | 2.262 | 0 | 0 | 2.279 | 0 | 12.756 |
| neoxian | 6.107 | 0 | 3.772 | 2.13 | 5.758 | 5.555 | 15.575 | 46.054 |
| xplosive | 6.094 | 5.578 | 0.902 | 0.646 | 0 | 2.196 | 0 | 9.838 |
| pjansen.leo | 6.043 | 7.123 | 5.694 | 5.685 | 7.171 | 4.261 | 3.381 | 37.813 |
| maarnio | 5.95 | 3.955 | 7.958 | 5.544 | 8.407 | 20.736 | 25.251 | 80.969 |
| localgrower | 5.915 | 0 | 2.032 | 2.043 | 3.002 | 2.02 | 5.24 | 24.207 |
| aggroed | 5.862 | 2.918 | 0 | 0 | 0 | 10.741 | 0 | 16.603 |
| aliento.leo | 5.86 | 8.434 | 6.039 | 8.882 | 7.533 | 7.69 | 3.828 | 42.75 |
| roleerob | 5.797 | 0.657 | 8.527 | 4.381 | 3.539 | 8.405 | 29.703 | 68.786 |
| ezrider | 5.747 | 0 | 1.1 | 2.185 | 3.94 | 2.665 | 2.422 | 18.716 |
| lbi-gov | 5.7 | 5.281 | 0 | 0 | 0 | 0 | 0 | 5.7 |
| ph1102.leo | 5.394 | 6.395 | 6.17 | 4.617 | 5.329 | 5.516 | 10.743 | 43.05 |
| diverse | 5.345 | 5.849 | 6.723 | 1.394 | 11.508 | 6.894 | 6.554 | 44.813 |
| gungunkrishu.leo | 5.319 | 0.001 | 5.277 | 4.814 | 6.128 | 5.992 | 9.003 | 42.382 |
| bengy | 5.145 | 4.758 | 1.707 | 0 | 1.817 | 0 | 0.31 | 8.98 |
| dagger212 | 5.065 | 21.99 | 6.089 | 6.271 | 5.377 | 69.825 | 6.264 | 103.649 |
| vlemon | 5.06 | 18.751 | 4.549 | 34.748 | 15.671 | 7.39 | 22.517 | 111.925 |
| brofi | 4.923 | 57.385 | 45 | 13.795 | 21.138 | 6.777 | 13.15 | 123.534 |
| nealmcspadden | 4.9 | 0.739 | 8.661 | 27.105 | 29.539 | 14.07 | 24.701 | 166.361 |
| whatsup | 4.704 | 2.889 | 0.832 | 2.759 | 2.374 | 1.432 | 1.289 | 14.129 |
| friendlymoose | 4.677 | 1.12 | 18.177 | 32.491 | 5.147 | 0.562 | 2.756 | 66.699 |
| victoriabsb | 4.664 | 2.546 | 3.19 | 0 | 1.039 | 2.652 | 0 | 12.665 |
| steempope | 4.508 | 0.503 | 7.989 | 4.757 | 5.364 | 3.39 | 4.285 | 32.839 |
| arrliinn | 4.507 | 6.051 | 0 | 0.503 | 0 | 0.176 | 0 | 5.689 |
| videosteemit | 4.469 | 3.311 | 4.931 | 3.153 | 5.037 | 5.599 | 11.062 | 40.302 |
| arcange | 4.381 | 5.422 | 3.33 | 2.995 | 5.874 | 6.186 | 3.376 | 29.453 |
| abh12345.leo | 4.359 | 0.587 | 5.991 | 4.796 | 8.543 | 8.233 | 15.567 | 52.911 |
| alexvan | 4.336 | 9.466 | 3.818 | 10.819 | 0.648 | 12.042 | 0.582 | 32.832 |
| vxc.leo | 4.315 | 8.744 | 8.407 | 5.846 | 14.501 | 7.585 | 8.713 | 58.833 |
| mktmaker | 4.303 | 3.105 | 1.111 | 7.447 | 1.085 | 2.184 | 76.361 | 101.235 |
| reeta0119 | 4.283 | 1.06 | 0 | 0 | 0 | 0 | 0 | 7.388 |
| stevethevagabond | 4.24 | 1.06 | 4.24 | 2.12 | 4.273 | 2.12 | 1.212 | 19.265 |
| communitybank | 4.24 | 15.002 | 2.12 | 3.18 | 6.36 | 2.12 | 3.18 | 22.26 |
| bruleo | 4.222 | 5.456 | 7.935 | 7.792 | 9.095 | 10.749 | 9.65 | 64.445 |
| captainklaus | 4.216 | 7.179 | 0.902 | 2.152 | 2.726 | 0.759 | 0.889 | 17.1 |
| successforall | 4.211 | 2.097 | 10.244 | 5.901 | 6.528 | 6.489 | 0.506 | 41.058 |
| sharkleo | 4.189 | 2.797 | 0.673 | 3.797 | 2.65 | 0.866 | 4.909 | 19.181 |
| inertia | 4.105 | 5.255 | 6.789 | 5.211 | 7.635 | 2.631 | 12.198 | 41.366 |
| costanza | 4.04 | 2.828 | 0.92 | 9.13 | 5.717 | 3.527 | 9.1 | 37.689 |
| chorock | 3.986 | 4.839 | 1.153 | 5.924 | 11.55 | 13.384 | 4.429 | 43.254 |
| defime | 3.98 | 0 | 5.838 | 0 | 48.516 | 4.343 | 28.125 | 95.641 |
| drmohammednn | 3.898 | 2.907 | 0 | 0 | 0 | 0 | 0 | 3.898 |
| sumatranate.leo | 3.823 | 0 | 3.991 | 2.548 | 3.181 | 3.726 | 5.346 | 25.522 |
| kelvinspace | 3.804 | 4.203 | 0 | 0 | 0 | 0.849 | 0 | 4.653 |
| ssjsasha | 3.761 | 6.674 | 5.145 | 5.248 | 3.629 | 4.094 | 10.571 | 36.651 |
| schubes | 3.749 | 0.814 | 7.631 | 10.205 | 13.769 | 7.608 | 4.274 | 53.91 |
| spectrumecons | 3.711 | 8.13 | 0.535 | 0.61 | 0.504 | 0.554 | 2.861 | 9.589 |
| rarej | 3.667 | 0.05 | 7.077 | 0 | 7.157 | 0.977 | 7.383 | 34.391 |
| celi130 | 3.628 | 15.318 | 0.596 | 8.595 | 0 | 0.103 | 0 | 12.972 |
| erikah | 3.619 | 0.802 | 0.779 | 4.179 | 47.272 | 14.468 | 8.822 | 94.457 |
| ph1102 | 3.553 | 4.892 | 0 | 0 | 0 | 4.882 | 4.115 | 13.352 |
| natalia-irish | 3.506 | 0 | 0 | 4.552 | 1.523 | 18.853 | 3.834 | 37.16 |
| sugandhaseth | 3.392 | 0 | 0 | 0 | 0.178 | 0 | 0 | 3.57 |
| mandate | 3.297 | 0.691 | 0 | 0 | 0 | 0 | 1.388 | 4.685 |
| tgd-links | 3.246 | 2.724 | 0.832 | 0.855 | 0.639 | 0 | 1.092 | 7.355 |
| hamza-sheikh | 3.23 | 8.079 | 4.596 | 3.445 | 2.659 | 2.73 | 3.505 | 22.889 |
| dylanhobalart | 3.218 | 1.5 | 7.517 | 8.206 | 7.241 | 6.03 | 6.583 | 46.874 |
| erarium | 3.182 | 3.592 | 6.54 | 8.032 | 7.488 | 17.623 | 3.308 | 47.673 |
| michealb | 3.181 | 2.12 | 1.652 | 3.949 | 1.846 | 3.353 | 1.662 | 19.235 |
| nalesnik | 3.18 | 3.18 | 2.12 | 1.06 | 1.06 | 2.12 | 2.12 | 13.78 |
| snackaholic | 3.18 | 1.06 | 3.18 | 3.18 | 0 | 2.12 | 1.06 | 15.9 |
| tandara | 3.18 | 5.048 | 2.12 | 3.18 | 13.78 | 5.422 | 6.36 | 35.102 |
| steem-key | 3.178 | 3.177 | 3.615 | 5.987 | 1.819 | 10.745 | 2.296 | 32.688 |
| nascimentoab | 3.121 | 3.368 | 0 | 1.936 | 0.012 | 0 | 0 | 8.246 |
| zartisht | 3.078 | 2.29 | 3.71 | 3.703 | 3.621 | 3.262 | 27.288 | 48.03 |
| shanghaipreneur | 3.027 | 1.368 | 4.623 | 3.488 | 2.733 | 4.859 | 8.245 | 29.265 |
| hawk-eye | 3.011 | 1.827 | 0 | 0 | 1.157 | 2.516 | 4.723 | 12.775 |
| codingdefined | 2.992 | 1.772 | 0 | 0 | 0 | 0 | 0 | 4.819 |
| bozz | 2.963 | 7.729 | 14.898 | 18.553 | 27.768 | 0.936 | 1.095 | 67.985 |
| empress-eremmy | 2.945 | 0.984 | 10.89 | 15.565 | 7.128 | 10.46 | 4.11 | 58.827 |
| forykw | 2.912 | 3.693 | 0.553 | 0 | 0.747 | 0.679 | 0.506 | 6.381 |
| xuanling11 | 2.898 | 1.444 | 0.863 | 1.731 | 1.682 | 1.725 | 3.146 | 15.738 |
| silverd510 | 2.844 | 3.407 | 1.428 | 1.148 | 3.088 | 0.995 | 8.263 | 19.21 |
| leomarkettalk | 2.836 | 2.309 | 3.195 | 3.986 | 2.778 | 3.155 | 2.899 | 22.256 |
| cranium.leo | 2.834 | 0 | 5.311 | 10.081 | 2.815 | 2.7 | 1.818 | 27.868 |
| sanjeevm | 2.739 | 0.802 | 0 | 0 | 0.547 | 0.568 | 0 | 3.854 |
| refinement | 2.701 | 0.537 | 6.392 | 4.458 | 72.463 | 5.639 | 82.563 | 175.018 |
| rentmoney | 2.698 | 0.881 | 1.947 | 0.838 | 2.46 | 1.216 | 1.421 | 11.117 |
| potta | 2.687 | 10.633 | 0 | 0 | 0 | 0 | 0 | 3.568 |
| sgt-dan | 2.683 | 2.206 | 12.082 | 7.77 | 10.266 | 6.348 | 6.308 | 56.09 |
| sbi-tokens | 2.674 | 2.206 | 4.188 | 2.667 | 2.931 | 4.241 | 2.315 | 21.222 |
| adambarratt | 2.646 | 1.711 | 2.194 | 2.467 | 5.127 | 2.85 | 2.194 | 19.684 |
| danielsaori | 2.64 | 8.283 | 3.298 | 0.657 | 0.64 | 2.57 | 0.645 | 12.161 |
| anacristinasilva | 2.588 | 0.648 | 0 | 1.296 | 1.775 | 5.795 | 6.292 | 26.029 |
| behiver | 2.553 | 6.239 | 4.427 | 1.445 | 1.504 | 1.47 | 2.512 | 14.559 |
| arslan.leo | 2.533 | 1.348 | 2.516 | 1.606 | 0.868 | 3.236 | 1.558 | 18.556 |
| babytarazkp | 2.53 | 1.98 | 3.85 | 1.685 | 2.251 | 2.773 | 5.564 | 20.001 |
| scaredycatcurate | 2.502 | 4.096 | 0.543 | 2.703 | 2.165 | 4.352 | 0.904 | 15.149 |
| verifiedasma000 | 2.489 | 1.358 | 1.232 | 0 | 0 | 0 | 0 | 7.817 |
| bala-leo | 2.451 | 0.607 | 3.142 | 2.429 | 1.41 | 1.909 | 1.056 | 13.755 |
| brettpullen | 2.418 | 1.827 | 4.112 | 1.138 | 0.585 | 1.122 | 0 | 9.982 |
| krunkypuram | 2.417 | 9.742 | 1.822 | 1.636 | 4.074 | 1.423 | 2.287 | 15.486 |
| traciyork | 2.411 | 1.254 | 0 | 0 | 0.51 | 5.147 | 0 | 17.81 |
| meta.condeas | 2.388 | 3.104 | 4.337 | 1.494 | 1.235 | 1.83 | 0.938 | 13.476 |
| leoaction | 2.384 | 2.63 | 3.202 | 1.992 | 2.457 | 2.482 | 3.583 | 19.204 |
| voter | 2.382 | 3.402 | 1.723 | 4.341 | 2.068 | 3.16 | 1.769 | 18.073 |
| leo.voter | 2.381 | 0 | 101.067 | 1.278 | 3.169 | 1.992 | 103.79 | 217.079 |
| yeceniacarolina | 2.379 | 0 | 0 | 0 | 0 | 0 | 0 | 2.379 |
| absolutfreedom | 2.378 | 21.943 | 0 | 0 | 0 | 0.297 | 0 | 2.675 |
| khaleelkazi | 2.374 | 0 | 2.143 | 98.257 | 98.086 | 7.187 | 108.367 | 338.357 |
| anonimusroute | 2.349 | 0 | 0 | 0 | 0 | 0 | 0 | 2.349 |
| xawi | 2.324 | 0 | 1.188 | 2.999 | 0 | 2.524 | 2.216 | 11.251 |
| ashikstd | 2.323 | 4.967 | 0 | 0 | 0 | 0 | 0 | 2.323 |
| shurbertum | 2.315 | 94.847 | 2.005 | 3.046 | 2.856 | 2.827 | 1.976 | 19.992 |
| autowin | 2.294 | 2.175 | 1.535 | 0 | 89.534 | 2.755 | 0.748 | 191.713 |
| kevinli | 2.289 | 0.897 | 2.666 | 2.164 | 2.563 | 2.902 | 3.153 | 17.912 |
| enison1 | 2.261 | 2.217 | 4.556 | 2.637 | 2.493 | 10.906 | 0.87 | 24.62 |
| alexandrabauer | 2.222 | 1.263 | 1.938 | 1.463 | 1.775 | 2.144 | 1.608 | 13.367 |
| rosa.leo | 2.217 | 1.348 | 2.128 | 1.616 | 1.549 | 2.56 | 2.818 | 14.151 |
| claudio83.leo | 2.21 | 0 | 1.672 | 3.268 | 1.732 | 2.078 | 2.969 | 15.277 |
| kstop1 | 2.209 | 1.085 | 0.347 | 0 | 0.174 | 0.108 | 0 | 2.838 |
| d-company | 2.198 | 3.347 | 1.18 | 0 | 0 | 0 | 0 | 4.463 |
| notaboutme | 2.191 | 1.087 | 5.962 | 1.116 | 0.117 | 2.417 | 12.54 | 27.69 |
| joele | 2.147 | 1.06 | 2.173 | 1.113 | 1.06 | 2.255 | 1.167 | 11.002 |
| city-of-dresden | 2.12 | 3.18 | 2.12 | 1.06 | 2.12 | 1.06 | 4.24 | 13.78 |
| felander.leo | 2.12 | 0 | 1.06 | 1.06 | 5.3 | 2.12 | 0 | 14.84 |
| mayllerlys | 2.112 | 0 | 0 | 0 | 0 | 0 | 0 | 2.112 |
| hosgug | 2.101 | 0 | 3.148 | 0 | 1.457 | 1.344 | 0.91 | 8.96 |
| taiwo-writes | 2.039 | 1.604 | 0 | 0 | 0 | 0.793 | 0 | 2.832 |
| joetunex | 2.03 | 3.354 | 0.65 | 1.002 | 2.254 | 0.679 | 2.192 | 10.411 |
| jlordc | 2.023 | 0.053 | 0.42 | 0.674 | 1.852 | 0.585 | 4.102 | 13.01 |
| edgerik | 1.988 | 0.124 | 0 | 0 | 0.136 | 0 | 0 | 2.177 |
| vikbuddy | 1.97 | 2.772 | 0 | 0 | 0 | 0 | 0 | 2.094 |
| karamyog | 1.963 | 1.283 | 3.298 | 3.871 | 1.529 | 3.265 | 7.375 | 24.073 |
| droida | 1.95 | 1.18 | 1.016 | 1.767 | 1.494 | 1.983 | 2.271 | 11.764 |
| vempromundo | 1.947 | 0 | 0.522 | 1.254 | 4.845 | 0 | 0.589 | 10.337 |
| thisisawesome | 1.936 | 2.247 | 0 | 0 | 0 | 0 | 0.954 | 2.89 |
| dexpartacus | 1.934 | 0 | 1.083 | 4.618 | 0.883 | 1.062 | 2.304 | 14.131 |
| themoneyearner | 1.903 | 2.536 | 0.87 | 0.864 | 0 | 0 | 0.871 | 4.508 |
| fullcoverbetting | 1.89 | 3.038 | 0.147 | 2.363 | 0.654 | 1.386 | 1.378 | 10.354 |
| cryptopoints | 1.879 | 1.058 | 0.522 | 0 | 4.001 | 7.122 | 0.61 | 17.172 |
| teutonium | 1.877 | 11.933 | 2.007 | 2.591 | 1.532 | 2.248 | 4.518 | 15.831 |
| kevinnag58 | 1.876 | 2.124 | 1.588 | 12.187 | 1.136 | 1.521 | 11.767 | 42.008 |
| uyobong.venture | 1.86 | 0 | 2.386 | 4.58 | 1.62 | 0.936 | 1.869 | 15.375 |
| cryptopeach | 1.843 | 0.859 | 0 | 0 | 0.988 | 0.864 | 0.878 | 4.573 |
| rtonline | 1.836 | 0 | 0 | 2.749 | 1.478 | 20.687 | 2.101 | 29.71 |
| julianhorack | 1.809 | 1.918 | 0.591 | 8.411 | 0 | 3.839 | 50.536 | 65.186 |
| netaterra.leo | 1.783 | 0 | 2.596 | 1.346 | 1.73 | 1.688 | 2.808 | 13.869 |
| criptoar | 1.779 | 0.503 | 1.697 | 0.676 | 0 | 1.594 | 0 | 5.746 |
| joseph230 | 1.776 | 1.737 | 0.541 | 0.714 | 0.529 | 0.507 | 0.668 | 5.238 |
| bhoa | 1.753 | 0 | 1.136 | 0 | 0.753 | 2.633 | 0 | 8.012 |
| ekeminiemy | 1.75 | 4.466 | 0 | 0 | 0 | 0.698 | 0 | 2.448 |
| paasz | 1.734 | 1.009 | 0.939 | 3.786 | 1.656 | 3.609 | 1.287 | 17.477 |
| gillianpearce | 1.725 | 0 | 2.008 | 1.911 | 0.631 | 3.007 | 8.118 | 18.409 |
| rezoanulvibes | 1.7 | 1.57 | 0 | 2.767 | 0 | 0 | 0 | 4.467 |
| katerinaramm | 1.697 | 0.535 | 0.866 | 2.724 | 0.717 | 1.463 | 5.599 | 14.636 |
| metzli | 1.674 | 0 | 0 | 0 | 0.607 | 0 | 0.528 | 3.344 |
| chris-uk | 1.667 | 4.523 | 3.26 | 1.969 | 0 | 1.506 | 0 | 8.402 |
| trade60 | 1.663 | 1.054 | 0.813 | 0.821 | 2.447 | 6.736 | 0.828 | 17.831 |
| ashleykalila | 1.655 | 0.573 | 0 | 3.981 | 0.016 | 0.105 | 2.141 | 8.952 |
| lapacodo | 1.652 | 0.018 | 0 | 0 | 0 | 3.107 | 0 | 5.332 |
| monsterjamgold | 1.646 | 0.556 | 0.722 | 2.04 | 0.972 | 0 | 1.203 | 6.601 |
| bhealy | 1.627 | 1.172 | 0 | 0.794 | 0.539 | 0.524 | 1.223 | 5.263 |
| ikaro | 1.609 | 1.646 | 2.392 | 1.537 | 1.807 | 1.641 | 1.438 | 11.596 |
| aotearoa | 1.607 | 0 | 0.875 | 0.935 | 1.533 | 2.561 | 2.309 | 11.466 |
| creativeinsight | 1.585 | 0 | 0 | 0 | 0 | 0 | 0 | 1.585 |
| sandeep126 | 1.561 | 1.96 | 0 | 0 | 0 | 0 | 0 | 1.561 |
| harpreetjanda | 1.55 | 1.519 | 0.828 | 1.731 | 1.613 | 1.112 | 1.127 | 9.921 |
| hooiyewlim | 1.545 | 10.309 | 5.841 | 0 | 1.11 | 0 | 1.004 | 11.019 |
| barski | 1.541 | 0.573 | 0.721 | 6.794 | 7.291 | 0.897 | 0.506 | 28.059 |
| stickupboys | 1.531 | 0.541 | 0.113 | 0.293 | 0.193 | 1.662 | 0.501 | 4.866 |
| cflclosers | 1.504 | 0.632 | 0 | 0.738 | 2.523 | 2.192 | 1.255 | 8.753 |
| leoline | 1.5 | 0 | 1.4 | 1.014 | 0.889 | 1.375 | 1.92 | 8.73 |
| malikuzair | 1.493 | 0.27 | 0 | 1.087 | 0 | 0 | 0 | 2.58 |
| hatoto | 1.487 | 8.789 | 0.369 | 0.436 | 0.279 | 4.472 | 0.329 | 7.642 |
| toofasteddie | 1.468 | 0 | 3.522 | 1.204 | 13.401 | 6.846 | 17.848 | 53.078 |
| kiokizz | 1.445 | 0 | 0 | 1.223 | 0.582 | 0 | 0 | 3.25 |
| doitvoluntarily | 1.435 | 0 | 8.831 | 2.128 | 10.95 | 10.479 | 7.236 | 41.059 |
| josegilberto | 1.433 | 0 | 0 | 0 | 0 | 1.035 | 0 | 2.468 |
| ricestrela | 1.43 | 0 | 1.784 | 0.771 | 0.673 | 0.684 | 0.893 | 6.235 |
| carlir | 1.429 | 1.976 | 0 | 0 | 0 | 1.434 | 0 | 2.863 |
| mephistophenes | 1.426 | 2.978 | 2.517 | 1.348 | 1.166 | 1.062 | 1.291 | 10.786 |
| victor-alexander | 1.419 | 1.935 | 1.917 | 1.041 | 0.617 | 2.964 | 1.582 | 12.518 |
| mango-juice | 1.406 | 0.993 | 0.76 | 1.317 | 0.884 | 2.959 | 3.461 | 12.722 |
| asmahkhan | 1.404 | 0 | 1.606 | 0 | 0 | 0.903 | 0 | 4.906 |
| enrique89 | 1.402 | 0 | 0 | 2.771 | 0 | 2.741 | 3.362 | 10.276 |
| khurshid102 | 1.378 | 0 | 0 | 0 | 0 | 0 | 0 | 1.378 |
| robmojo | 1.375 | 1.364 | 0 | 2.549 | 1.202 | 1.127 | 0 | 6.253 |
| toocurious | 1.371 | 0 | 1.11 | 0.62 | 1.06 | 1.64 | 0.706 | 7.871 |
| thelogicaldude | 1.359 | 8.729 | 1.281 | 3.507 | 5.994 | 0.817 | 1.161 | 14.119 |
| badbitch | 1.355 | 0.512 | 0.516 | 0 | 0.511 | 0 | 0.511 | 11.622 |
| quixoticflux | 1.34 | 19.939 | 0 | 0 | 0 | 0.028 | 0 | 1.88 |
| tfranzini | 1.315 | 0.835 | 14.463 | 2.994 | 2.454 | 14.45 | 4.312 | 59.927 |
| alokkumar121.leo | 1.306 | 1.687 | 1.003 | 0.541 | 0.63 | 1.234 | 0.557 | 6.106 |
| leoup | 1.297 | 0 | 2.108 | 1.495 | 1.256 | 2.046 | 1.923 | 11.812 |
| yllentv | 1.292 | 0.514 | 0 | 0 | 0 | 0 | 0 | 1.292 |
| vikisecrets | 1.248 | 0 | 0 | 1.908 | 0 | 1.457 | 20.46 | 25.587 |
| galberto | 1.238 | 1.471 | 0 | 0 | 0 | 0 | 0 | 1.238 |
| snoochieboochies | 1.227 | 2.264 | 0.678 | 0.609 | 0.699 | 0.501 | 0.509 | 5.694 |
| asteroids | 1.225 | 0.936 | 0.505 | 0 | 75.109 | 1.252 | 163.568 | 243.923 |
| curatorcat.leo | 1.214 | 0.845 | 1.431 | 1.437 | 1.304 | 1.419 | 1.006 | 8.747 |
| bluemoon | 1.213 | 6.462 | 1.253 | 0.9 | 1.552 | 0.504 | 1.913 | 8.18 |
| nirvana3003 | 1.2 | 0.745 | 5.317 | 1.718 | 5.179 | 5.405 | 6.166 | 31.447 |
| jersteemit | 1.199 | 1.213 | 1.145 | 0.927 | 5.392 | 0.624 | 0.618 | 10.65 |
| karinxxl | 1.197 | 1.125 | 0 | 0 | 0 | 0 | 0 | 2.41 |
| eturnerx | 1.192 | 1.312 | 1.127 | 3.416 | 2.209 | 1.447 | 1.145 | 11.661 |
| moon333 | 1.19 | 0.955 | 0.923 | 0 | 0 | 4.004 | 0.516 | 7.945 |
| crazydaisy | 1.187 | 0.838 | 1.566 | 1.184 | 0.75 | 1.475 | 2.303 | 9.42 |
| glastar | 1.18 | 1.221 | 1.294 | 0.505 | 1.329 | 1.149 | 1.151 | 7.446 |
| ironshield | 1.179 | 1.156 | 0.124 | 1.213 | 0.182 | 0.166 | 0.152 | 4.237 |
| arcange-fr | 1.157 | 1.594 | 1.789 | 0.716 | 1.082 | 1.069 | 0.733 | 7.702 |
| luueetang | 1.154 | 0.53 | 0.685 | 7.958 | 0.708 | 1.431 | 0 | 13.53 |
| monsterbuster | 1.154 | 0.959 | 0.537 | 0.493 | 0 | 0.645 | 0.721 | 4.08 |
| trumpikasleo | 1.152 | 1.018 | 1.39 | 1.299 | 1.172 | 1.684 | 1.203 | 8.859 |
| haxxdump | 1.134 | 0 | 1.115 | 1.078 | 2.225 | 1.159 | 1.118 | 8.847 |
| ceekz | 1.128 | 1.269 | 0 | 0 | 0 | 0 | 0.501 | 1.629 |
| daveks | 1.123 | 0 | 0 | 1.148 | 2.186 | 2.195 | 1.141 | 9.062 |
| arcange-es | 1.119 | 1.065 | 0 | 0.672 | 0 | 0.692 | 0.69 | 3.173 |
| vendata | 1.116 | 3.195 | 6.861 | 3.73 | 0 | 0 | 0 | 12.772 |
| alokkumar121 | 1.114 | 1.299 | 1.761 | 3.039 | 0.558 | 0.98 | 0 | 10.647 |
| hykss | 1.092 | 1.393 | 0 | 1.483 | 0 | 0.501 | 0 | 4.375 |
| shani.leo | 1.091 | 1.937 | 1.004 | 0.993 | 0.807 | 0.789 | 0.626 | 6.703 |
| eirik | 1.085 | 0 | 1.331 | 1.015 | 0.931 | 1.509 | 2.06 | 9.868 |
| gurseerat | 1.084 | 0 | 0 | 0 | 0.528 | 0 | 0 | 1.612 |
| rainingfall | 1.081 | 1.263 | 0 | 0 | 0 | 0 | 1.06 | 2.141 |
| felander | 1.081 | 1.614 | 3.285 | 1.268 | 1.491 | 1.293 | 1.372 | 11.053 |
| jeffjagoe | 1.08 | 1.121 | 0.5 | 1.99 | 1.085 | 0.906 | 5.083 | 12.258 |
| abrockman | 1.078 | 0 | 1.066 | 1.103 | 1.104 | 3.334 | 0 | 8.806 |
| nolosslottery | 1.078 | 2.12 | 1.186 | 0.809 | 0 | 0 | 1.193 | 4.266 |
| kendewitt | 1.072 | 1.066 | 1.06 | 0 | 0 | 1.06 | 1.06 | 6.372 |
| nuthman | 1.066 | 8.926 | 3.188 | 6.364 | 2.126 | 2.125 | 6.369 | 22.304 |
| ash | 1.064 | 0.559 | 1.276 | 0 | 1.17 | 0 | 7.099 | 19.535 |
| project.hope | 1.064 | 0.001 | 0 | 0.521 | 0.772 | 0.677 | 0.807 | 4.4 |
| thebeardflex | 1.062 | 0 | 0.001 | 1.156 | 0 | 3.5 | 0.207 | 5.927 |
| atongis | 1.06 | 2.889 | 0 | 1.06 | 0 | 1.06 | 0 | 3.18 |
| bala41288 | 1.06 | 0 | 1.608 | 0 | 2.293 | 0.663 | 1.326 | 9.839 |
| avellana | 1.06 | 1.06 | 0 | 0 | 0 | 0 | 0 | 1.06 |
| mickowen | 1.06 | 0 | 1.06 | 2.12 | 1.06 | 2.12 | 2.12 | 10.6 |
| vxxxc | 1.06 | 0 | 0 | 1.06 | 1.06 | 0 | 2.12 | 5.3 |
| benny.blockchain | 1.06 | 1.06 | 1.06 | 0 | 0 | 0 | 0 | 2.12 |
| netaterra | 1.06 | 1.06 | 1.06 | 2.12 | 2.12 | 6.36 | 2.12 | 15.9 |
| huntforsteem | 1.06 | 0 | 0 | 1.06 | 0 | 3.18 | 2.12 | 8.48 |
| pak | 1.06 | 1.148 | 0 | 0 | 0 | 0 | 0 | 1.06 |
| nrg | 1.06 | 0 | 1.104 | 0 | 0 | 1.06 | 2.224 | 6.596 |
| zoe24 | 1.06 | 1.06 | 0 | 0 | 0 | 0 | 0 | 1.06 |
| jznsamuel | 1.06 | 0 | 1.06 | 0 | 0 | 0 | 0 | 3.18 |
| dliker | 1.06 | 1.06 | 0 | 1.06 | 0 | 0 | 1.06 | 3.18 |
| cookit | 1.06 | 1.06 | 2.12 | 1.06 | 1.06 | 1.06 | 1.148 | 8.568 |
| mysterybox | 1.06 | 2.12 | 0 | 0 | 0 | 0 | 0 | 2.12 |
| themightyvolcano | 1.06 | 8.388 | 2.12 | 4.24 | 3.18 | 1.06 | 1.06 | 14.84 |
| purefood | 1.06 | 0 | 6.049 | 3.18 | 2.655 | 4.24 | 5.078 | 30.65 |
| prettynicevideo | 1.06 | 1.06 | 0 | 0 | 0 | 0 | 0 | 1.06 |
| steem.joe | 1.06 | 0.666 | 1.06 | 0 | 141.086 | 3.18 | 93.146 | 240.592 |
| oldmans | 1.058 | 0 | 0.828 | 1.491 | 0.657 | 0.811 | 1.198 | 6.709 |
| palasatenea | 1.055 | 0 | 0 | 0 | 0 | 0 | 0 | 1.055 |
| tboyloyal | 1.044 | 1.356 | 0 | 0 | 0 | 0 | 0 | 1.044 |
| ctpsb | 1.037 | 0 | 1.841 | 1.515 | 3.677 | 2.687 | 7.506 | 19.619 |
| fabiniaab | 1.036 | 83.337 | 0 | 0 | 0 | 0 | 0 | 1.036 |
| notak | 1.026 | 0.774 | 0.487 | 0.581 | 41.815 | 1.691 | 0.327 | 129.264 |
| chireerocks | 1.01 | 1.087 | 1.524 | 1.505 | 0 | 0.809 | 0 | 5.622 |
| beewolf | 0.996 | 0.067 | 1.114 | 1.104 | 1.115 | 1.974 | 0.796 | 8.186 |
| gehhsk8 | 0.995 | 2.968 | 0 | 0 | 0 | 0 | 0 | 1.062 |
| gungunkrishu | 0.993 | 0.778 | 0 | 0 | 0 | 8.226 | 16.365 | 28.552 |
| bradleyarrow | 0.988 | 0 | 0.801 | 0.923 | 0.68 | 0.774 | 5.258 | 10.202 |
| davedickeyyall | 0.985 | 0.608 | 0 | 0 | 0 | 0 | 0 | 0.985 |
| stayoutoftherz | 0.968 | 34.023 | 1.832 | 1.016 | 0.5 | 1.592 | 2.557 | 9.073 |
| selfhelp4trolls | 0.964 | 1.099 | 0 | 0 | 0 | 2.692 | 0 | 37.679 |
| bitcoinsud | 0.959 | 19.25 | 0 | 0 | 0 | 0.549 | 0 | 2.607 |
| r1s2g3 | 0.952 | 0 | 0 | 0.566 | 0 | 0 | 10.523 | 31.291 |
| unspokennews | 0.928 | 0 | 0 | 0 | 0 | 0 | 0 | 0.928 |
| known.prince | 0.919 | 0 | 1.312 | 0.676 | 0 | 0.667 | 0 | 3.574 |
| mayor333 | 0.912 | 3.784 | 0.938 | 0.885 | 1.022 | 0.901 | 1.679 | 6.337 |
| reward.app | 0.911 | 1.701 | 4.855 | 13.362 | 0 | 11.227 | 2.691 | 36.83 |
| readthisplease | 0.911 | 0.708 | 1.447 | 0.014 | 4.234 | 0.008 | 19.627 | 27.942 |
| meesterleo | 0.91 | 0 | 1.016 | 1.143 | 2.479 | 0.994 | 1.004 | 8.254 |
| efastromberg94 | 0.909 | 1.344 | 0 | 0 | 0 | 0 | 0 | 0.909 |
| achim03.leo | 0.903 | 0.921 | 0.506 | 0.678 | 0.52 | 0.718 | 0.574 | 5.243 |
| kirstin | 0.895 | 0 | 0.781 | 0.671 | 1.094 | 0.566 | 0.827 | 5.755 |
| paulo.sar | 0.893 | 0 | 0 | 0 | 0 | 0.031 | 0.627 | 1.551 |
| verifiedasma123 | 0.889 | 0 | 0 | 0 | 0.881 | 0.906 | 0 | 2.676 |
| thereikiforest | 0.888 | 0 | 0 | 0 | 0 | 0 | 0 | 0.888 |
| blacardi | 0.885 | 0 | 1.159 | 1.513 | 0 | 0 | 1.3 | 4.857 |
| umzahhifza | 0.884 | 8.786 | 0 | 11.817 | 1.188 | 1.069 | 1.086 | 16.044 |
| gogreenbuddy | 0.884 | 0.871 | 7.329 | 6.617 | 0.754 | 8.125 | 10.085 | 42.58 |
| whispertamesth1 | 0.883 | 2.277 | 0.855 | 1.259 | 2.713 | 1.169 | 2.375 | 10.125 |
| willson-deng | 0.881 | 0 | 25.918 | 0.874 | 0 | 0 | 0 | 29.95 |
| writerjordan | 0.88 | 0 | 0 | 0 | 0 | 0 | 0 | 0.88 |
| ares121 | 0.875 | 0.529 | 0 | 0 | 0 | 1.803 | 0.871 | 3.549 |
| walterjay | 0.865 | 0 | 0.536 | 0 | 0.564 | 0.723 | 0.507 | 3.724 |
| satren | 0.857 | 0.739 | 0 | 0 | 0 | 0 | 0.637 | 1.494 |
| shebe | 0.857 | 0.721 | 0.783 | 0.62 | 0.974 | 1.343 | 1.233 | 6.549 |
| playbyhive | 0.854 | 0 | 0 | 0.595 | 0.958 | 0 | 0.566 | 3.694 |
| discernente | 0.849 | 0.501 | 0 | 0 | 0 | 0 | 0 | 0.849 |
| solominer.stake | 0.848 | 0.539 | 0 | 0 | 0 | 0 | 0 | 1.349 |
| matheusggr | 0.832 | 0 | 1.064 | 0 | 1.013 | 0.529 | 0.533 | 4.51 |
| hetty-rowan | 0.827 | 1.486 | 0.03 | 0.76 | 0.542 | 0.761 | 0 | 2.92 |
| captaincryptic | 0.824 | 0 | 0.595 | 2.769 | 0.41 | 0.958 | 1.695 | 8.737 |
| reonarudo | 0.814 | 0.572 | 0 | 6.917 | 0 | 0 | 0.522 | 8.253 |
| stortebeker | 0.808 | 0 | 0.583 | 0.684 | 0.571 | 0.819 | 15.645 | 19.682 |
| gammastern | 0.798 | 5.506 | 0 | 0 | 0 | 0 | 0 | 0.798 |
| steevc | 0.793 | 1.211 | 3.611 | 0.232 | 4.029 | 0.388 | 0 | 14.559 |
| hranhuk | 0.791 | 8.639 | 4.47 | 0.427 | 4.363 | 0.692 | 3.757 | 15.711 |
| onepercentbetter | 0.791 | 1.119 | 0 | 4.747 | 3.033 | 2.392 | 9.575 | 29.177 |
| nathanmars | 0.775 | 0 | 0.784 | 0.619 | 6.272 | 1.665 | 1.175 | 12.409 |
| thatgermandude | 0.77 | 0 | 13.306 | 0 | 0 | 0 | 1.887 | 15.963 |
| creativemary | 0.766 | 0.742 | 0 | 0 | 0 | 0 | 0 | 0.766 |
| doldrums | 0.761 | 0 | 0.815 | 0.833 | 0.651 | 1.486 | 0.745 | 6.033 |
| evernotice.leo | 0.753 | 0 | 0.749 | 0 | 2.074 | 1.001 | 0.897 | 5.474 |
| hodl-fund | 0.747 | 0 | 0.568 | 0 | 0 | 0.78 | 0.511 | 2.606 |
| stimburgarin | 0.741 | 0.906 | 0 | 0 | 0 | 0 | 0 | 0.741 |
| lnakuma | 0.74 | 0.596 | 3.932 | 0.034 | 0 | 0.011 | 0.713 | 6.336 |
| kachinhenry | 0.737 | 0.034 | 0.989 | 0 | 0.807 | 0.539 | 1.711 | 5.379 |
| akdx | 0.734 | 0.328 | 0.74 | 0 | 1.983 | 0.522 | 0 | 4.013 |
| mein-senf-dazu | 0.727 | 0 | 0.347 | 0.048 | 0 | 0.514 | 0 | 1.964 |
| fundacja | 0.722 | 0 | 1.148 | 0 | 0 | 1.028 | 0 | 2.898 |
| tygertyger | 0.719 | 0.575 | 0 | 0 | 0 | 0 | 0 | 0.719 |
| diggndeeper.com | 0.719 | 0.555 | 0.717 | 0.84 | 0.563 | 0.98 | 0.573 | 4.967 |
| uyobong | 0.714 | 0.298 | 1.113 | 0.991 | 2.543 | 1.461 | 1.485 | 8.862 |
| funnel | 0.703 | 0 | 0 | 0.139 | 0.51 | 59.399 | 1.009 | 62.058 |
| holger80 | 0.701 | 2.208 | 0.684 | 0 | 0.682 | 0 | 1.578 | 3.645 |
| marcusantoniu26 | 0.691 | 0.719 | 3.392 | 2.643 | 1.841 | 2.461 | 0 | 13.236 |
| automaton | 0.685 | 0.505 | 0.55 | 1.931 | 0.523 | 1.317 | 1.523 | 7.248 |
| sinistry | 0.683 | 1.063 | 0 | 0.626 | 0.607 | 1.044 | 0 | 3.465 |
| ivansnz | 0.68 | 1.912 | 0.973 | 0.513 | 0.77 | 0.89 | 1.303 | 6.192 |
| hodlcommunity | 0.679 | 1.841 | 0.586 | 7.549 | 0.777 | 6.893 | 0.791 | 19.187 |
| steemmonsters | 0.677 | 0.371 | 0.562 | 1.812 | 1.469 | 6.918 | 2.073 | 15.352 |
| dealhunter | 0.674 | 2.286 | 0 | 0 | 0 | 0 | 0 | 1.045 |
| vimukthi | 0.668 | 0.636 | 1.003 | 0.681 | 0.887 | 1.104 | 18.881 | 25.51 |
| ourpick | 0.664 | 3.014 | 0 | 1.01 | 0 | 0 | 0 | 2.31 |
| nichemarket | 0.654 | 0 | 0 | 0 | 0.672 | 0 | 0.68 | 5.02 |
| solymi | 0.653 | 0.644 | 0 | 0.618 | 0 | 0 | 0.699 | 1.97 |
| belemo.leo | 0.652 | 2.106 | 0 | 2.583 | 5.271 | 2.621 | 1.675 | 13.446 |
| hivecoffee | 0.648 | 0.092 | 0 | 1.124 | 0 | 1.215 | 9.637 | 14.73 |
| atnep111 | 0.647 | 0 | 0.145 | 0.338 | 0 | 0 | 0.649 | 1.871 |
| lettingo | 0.641 | 0 | 0 | 0 | 0 | 0.558 | 0 | 1.199 |
| jorgebgt | 0.638 | 1.635 | 0 | 0 | 0 | 0 | 0.583 | 1.221 |
| finguru | 0.636 | 0.558 | 2.706 | 1.979 | 0.946 | 1.202 | 5.104 | 14.208 |
| neoxiancityvb | 0.635 | 0.408 | 0 | 0 | 0.627 | 0 | 0.596 | 2.416 |
| keniel16 | 0.632 | 0.513 | 0 | 0.035 | 0.524 | 0.349 | 0 | 1.948 |
| bitukoyo | 0.625 | 0 | 0 | 0 | 0 | 0 | 0 | 1.138 |
| asetat | 0.623 | 1.584 | 0 | 0 | 0.628 | 0 | 0 | 1.251 |
| drax | 0.62 | 0 | 0.76 | 0.715 | 0.653 | 0.789 | 0.523 | 5.644 |
| yova | 0.619 | 7.704 | 0 | 0 | 0 | 0 | 0 | 0.619 |
| bil.prag | 0.615 | 0 | 0.5 | 0 | 0.915 | 0 | 0 | 9.734 |
| jedigeiss | 0.615 | 0 | 0.624 | 0 | 0 | 0.59 | 0 | 1.829 |
| vincentnijman | 0.613 | 0.602 | 0.553 | 1.565 | 0.705 | 1.365 | 1.357 | 6.158 |
| rok-sivante | 0.612 | 0.641 | 0.528 | 0.528 | 0.517 | 0.601 | 0 | 3.388 |
| star.leo | 0.606 | 6.02 | 0.648 | 0.679 | 0.782 | 0.671 | 0.569 | 4.596 |
| clixmoney | 0.605 | 0 | 0.775 | 4.982 | 1.44 | 25.545 | 0.412 | 39.779 |
| oadissin | 0.602 | 8.381 | 0.564 | 0.737 | 0 | 0.997 | 0 | 2.9 |
| haccolong | 0.602 | 0.527 | 0.685 | 0.701 | 4.825 | 7.62 | 2.063 | 24.877 |
| tin.aung.soe | 0.601 | 0 | 0.651 | 0.682 | 5.301 | 0.809 | 2.993 | 11.564 |
| any123 | 0.598 | 0 | 0 | 0 | 0 | 0.196 | 0 | 0.794 |
| aussieninja | 0.596 | 0.52 | 0.515 | 0 | 0.528 | 0.568 | 0 | 2.207 |
| der-prophet | 0.596 | 0 | 0 | 0.76 | 0 | 0.848 | 0.626 | 3.35 |
| gamer00 | 0.588 | 0.503 | 0 | 0 | 0 | 0 | 0 | 0.588 |
| beehivetrader | 0.588 | 0 | 0.78 | 0.57 | 0.515 | 0.668 | 0.659 | 4.283 |
| johnsennimaat | 0.586 | 0 | 0.545 | 0.563 | 0 | 0 | 0 | 1.694 |
| steliosfan | 0.586 | 0.767 | 0.573 | 0.558 | 0.615 | 0.831 | 0.585 | 3.748 |
| nikoleondas.leo | 0.584 | 0.669 | 0.646 | 0.668 | 0.583 | 0.754 | 0.964 | 4.966 |
| mattclarke | 0.581 | 0.525 | 0.6 | 1.068 | 0.535 | 0.558 | 0.764 | 4.775 |
| limka | 0.58 | 0.549 | 0.518 | 0.512 | 0.568 | 0.508 | 0.606 | 3.817 |
| abcor | 0.58 | 0.691 | 0.641 | 0.607 | 0.644 | 0.557 | 1.27 | 4.848 |
| bastter | 0.573 | 1.55 | 1.314 | 0.552 | 0.501 | 0.501 | 0.51 | 4.642 |
| jelly13 | 0.57 | 0 | 2.6 | 0 | 5.775 | 0.737 | 0.646 | 11.878 |
| pixiepost | 0.567 | 4.809 | 0.271 | 0.213 | 2.32 | 0.293 | 0.634 | 4.298 |
| amphlux | 0.563 | 0 | 0 | 11.342 | 2.71 | 0 | 0 | 19.424 |
| lamprini | 0.562 | 0 | 1.388 | 0.673 | 0.704 | 1.202 | 0.748 | 5.277 |
| hungryhustle | 0.562 | 0 | 0 | 0 | 0 | 0 | 0 | 0.562 |
| iamalivechalleng | 0.561 | 0 | 0.589 | 0 | 0 | 0 | 0 | 1.15 |
| underground | 0.561 | 0 | 0.564 | 0.681 | 6.809 | 0.507 | 0 | 9.122 |
| organduo | 0.555 | 0 | 0.591 | 0 | 0.551 | 0 | 0.551 | 2.248 |
| eloi | 0.552 | 0.785 | 0.527 | 1.405 | 142.751 | 0 | 0.517 | 145.752 |
| joefinance | 0.552 | 0.091 | 0 | 0.699 | 0.594 | 0 | 0.623 | 3.253 |
| holovision | 0.55 | 0 | 0.302 | 0.433 | 1.82 | 1.279 | 0.333 | 4.808 |
| bepresent | 0.549 | 0 | 0.564 | 0 | 76.019 | 0 | 90.204 | 167.336 |
| ztfo | 0.548 | 0 | 0.528 | 0.579 | 71.009 | 0 | 72.077 | 144.741 |
| rmsadkri | 0.545 | 0 | 0.538 | 0 | 1.57 | 0.509 | 0.524 | 3.686 |
| myanmarkoko | 0.545 | 0.529 | 0 | 0 | 0 | 0 | 0 | 0.545 |
| libertyleo27 | 0.545 | 0.528 | 0.534 | 0.523 | 0.542 | 0 | 0.502 | 3.175 |
| svirus | 0.544 | 6.6 | 0 | 0 | 0 | 0 | 0.596 | 1.668 |
| d-zero | 0.542 | 0 | 0.528 | 3.383 | 0.509 | 0.659 | 0.506 | 12.727 |
| arunava | 0.54 | 0.537 | 0 | 0 | 1.49 | 0 | 3.607 | 5.637 |
| driedfruit | 0.539 | 0 | 0.888 | 1.056 | 1.115 | 1.044 | 1.157 | 6.336 |
| thorc | 0.537 | 0.55 | 0 | 0 | 0 | 0 | 136.518 | 137.055 |
| r0nd0n | 0.537 | 0.024 | 1.027 | 0.678 | 0.827 | 0.592 | 0.688 | 4.899 |
| bashadow | 0.537 | 0 | 0.034 | 0.583 | 0.238 | 0.557 | 2.671 | 4.644 |
| rosatravels | 0.536 | 0.523 | 0 | 0 | 0 | 0 | 0 | 0.536 |
| marketinggeek | 0.535 | 0 | 0 | 0 | 0.519 | 0.149 | 0.51 | 2.236 |
| hemerit | 0.534 | 0 | 0 | 0 | 0 | 0 | 137.545 | 138.079 |
| goodindigene | 0.533 | 0.521 | 0 | 0 | 0 | 0 | 0 | 0.533 |
| amico | 0.533 | 0 | 0.546 | 0.559 | 0.556 | 0.507 | 0.628 | 3.85 |
| citimillz | 0.531 | 0 | 0 | 0.522 | 0 | 0.503 | 0 | 1.556 |
| integrated | 0.529 | 1.211 | 0 | 0 | 0 | 78.309 | 71.825 | 150.663 |
| bagofincome | 0.528 | 0 | 5.168 | 28.543 | 3.358 | 93.594 | 1.391 | 133.793 |
| ropehold | 0.528 | 0 | 0 | 0 | 0 | 0 | 167.005 | 167.533 |
| akpofure | 0.528 | 0.518 | 0 | 0 | 0 | 0 | 76.589 | 77.117 |
| rezoanulv.leo | 0.528 | 0.01 | 0.606 | 0.517 | 0.512 | 0 | 0.531 | 3.212 |
| camerarules | 0.527 | 0.529 | 0 | 0.002 | 0 | 0 | 13.334 | 13.873 |
| ammonite.leo | 0.526 | 0 | 1.016 | 0.892 | 0.501 | 0.902 | 0.8 | 5.166 |
| protoleo | 0.526 | 0 | 0 | 0 | 71.049 | 65.399 | 0.513 | 137.487 |
| aftabkhan10 | 0.526 | 0 | 7.026 | 0 | 0.963 | 0.695 | 0.699 | 9.909 |
| upvoteshares | 0.526 | 0.518 | 2.032 | 0.536 | 0.523 | 0 | 0.512 | 4.129 |
| erikklok | 0.524 | 0 | 0.599 | 0.595 | 1.431 | 1.089 | 1.516 | 6.272 |
| kaef | 0.523 | 0 | 0 | 0 | 0 | 81.403 | 71.852 | 153.778 |
| megaleoschein | 0.523 | 0 | 0.52 | 0 | 0 | 0.522 | 0 | 1.565 |
| tanqu | 0.521 | 3.946 | 0 | 0 | 0 | 0 | 0 | 0.521 |
| gadrian | 0.52 | 0 | 0.95 | 10.234 | 0.862 | 67.607 | 1.573 | 85.692 |
| cyberspacegod | 0.519 | 0.104 | 0 | 0 | 0.511 | 0 | 0 | 1.03 |
| stokjockey | 0.519 | 0 | 0.142 | 0.281 | 0.316 | 0 | 0.103 | 1.465 |
| letshodl | 0.517 | 0.53 | 0.501 | 0.54 | 0 | 0.529 | 0.525 | 2.612 |
| maurofolco | 0.517 | 1.41 | 0 | 0 | 0.519 | 0.521 | 0.682 | 2.769 |
| tobetada | 0.517 | 0 | 0.91 | 0.576 | 0.548 | 2.618 | 1.076 | 7.655 |
| shanibeer | 0.516 | 0 | 0.501 | 0 | 1.511 | 0.509 | 0.512 | 3.549 |
| tulwave | 0.516 | 0 | 0.948 | 0.861 | 0.57 | 1.491 | 1.042 | 5.428 |
| bleuxwolf | 0.515 | 0 | 0 | 0 | 0 | 0 | 0 | 0.515 |
| robmojo.leo | 0.514 | 0 | 0 | 0 | 0.508 | 0 | 0 | 1.022 |
| tonyz | 0.514 | 0 | 0 | 0.514 | 0 | 0 | 0 | 1.028 |
| meosleos | 0.514 | 0 | 0 | 91.002 | 91.302 | 0 | 0.525 | 183.343 |
| druma | 0.514 | 0.516 | 0 | 0 | 0 | 0 | 146.088 | 146.602 |
| generatornation | 0.514 | 0 | 0 | 0 | 0.521 | 0 | 0.608 | 2.159 |
| sgerhart | 0.514 | 71.593 | 0 | 0.5 | 0 | 0.507 | 0 | 1.521 |
| stackfi | 0.513 | 0 | 0 | 0 | 0 | 0 | 0 | 72.106 |
| yangyanje | 0.513 | 0 | 0 | 0 | 0 | 0.528 | 0 | 1.041 |
| sheinthu | 0.512 | 0 | 0 | 0 | 1.567 | 0.508 | 0 | 2.587 |
| cooperclub | 0.512 | 97.573 | 0.538 | 0 | 0 | 0 | 0.159 | 1.209 |
| steem.leo | 0.512 | 0 | 0.596 | 97.711 | 0.509 | 0.535 | 90.088 | 287.524 |
| calumam-leo | 0.512 | 0 | 0 | 0.503 | 0 | 0 | 0.505 | 1.52 |
| summertooth | 0.512 | 0 | 0.512 | 0 | 0 | 1.316 | 0 | 2.34 |
| bubke | 0.511 | 0 | 0 | 0 | 0 | 0 | 0 | 0.511 |
| director.rar | 0.509 | 0.542 | 0 | 0.515 | 0 | 0 | 0 | 1.024 |
| leofinance | 0.509 | 0 | 191.857 | 0.502 | 92.102 | 0.893 | 0.515 | 286.92 |
| thatcryptodave | 0.509 | 1.404 | 0.555 | 1.638 | 0.843 | 1.097 | 0.041 | 4.683 |
| jacuzzi | 0.509 | 0 | 1.422 | 0.508 | 1.778 | 1.682 | 1.061 | 8.364 |
| simplegame | 0.509 | 3.349 | 0 | 0 | 0 | 0.502 | 0 | 1.011 |
| silversaver888 | 0.508 | 0 | 0 | 2.138 | 0.423 | 9.833 | 0 | 16.251 |
| therealflaws | 0.508 | 0 | 0 | 1.724 | 0 | 0 | 0 | 2.232 |
| jkr88 | 0.508 | 0 | 0 | 0 | 0 | 0 | 0.502 | 1.01 |
| ervin-lemark | 0.507 | 0 | 0 | 0 | 0 | 14.287 | 0.079 | 14.873 |
| ericburgoyne | 0.507 | 0.624 | 0.976 | 0.513 | 0 | 0.934 | 0.509 | 3.439 |
| pervitin | 0.507 | 0 | 0.619 | 0.618 | 0.607 | 0.603 | 0.619 | 4.197 |
| risingstargame | 0.507 | 0 | 0 | 0 | 0 | 0 | 1.116 | 1.623 |
| carrieallen | 0.506 | 0.568 | 0 | 0 | 0 | 0 | 0 | 0.506 |
| dreemsteem | 0.506 | 0 | 0 | 0.503 | 0 | 0 | 4.427 | 6.004 |
| blainjones | 0.506 | 0 | 0.515 | 0 | 0.504 | 0 | 0.503 | 2.028 |
| cbridges573 | 0.505 | 0 | 0 | 0.506 | 0 | 0 | 0 | 1.011 |
| travelwritemoney | 0.505 | 0 | 0.501 | 0 | 0 | 0 | 0.703 | 1.709 |
| road2horizon | 0.505 | 0 | 0 | 0 | 0 | 0 | 0 | 0.505 |
| zkalemiss.leo | 0.505 | 0 | 0.582 | 0.569 | 0 | 0.572 | 0.572 | 2.8 |
| darinapogodina | 0.505 | 0 | 0 | 0 | 0 | 0 | 0 | 0.505 |
| guurry123 | 0.504 | 0 | 0.554 | 0.516 | 0.947 | 0.526 | 0 | 3.047 |
| hivehustlers | 0.504 | 0 | 0 | 0 | 0.5 | 0 | 0 | 1.004 |
| leo.curator | 0.504 | 0 | 95.002 | 0 | 0 | 0 | 94.109 | 189.615 |
| slobberchops.leo | 0.504 | 0.516 | 0.513 | 0.273 | 0.503 | 0.502 | 0.514 | 2.809 |
| bananass | 0.503 | 0 | 0.557 | 0 | 0.501 | 0.544 | 0.528 | 3.149 |
| threesteps | 0.503 | 0 | 0.771 | 0.641 | 0 | 0.091 | 0 | 2.006 |
| hochismin | 0.503 | 0 | 0 | 0 | 0 | 0 | 0 | 0.503 |
| gniksivart | 0.502 | 0 | 0 | 0.577 | 0 | 0.502 | 0 | 1.581 |
| gerber | 0.502 | 0 | 0.513 | 0 | 0.514 | 0 | 0.5 | 2.029 |
| meins0815 | 0.502 | 0 | 0 | 0 | 0 | 0 | 0 | 0.502 |
| handofzara | 0.502 | 0 | 0 | 0 | 2.39 | 0 | 0 | 2.892 |
| j85063 | 0.501 | 0 | 0 | 0 | 1.192 | 0 | 0.506 | 2.199 |
| janku | 0.501 | 0 | 0 | 0 | 0 | 65.395 | 71.338 | 137.234 |
| ew-and-patterns | 0.501 | 0.357 | 0.508 | 0 | 0.504 | 0 | 4.603 | 6.116 |
| uwelang | 0.501 | 0 | 0.57 | 0.562 | 0.826 | 0.645 | 0.713 | 4.174 |
| smooth | 0.501 | 0 | 0 | 0 | 0 | 0 | 0 | 0.501 |
| jzn | 0.501 | 0.513 | 0 | 0 | 0 | 0 | 0 | 0.501 |
| bearjohn | 0.501 | 0 | 2.239 | 75.109 | 0.509 | 0.508 | 69.88 | 149.259 |
| luppers | 0.501 | 0 | 0.507 | 0.292 | 0.5 | 0.507 | 0.51 | 2.817 |
| irisworld | 0.5 | 0 | 0 | 0 | 0 | 0.062 | 0.515 | 1.077 |
| alorian | 0.5 | 0 | 0 | 0 | 71.509 | 0 | 71.392 | 143.401 |
| heimdalla | 0.5 | 0.226 | 0 | 0 | 0 | 0 | 0 | 0.5 |
| levi-miron | 0.452 | 0 | 1.346 | 0 | 0.335 | 0 | 0 | 2.359 |
| active-truth | 0.452 | 0 | 0 | 0 | 0 | 0 | 0 | 0.452 |
| cwow2 | 0.448 | 0 | 0.718 | 0 | 0.402 | 0 | 0.109 | 1.677 |
| bigtom13 | 0.446 | 0 | 0 | 0 | 0 | 0.506 | 0 | 0.952 |
| koskl | 0.446 | 0 | 0.215 | 0.201 | 0.198 | 0.052 | 0 | 1.112 |
| nervi | 0.431 | 0.004 | 0.009 | 0 | 0.009 | 3.051 | 0 | 3.5 |
| mightyrocklee | 0.398 | 0.149 | 0.76 | 0.133 | 0.012 | 0.004 | 1.445 | 2.756 |
| tommyl33 | 0.385 | 2.302 | 0.16 | 0.245 | 0.477 | 0 | 0 | 1.416 |
| anadolu | 0.384 | 0.066 | 0.001 | 0.858 | 0.68 | 0.371 | 1.198 | 5.794 |
| specialfeelings | 0.367 | 0 | 0.139 | 0.067 | 0.057 | 0 | 0 | 0.696 |
| nerdtopiade | 0.363 | 0 | 0 | 0 | 0 | 0 | 0 | 0.363 |
| taseli | 0.363 | 0.326 | 0 | 0.223 | 0.278 | 0 | 0 | 0.864 |
| knowhow92 | 0.341 | 0.001 | 12.08 | 7.609 | 2.455 | 0.792 | 0.238 | 23.841 |
| justclickindiva | 0.333 | 0.016 | 0.384 | 0 | 0 | 0 | 0 | 0.718 |
| heruvim1978 | 0.321 | 0 | 0.106 | 0.024 | 0.131 | 0.029 | 0.031 | 0.658 |
| nadhora | 0.301 | 0.0021 | 0 | 0 | 0 | 0 | 0 | 0.301 |
| chireerocks.leo | 0.286 | 0 | 0.506 | 0 | 0 | 0 | 0 | 0.7941 |
| drutter | 0.285 | 0 | 0 | 0.015 | 0 | 0 | 0.088 | 0.388 |
| teenagecrypto | 0.282 | 0 | 0 | 0.055 | 0.117 | 0 | 0 | 0.454 |
| turkiye | 0.28 | 0.141 | 0 | 0 | 0 | 0 | 0 | 0.28 |
| abbak7 | 0.273 | 0 | 0.113 | 0.064 | 0.099 | 0.088 | 0.055 | 0.833 |
| sipahikara | 0.253 | 0 | 0 | 0.879 | 0 | 0.196 | 0 | 1.328 |
| sn0n | 0.239 | 0 | 0 | 0 | 0.141 | 0 | 0.271 | 0.651 |
| boycharliefamily | 0.239 | 0 | 0 | 0 | 0 | 0 | 0 | 0.239 |
| nonsowrites | 0.203 | 0 | 0 | 0.956 | 0 | 2.567 | 0.769 | 4.495 |
| paulmoon410 | 0.198 | 0 | 0 | 0 | 0.122 | 0 | 0.558 | 0.878 |
| officialuroga | 0.193 | 0.349 | 0 | 0 | 0 | 0 | 0 | 0.193 |
| damla | 0.189 | 0.344 | 0.588 | 0.141 | 0.185 | 0.148 | 0.262 | 1.862 |
| pablodare | 0.188 | 0.557 | 0.071 | 0.134 | 0.166 | 0.052 | 0.099 | 1.054 |
| chuckrick | 0.187 | 0 | 0.762 | 0 | 0 | 0 | 0 | 1.506 |
| nevies | 0.185 | 0.497 | 0 | 0 | 0 | 0.04 | 0 | 0.225 |
| mytechtrail | 0.172 | 0.21 | 0 | 0 | 0.138 | 0.182 | 0.325 | 1.314 |
| jocieprosza | 0.17 | 0 | 0 | 1.496 | 0.075 | 0.109 | 0.177 | 2.237 |
| engrsayful | 0.167 | 0.11 | 0 | 0 | 0.021 | 0.887 | 1.742 | 2.817 |
| beemd | 0.155 | 0 | 0.06 | 0.058 | 0.059 | 0.022 | 0.029 | 0.493 |
| fragozar01 | 0.151 | 0 | 0.6 | 0 | 0 | 1.651 | 0 | 2.402 |
| oldoneeye | 0.149 | 0.056 | 0 | 0 | 0 | 0 | 0 | 0.149 |
| tsnaks | 0.14 | 7.417 | 0.035 | 0.023 | 0.207 | 0 | 0.269 | 0.73 |
| rob23 | 0.124 | 0 | 29.9 | 2.552 | 1.366 | 22.354 | 0.574 | 64.287 |
| smooms | 0.104 | 0 | 0 | 0 | 0 | 0 | 0 | 0.104 |
| namiks | 0.102 | 0 | 0 | 0 | 0 | 0 | 0 | 0.102 |
| polarmystro | 0.097 | 4.635 | 0 | 0 | 0 | 0 | 0 | 0.097 |
| roninrelax | 0.095 | 0 | 0 | 0.789 | 0.267 | 0 | 0.403 | 6.189 |
| hive-world | 0.087 | 0 | 0 | 0.667 | 0.529 | 0.74 | 0 | 2.023 |
| reyvaj | 0.085 | 0.504 | 0 | 0 | 1.327 | 0 | 0 | 1.412 |
| antisocialist | 0.085 | 0.085 | 0.573 | 0.38 | 1.198 | 0.484 | 0 | 3.224 |
| wagnertamanaha | 0.085 | 0.053 | 0.012 | 0.072 | 0.048 | 0.024 | 0.061 | 0.387 |
| handtalk5 | 0.079 | 0 | 0.011 | 0.736 | 0.047 | 0.052 | 0.029 | 1.007 |
| beat-the-bookies | 0.077 | 0.632 | 0 | 0 | 0 | 0 | 0 | 0.077 |
| phusionphil | 0.073 | 0.069 | 0 | 0.025 | 0.317 | 0 | 0.02 | 1.067 |
| dwarflordnoj | 0.067 | 0.076 | 0.29 | 0 | 0.02 | 0.236 | 0.551 | 1.233 |
| jhelbich | 0.065 | 0 | 0.613 | 0 | 0 | 0 | 0 | 0.754 |
| hirohurl | 0.06 | 0 | 0.003 | 0 | 0 | 0 | 0.033 | 0.096 |
| nutritree | 0.055 | 0.003 | 0.5 | 0 | 0 | 0 | 0 | 0.555 |
| dadspardan | 0.052 | 0.03 | 0.005 | 0.929 | 0.002 | 0.093 | 0 | 1.084 |
| broxi | 0.051 | 0 | 0.066 | 0 | 0 | 0.043 | 0.036 | 0.226 |
| capp | 0.05 | 0 | 0 | 0 | 0 | 0 | 0 | 0.05 |
| saboin | 0.047 | 0.134 | 0.423 | 0 | 0 | 0 | 0.185 | 0.655 |
| seckorama | 0.045 | 0.062 | 0 | 0 | 0.505 | 0 | 0.104 | 0.788 |
| ykretz | 0.045 | 0 | 0.068 | 0.046 | 0.061 | 0.028 | 0.405 | 0.715 |
| coffeefinance | 0.044 | 1.009 | 0.043 | 0 | 0.073 | 0.255 | 0.293 | 0.708 |
| riandeuk | 0.044 | 0 | 1.768 | 0.495 | 0 | 0 | 0.043 | 3.359 |
| amaari | 0.044 | 0.084 | 0 | 0 | 0 | 0 | 0 | 0.044 |
| felipejoys | 0.042 | 0.04 | 0.431 | 0.35 | 0.509 | 0.001 | 0 | 1.417 |
| siphon | 0.039 | 0 | 0 | 0.063 | 0 | 0 | 0.041 | 0.183 |
| sbenbow | 0.038 | 0 | 0 | 0 | 0 | 0.259 | 0 | 0.297 |
| regenerette | 0.037 | 0 | 1.819 | 0.694 | 0.295 | 0 | 0.032 | 2.877 |
| myfreebtc | 0.036 | 0 | 0 | 7.369 | 0.666 | 4.562 | 4.211 | 16.844 |
| samgiset | 0.035 | 0 | 0 | 0 | 0 | 0 | 0.005 | 0.04 |
| urielg | 0.034 | 0.091 | 0 | 0 | 0 | 0.017 | 0 | 0.051 |
| coffeelovers | 0.033 | 0 | 0.084 | 0.065 | 0.105 | 0.027 | 0.02 | 0.425 |
| besheda | 0.033 | 0.092 | 0.009 | 0.018 | 0.044 | 0.049 | 0.004 | 0.157 |
| sicarius | 0.031 | 0 | 0 | 0 | 0 | 3.24 | 0 | 3.363 |
| adysscheryl | 0.029 | 0 | 0 | 0 | 0.004 | 0 | 0 | 0.033 |
| fiberfrau | 0.028 | 0.149 | 0 | 0 | 0.033 | 0.073 | 0.001 | 0.135 |
| thehive | 0.028 | 0 | 0 | 0.097 | 1.326 | 0.19 | 0 | 1.79 |
| brutalmonkey | 0.026 | 0 | 0 | 0 | 0 | 0 | 1.06 | 1.086 |
| blog-beginner | 0.026 | 0.0002 | 0 | 0 | 0 | 0 | 0 | 0.026 |
| javiss | 0.024 | 0 | 0 | 0 | 0 | 0 | 0 | 0.0242 |
| yeckingo1 | 0.023 | 0.04 | 0.002 | 0.659 | 0.063 | 0.016 | 0.001 | 0.764 |
| fwxiii | 0.018 | 0 | 0 | 0 | 0.036 | 0 | 0 | 0.094 |
| egistar | 0.018 | 0 | 0.003 | 0.001 | 0 | 0 | 0 | 0.022 |
| deanlogic | 0.018 | 10.971 | 0.041 | 0.018 | 0.017 | 0.039 | 0.064 | 0.197 |
| chronocrypto | 0.016 | 0 | 0.013 | 14.894 | 0.033 | 0.036 | 0.014 | 25.977 |
| yankosoito | 0.016 | 0 | 0.04 | 0.016 | 0.015 | 0.04 | 0 | 0.127 |
| panosdada | 0.016 | 0.003 | 0 | 0 | 0.003 | 0 | 0.004 | 0.023 |
| jacoalberts | 0.015 | 0.013 | 0.048 | 0.02 | 0.012 | 0.021 | 0.015 | 0.134 |
| bastionpm | 0.015 | 0.01 | 0.013 | 0.014 | 0.016 | 0.027 | 0 | 0.098 |
| dbooster | 0.014 | 0 | 0.008 | 0.008 | 0.007 | 0.227 | 0.011 | 0.285 |
| pusen | 0.014 | 0 | 0 | 0 | 0 | 0 | 0 | 0.014 |
| dajokawild | 0.014 | 0.512 | 0 | 0 | 0 | 0 | 0 | 0.014 |
| nainaztengra | 0.011 | 0.841 | 0 | 0 | 0 | 0.348 | 0 | 0.871 |
| akertxu | 0.011 | 0.058 | 1.135 | 0 | 0 | 0.034 | 0 | 2.021 |
| jimmy.adames | 0.011 | 0 | 0 | 0.024 | 7.642 | 1.147 | 0.02 | 8.902 |
| demotruk | 0.011 | 0.008 | 0 | 0 | 0 | 0 | 0 | 0.011 |
| lerkfrend | 0.01 | 0 | 0.004 | 1.351 | 0 | 0.014 | 0.01 | 1.397 |
| justinparke | 0.009 | 0 | 0.071 | 0 | 0.011 | 0 | 0.457 | 0.548 |
| kansuze | 0.008 | 0.001 | 0 | 0 | 0.012 | 0 | 0 | 0.02 |
| savagetobi | 0.007 | 0 | 0.002 | 0.005 | 0.004 | 0 | 0.002 | 0.021 |
| oldsoulnewb | 0.007 | 0 | 0 | 0 | 0 | 0 | 0 | 0.007 |
| sevenoh-fiveoh | 0.007 | 0.042 | 0.004 | 0.003 | 0.005 | 0 | 0.002 | 0.021 |
| interpretation | 0.007 | 0.476 | 0.037 | 0.108 | 0.319 | 0.121 | 1.599 | 2.233 |
| yintercept | 0.006 | 0.003 | 0.024 | 0.044 | 0.038 | 0.094 | 0 | 0.682 |
| nessycanta | 0.006 | 0 | 0 | 0 | 0 | 0 | 0 | 0.009 |
| vanillavow | 0.006 | 0.015 | 0 | 0 | 0 | 0.039 | 0 | 0.045 |
| phoenixwren | 0.006 | 0 | 0 | 0 | 0.033 | 0 | 0.009 | 0.063 |
| jeffandhisguitar | 0.006 | 0.003 | 0 | 0 | 0 | 0 | 0 | 0.006 |
| kingneptune | 0.006 | 0 | 0.003 | 0 | 0 | 0.027 | 0 | 0.039 |
| geneeverett | 0.005 | 0.444 | 1.536 | 0.013 | 0.022 | 0 | 2.054 | 3.63 |
| mermaidvampire | 0.005 | 0.004 | 0 | 0 | 0 | 0 | 0 | 0.449 |
| filosof103 | 0.004 | 0.022 | 0.006 | 0.006 | 0.025 | 0 | 0 | 0.045 |
| torrecoin90 | 0.004 | 2.24 | 0.011 | 0.021 | 0.004 | 0.013 | 0.009 | 0.084 |
| khazrakh | 0.004 | 0.002 | 0 | 0 | 10.811 | 0 | 6.107 | 19.162 |
| antonym | 0.003 | 0 | 0.015 | 0.275 | 0.002 | 0 | 0.003 | 0.3 |
| xchng | 0.003 | 0.006 | 0 | 0 | 0 | 0 | 0 | 0.003 |
| khan.dayyanz | 0.003 | 0 | 0.007 | 0.004 | 1.119 | 1.062 | 0.006 | 2.207 |
| fedaatawfiq | 0.002 | 0.004 | 0 | 0 | 0 | 0 | 0 | 0.002 |
| tcpaikano | 0.001 | 0.001 | 0.002 | 0.094 | 0.007 | 0.059 | 0.004 | 0.171 |
| amigareaction | 0.001 | 0 | 0.002 | 0.002 | 0.003 | 0.003 | 0.004 | 0.016 |
| nohyperec | 0.001 | 0.003 | 0 | 0 | 0.002 | 0.004 | 0.003 | 0.01 |
| priyanarc | 0.001 | 0.001 | 0 | 0.003 | 0 | 0.003 | 0.002 | 0.012 |
| vcelier | 0.001 | 4.864 | 0.002 | 0 | 0.001 | 0 | 0 | 0.005 |
| alnash | 0.0215 | 0 | 0.011 | 0.087 | 0.01 | 0.01 | 0.03 | 5.0335 |
| clicktrackprofit | 0.0177 | 0 | 1.94 | 0 | 0 | 3.418 | 0 | 5.3757 |
| darth-azrael | 0.0174 | 0 | 0 | 0 | 0 | 0 | 0 | 0.0174 |
| sifondeseltz | 0.0174 | 0 | 0 | 0 | 0 | 0 | 0.054 | 0.0714 |
| nathen007 | 0.0172 | 0 | 0 | 0 | 0.087 | 0 | 0 | 0.1042 |
| shadflyfilms | 0.0171 | 0 | 0 | 0 | 0 | 0 | 0 | 0.0171 |
| theroad2freedom | 0.0132 | 0 | 0 | 0 | 0 | 0 | 0.092 | 0.1052 |
| haitch | 0.013 | 0 | 0 | 0.013 | 0.015 | 0 | 0.027 | 0.068 |
| ddn688 | 0.0126 | 0 | 0 | 0 | 0 | 0 | 0 | 0.0126 |
| shaidon | 0.0119 | 0.015 | 0 | 0.016 | 0 | 0 | 0 | 0.0279 |
| thehockeyfan-at | 0.0116 | 0 | 0 | 0 | 0 | 0.018 | 0 | 0.0446 |
| genesishealthy | 0.0105 | 0 | 0 | 0 | 0 | 0 | 0 | 0.0105 |
| danielvehe | 0.0104 | 0.018 | 0 | 0 | 0 | 0 | 0 | 0.0104 |
| hive.pizza | 0.0099 | 0 | 0.009 | 0.018 | 0.027 | 0 | 0.014 | 0.0959 |
| portugalcoin | 0.0089 | 0 | 0 | 0 | 0 | 0 | 0 | 0.0089 |
| faeriestories | 0.0081 | 0 | 0 | 0 | 0 | 0 | 0 | 0.0081 |
| girlhunter | 0.0076 | 0 | 0 | 0 | 0 | 0 | 0 | 0.0076 |
| dirtnowitzki | 0.0074 | 0 | 0 | 0.002 | 0.083 | 0 | 0 | 0.0924 |
| trayan | 0.0073 | 0 | 0 | 0 | 0 | 0 | 0.004 | 0.0113 |
| nathen007.stem | 0.007 | 0 | 0 | 0 | 0 | 0 | 0 | 0.007 |
| rikarivka | 0.0066 | 0.001 | 0 | 0 | 0 | 0 | 0 | 0.0066 |
| bhattg | 0.0051 | 0 | 0.001 | 0.003 | 1.448 | 0.398 | 0.003 | 1.8591 |
| bencwarmer | 0.0047 | 0 | 0 | 0 | 0 | 0 | 0 | 0.0047 |
| artgirlnyc | 0.0042 | 3.2 | 0 | 0 | 0 | 0 | 0.006 | 0.0102 |
| shinoxl | 0.0036 | 0.004 | 0 | 3.171 | 0 | 0 | 0 | 6.3746 |
| tonytrillions | 0.0035 | 0 | 0 | 0 | 0 | 0 | 0 | 0.0075 |
| pichat | 0.0031 | 0 | 0 | 0 | 0 | 0 | 0 | 0.0031 |
| fmbs25 | 0.0029 | 0.0012 | 0 | 0 | 0 | 0 | 0 | 0.0029 |
| itharagaian | 0.0029 | 0 | 0 | 0 | 0.095 | 0 | 0 | 0.0991 |
| zedcell | 0.0028 | 0.496 | 0.021 | 0.0004 | 0 | 0 | 0 | 0.0242 |
| alente | 0.0026 | 0 | 0.007 | 0.51 | 0 | 0.012 | 0 | 1.0276 |
| andy-cine | 0.0025 | 0 | 0 | 0 | 0 | 0 | 0 | 0.0025 |
| hiq | 0.0025 | 0 | 0 | 0 | 0 | 0 | 0 | 0.0025 |
| dany786 | 0.0024 | 0 | 0 | 0 | 0 | 0 | 0 | 0.0024 |
| rizzellofabio | 0.0023 | 0.0034 | 0 | 0 | 0 | 0 | 0 | 0.0023 |
| operahoser | 0.0019 | 0 | 0 | 0 | 0 | 0 | 0 | 0.0053 |
| retrodroid | 0.0019 | 0.0007 | 0 | 0 | 0 | 0 | 0 | 0.0019 |
| quekery | 0.0017 | 0.025 | 0 | 0.104 | 0 | 0 | 0 | 0.1064 |
| apoloo1 | 0.0016 | 0 | 0.06 | 0 | 0.025 | 0 | 0.081 | 0.1926 |
| johnsdowie | 0.0016 | 0.09 | 1.693 | 0 | 0.034 | 0.006 | 0 | 1.7346 |
| yocazo | 0.0016 | 0.0031 | 0.024 | 0 | 0.026 | 0.208 | 0 | 0.3496 |
| antipops | 0.0015 | 0.0007 | 0 | 0 | 0 | 0 | 0 | 0.0046 |
| peter-stone | 0.0014 | 0.0007 | 0 | 0 | 0 | 0 | 0 | 0.0021 |
| kevmcc | 0.0014 | 0 | 0 | 0.0003 | 0.001 | 0 | 0 | 0.0034 |
| hivediver | 0.0013 | 0.0012 | 0 | 0 | 0 | 0 | 0 | 0.0013 |
| ili0braz | 0.0008 | 0 | 0 | 0 | 0 | 0 | 0 | 0.002 |
| brucolac | 0.0007 | 0 | 0 | 0 | 0 | 0 | 0.042 | 0.0427 |
| lifeskills-tv | 0.0006 | 0 | 0 | 0.0002 | 0 | 0 | 0 | 0.0008 |
| rafax011 | 0.0006 | 0.041 | 0 | 0 | 0 | 0 | 0 | 0.0006 |
| tlundy47 | 0.0005 | 0.0009 | 0.017 | 0.016 | 0 | 0.02 | 0.001 | 0.0955 |
| gravitcaper | 0.0005 | 0 | 0 | 0.0006 | 0 | 0 | 0 | 0.002 |
| silviabeneforti | 0.0005 | 0 | 0 | 0 | 0 | 0 | 0 | 0.0005 |
| eatmyshorts | 0.0004 | 0 | 0 | 0.0003 | 0 | 0 | 0 | 0.0007 |
| nikoleondas | 0.0004 | 0 | 0 | 0.0003 | 0 | 0 | 0 | 0.0007 |
| krevasilis | 0.0003 | 0 | 0 | 0 | 0 | 0 | 0 | 0.0003 |
| musicuniversity | 0.0003 | 0 | 0 | 0 | 0 | 0 | 0 | 0.0003 |
| kurogan | 0.0002 | 0 | 0 | 0 | 0 | 0 | 0 | 0.0002 |
| audiohive-me | 0.0001 | 0.0001 | 0 | 0 | 0 | 0 | 0 | 0.0001 |
| hellene8 | 0.0001 | 0 | 0 | 0.0003 | 0 | 0 | 0 | 0.0005 |
| b4phom3t | 0.0001 | 0 | 0 | 0 | 0 | 0.001 | 0 | 0.0011 |
| nahueldare3627 | 0 | 5000 | 0 | 0 | 0 | 0 | 0.598 | 0.598 |
| leo.bounties | 0 | 89.604 | 0 | 0 | 5000 | 0 | 0 | 10000 |
| determine | 0 | 81.403 | 1.066 | 0 | 67.395 | 0 | 78.029 | 236.094 |
| supersla | 0 | 78.209 | 0.533 | 0 | 78.403 | 91.402 | 0 | 251.741 |
| learn.leo | 0 | 71.509 | 0.533 | 0 | 89.438 | 0 | 0 | 168.18 |
| scrpt | 0 | 71.503 | 0.565 | 71.498 | 61.649 | 0 | 0 | 205.221 |
| gcomplex | 0 | 34.17 | 0.5 | 0 | 145.407 | 0 | 0 | 217.41 |
| fabian98 | 0 | 29.339 | 11.572 | 1.275 | 5.888 | 3.499 | 1.036 | 57.44 |
| abh12345 | 0 | 20.728 | 0 | 0 | 0 | 14.144 | 13.682 | 57.165 |
| lordbutterfly | 0 | 18.106 | 0.505 | 0 | 0 | 0 | 0 | 21.233 |
| klye | 0 | 13.534 | 0 | 1.687 | 0 | 0 | 0 | 19.793 |
| aco5 | 0 | 10.942 | 0 | 0 | 0 | 0 | 0 | 13.534 |
| eddiespino | 0 | 9.126 | 0 | 0 | 0 | 0 | 0 | 10.942 |
| eddie-earner | 0 | 9.102 | 0 | 0 | 0 | 0 | 0 | 9.126 |
| belemo | 0 | 8.482 | 0.775 | 80.077 | 8.609 | 3.357 | 21.239 | 123.159 |
| leonordomonol | 0 | 8.167 | 0 | 1.425 | 0 | 0 | 0 | 9.907 |
| break-out-trader | 0 | 8.115 | 3.66 | 2.52 | 2.865 | 5.032 | 0.726 | 22.97 |
| flauwy | 0 | 7.649 | 0 | 14.647 | 0 | 0 | 0 | 22.762 |
| clayboyn | 0 | 7.257 | 0 | 0 | 0 | 0.548 | 0 | 8.197 |
| lisakate | 0 | 6.36 | 0 | 0 | 0 | 0 | 0 | 7.257 |
| mykos | 0 | 5.961 | 4.254 | 0.918 | 0 | 0 | 0 | 11.532 |
| grider123 | 0 | 5.903 | 1.125 | 0 | 0 | 0 | 0 | 7.086 |
| lebey1 | 0 | 5.664 | 0 | 6.099 | 0 | 7.64 | 0 | 19.642 |
| phileug | 0 | 5.65 | 0 | 0 | 0 | 0 | 0 | 5.664 |
| pouchon | 0 | 5.509 | 8.274 | 0.565 | 0 | 15.576 | 11.933 | 41.998 |
| brian.rrr | 0 | 5.089 | 0 | 0 | 0 | 0 | 0 | 5.509 |
| hivetoday | 0 | 0 | 0 | 0 | 0 | 0 | 0 | 5.089 |
Posted Using LeoFinance Beta