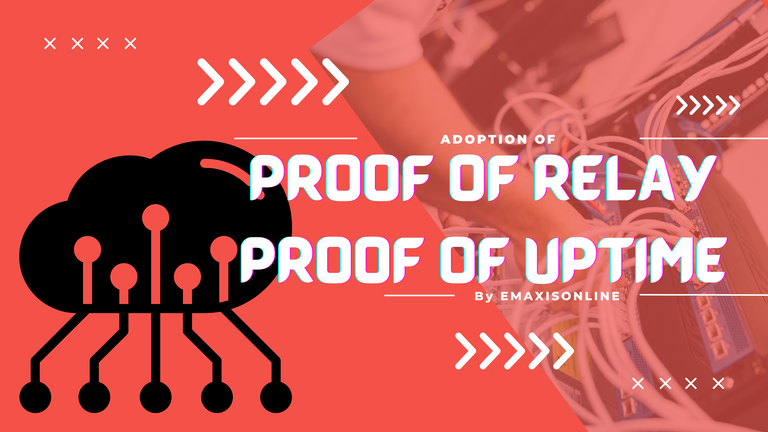 In the first post, we discussed "Proof of Concept in Blockchain Projects", now its time to further dig into other types of proofs that makes this technology more innovative and adaptable.
Today, we'll discuss Proof of Relay and Proof of Uptime, these new types are similar to Proof of Work in some way but their implementation saves many resources which are used by Proof of Work technology, such as eliminating the usage of graphics cards or low electricity consumption.
Before we move on to the main topics, I just want to give you an overview of blockchain technology.
Blockchain Technology Overview
Blockchain is a complex but innovative technology, yet it provides so many ways to validate data inputs and store that data into an immutable ledger. The chain of blocks is stored among various nodes, which makes it nearly impossible to alter it, if any attempt to hack the data occurs, the algorithm does not accept it because various nodes carry copies of digitally signed blocks into storage.
A transaction in a ledger goes through a consensus mechanism from other users, which means that the transaction has been accepted and validated by other on-chain participants and data chunks are securely kept among those participants. This makes the data intangible and tamperproof.
Proof of Relay
The concept of the Relay technology is not new, it has been in utilization since the advent of electricity and telecommunication technologies. The typical relay device works on sensory pulses to generate control signals, this sensory mechanism sends the signals to an equipment control panel for various operations such as shutting down the network, switching on the circuits, etc.
To define Proof of Relay (Por) on a blockchain environment in simple words, we can say that a group of users transmits data on a blockchain to each other to validate their transaction and unlock their potential block share within a time-intensive algorithm, once a group has validated each other's transactions, the nodes will be filled with another group of users to perform relayed transactions again.
This mechanism can be utilized for performing mining operations of tokens as well as validating transactions through consensus and voting processes.
The mining process is based on a user owning the data transmission strength, the token rewards will be shared based on the users' contribution toward transmission inputs, the more the merrier, users providing more transmission throughput will eventually succeed in receiving more rewards. While the validation of transactions is performed as mentioned above through mutual consensus of data shares sent to each other.
Currently, there are very few organizations have adopted this technology, one of them is HOPR, which offers nodes to be installed on your device and incentivizes its node operators via PoR protocol. Another organization is NKN, which also uses PoR for incentivization its token stack holders.
Proof of Uptime
Proof of Uptime in the blockchain technology refers to how much time a node remains online and helped to compile data transmitted to it, the more it remains online the better it gets uptime rewards.
Generally, it is easy to set up a node in a physical location or via cloud service. Although, it requires certain apps to be installed to connect to other nodes to get synchronized with the blockchain network. The technology does not require a high-end hardware setup, it can be set up on a normal laptop or desktop, but it is better to have a 10+ MBPS internet bandwidth to send and receive the data consistently.
Proof of Uptime technology is widely accepted by various blockchain services to increase the scalability of their network and engage the nodes in various other tasks such as encoding audio, video, files, caching, transactions validation, etc.
There are good practical examples where some well-known organizations have adopted this technology.
3Speak Network has recently launched an initiative to become a 3Speak Encoder Node Operator, which will help them outsource nodes to perform video encoding and operators may be compensated for their uptime and tasks completed.
Another example is Bithereum Network, which also uses the Proof of Uptime concept, users who run a BTH node will receive a share based on their nodes uptime and amount of BTH held in the connected wallet.
Theta Edge node is very popular, which also incentivizes its node operators based on the node's level and uptime.
Splinterlands has recently sold licenses for SPS Validator Nodes to its players, the license holder will receive allocated amount of SPS tokens share if they run and remain active as an operator. Which is also a type of PoU concept.
Final Remarks
As blockchain technology evolves, more innovative form of protocols floats in the market up for adoption and utilization.
Many regulators are demanding to switch to greener technologies for mining cryptocurrencies, to achieve this new projects are moving towards PoS, PoR, PoU, and similar methods to reduce carbon footprints and be sure of a sustainable blockchain future.
It is also noted that these technologies not only help increase the number of nodes but proportionately increase the scalability of the blockchain network.
Author: emaxisonline
Image: Poster made with Canva.com and Logo taken from LeoFinance.io
Posted Using LeoFinance Beta