Introduction
Implantación
Non-Fungible Tokens (NFTs) refers to the digital token that is non-interchangeable, unique, and cannot be replaced by something else. It is a digital version of physical goods or collector's items and differs from the other. It is different from blockchain cryptocurrency or fungible token because every token is a unique cryptographic token itself and cannot be interchangeable. NFTs exist on the blockchain network systems such as Ethereum and provide a legal right to digital properties. All the data and information are recorded on the blockchain as a form of the decentralized ledger. It provides a digital certificate of ownership to items such as artworks, music, video, photo, and so on. Those who adopt NFTs will have the full digital security system because they cannot be stolen or duplicated by third parties.
Tokens no fungibles (Ntfs) se refiere al token digital que no es intercambiable, único y no puede ser reemplazado por otra cosa. Es una versión digital de bienes físicos o artículos de colección y difiere de los demás. Es diferente de la criptomoneda blockchain o el token fungible porque cada token es un token criptográfico único en sí y no puede ser intercambiable. Las NFT existen en los sistemas de red blockchain como Ethereum y proporcionan un derecho legal a las propiedades digitales. Todos los datos e información se registran en la cadena de bloques como una forma del libro mayor descentralizado. Proporciona un certificado digital de propiedad de artículos como obras de arte, música, video, fotos, etc. Aquellos que adopten NFTs tendrán el sistema de seguridad digital completo porque no pueden ser robados o duplicados por terceros.
Why are NFTs important?
Por qué son importantes las NFT?
Currently, NFTs are getting hype due to their uniqueness, irreplaceability, and the ability to provide complete ownership on blockchain technology. You can own a digital asset that no one can replace or acquire. Only the owner will have the right to sell the items without the involvement of third parties. It is one of the important strategies for business persons because NFTs will provide strong security to their products and creations as he/she will only have the right. It provides originality and authenticity to the creation of art, creative expression, and brands.
Actualmente, las NFT están recibiendo publicidad debido a su singularidad, irreemplazabilidad y la capacidad de proporcionar una propiedad completa de la tecnología blockchain. Puede poseer un activo digital que nadie puede reemplazar o adquirir. Solo el propietario tendrá derecho a vender los artículos sin la participación de terceros. Es una de las estrategias importantes para las personas de negocios porque Nfs proporcionará una gran seguridad a sus productos y creaciones, ya que solo tendrá el derecho. Aporta originalidad y autenticidad a la creación de arte, expresión creativa y marcas.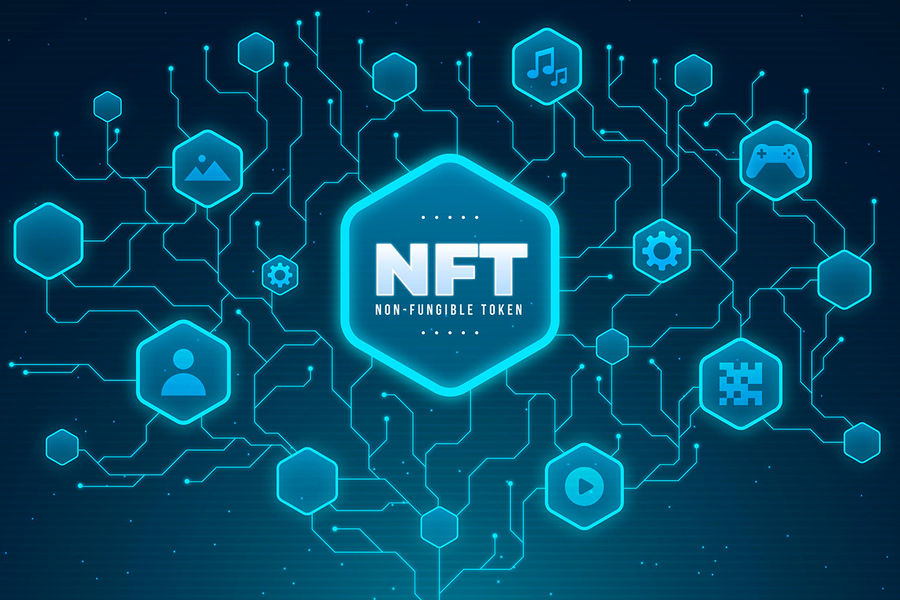 What is Virtual Reality?
Virtual Reality (VR) is a trendy topic in the world of science and technology. It is a computer-generated artificial environment that delivers 3D visualization directly to the user's eyes through the VR headset or device. It is a computer software that creates a simulated environment for the users. It experiences the visual as if you were actually in it. It invents a virtual world for users to interact with. It is the technology that connects the real and digital world. This technology brings your thoughts, ideas, imagination, and information visually into the actual world. It delivers virtual images directly to the user's eyes. They increase the work capacity of a particular sector. It has been enhancing the service sectors as it delivers the customers with a unique experience where they can visualize and customize their products according to their preferences through the headsets.
Qué es la Realidad Virtual?
La realidad virtual (RV) es un tema de moda en el mundo de la ciencia y la tecnología. Es un entorno artificial generado por computadora que ofrece visualización en 3D directamente a los ojos del usuario a través del auricular o dispositivo de realidad virtual. Es un software informático que crea un entorno simulado para los usuarios. Experimenta lo visual como si realmente estuvieras en él. Inventa un mundo virtual con el que los usuarios pueden interactuar. Es la tecnología que conecta el mundo real y el digital. Esta tecnología trae sus pensamientos, ideas, imaginación e información visualmente al mundo real. Entrega imágenes virtuales directamente a los ojos del usuario. Aumentan la capacidad de trabajo de un sector en particular. Ha mejorado los sectores de servicios, ya que ofrece a los clientes una experiencia única donde pueden visualizar y personalizar sus productos de acuerdo con sus preferencias a través de los auriculares.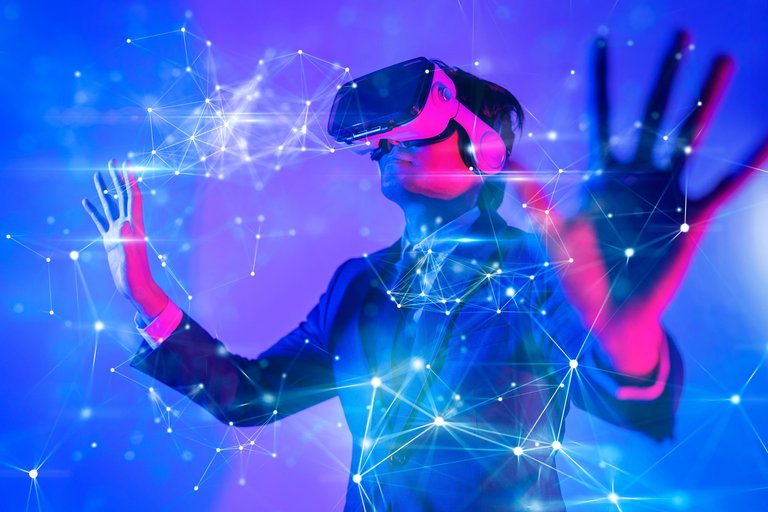 Why is Virtual Reality important?
Virtual Reality is an important technology as it provides great opportunities in various fields. Users can experience things that have no existence in the real world. It is a great technology for enhancing customer service and experience because they can visualize various products according to their preferences with the help of headsets. Various companies and industries are grabbing the importance of this technology as it has improved and boosted the customer relationship. The virtual environment encourages them to accept and believe it as a real environment. It fascinates audiences and customers into the virtual world that is generated through computer software.
Combination of NFTs and Virtual Reality:
NFTs work great in the virtual reality world. Users can own digital products or goods in the VR world through NFTs. The users can have flexibility with the technique of NFTs used in virtual reality environments. It provides ownership to the digital assets that are used in the virtual world. The digital assets in the VR world can be owned through NFTs and they can be controlled using smart contracts. Smart contracts can be used to customize and unlock NFTs services or experiences in the VR world.
Por qué es importante la Realidad Virtual?
La realidad virtual es una tecnología importante, ya que ofrece grandes oportunidades en varios campos. Los usuarios pueden experimentar cosas que no existen en el mundo real. Es una gran tecnología para mejorar el servicio y la experiencia del cliente, ya que pueden visualizar varios productos de acuerdo con sus preferencias con la ayuda de auriculares. Varias empresas e industrias están captando la importancia de esta tecnología, ya que ha mejorado e impulsado la relación con el cliente. El entorno virtual les anima a aceptarlo y creerlo como un entorno real. Fascina al público y a los clientes en el mundo virtual que se genera a través del software informático.
Combinación de NFTs y Realidad Virtual:
Las NFT funcionan muy bien en el mundo de la realidad virtual. Los usuarios pueden poseer productos digitales o bienes en el mundo de la realidad virtual a través de NFTs. Los usuarios pueden tener flexibilidad con la técnica de NFTs utilizada en entornos de realidad virtual. Proporciona la propiedad de los activos digitales que se utilizan en el mundo virtual.Los activos digitales en el mundo de la realidad virtual se pueden poseer a través de NFTS y se pueden controlar mediante contratos inteligentes. Los contratos inteligentes se pueden usar para personalizar y desbloquear servicios o experiencias NFTs en el mundo de la realidad virtual.
Use cases
These technologies are utilized to help the patients to deal with phobia by guiding them through the virtual exercise and experience in a safe and managed VR environment. For example, a physician can create a VR occasion with a range of several voice-guided and visual components. Patients or users can access their sessions time, tone, and intensity of this occasion according to their needs. This occasion, with its customizable component, created by the physician is carried by them in NFTs.
Training in the military and police forces is costly because the equipment they work with is on the expensive side. They often have to recreate mock situations which makes training costly. So, in this case, VR military simulations, war games, flight simulators are created to guide soldiers and police for training. NFTs owned and administered the experiences used in VR assets. Let's take the example of the virtual weapons that are used for training that can be accessed through different NFTs.
Gaming is one of the real use cases of these technologies. It occurs in multiplayer online games such as World of Warcraft. Here the digital assets such as the user's avatar, outfits, and other items are given to owners and controlled by the NFTs. Access to virtual properties such as land, art, and stores in the virtual reality world can be owned and managed, through NFTs.
The education sector is a use case where VR allows education modules to be customized to the speed and structure that is easy to understand by students. The learning equipment and conditions can be simulated online which will reduce the cost of users. This will also provide ownership to the work done by professionals or teachers with the help of NFTs.
Conclusion:
NFTs have revamped the virtual reality experience into supportable digital properties that are easy to buy and sell without involving the third parties using blockchain technology. NFT's use strategies in the VR world that will make it secure for users to carry out transactions of digital assets and it will make it easy for consumers to experience products according to their choices. This has changed the traditional working environment and shifted towards the modern methods of performance.
Casos de uso
Salud:
Estas tecnologías se utilizan para ayudar a los pacientes a lidiar con la fobia guiándolos a través del ejercicio y la experiencia virtuales en un entorno de realidad virtual seguro y administrado. Por ejemplo, un médico puede crear una ocasión de realidad virtual con una gama de varios componentes visuales y guiados por voz. Los pacientes o usuarios pueden acceder a la hora, el tono y la intensidad de sus sesiones de esta ocasión de acuerdo con sus necesidades. Esta ocasión, con su componente personalizable, creado por el médico, es llevada por ellos en NFTs.
Militares y de Policía:
La capacitación en las fuerzas militares y policiales es costosa porque el equipo con el que trabajan es costoso. A menudo tienen que recrear situaciones simuladas, lo que hace que la capacitación sea costosa. Por lo tanto, en este caso, se crean simulaciones militares de realidad virtual, juegos de guerra, simuladores de vuelo para guiar a los soldados y la policía para el entrenamiento. NFTs poseía y administraba las experiencias utilizadas en los activos de realidad virtual. Tomemos el ejemplo de las armas virtuales que se utilizan para el entrenamiento que se puede acceder a través de diferentes Onf.
Juego:
Los juegos son uno de los casos de uso reales de estas tecnologías. Ocurre en juegos multijugador en línea como World of Warcraft. Aquí, los activos digitales, como el avatar del usuario, los atuendos y otros artículos, se entregan a los propietarios y son controlados por los NFT. El acceso a propiedades virtuales como terrenos, arte y tiendas en el mundo de la realidad virtual puede ser propiedad y administrado, a través de NFTs.
Educación:
El sector educativo es un caso de uso en el que la realidad virtual permite personalizar los módulos educativos según la velocidad y la estructura fáciles de entender para los estudiantes. El equipo y las condiciones de aprendizaje se pueden simular en línea, lo que reducirá el costo de los usuarios. Esto también proporcionará la propiedad del trabajo realizado por profesionales o maestros con la ayuda de NFTs.
Conclusion:
Las NFT han renovado la experiencia de realidad virtual en propiedades digitales compatibles que son fáciles de comprar y vender sin involucrar a terceros que utilizan la tecnología blockchain. Las estrategias de uso de NFT en el mundo de la realidad virtual harán que sea seguro para los usuarios realizar transacciones de activos digitales y que sea fácil para los consumidores experimentar los productos de acuerdo con sus elecciones. Esto ha cambiado el entorno de trabajo tradicional y se ha desplazado hacia los métodos modernos de rendimiento.
​