Solana keeps showing us why it is a good investment long term by the new relevant projects they're undertaking and now products it would seem, that they produce. Aside from the fact that some very innovative projects like music streaming platform, AUDIUS, STEPN gamefi, Star Atlas meta verse game, automated market maker Raydium and Serum DEX are built on the Solana Blockchain, Solana seems to be expanding into the mobile phone industry.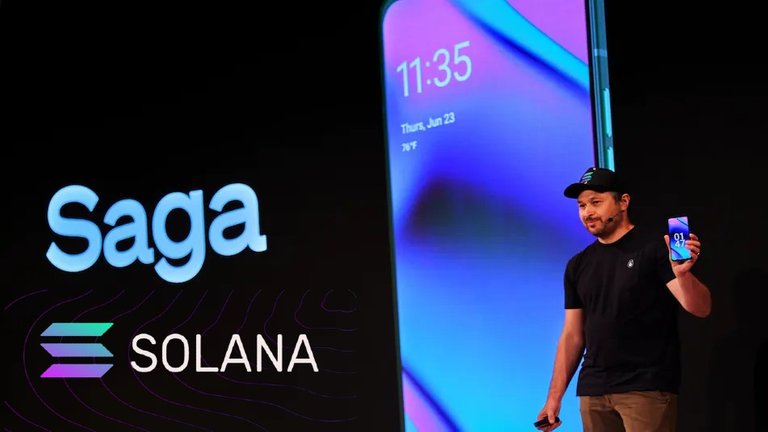 source
Solana seems to hold the remedy to our smartphone saga with their new android flagship phone for web 3 called Saga(yeah), which was launched at an event in New York on June 23, 2022. So yeah, this is not new news, but I like to share interesting stuff when I come across them, and unfortunately (or fortunately) for you guys, I found out about this device in a TikTok Live of Calvin(powerofpublish on TikTok)last night.
According to Anatoly Yakovenko, co-founder of Solana, "Almost 7 billion people use smartphones around the world and more than 100 million people hold digital assets - and both of those numbers will continue to grow. Saga sets a new standard for the web3 experience on mobile.'' source
Another Co-founder of Solana, Rak Kajal also added, "We chose the Saga name because the story of crypto is still being written. This is the next chapter of this narrative and we believe opening up crypto to mobile will lead to greater adoption, better understanding, and more opportunities".source
The past month here on Hive, there's been so much talk about mobile phones recently, on which is the better and most affordable between Apple and Samsung. This is a debate that has been ongoing for years between android and iOS fandom, and Solana is about to add one more fandom to the mix. The Blockchain fandom.
This new phone will definitely be welcomed by android blockchain lovers and comes with specs that could potentially beat most flagship phones on the market right now. That will not be surprising at all considering that the phone is designed by OSOM, a company that makes hardware parts for not just Samsung and Apple, but Google as well.
Saga is a win-win for both the crypto market and smartphone users because on one end, smartphone users get one of the best smartphones out there advanced with web 3, and on the other end, the crypto market gains more exposure for every user that purchases this phone.
I think the phone will be a really great way to market crypto and streamline the fast adoption we want to see. This is an amazing move by Solana, and it especially will reflect well in the token price. I believe Solana will see an amazing pump once this phone hits the market, especially if it delivers as anticipated, which I believe it will.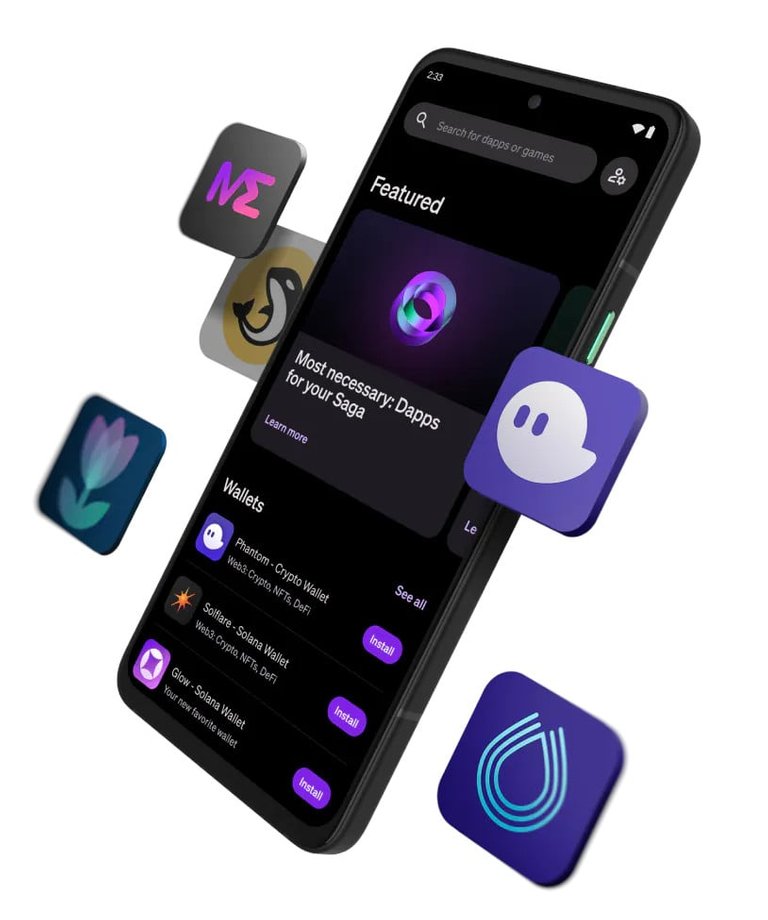 source
Saga Specs
Storage
Saga will come with 528GB internal storage and 12GB RAM, which compares against both the Samsung Galaxy s21 Ultra and iPhone 11 Pro Max which max out at 528GB as well. This is more storage than the phones of the earlier Gen expensive iPhones and Samsung devices. Even for gaming, this phone will be more than okay, and I want to believe technology like Arweave will be used in addition to enhance the storage performance of SAGA.
Camera
I know you want to hear about the camera because that is one of the most factors people consider when making smartphone purchases, so I won't stall any longer. SAGA comes with a 50MP lens and a 16MP lens dual camera for the rear, and a 12MP camera for the front. This is amazing, considering that even the iPhone 11 Pro Max in all its glory rocks a 12MP triple camera for the rear. A much better rear camera than the iPhone 11 already, and only behind the s21 ultra which can shoot at 106MP.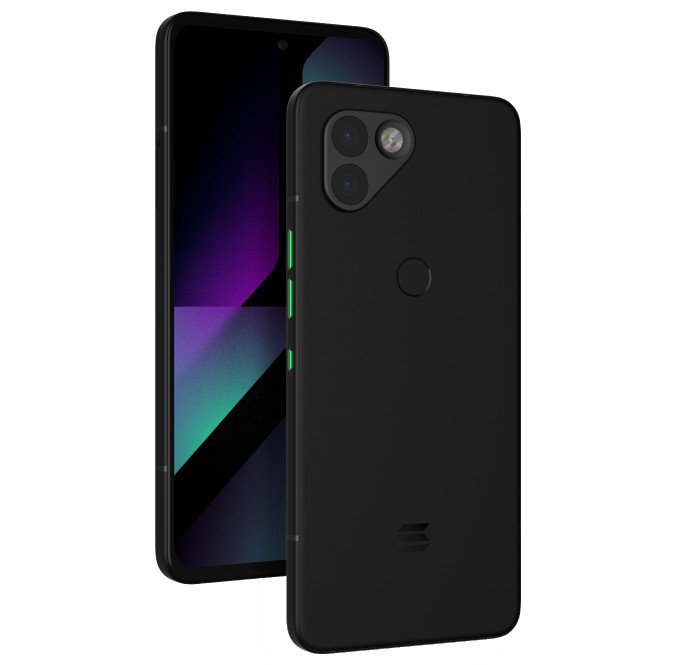 source
Display
Now, this is where we separate regular smartphone users from geeks. You see, regular smartphone users don't know anything about display types, screen dimensions, pixels (not the free image site, point dexter), or anything of the sort. Back to the amazing SAGA, we have a 6.67" OLED Display and Snapdragon 8® processors. The display and processor will give it a great viewing angle, and make it better suited for gaming.
Battery
The SAGA features a 4100mAH battery, a better battery than the iPhone 11 Pro Max (which has a pretty decent battery if you ask me) but second to the Samsung Galaxy s21 Ultra which comes with a 5000mAh battery.
Aside from that, Saga is a web 3 enhanced smartphone integrated with the Solana blockchain that will make transaction and management of assets like tokens and NFTs easier, the SAGA mobile will also be water and dust-resistant and will have wireless charging like most flagship phones today.
How do you get the device then?
Pre-orders for Saga require a $100 fully refundable deposit, which will be applied to the anticipated final cost of $1,000, and will be prioritized for developers in order to test the Solana Mobile Stack and Saga. Those who pre-order may be eligible to receive a Saga Pass, an NFT accompanying the first wave of Saga devices and the first ticket to influencing the direction of the SMS platform.source
---
If the SAGA launches and is easy to get, I see a lot of people buying into it, and the creation of a potential competition for Samsung, Apple, and Google. If it's affordable enough, I'll even switch myself, because I definitely need to try something different aside from Apple and Samsung, and this seems to be the best alternative. The one plus could do as well, but it's a pity it can't compete in this case. No phone can, because the SAGA mobile is the first of its kind!
---
check here and here for Samsung Galaxy s21 Ultra and iPhone 11 Pro Max specs.
---
Who Authored This Post?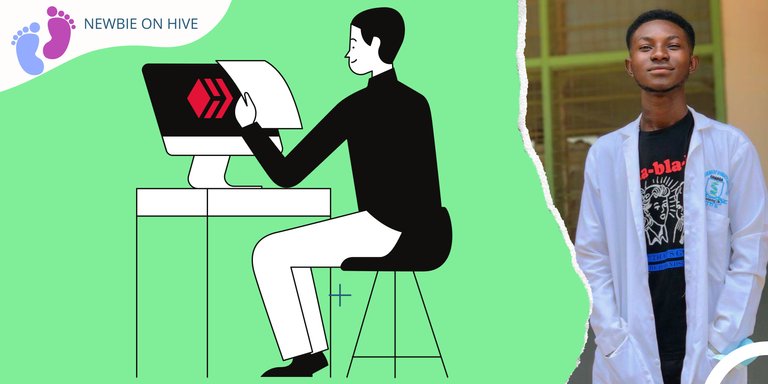 Designed by me in canva
I am @depressedfuckup. The story behind my weird username is in my intro post if you have the time to read. I am a newbie and a content creator on Hive and a Biochemistry student outside of Hive. I write about my present, generally things going on with or around me. Please give this article an upvote and a reblog if you liked the content and leave a comment if you have something to say about it. Thanks for visiting my blog, have a great day!
Browse & Earn With Presearch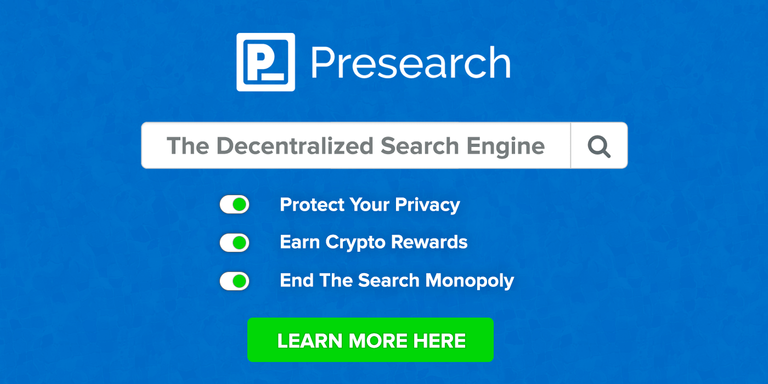 Posted Using LeoFinance Beta