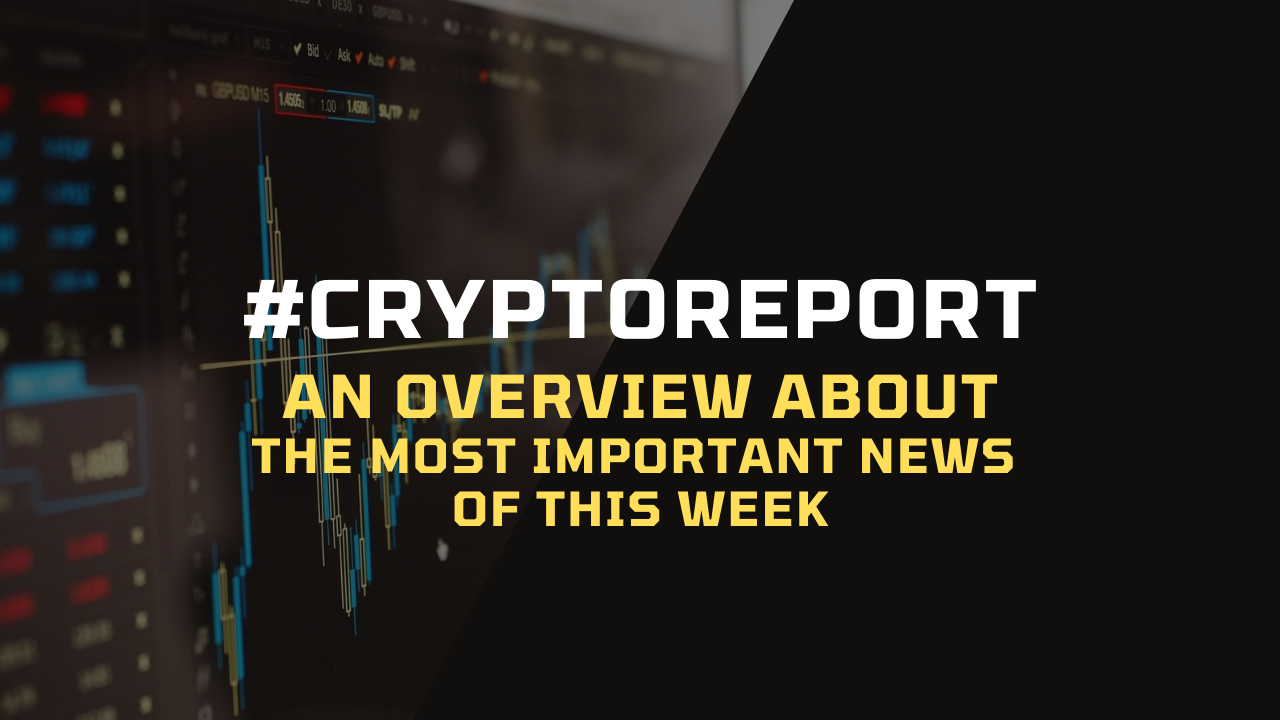 The calendar week 42 was a very wild ride in terms of news related to cryptocurrency.
The first Bitcoin ETF approved by the SEC becomes the second largest of all time. Even if this is just a Futures ETF and not a Spot ETF, this is extremely bullish. Next week on Tuesday the next Bitcoin ETF should get approved.
So probably it's not a coincidence that the total market cap of cryptocurrencies hits a new ATH of 2.6 trillion dollars, despite the news of regulation over the past weeks. In my opinion, regulation is good, if they don't overregulate it.
Walmart started to install 200 Bitcoin ATMs, with plans of 8000. I guess retail will start to buy more Bitcoin.
Hopefully, Plan Bs prediction for December 2021 will be right. He said Bitcoin could reach 120k. I'm starting to believe this, too. Even if this is not the case, it would be just another chance to buy the dip.
So check out this news overview, that I've researched for you, to form your own opinion about what is happening right now.
We're living in great times with big opportunities!
Unique Polygon ($MATIC) Address Numbers Hit 100 Million All-Time High
The number of unique addresses on the Polygon (MATIC) network has recently hit a new all-time high above 100 million as users keep taking advantage of the low transaction fees on its network and using it to access decentralized finance (DeFi) applications. The network's growth has been steady over time, with an exponential growth period.
https://www.cryptoglobe.com/latest/2021/10/unique-polygon-matic-address-numbers-hit-100-million-all-time-high/
El Salvador prefers Bitcoin over the US dollar
El Salvador is on a mission to popularize the use of Bitcoin within the country's borders and it may be reaching its goal, one citizen, at a time. According to President Nayib Bukele, the adoption of Bitcoin was gaining momentum as the citizens were increasingly exchanging their U.S. dollars for Bitcoin.
https://ambcrypto.com/el-salvadorians-now-embracing-bitcoin-over-the-us-dollar/
Russia aims to replace US dollar reserves with digital assets in long term
Last week, the Russian president said it was "a bit early" to use cryptocurrencies to settle oil trades.
https://cointelegraph.com/news/russia-aims-to-replace-us-dollar-reserves-with-digital-assets-in-long-term
Top 100 Polygon Holders Collectively Own >90% of MATIC Supply
Recent data is showing that the top 100 Polygon holders account for 91.06% of all MATIC tokens. Most of these are network contracts, though a good portion is held by other holders.
https://beincrypto.com/top-100-polygon-holders-own-90-matic-supply/
Binance Just Took Over Half A Billion Dollars Worth Of BNB Completely Out Of Circulation In 17th Quarterly Burn
On Tuesday, Binance announced that it had burned 1,335,888 BNB valued at approximately $639,462,868. Coin burning is a process by which cryptocurrency miners or exchanges periodically take out a certain portion of coins from circulation to control price through supply restriction.
https://zycrypto.com/binance-just-took-over-half-a-billion-dollars-worth-of-bnb-completely-out-of-circulation-in-17th-quarterly-burn/
Millennials in India flock to crypto trading instead of investing in stocks
With the growing adoption of cryptocurrencies, Indian millennials are increasingly preferring digital assets instead of traditional investment.
https://finbold.com/millennials-in-india-flock-to-crypto-trading-instead-of-investing-in-stocks/
Bitcoin Futures ETF Becomes Second-Biggest Launch of All Time With Nearly $1,000,000,000 Worth of Volume on First Day
ProShares' Bitcoin futures exchange-traded fund (ETF) is exploding onto the market with the second-biggest ETF launch of all time. Eric Balchunas, a senior ETF analyst at Bloomberg, says on Twitter that the ProShares Bitcoin Strategy ETF (BITO) had more than $993 million in total trading volume on its first day of availability.
https://dailyhodl.com/2021/10/20/bitcoin-futures-etf-becomes-second-biggest-launch-of-all-time-with-nearly-1000000000-worth-of-volume-on-first-day/
Why Grayscale's CEO Believes The SEC Will Greenlight An Ethereum
Grayscale CEO Michael Sonnenshein has said the SEC will now be more inclined to approve an Ethereum ETF. The United States saw the first approved Bitcoin ETF last week. It marked the end of an eight-year-long since the first bitcoin ETF was filed.
https://bitcoinist.com/why-grayscales-ceo-believes-the-sec-will-greenlight-an-ethereum-etf/?utm_source=rss&utm_medium=rss&utm_campaign=why-grayscales-ceo-believes-the-sec-will-greenlight-an-ethereum-etf
BREAKING: $2.2T asset manager PIMCO plans to buy more crypto
Institutional asset managers have been slower to embrace cryptocurrencies than retail traders, but their adoption is growing rapidly.
https://cointelegraph.com/news/breaking-2-2t-asset-manager-pimco-plans-to-buy-more-crypto
Crypto market hits $2.6 trillion capitalisation for the first time in history
For the first time in history, the cryptocurrency market has surpassed the $2.6 trillion barrier in terms of market capitalisation.
https://finbold.com/crypto-market-touches-2-6-trillion-capitalization-first-time-in-history/
Iota launches beta smart contracts to foster interoperability
The platform will enable developers to set individual parameters for execution fees, a feature expected to suppress the fee prices to near-zero.
https://cointelegraph.com/news/iota-launches-beta-smart-contracts-to-foster-interoperability
Cardano-based decentralized exchange RavenDex reveals demo
RavenDex, a Cardano-focused decentralized exchange, announced this week it has released its front-end demo for users to experiment with. When live, RavenDex will enable users to offer liquidity and establish a market pair on any native Cardano token for others to swap while utilizing the performance, and low fees of the Cardano blockchain.
https://www.cryptoninjas.net/2021/10/21/cardano-based-decentralized-exchange-ravendex-reveals-demo/
Walmart Installs 200 Bitcoin ATMs in Its US Stores: Report
While Walmart started with 200 bitcoin ATMs, the total plan is to have 8,000 kiosks in its American stores.
https://cryptopotato.com/walmart-installs-200-bitcoin-atms-in-its-us-stores-report/
2nd U.S. Bitcoin futures ETF starts trading today, and a 3rd will launch next week
Valkyrie Bitcoin Strategy Fund, the second Bitcoin futures exchange traded fund (ETF) in the U.S., is set to start trading today, while VanEck's Bitcoin futures ETF, which also received approval this week, is expected to launch early next week.
https://forkast.news/headlines/second-bitcoin-etf-today-third-next-week/
A 13-year-old From India Raised $300K for his Latest DeFi Project
Gajesh Naik, from Goa, has launched a DeFi project on the Avalanche smart contracts blockchain.
https://blockworks.co/a-13-year-old-from-india-raised-300k-for-his-latest-defi-project/
VET Breaks Major Trend Line, Why VeChain Could See Massive Explosion
VeChain (VET) is on the move with a 10.3% and 51.4% profit in the daily and monthly charts, respectively. As of press time, the cryptocurrency trades at $0,13 and could further gain due to recent developments. After recording a potential bottom on October 20th, VET experienced a breakout to the upside, as analyst Justin Bennett claimed.
https://www.newsbtc.com/news/vet-price-breaks-major-trend-line-why-vechain/
Australian Senators pushing for country to become the next crypto hub
The Australian Senate Committee delivered a report calling for a complete overhaul of crypto legislation and licensing in the country.
https://cointelegraph.com/news/australian-senators-pushing-for-country-to-become-the-next-crypto-hub
Elon Musk Says He Will Become First Dogecoin Trillionaire
The Tesla CEO says that he will become the world's first trillionaire in Dogecoin. After Elon Musk tweeted this the Dogecoin price jumped.
https://u.today/elon-musk-says-he-will-become-first-dogecoin-trillionaire
CoinMarketCap hack reportedly leaks 3.1 million user email addresses
3.1 million email addresses linked to CoinMarketCap accounts were reportedly being traded on hacking forums, according to Have I Been Pwned.
https://cointelegraph.com/news/coinmarketcap-hack-reportedly-leaks-3-1-million-user-email-addresses
Polkadot Co-Founder Gavin Wood Announces 18.9 Million $DOT Development Fund
Polkadot co-founder Gavin Wood has announced an 18.9 million DOT ($777 million) development fund just ahead of the network's launch of the auctions for the initial batch of parachain slots. Here is an overview of Polkadot using information from the Polkadot website: "Polkadot is a network protocol that allows arbitrary data—not just tokens—to be transferred across blockchains.
https://www.cryptoglobe.com/latest/2021/10/polkadot-co-founder-gavin-wood-announces-18-9-million-dot-development-fund/
Robinhood Adds SHIB to Their Survey to Study Clients' Crypto Preferences SHIB
Looks like Robinhood just might be thinking of listing SHIB as it has included the coin in its recent customer survey
https://u.today/robinhood-adds-shib-to-their-survey-to-study-clients-crypto-preferences
Russian Oil Companies Seek To Increase Revenue By Mining Cryptocurrencies Through A Brilliant Strategy
Russian oil companies are considering using flared gas to mine crypto to improve their profitability. The oil companies are seeking clarification from authorities before moving on with the plans. American mining companies are already using this method of Bitcoin mining to improve their productivity.
https://zycrypto.com/russian-oil-companies-seek-to-increase-revenue-by-mining-cryptocurrencies-through-a-brilliant-strategy/
Bitcoin Futures ETF is so popular that it's breaching futures limits set by TradFi
The first US Bitcoin (BTC) exchange-traded fund is rapidly getting close to breaching a limit on the number of futures contracts it is permitted to hold, Bloomberg reported.
https://cryptoslate.com/bitcoin-futures-etf-is-so-popular-that-its-breaching-futures-limits-set-by-tradfi/
Flash Crash Briefly Causes Bitcoin Price To Plummet 87% on Binance's US Exchange
A flash-crash triggered a sharp drop in Bitcoin's value on the Binance.US trading platform, causing an abrupt 87% devaluation in the price of the leading crypto asset. On October 21st, the price of Bitcoin briefly tumbled to a low of $8,200 from $65,952 on Binance.US.
https://dailyhodl.com/2021/10/23/flash-crash-on-binances-us-exchange-briefly-causes-bitcoins-price-to-plummet-by-87/
Posted Using LeoFinance Beta