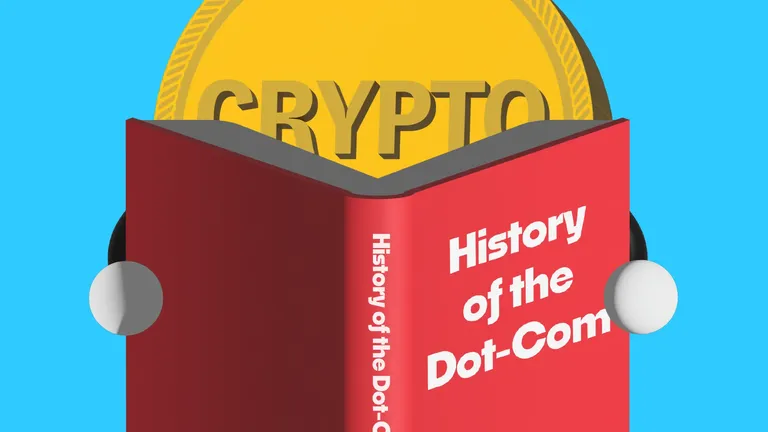 No doubt there will always be comparisons between dot.com and crypto, but there are some major differences as you cannot compare the two. Dot.com crashed when the industry hit a market cap of 10 trillion and crypto is only just beginning, but the tech offered via blockchains is the game changer and what sets them apart.
When the dot com era was pumping it was mainly down to investments via venture capitalists funding the new tech products. This was the growth of the internet and like many things got out of control and came crashing down. Crypto is going to see a similar growth phase, but on a much bigger scale and it will not crash and burn.
The tech that crypto offers with it's blockchain technology is going to be adopted by every single industry as it offers the way forward. This is way bigger than what was seen in the 1990's with the dot com growth.
This is going to be a period of huge change and why I have always said it is like each crypto project is it's own company/brand for what it offers. Many projects have had investors to help them get off the ground but the slight difference is the crypto tokens/coins that are being generated. I suppose the easiest way to look at the tokens/coins is comparing them to shares and why this time crypto will be so much bigger than the dot com era. Everyone can get their hands and invest into these projects by buying the tokens off the exchanges.
During the dot com craze investors were all about making profit and when prices dipped pulled their money crashing the markets. Crypto is more about individuals investing and not just huge corporations as they will be involved as well. Companies that invested in the dot com era were all about profit whereas this time the investment will be out of necessity and use case.
Thankfully we are all so early and the game has not really kicked off as mass adoption has not happened. The opportunities that we have in front of us are endless and now is the time to do all the research work as this is going to seriously pay off long term.
Unfortunately many early adopters miss this point entirely and have no real understanding of how big an opportunity they have right now. They are fighting over the crumbs when there are loaves of bread in front of them.
Businesses having to invest through purchasing tokens/coins in order so they can run their company properly day by day is the types of projects we should be looking for. These crypto projects are the Amazon's and Apple's of the future and why having a closed mind when it comes to overall value is simply dumb.
The thought is a crypto project cannot have a bigger market cap than Bitcoin which is simply not true. The use case of these projects will highlight how short sighted people really are as the value will pour into these projects on use case alone. This is why I say we have seen nothing yet as adoption has not happened.
If we look at the industries in categories each one would trump Bitcoin in overall value when a particular project is selected as the main choice. Healthcare, logistics, finance, social, manufacturing are just some examples of the areas that will explode in value and we should all be hunting for the obvious next big thing as they are already there being developed.
The next 10 years are going to be exciting times especially if you have researched and cherry picked your investment portfolio. Crypto is here to stay and will not be a boom and bust scenario as it offers way more than a dot com company as this is going to be a way of life.