Womplay: "Play to Earn" and "EOS" make a good couple ;)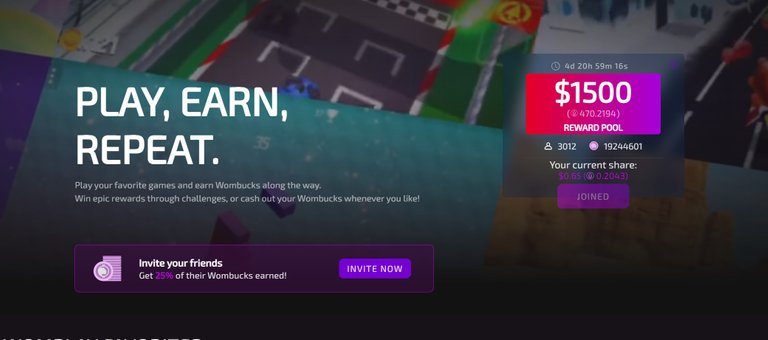 If the word "Play to Earn" and "EOS" means anything to you, you should probably be interested in this article.
I just discover there's a new guy in town when speaking of making cryptos by playing games, its name is Womplay.
With Womplay you'll get a native token - wombucks - for playing different games, both desktop or on mobile. Wombucks can be exchanged for EOS weekly, participating in a special event called "Weekly Cashout Event"
Basically you'll use your wombats to get a share of the weekly pool.
First Step: Install Wombat wallet
Womplay is developed by guys at Wombat, a mobile wallet for EOS with exchange.
If you want to use it you'll need to install Wombat first. This will create you an EOS wallet with a backupphrase automatically store on your GDrive.
To access your wallet, you'll just need to remember you ID and Password

Second step: Play
From Wombat you can open Womplay and start installing different games, receiving Wombucks for various tasks: for example on mobile games you'll normally receive
1000 Wombucks for install
2000 Wombucks for finishing tutorial
2000 - 5000 Wombucks for reaching different goals
4000 - 10000 Wombucks for in-app purchase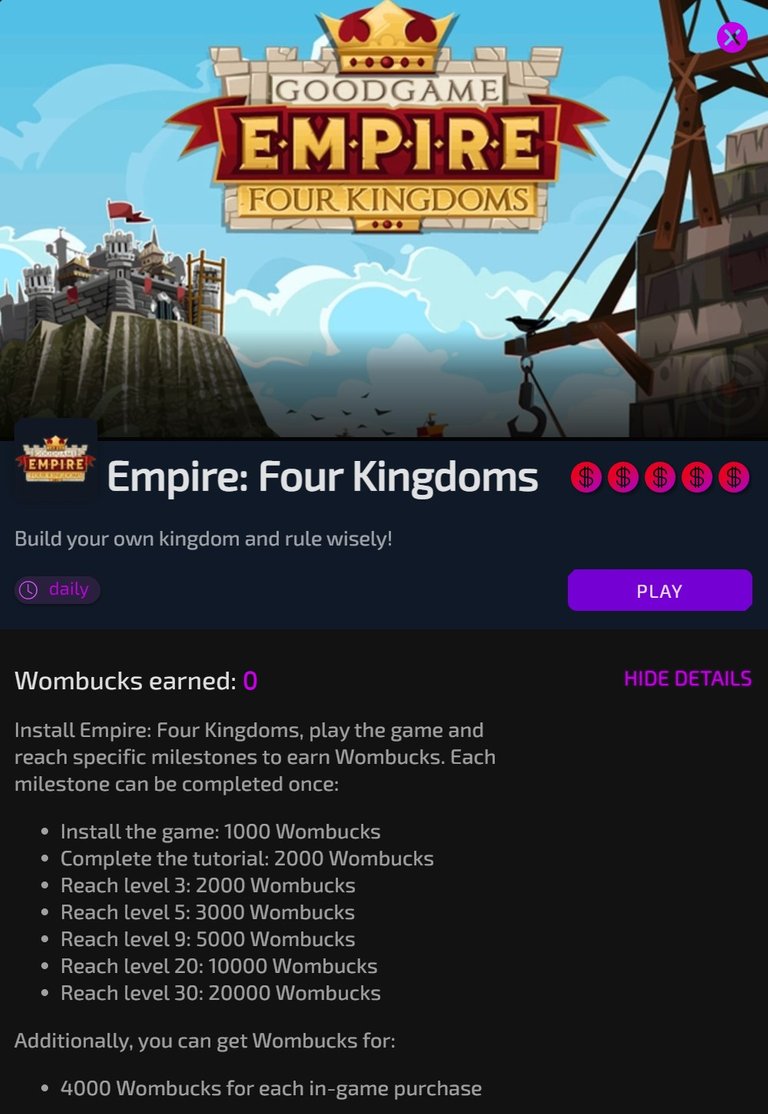 There's also a special category "Quick Play": it's made of browser based games, they usually reward you with 10 Wombucks for avery game.
Games are not fixed, they will change during months.
Third Step: Withdraw
As mentioned before, there's not a proper withdraw function. What you can do is partecipate in special events, they normally last for one week, called "Weekly Cashout Event". If you participate (beware: action cannot be undone) you'll get a share of the pool prize, normally 1500$, for converting all your Wombucks.
You'll then get EOS in your wallet proportionally (if you have 1% of Wombucks in the pool you'll get 1% of the prize)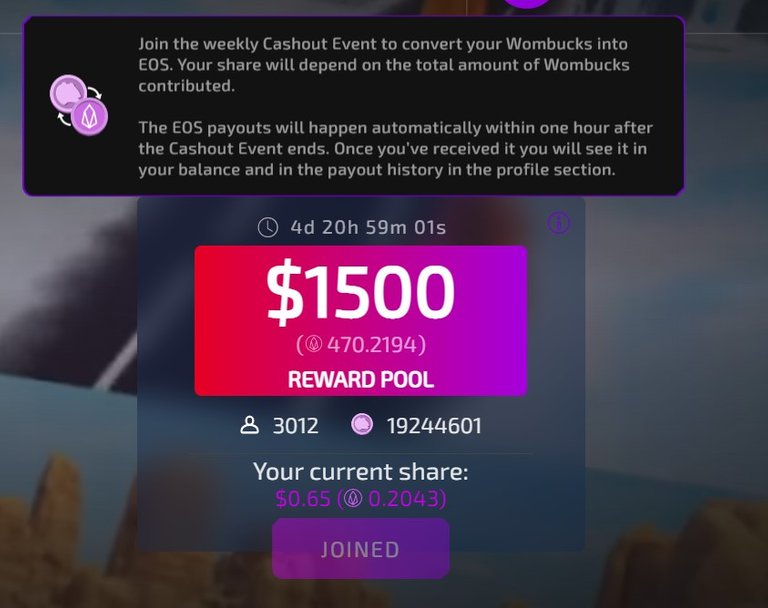 So i think it would be a good strategy to accumulate Wombucks for a certain time and then wait until you find a week with not many participants.
Final consideration
Last but not least: games at Womplay are not bad at all. You'll find good games that, if you like to play, you would have probably played the same.
I'll keep using this app for a while and then make a report of what I was able to earn!
Love!
Support my blog!
Here's the super-trusted earners I support. Please consider using my referral if want to give them a try
Cake DeFi Passive income, staking made easy.
Cointiply - Best Earner - Earn Bitcoins by doing offers, watching ads and PTC ads
BetFury - Crypto casino with Faucet: Top Earner! Claim -> Play -> Stake -> Earn
PipeFlare - Best Faucet.Pays immediately to your wallet
Presearch Earn tokens for surfing the web!
Posted Using LeoFinance Beta
---
---