The Hive ecosystem is a platform for content creation and curation where users write content and other users, known as curators, look for high-quality posts to reward. The Hive ecosystem has an excellent payout system that pays in both HIVE and HBD, which are the native coins of the platform and can be traded on many exchanges.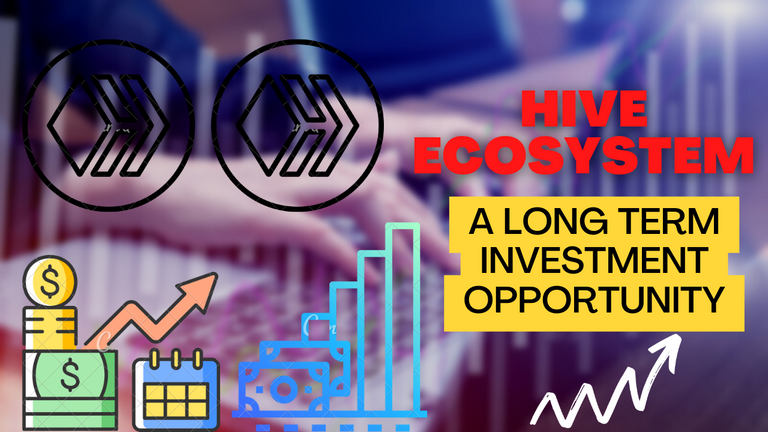 BEST STRATEGY FOR BOOKING HUGE PROFIT IS HOLDING CRYPTO FOR LONG TERM
One of the best strategies for booking huge profits is to hold cryptocurrency for the long term. When we talk about crypto, it's important to remember that these are things that should be held long-term. Investors who hold cryptocurrency for the long term will almost always exit with profits.
The same is true with the Hive ecosystem, which requires long-term thinking. If you're only looking to stay for a few months or a year to make a quick profit, it's unlikely to happen.
There are users who work in the platform and withdraw their earnings on a daily basis. They have the right to do so, but it's not profitable for them or the Hive ecosystem. It's also important to learn to value the platform from which you earn and benefit. Holding HIVE coin and working in the platform for the long term is 100% profitable.
HOW IT CAN BE PROFITABLE IN THE LONG RUN?
So, how can it be profitable in the long run? As we know, the Hive ecosystem is a content creation and curation platform where rewards are distributed in the form of the native coins, HIVE and HBD. HIVE is a volatile coin that can fluctuate in price, whereas HBD is pegged to $1. HBD acts as a helper for HIVE by having a 30% haircut, which helps keep the price of HIVE strong, and vice versa.
HIVE also works to protect HBD from falling below the peg ratio. These two coins have a great working mechanism, which is why the platform is more worthwhile to hold long-term. Another reason for its profitability in the long run is that HIVE coin has the potential to reach above $5 in the near future. The main reason for this is that the coin will become more advanced in the era of WEB3.0.
As I've mentioned before, working with the Hive ecosystem during bear markets is more profitable than during bull markets because you can accumulate more HIVE coin when the price is low. Your rewards are distributed in HIVE and HBD, and you can convert your HBD to HIVE at a better rate.
Another reason is that the Hive ecosystem has advanced technologies and projects backed by it, such as the gaming industry with Splinterlands, Risingstars, Psyberx and more, which adds value to the Hive platform. There are also other front-ends like Leofinance, Peakd, Ecency, and other large communities that provide full support to the ecosystem.
BEST STRATEGY FOR BOOKING HUGE PROFIT IS HOLDING CRYPTO FOR LONG TERM
It's important to work as a team in the platform and for all Hivians to have the same goal of adding value to Hive, which is profitable for all of us. As Hive users, it's our responsibility to inform our friends and relatives about the ecosystem so that more people can join and buy HIVE coin, which will no doubt increase its price.
Hive whales and curating communities should also support new users by upvoting their posts. This will motivate them and encourage them to contribute more. Some new users have complained that they don't receive any upvotes after publishing quality content. These new users should be considered and motivated so that they can invite more people to join the platform.
If we all do our part, the Hive ecosystem will grow rapidly in the near future, which will be profitable for all of us. It's important to help each other in difficult times, which is the key to success.
These are my views on the best long-term benefits of the Hive ecosystem. I hope you found this information helpful, and if you liked the post, please leave a review in the comment section. Thank you for reading to the end.
IMAGES AND GIF TAKEN FROM CANVA, EDITED IN CANVA
REMEMBER: We should prepare for the unexpected and hope for the best. Life may not be easy, but you must do your best and leave the rest to God.

Posted Using LeoFinance Beta