Good morning to everyone , hope you all are having a nice day . I had been writing a code to see who the top commentors on each platforms are everyday just so to get a picture of what I can do to increase the engagement .
HCS
I released a tool couple of days ago which works like a faucet , You make enough quality comments you get paid in LEO , CTP , SPORTS but you have to make those comments from those particular front-end itself .
Why the shift from liquid payouts to voting them?
As many users pointed it out , it is not sustainable . I can't keep giving them away without any source of income to the rewards account so I took the suggestion from others and am shifting from liquid payouts to upvoting.
Who gets the upvotes ?
We all know one of the biggest reasons for the success of LeoFinance is engagement and its community . There are tons of people who are out there who might not add great value to the platform via their posts but they add tons of value via their comments .
This is why everyday I calculate the top 25 people on LeoFinance.io , Sportstalksocial and Ctptalk.com as well as STEMGeeks platform and reward them with my upvotes .
Why should you delegate to this project ?
Because this project rewards those who are putting a lot of effort in making contribution to the platform . Most of the other upvoting project focuses on enlarging the rewards of the delegators but my main focus is to reward those who put time and mind to improve the platform quality .
This way we recognize the people who add value via their engagement and reward them daily .
Requesting Delegation in CTP , SPORTS , LEO and SPORTS .
I have 4 accounts setup - I am requesting delegation from your side ( Not in hive but in these specific tokens to the following accounts )
But read the below points before making the delegations .
LEO account - @amr008.leo
CTP account - @amr008.ctp
STEM account - @amr008.stem
SPORTS account - @amr008.sports
How does it work ?
Everyday I will fetch the data for previous day's engagement .
I will calculate the Top 25 ranks based on various factors ( more about this below ) .
I will calculate the upvote value for each of them based on their contribution .
Maximum of 1 upvote per user per community ( if you are in top 25 in all the community that means you get upvote in all of those )
Factors
These are the factors which matters -
Number of comments made .
Number of authors talked to .
Quality of comments ( length of the comments ) .
Frontend used .
Note - only comments will be considered for this challenge, not posts
I have given each of the above a certain weightage and will calculate the top 25 based on that . In simple layman words , do the 3 steps above as much as possible and you will see yourself in top 25 .
Can I post from any frontend?
This is the most important part . I currently have set this project up for 4 tribe tokens - LEO , CTP , STEM , SPORTS .
Your calculation is based on only those comments which you post from the respective front-ends and not any other -
You have to post it from https://leofinance.io , https://STEMGeeks.net , https://CTPTalk.com , https://sportstalksocial.com
This is done to ensure that the tribe is helped in generating traffic .
Upvoting weight is same for all top 25 ?
No , I have divided the upvoted weight among the top 25 in such a way that the person at 1st rank gets more than 2nd and 2nd gets more than 3rd and so on but totally the weight is equal to 1000% ( 10 * 100% ) percent .
I have already run a test to see if it works and it does -
Example: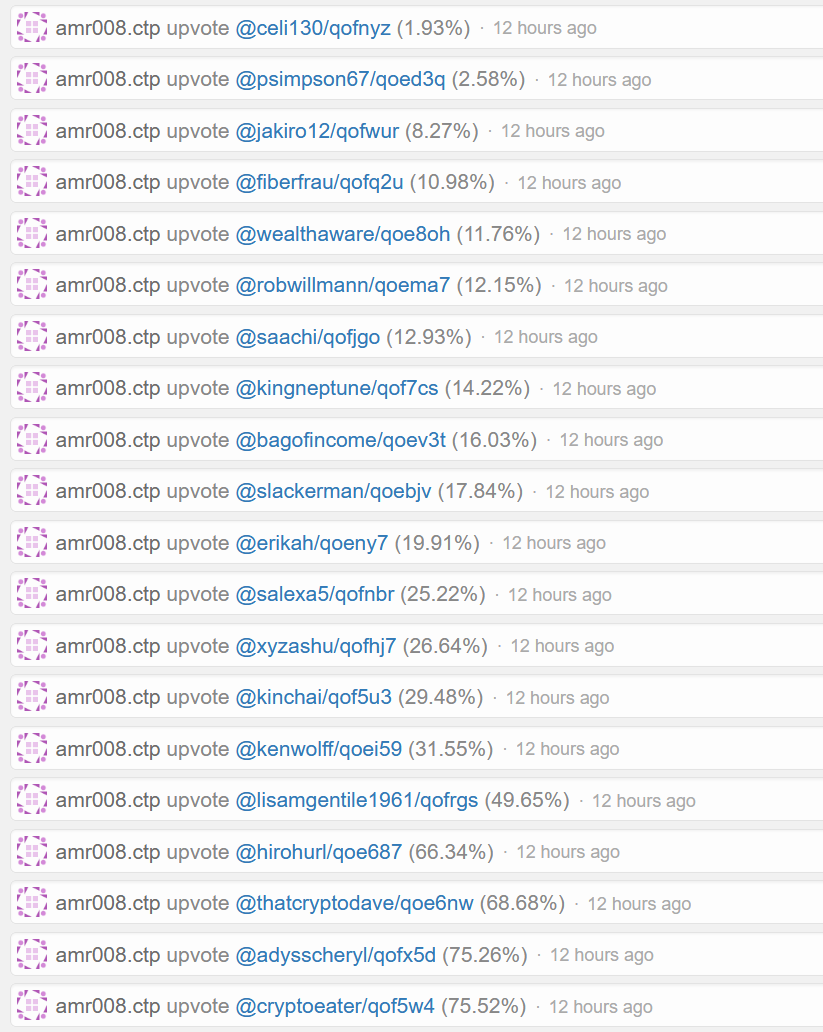 Requesting Delegation again .
Now if you like the idea and want to support it through delegation here are the accounts .
LEO account - @amr008.leo
CTP account - @amr008.ctp
STEM account - @amr008.stem
SPORTS account - @amr008.sports
Will you get back anything for delegating ?
Yes , 100% of liquid rewards of all the above tokens will be paid out to delegators ( except LEO in which 50% is powered up and 50% is paid back because they pay completely in liquid form ) .
When will the upvoting start ?
I have already started upvoting from those accounts to the top 25 users from yesterday so if you want to earn them , start posting on the respective front-ends . I will post the payout details tomorrow so that everyday gets a much better picture .
Tagging @abh12345 so that he doesn't sue me for trying similar project to one he does . I had this idea for a while and want to implement it , hope you are okay and supportive of this .
Hoping to hear back from you all :) Thank you for reading this.
---
Regards,
MR.
Posted Using LeoFinance Beta