Brave is a well known name in the crypto space because its the only browser as of the date that pays its users in form of crypto. Brave pays BAT tokens to the users who opt to receive the advertisement and Brave pays a certain amount which can be redeemed once a month. The BAT is known as basic attention token and with the brave advertise program this can be earned. Although this payout is not so big but just for using a browser its a kind of reward which is not a bad idea. Recently brave had launched their group calling option with no sp on privacy and now brave is back again with another addition to their portfolio.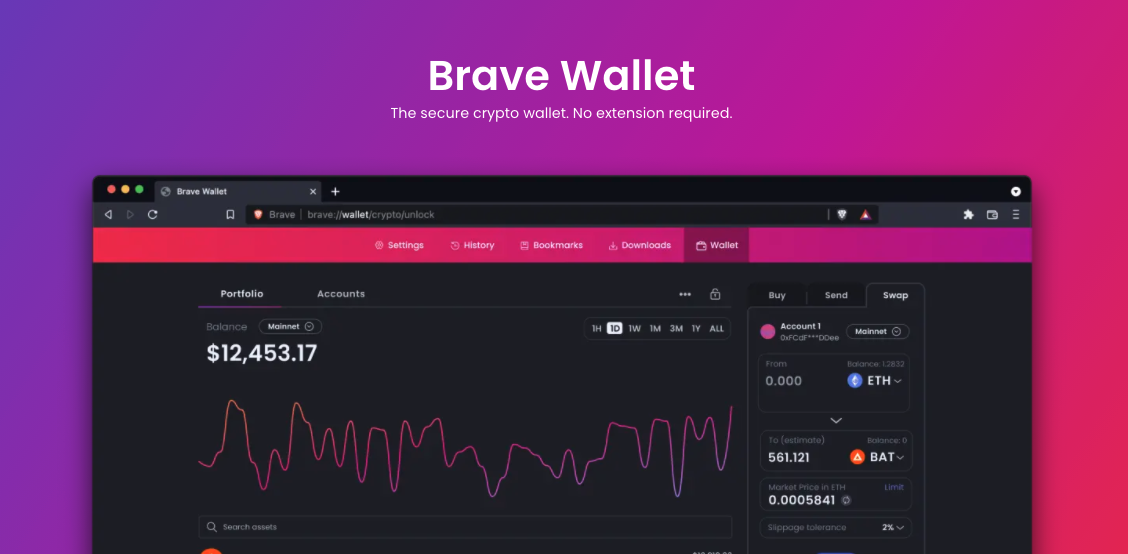 src
Brave has now launched its crypto wallet and this does not require extension download which is very good. Its the same as metamask and have a similar interface however since its based on the browser so can be used on mobile as well.
Brave Wallet is the first secure crypto wallet built directly into the browser. No extensions, no extra steps. That means less vulnerability to faked versions of an app, phishing, and theft.
With this brave wallet, we can buy, swap, send and store crypto and we will have access to our private key. Since we get our private key so there is nothing to worry about and we would complete control in our wallet and funds. This is also necessary that we need to keep the keys safe because if we lose then there is no way to get it back.
The wallet is a necessary tool to have our funds and use it for trade or swap so is very important that we need to choose the one which is easy to use and safe. Here safety is not the concern as the user only gets access to the private key but because there is no extension requirement so its definitely easy to use.
---
As I mentioned that its the same as metamask but still there are some differences and here is a comparison between both. This snapshot clearly shows that brave is the better one and we can export our wallet using a private key or even if we want then we can create a new one.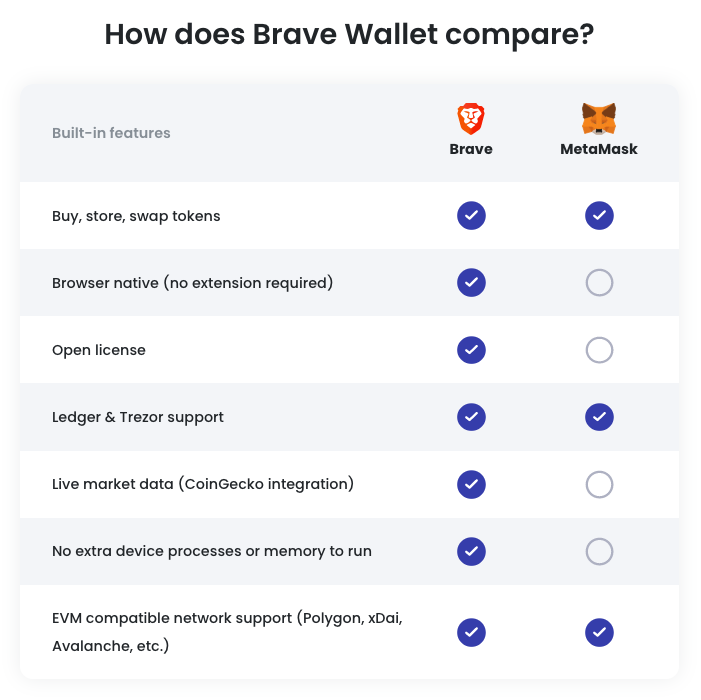 Although I already have a metamask wallet and there is an option to restore but for experience purposes, I did create a new wallet, and here are the steps I followed-

src

src
This is an easy process and now my wallet is created.
My wallet is set up now and by default, I can ETH and BAT tokens however balance is zero I am yet to deposit anything.

src
---
So what are your thoughts about the brave crypto wallet and do you think its easy to use. Since here extension installation is not required so we can also use it on mobile as phone browsers don't support extensions.
Thank you so much
Posted Using LeoFinance Beta