THE GRAPH
The Graph es un proyecto blockchain, que posee un protocolo de indexación para aplicaciones descentralizadas o dApps, que permite el acceso de la información a los desarrolladores a través de API, llamadas subgraphs, generando toda una red global la información con todos los beneficios de la tecnología de la blockhain.
El token nativo del proyecto The Graph es el GRT, es un tipo de token ERC20 de la blockchain de Ethereum. Según CoinMarkertCap, tuvo un suministro de circulación inicial de 1.245.666.867 GRT para un suministro máximo de 10.000.000.000 GRT. Inicialmente la emisión anual de este token será de un 3%.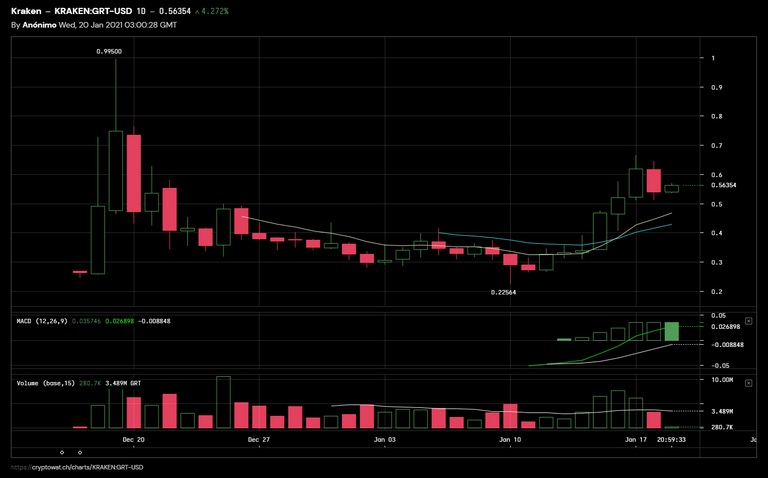 Imagen tomada de la aplicación Kraken
A la fecha de esta publicación, el GRT tiene un precio de $0.56 USD con un volumen de $413.718.693 USD en las últimas 24 horas.
The Graph es un proyecto muy prometedor, que pretende hacer el trabajo que actualmente realiza google, pero con todo el poder de la descentralización y de la tecnología de la blockchain, estamos frente a toda una revolución de la información.
Espero que les haya sido de mucha utilidad esta publicación, los invito a compartirla, si tiene algún comentario adicional sobre este proyecto, nos encantaría leerlo.
---
Discord alberto0607#6813
Sígueme en Twitter
Posted Using LeoFinance Beta