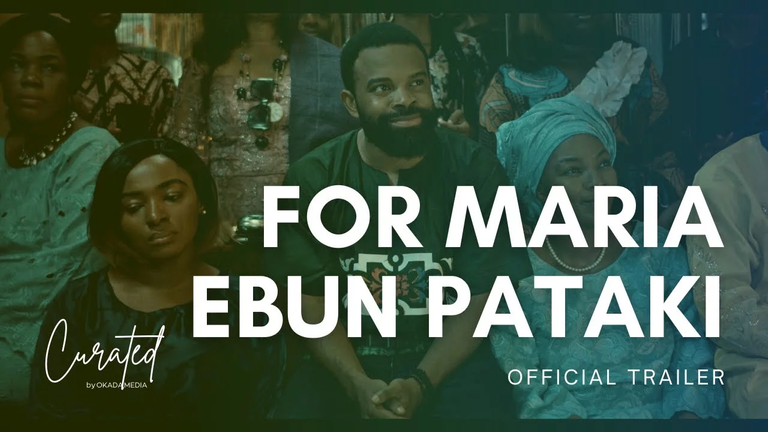 Cover
For Maria Ebun Pataki is a 2020 Nigerian film about post-partum depression. It takes us through the post-delivery months of Derin and her struggle with a condition that isn't well understood.
The film is a directional debut by Damilola Orimogunje and co-written by himself and Tunray Femi. It stars Meg Otanwa, Gabriel Afolayan and Tina Mba. It's done both in English and Yoruba languages. For Maria made its way to Netflix a few days ago and can currently be streamed on the platform.
The Plot
The movie opens with the delivery of a baby girl that cost the mother, Derin, her womb due to complications surrounding the delivery. The couple then have the traditional naming ceremony of the baby in their home, hosting a few church members and friends and Derin barely shows face throughout the ceremony.
The baby is named 'Maria' by Derin as opposed to the name she and her husband initially planned for and he didn't seem pleased. Derin's cold demeanour at the naming continues for the rest of the movie as she has a hard time connecting with her newborn. This leads to fights with her mother-in-law and her husband equally has a hard time figuring out why she refuses to bond with the baby.
My Thoughts
There's one thing I love about old school Nollywood movies, it's their stories. The stories usually portray real life and are always geared towards bringing awareness to issues occurring in society. Although the production was subpar, we mostly didn't care for the technicalities of our movies, but rather, the storylines that would keep us in deep conversations after seeing a movie.
Such movies are rare these days and are not as popular as the mediocre star-studded big-screen movies we now see. That's why a movie like For Maria Ebun Pataki isn't trending right now even when its message needs a lot of awareness. I saw this Nigerian movie on Netflix and didn't waste time adding it to my list.
Let me retrace, I saw a tweet where a doctor was talking about post-partum depression and amid uninformed conversations right under that tweet, I saw a reply from a guy about this movie and how people should be on the lookout for when it drops on Netflix. I saw it on the day it was released, of course, so let me get right to it already.
Storyline
I like the story and how clear it is. There are no loopholes here and no problems with continuity. It's a simple, informative piece that is told beautifully. There isn't unnecessary melodrama and the focus is mainly on the awareness of the condition being talked about. Could the awareness have been better? Yes, I think so. If the details of the condition were explored a bit more, I think it would stick better in the minds of people.
Trying my best not to give away spoilers, but, I didn't like how it ended. It was too sudden and I wasn't prepared for an end at that moment. It felt like a lot more could have been covered but then, that might have taken away the simplicity I think the director was going for. I still loved it anyway.
Cast
Meg Otanwa's delivery of Derin is just genius. She didn't need to cry a river to show she was depressed, it showed in the way she moved, in her eyes, and her silence. Her acting was brilliant and her character didn't need to have us invested in her to understand what was going on with her. She did great but wasn't stealing the show and taking us away from the awareness which is the primary goal of the movie.
Her mother-in-law played by Tina Mba is another amazing act, she delivered the role of the uninformed well which is the reality of society when it comes to post-partum depression and mental health issues in general.
Cinematography
Remember I said we never really cared for the technicalities in Nigerian movies, well, these days we get some good films that come with the whole package thanks to good directors and producers that care for making memorable films.
The delivery is simple, yet, can be seen to be very weighty with instances where the camera follows Derin to the bathroom and we can see her in the mirror observing her body that had changed post-partum. The lighting of the house also depicts the deep sorrow and melancholy that Derin is going through.
In the scene where the mother-in-law leaves the house, the camera focuses on the portraits on the wall depicting the couple were now alone to take of their baby.
The music wasn't doing too much and it intensified at the right moments but was never too much. Each scene was seamless and properly conveyed the message intended.
The entire cast and crew did an amazing job and I think they would look at this film and truly be satisfied with what they made.
It's a 9/10 for me.

Discord - wolfofnostreet#4939