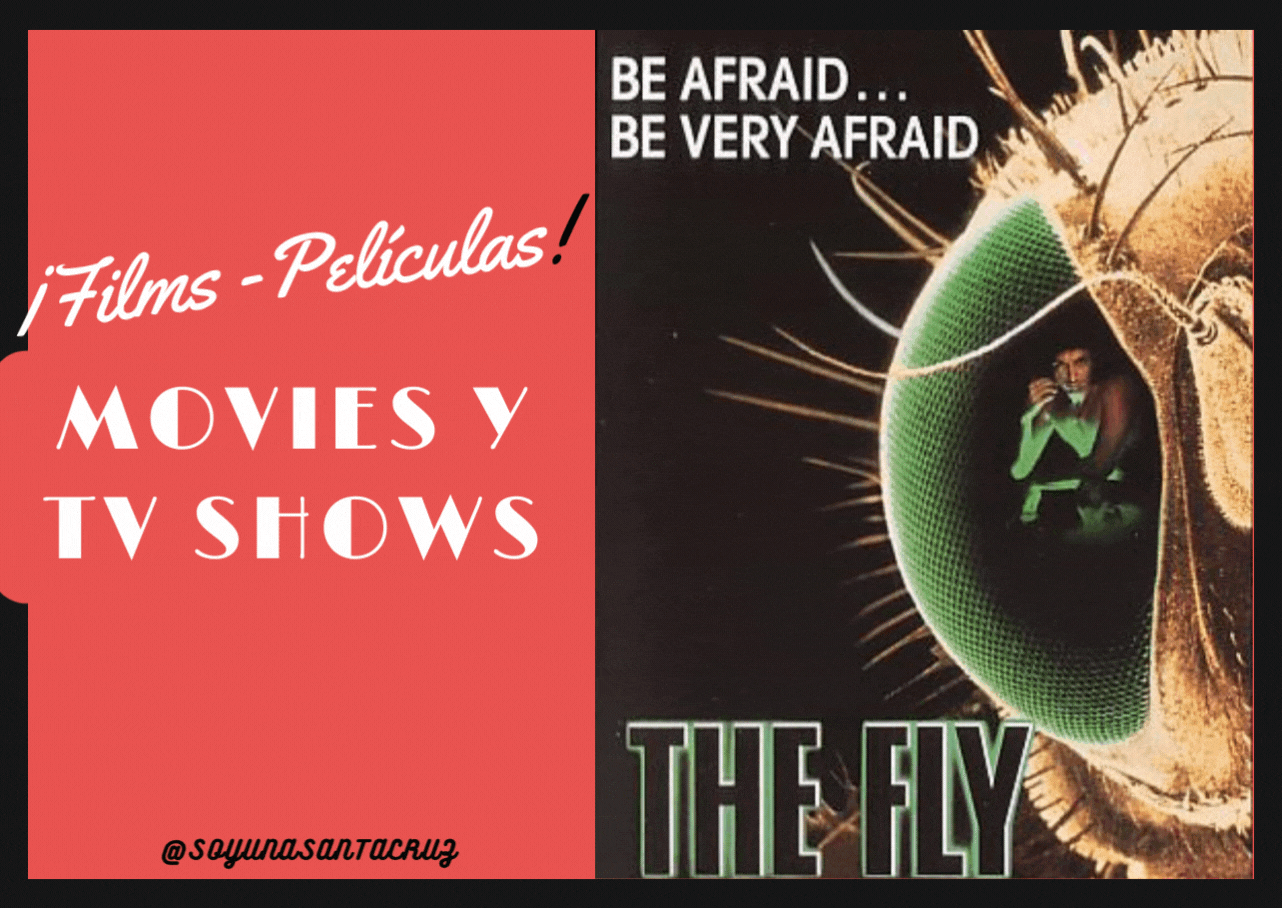 Image created by me with canva Source with resources from filmaffinity

---
Memories of a movie buff
---
Because of a comment I received in a recent publication I remembered one of the movies that have impressed me the most and I think that since I saw it, I grew in me the taste for movies about space, time and time travel.
I was very little when I saw it, maybe I was 4 or 5 years old, but no older than 6, this movie was not suitable for my age, but my parents always treated me as an older person, they gave me freedom in many ways, including TV and movies.
Memorias de una cinéfila
---
Por un comentario que recibí en una publicación reciente recordé una de las películas que más me han impresionado y creo que desde que la vi creció en mí el gusto por las películas sobre el espacio, el tiempo y viajes en el tiempo.
Estaba muy pequeña cuando la vi, tal vez tenía 4 o 5 años, pero no mayor que 6, esta película no era apta para mi edad, pero mis padres siempre me trataron como una persona mayor, me dieron libertad en muchos sentidos, incluyendo la TV y el cine.
---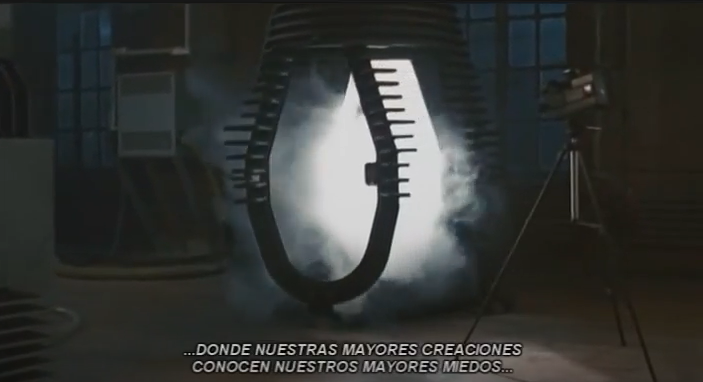 ---
The Fly
It is based on a group of scientists who create a capsule to teleport in space and time, for that they had to decompose or disintegrate the entire body by a particle accelerator, the system had been successfully tested and one of the scientists could not stand the curiosity and wanted to try the capsule himself, but did not realize that in the machine was inside a fly.
The machine decomposed everything it had inside, there could not be even a particle of dust, much less a fly because that would be integrated back into the body once it passed from one capsule to another, that is, all the DNA of the fly was integrated into the DNA of man.
Without realizing the mistake, the protagonist goes about his normal life while presenting physical changes a bit disgusting as huge hairs and deterioration of nails and skin, as the film progressed it became more disgusting, I was distressed to see how the man's body was transforming into a fly and what he felt and made his partner the co-protagonist feel.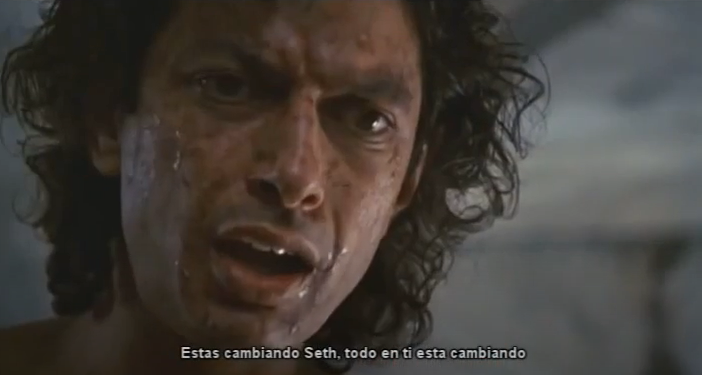 La mosca
Sé basa en un grupo de científicos que crean una cápsula para teletransportarse en el espacio y el tiempo, para eso debían descomponer o desintegrar el cuerpo completo por un acelerador de partículas, el sistema había sido probado con éxito y uno de los científicos no aguanto la curiosidad y quiso probar por sí mismo la cápsula, pero no se percató que en la máquina estaba adentro una mosca.
La máquina descomponía todo lo que ella tenía adentro, no podía haber ni una partícula de polvo, mucho menos una mosca porque eso sería integrado nuevamente en el cuerpo una vez que pasara de una cápsula a otra, es decir, todo el ADN de la mosca fue integrado al ADN de hombre.
Sin darse cuenta del error el protagonista hace su vida normal mientras presenta cambios físicos un poco asquerosos como pelos enormes y deterioro de uñas y piel, en la medida que la película avanzaba se fue haciendo más repugnante, yo me angustiaba de ver como iba transformándose el cuerpo del hombre en una mosca y lo que sentía y hacía sentir a su compañera la coprotagonista.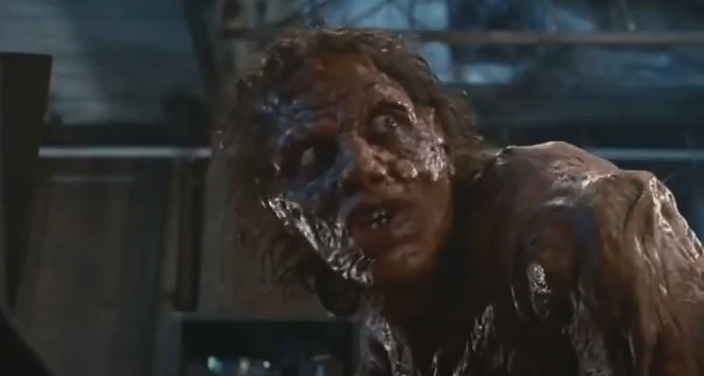 ---
Opinion
---
Just imagine for a moment that you can become an animal, we have all ever imagined being an animal or have answered this question and I am almost sure that no one wants to be a fly, of all the insects this is the least likely that you want to become.
In the movie first, they show the positive qualities of this animal, being able to walk on the ceiling, that gravity doesn't affect you, but then they show how they feed and it is something very disgusting, I would like to go back in time and see my expression when watching this movie 😂🤭.
I think they don't have a happy ending, which makes it more credible, I really liked its scientific foundation, for the time in which it was developed it also had a good makeup and special effects team. Now I think that this film has a philosophical sense, its message is oriented not to exceed the universal laws and respect science and life, humans are not prepared to have knowledge that allows us to manipulate time and space.
If the movie is good it will stay in your memory forever and this is one of the first I saw in my life, I recommend it 100%.
---
Opinión
---
Solo imagina por un momento que puedes convertirte en un animal, todos alguna vez hemos imaginado ser un animal o hemos respondido esta pregunta y estoy casi segura que nadie quiere ser una mosca, de todos los insectos este es el menos probable en que te quieras convertir.
En la película primero muestran las cualidades positivas de este animal, poder caminar por techo, que la gravedad no te afecte, pero luego muestran como se alimentan y es algo muy asqueroso, quisiera regresar el tiempo y ver mi expresión al ver esta película 😂🤭
Creo que no tienen un final feliz, lo que la hace más creíble, me gusto mucho su fundamento científico, para la época en que se desarrolló también contó con un buen equipo de maquillaje y efectos especiales. Ahora pienso que esta película tiene un sentido filosófico, su mensaje que se orienta en no sobrepasar las leyes universales y respetar la ciencia y la vida, los humanos no estamos preparados para tener conocimientos que nos permita manipular el tiempo y el espacio.
Si la película es buena se quedará en la memoria por siempre y esta es una de las primeras que vi en mi vida, te la recomiendo 100 %
---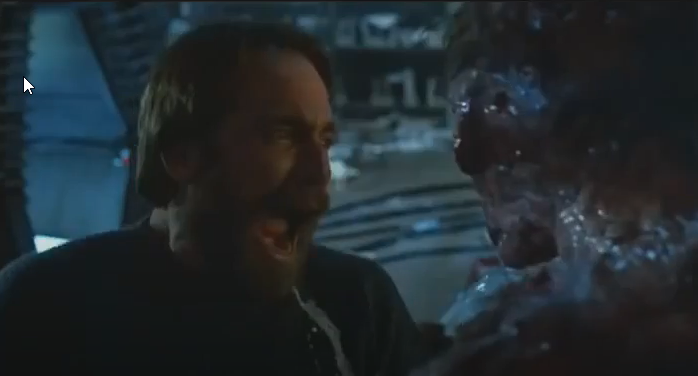 | Technical Details | Detalles técnicos |
| --- | --- |
| ☢️ Rated: PG-13 | ☢️ Clasificación: PG-13 |
| 🎭 Genre: Science Fiction, Fantastic. Horror, Remake, Monsters, Cult Movie | 🎭 Género: Ciencia ficción, Fantástico. Terror, Remake, Monstruos, Película de culto |
| Original language: English | Idioma original: Inglés |
| 🎥 Director: David Cronenberg | 🎥 Director: David Cronenberg |
| 📅 Release date: 1986 | 📅 Fecha de estreno: 1986 |
| 🎬 Running time: 100 min. | 🎬 Duración: 100 min. |
| ✍️ My score: 8.5 to 10 | ✍️ Mi puntaje: 8.5 de 10 |
---
Trailer Subtitulado en Español
---
---
Credits - Créditos
---
The English translation was done with Deepl Translator.
Images without source are screenshots from the movie. - Las imágenes sin fuente son capturas de pantalla de la película.
---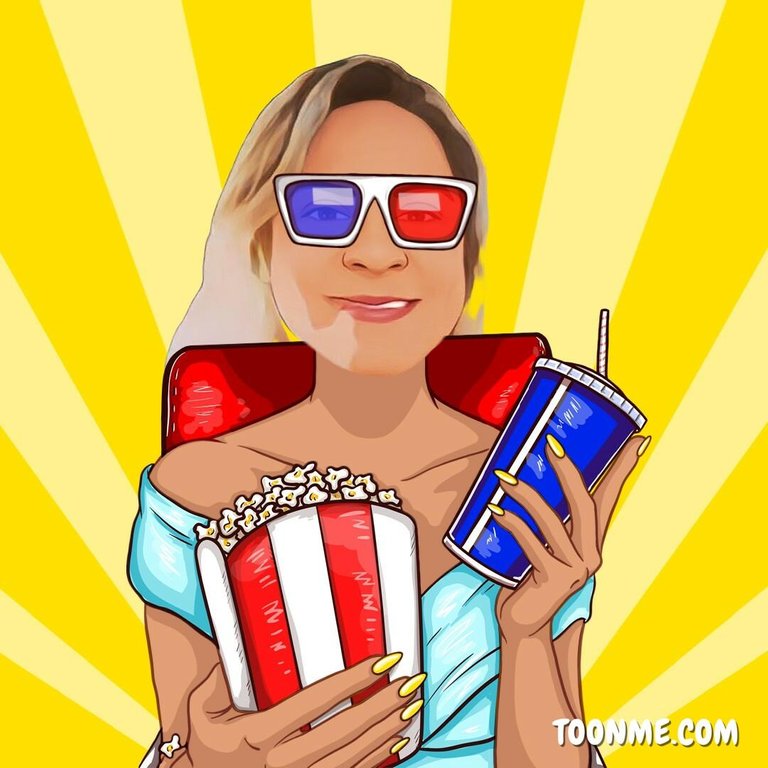 ---
Thank you for your visit and support 💐

Gracias por tu visita y apoyo💐