"Free Guy" is one-of-a-kind as an action-comedy, but it's also a marvel of depth, delving into love, interpersonal connection, treachery, and bravery. Regular Ryan Reynolds and this world perform an outstanding job of preserving amusement throughout with a distinct hand. "Free Guy" is a vibrant and colorful, action-packed family film with unusual chuckles and even a few of surprising appearances that will make you grin as a love tale, gaming homage, comedy, and action. "Free Guy" is a wacky love letter to the game industry.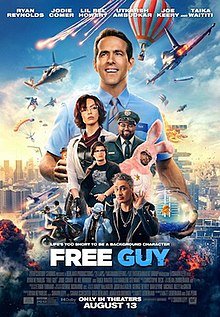 Theatical Release Poster
SOURCE
This film is pure entertainment, combining the realms of reality television and video gaming, as well as artificial intelligence, to provide one of the year's most enjoyable and funny movie. Ryan Reynolds' incredible comic performances in this film are among the most remarkable I've ever seen in a blockbuster since Deadpool films, providing a classic and conventional performance. The over-the-top man-child of a villain played by Taika Waititi makes "Free Guy" what it is: a fun. "Free Guy" raises the bar as the new standard for video game adaption films, yet it provides enough humor and spectacle for fans to tune in for two hours.
Reynolds can do this kind of charming action hero in his sleep, but Comer is a real breakthrough, charismatically holding together both the action-driven scenes as Molotov Girl and the more character-driven ones as Millie.
Free Guy introduces us to Guy (Ryan Reynolds), a highly charming NPC (Non-Player Character) in the immensely popular open world video game "Free City." Guy (Ryan Reynolds) is a highly pleasant NPC (Non-Player Character) in the hugely popular open world video game "Free City." He wears the same clothes every day, orders the same coffee, and works at the same bank, which is robbed numerous times a day by real players in this "Grand Theft Auto"-style game. He is unconcerned about anything. Guy and his best friend Buddy (Lil Rel Howery) are having a good time until Guy notices Molotov Girl (Comer), a true player who wears the same clothes every day and breaks his pattern, following the captivating woman down the street.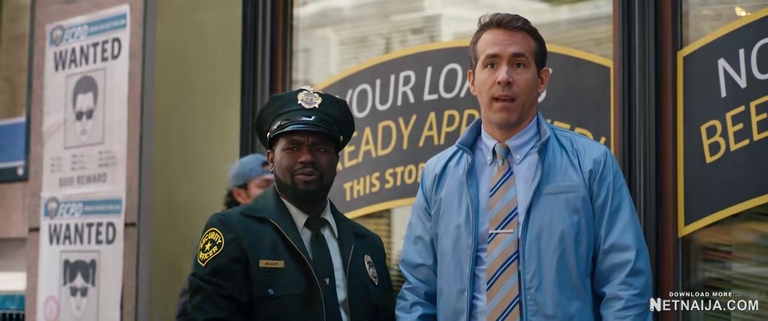 All images are screenshots taken by me
In the bank the second day when they were being robbed, Guy attacked a true player, while trying to duel the gun with him the true player was killed in the process. So Guy gets his hands on the player's sunglass that reveal what the actual players see in this world, including missions, medikits, hubs, and other things that will be familiar to modern gamers, even if some of the tech here already looks dated, as he grows more interested in Molotov Girl and where she might be going. Back in the real world, we learn that Molotov Girl is a programmer named Millie who used to work on the development of a truly ambitious virtual game with another tech genius named Keys (Joe Keery), one that would replicate the real world rather than simply giving gamers violent missions to complete.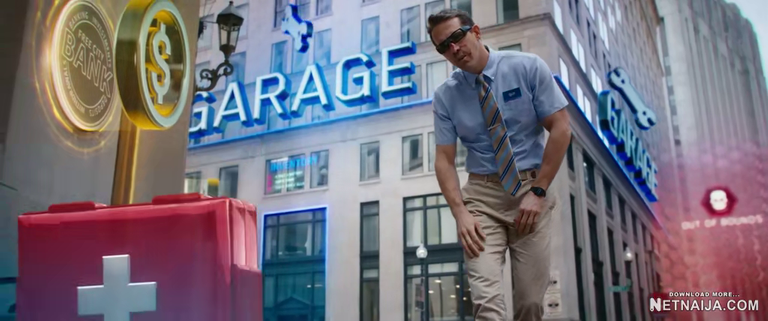 When Guy proves to be the perfect inside man, Millie is in "Free City" looking for proof that the game's egotistical publisher Antwan (Taika Waititi) stole her code and distorted it into this boring experience. The Trinity to his Neo, the two create an alliance to rip "Free City" apart from the inside out, beginning with Guy's refusal to rise up the ranks through violence. Guy exclusively completes the game's positive goals, and as a result, he becomes an internet sensation as the world tries to figure out who this mysterious player is, unaware that he is actually the most astonishing artificial intelligence breakthrough in history.
Soonami, the business behind Free City, learns about Guy's activities outside the game, mistaking him for a hacker who used an NPC skin to take down other players. Two employees, Walter "Keys" McKey (Joe Keery) and Mouser (Utkarsh Ambudkar), enter the game as their avatars, a stripper cop and a pink rabbit, respectively, to confront Guy. They are chasing him down, but he has special sneakers that allow him to jump quite high. Guy attempts to flee by snatching a wrecking ball, but fails and falls, saving himself with a bubble suit. Keys and Mouser, on the other hand, track down Guy and kill him, believing they have eliminated the "hacker" for good.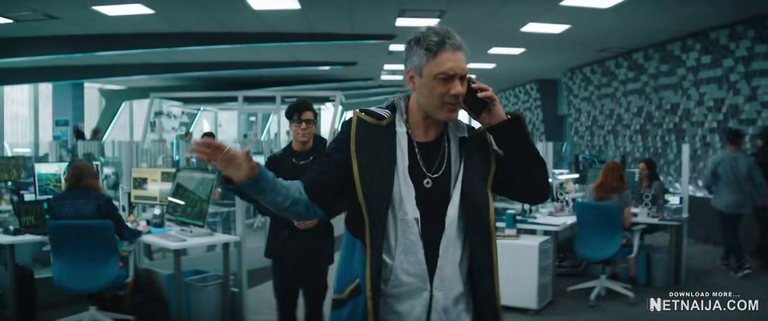 As Millie and Keys are trying to rescue real development from brash capitalism when they uncover what has been built here. Reuniting once more to defend what they've achieved and restore the "Free city's" liberty. The mystery of Guy's pattern break, as well as its link to Millie and McKey, was uncovered in the process. Though the 'Free City' has finally achieved independence, the battle for Guy, Millie, and McKey was not simple. Antwan was enraged and terrified of missing his chance to launch the sequel to Free City, "Free City 2," which made him even more desperate and violent.
It wouldn't be a video game film without shooting gunmen, fast vehicles, and missions making reoccurring appearances, yet there's a far deeper message hidden underneath all of these gaming clichés. Guy spends his entire life repeating the same day because that is all he is programmed to do – imagine ordering the same coffee every day and becoming the victim of a bank robbery every time you go to work. Guy, on the other hand, becomes the first NPC (non-playable character, for those of you who, like me, had no clue what it meant) to take control of his life after discovering that it isn't real, and break free from Free City's continuous, repeating cycle.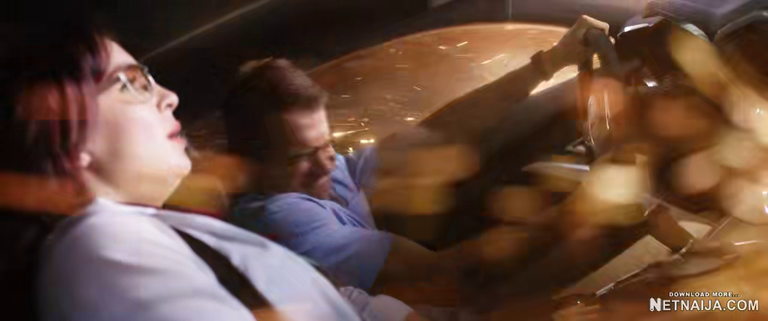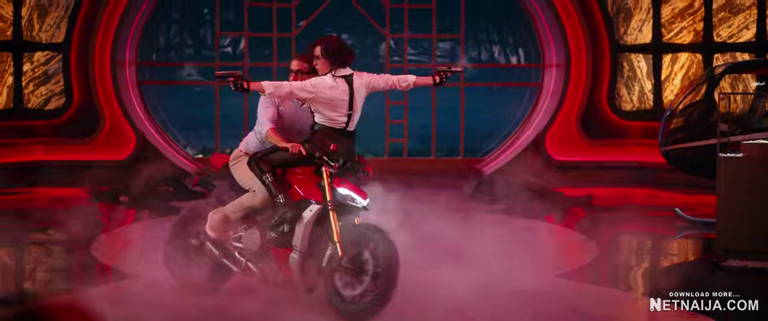 Morals: Guy is a flag for hope and a reminder to always fight for our rightful freedom and happiness – a message that I really did not expect to be covered in an action-comedy.
"Free Guy" es única como comedia de acción, pero también es una maravilla de profundidad, ahondando en el amor, la conexión interpersonal, la traición y la valentía. El habitual Ryan Reynolds y este mundo realizan un excelente trabajo para mantener la diversión a lo largo de toda la película con una mano distinta. "Free Guy" es una película familiar vibrante y colorida, llena de acción, con risas inusuales e incluso algunas apariciones sorprendentes que te harán sonreír como una historia de amor, homenaje a los juegos, comedia y acción. "Free Guy" es una disparatada carta de amor a la industria del juego.
Esta película es puro entretenimiento y combina los ámbitos de la telerrealidad y los videojuegos, así como la inteligencia artificial, para ofrecer una de las películas más divertidas y entretenidas del año. Las increíbles interpretaciones cómicas de Ryan Reynolds en esta película son de las más notables que he visto en una superproducción desde las películas de Deadpool, proporcionando una actuación clásica y convencional. El exagerado hombre-niño de un villano interpretado por Taika Waititi hace que "Free Guy" sea lo que es: una diversión. "Free Guy" eleva el listón como el nuevo estándar para las películas de adaptación de videojuegos, pero proporciona suficiente humor y espectáculo para que los fans sintonicen durante dos horas.
Reynolds puede hacer este tipo de héroe de acción encantador mientras duerme, pero Comer es un verdadero avance, sosteniendo carismáticamente tanto las escenas de acción como Molotov Girl como las más centradas en los personajes como Millie.
Free Guy nos presenta a Guy (Ryan Reynolds), un encantador NPC (Non-Player Character) en el inmensamente popular videojuego de mundo abierto "Free City". Guy (Ryan Reynolds) es un NPC (Non-Player Character) altamente agradable en el inmensamente popular videojuego de mundo abierto "Free City". Lleva la misma ropa todos los días, pide el mismo café y trabaja en el mismo banco, que es atracado numerosas veces al día por jugadores reales en este juego al estilo de "Grand Theft Auto". No se preocupa por nada. Guy y su mejor amigo Buddy (Lil Rel Howery) se lo pasan bien hasta que Guy se fija en Molotov Girl (Comer), una verdadera jugadora que lleva la misma ropa todos los días y rompe su patrón, siguiendo a la cautivadora mujer por la calle.
En el banco, el segundo día, cuando les están robando, Guy ataca a un verdadero jugador, mientras intenta batirse en duelo con él, el verdadero jugador muere en el proceso. Así que Guy se hace con las gafas de sol del jugador que revelan lo que los verdaderos jugadores ven en este mundo, incluidas las misiones, los medikits, los hubs y otras cosas que resultarán familiares a los jugadores modernos, aunque parte de la tecnología aquí ya parece anticuada, mientras se interesa más por Molotov Girl y por dónde podría ir. De vuelta al mundo real, nos enteramos de que la Chica Molotov es una programadora llamada Millie que solía trabajar en el desarrollo de un juego virtual realmente ambicioso con otro genio de la tecnología llamado Keys (Joe Keery), uno que replicaría el mundo real en lugar de simplemente dar a los jugadores misiones violentas para completar.
Cuando Guy demuestra ser el perfecto infiltrado, Millie se encuentra en "Free City" buscando pruebas de que el egoísta editor del juego, Antwan (Taika Waititi), robó su código y lo distorsionó en esta aburrida experiencia. La Trinidad a su Neo, los dos crean una alianza para destrozar "Free City" desde dentro, empezando por la negativa de Guy a ascender en el escalafón mediante la violencia. Guy completa exclusivamente los objetivos positivos del juego y, como resultado, se convierte en una sensación de Internet mientras el mundo trata de averiguar quién es este misterioso jugador, sin saber que en realidad es el avance de inteligencia artificial más asombroso de la historia.
Soonami, la empresa que está detrás de Free City, se entera de las actividades de Guy fuera del juego, y lo confunde con un hacker que ha utilizado una skin de NPC para acabar con otros jugadores. Dos empleados, Walter "Keys" McKey (Joe Keery) y Mouser (Utkarsh Ambudkar), entran en el juego como sus avatares, un policía stripper y un conejo rosa, respectivamente, para enfrentarse a Guy. Le persiguen, pero él tiene unas zapatillas especiales que le permiten saltar bastante alto. Guy intenta huir arrebatando una bola de demolición, pero fracasa y cae, salvándose con un traje de burbujas. Keys y Mouser, por su parte, localizan a Guy y lo matan, creyendo que han eliminado al "hacker" para siempre.
Mientras Millie y Keys intentan rescatar el desarrollo real del capitalismo descarado cuando descubren lo que se ha construido aquí. Se reúnen de nuevo para defender lo que han conseguido y restaurar la libertad de la "ciudad libre". El misterio de la ruptura del patrón de Guy, así como su vínculo con Millie y McKey, se descubrió en el proceso. Aunque la "Ciudad Libre" ha conseguido por fin la independencia, la batalla por Guy, Millie y McKey no fue sencilla. Antwan estaba enfurecido y aterrorizado por perder su oportunidad de lanzar la secuela de Ciudad Libre, "Ciudad Libre 2", lo que le hizo estar aún más desesperado y violento.
No sería una película de videojuegos sin que los pistoleros, los vehículos rápidos y las misiones hicieran apariciones recurrentes, pero hay un mensaje mucho más profundo oculto bajo todos estos clichés de los juegos. Guy se pasa la vida repitiendo el mismo día porque es lo único para lo que está programado: imagina pedir el mismo café todos los días y ser víctima de un atraco a un banco cada vez que vas a trabajar. Guy, en cambio, se convierte en el primer NPC (personaje no jugable, para los que, como yo, no tenían ni idea de lo que significaba) que toma las riendas de su vida tras descubrir que no es real, y se libera del ciclo continuo y repetitivo de Free City.
Morales: Guy es una bandera para la esperanza y un recordatorio para luchar siempre por nuestra legítima libertad y felicidad, un mensaje que realmente no esperaba que se incluyera en una comedia de acción.