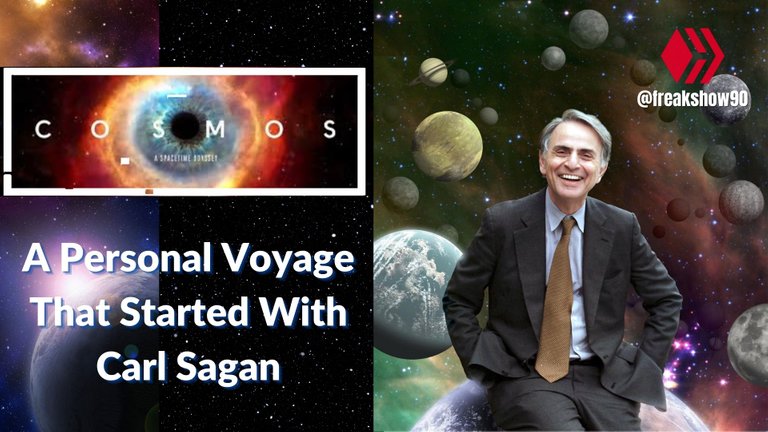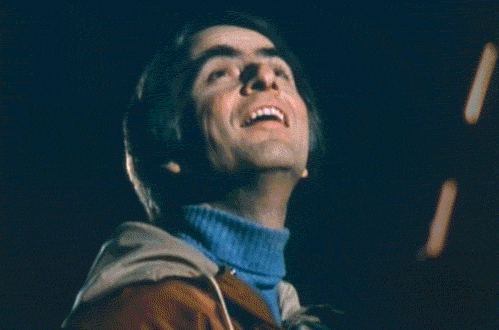 Once upon a time, the year was 1980. A tremendously convulsive decade full of challenges for the whole of humanity. It would undoubtedly mark the course of many things that today we consider habitual and routine but which have their origin in that marvellous decade. After more than 30 years of Cold War between the West and the East, capitalism and communism, "good guys and bad guys", a guy emerges; a guy of ordinary appearance, affable, common, but who without thinking about it would start one of the most fabulous, transcendental and fascinating series in the history of scientific dissemination. And yes, by this point, you must have already anticipated that I am referring to the one and only: Carl Sagan and his "Cosmos". Which precisely in September, 40 years ago today, broadcast its first episode for the first time.
Érase una vez el año de 1980. Una década tremendamente convulsa y llena de retos para toda la humanidad. Que sin duda, marcaría el rumbo de muchas cosas que hoy en día, consideramos habituales y rutinarias pero que tienen su origen en aquélla década maravillosa. Tras más de 30 años de Guerra Fría entre Occidente y Oriente, capitalismo y comunismo, "buenos y malos", surge un sujeto; un tipo de apariencia ordinaria, afable, común pero que sin pensarlo iniciaría una de las series más fabulosas, trascendentales y fascinantes de toda la historia de la divulgación científica. Y sí, para este punto, ya debes haber anticipado que me refiero al único e indiscutible: Carl Sagan y su "Cosmos". Que justamente en septiembre, hoy hace 40 años en el pasado transmitía por primera vez su primer episodio.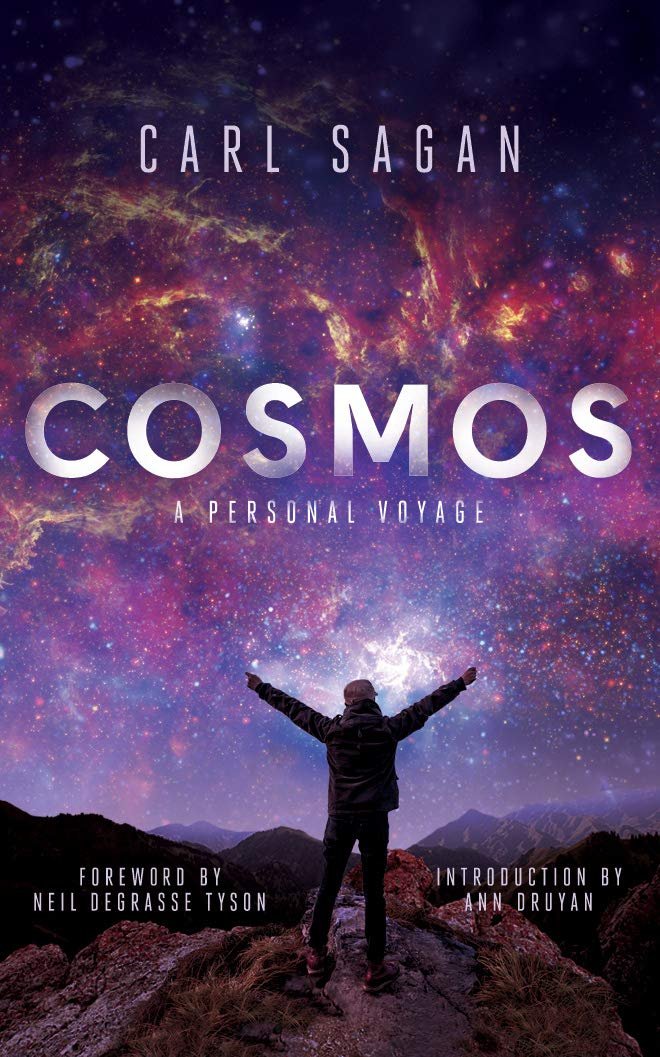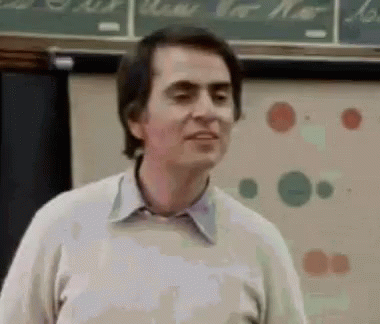 It is simply not enough to put into dimension the full scope of this series on astronomy, science, physics and cosmology. Many of the minds that have revolutionised the world today found their inspiration, as children or teenagers, under the influence of Cosmos: A Personal Voyage. Only a privileged mind could make digestible such remarkably abstract concepts as "The Bing Bang Theory", neutron stars, Einstein-Rossen holes or interstellar travel. But it also embraced varied scientific disciplines; it was not limited to the explanation of the physical laws of the universe, but of the cause-effect that seems to govern the order of things. Biology, chemistry, philosophy, literature; music, art, humanities and natural sciences, for everyone and with dynamics.
The legacy of Cosmos and the link it has with the development of scepticism, reasonable doubt and the empowerment of intelligence are perhaps the best and most poetic way of expressing gratitude for an idea so masterfully developed and which has been of vital importance to the minds of millions of people. The curious thing about all this is that Carl Sagan, although he was a wonderful scientist, author and, as I have already said, a populariser, was also known as a person who was passionate about transmitting knowledge. For me, that enthusiasm in wanting to teach is a precious demonstration of perfect love. For, without failing the cosmic laws, nothing was exaggerated, but neither were the captivating details of knowledge omitted.
Y es que, poner en dimensión todo el alcance que tuvo este serie sobre astronomía, ciencia, física y cosmología, es sencillamente insuficiente. Muchas de las mentes que hoy han revolucionado al mundo, hallaron su inspiración, siendo unos niños o adolescentes, bajo la influencia de Cosmos: Un Viaje Personal. Solo una mente privilegiada podía hacer digerible conceptos notablemente abstractos como "La Teoría del Bing Bang", Estrellas de neutrones, agujeros Einstein-Rossen o el viaje interestelar. Pero también abarcó disciplinas científicas variadas; no se limitaba a la explicación de las leyes físicas del universo, sino a la causa-efecto que parece regir el orden de las cosas. Biología, química, filosofía, literatura; música, arte, humanidades y ciencias naturales, para todos y con dinámica.
El legado de Cosmos y la vinculación que tiene con el desarrollo del escepticismo, la duda razonable y la potenciación de la inteligencia, son quizá, la mejor y más poética manera de agradecer por una idea tan magistralmente desarrollada y que ha tenido una importancia vital para las mentes de millones de personas. Lo curioso de todo esto, es que Carl Sagan, si bien fue un científico maravillosos, autor y como ya he dicho; divulgador, también fue conocido como una personas que sentía suma pasión por transmitir conocimiento. Para mí, ese entusiasmo en querer enseñar es una demostración preciosa de amor perfecto. Pues, sin fallarle a las leyes cósmicas, nada se exageraba pero tampoco se omitían los detalles cautivantes del saber.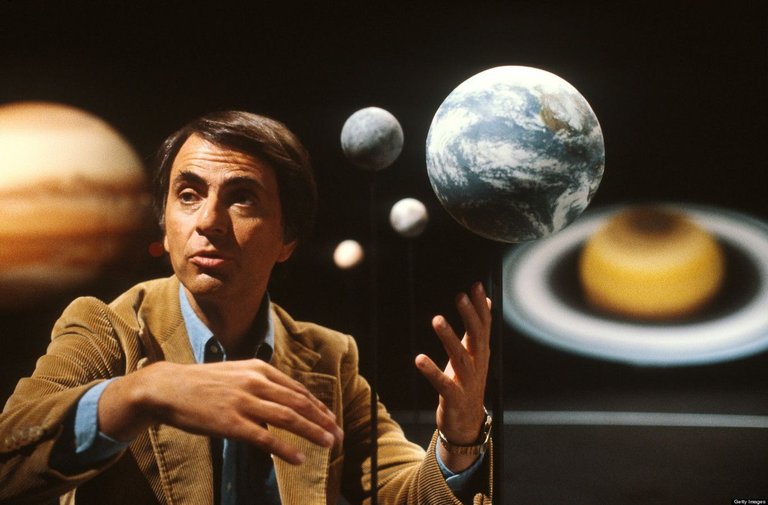 The knowledge disseminated in Cosmos had only one purpose: to awaken billions of people from their profound and well promulgated ignorance. Without violence, nor excess of arrogance. As I have said before, the great thing about this series lies in the objective it had: to promulgate knowledge and thinking. I also like to believe that it is an ideal response, the one employed at the time by Carl Sagan, his wife and the producers, in using the reach of traditional media to make science accessible and understandable; with a simple, plain but effective language for everyone. Interestingly, there are those who find Cosmos a kind of "Holy Grail for nerds". I think they are wrong and also undeniably arrogant.
El conocimiento que se divulgaba en Cosmos solo tenía un propósito: despertar de la profunda y muy bien promulgada ignorancia, a miles de millones de personas. Sin violencia, ni tampoco exceso de prepotencia. Como he dicho anteriormente, lo magnífico de esta serie recae en el objetivo que tenía: promulgar el saber y el pensar. También me gusta creer que es una respuesta ideal, la que emplearon en su momento, Carl Sagan, su esposa y los productores, al usar el alcance de los medios de comunicación tradicionales para hacer que la ciencia fuese asequible y entendible; con un lenguaje simple, llano pero eficaz hacia todo el mundo. Curiosamente, hay quienes hallan Cosmos como una especie de "Santo Grial para nerds". Creo que se equivocan y además son indiscutiblemente soberbios.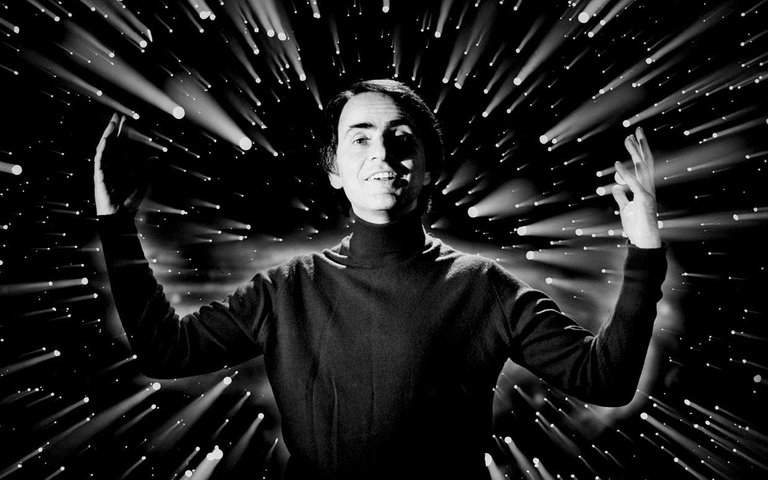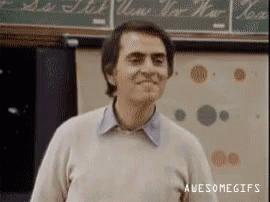 Moreover, this series (and those who have seen it will corroborate what I am saying here) promoted a concept of inclusion, equality, respect and fraternity that I have rarely seen on television. In this sense, personal dedication, experience, the expertise that comes from experience but also years as an academic make this author so endearing and loved, as well as admired and fundamental for getting started in science, mechanics and logical reasoning. "The Cosmos is all that is, all that was, and all that ever will be". This sentence begins the first of the thirteen episodes of this original production, and from the outset it takes us on what is a marvellous journey.
I cannot fail to mention a tremendously humble characteristic that Carl Sagan had and that permeated his series. And it is none other than: true humility. The fact that he placed humanity as just one organism among the gigantic variety of species on Earth is groundbreaking in itself. Any King, Ruler, President or Tyrant who has lived on the face of the planet has died or at some point will be dead, yet the Planet will survive and we will all be a part of the past; no matter how great or simple we may have been in life. Whatever longing, anguish, pain, pleasure, anecdote or sadness, it is not for significance on a universal scale. We tend to think we are on the cusp of evolution, and perhaps we are, but this planet is just a speck of dust in a vast, unforgiving universe.
Además, este seriado (y quienes lo han visto, corroborarán lo que aquí estoy diciendo) promovía un concepto de inclusión, igualdad, respeto y fraternidad que en muy pocas ocasiones he visto en la televisión. En este sentido, la entrega personal, la experiencia, la pericia que da la experiencia pero también años como académico hacen que este autor sea tan entrañable y querido, además de admirado y fundamental para iniciarse en la ciencia, la mecánica y el razonamiento lógico. "El Cosmos es todo lo que es, lo que fue y lo que será alguna vez". Esta frase da inicio al primer episodia de los trece con los que cuenta esta producción original, y desde ya nos compenetra en lo que es un viaje maravilloso.
No puedo dejar de mencionar una característica tremendamente humilde que tenía Carl Sagan y que impregnó a su serie. Y no es más que: la verdadera humildad. Y es que, el hecho de que ubicara a la humanidad como tan solo un organismo más dentro de la gigantesca variedad de especie en La Tierra, ya de por sí es innovador. Cualquier Rey, Gobernante, Presidente o Tirano que haya vivido sobre la Faz del planeta ha muerto o en algún punto lo estará, sin embargo el Planeta sobrevivirá y todos seremos parte del pasado; sin importar la grandeza o a simpleza que hayamos ostentado en vida. Cualquier anhelo, angustia, dolor, placer; anécdota o tristeza, no es para significativa a escala universal. Solemos pensar que estamos en la cúspide de la evolución, y quizá sea así, pero este planeta es tan solo una mota de polvo en un basto universo implacable.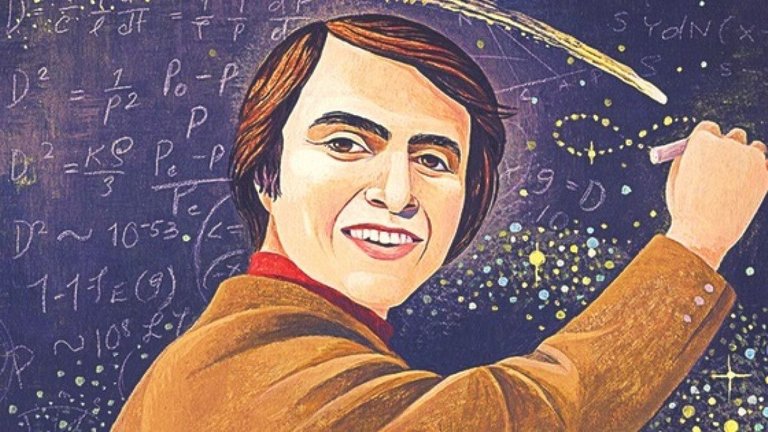 I love the way Cosmos approaches science and knowledge. Quite simply, any human being who understands the scale we all occupy on this tiny globe of earth and stone will understand how fleeting and ephemeral we are in comparison to what is out there. We have concepts for almost everything, but in terms of understanding per se, it seems that we are not really able to truly quantify the level we occupy in the universal concert. The simple fact of being able to express myself in this less existentialist and more analytical way is a direct consequence of having this small homage to Cosmos, to the great Carl Sagan and, of course, to our ability as thinking links in a precious accident, such as evolution. Which, in short, is what has you and me, here in Hive, reading each other and united even though we are thousands of kilometres apart.
Amo la manera en cómo Cosmos aborda la ciencia y el conocimiento. Sencillamente, cualquier ser humano que entienda la escala que ocupamos todos en este globo diminuto de tierra y piedra, entenderemos lo fugaces y efímeros que somos en comparación con lo que hay allá afuera. Tenemos conceptos para casi todo, pero en cuanto a entendimiento propiamente dicho, parece que no somos realmente capaces de cuantificar realmente el nivel que ocupamos en el concierto universal. El simple hecho de poder expresarme de este modo tan poco existencialista y más analítico es una consecuencia directa de tener entre ceja y ceja este pequeño homenaje a Cosmos, al grandísimo Carl Sagan y, por supuesto, a nuestra habilidad como eslabones pensantes de un accidente precioso, como es la evolución. Que en definitiva, es lo que nos tiene a usted y a mí, aquí en Hive, leyéndonos y unidos aún estando a miles de km de distancia.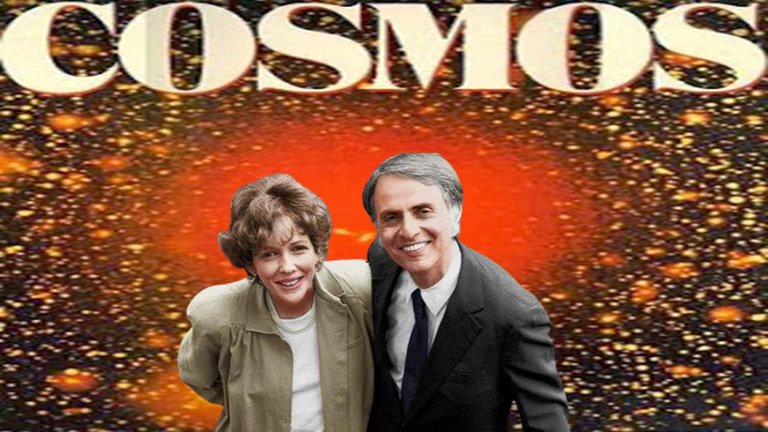 All GIFs used on this post are available in PeakD Platform