This is a very short and modest review of Halt and Catch Fire, a masterpiece TV series I discovered during the quarantine.
Genre & Plot: IT historical/fiction drama
Let's start from this. Although the story begins in the '80s and keeps going 'till the first half of the '90s, it's hard to tell whether can be considered fictional or historical. Indeed, many events, incidents, and plot turning points are clearly based on real historical facts. As the entire story is driven by 4 characters who all work, live and dream in the IT (hardware and software) sector, unavoidably their stories, inventions, and actions are referred to the '80s protagonists of the IT scenario and their inventions; from the invention of the Internet, to the very first launch of a personal and portable computer, the very first search engine system, all the other dozens of inventions that are mentioned, shown and told are real and historically proven and still existing today (most of them, at least). The one thing missing from the real historical drama is, of course, the actual inventors. Note that the actual inventors (ex. Steve Jobs, Larry Page and so on are all real in the show, but they're almost never given their good/bad name). So everything you can think of about technology, in this TV series the protagonists invented 'em all. Woah!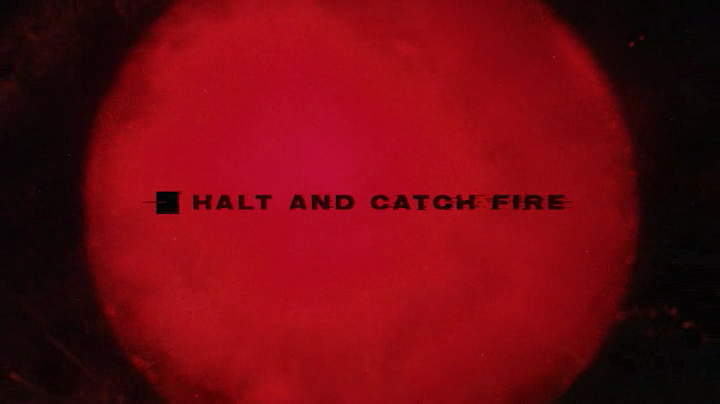 Halt and Catch Fire poster, taken from Wikipedia
Photography: realistically amazing
Ok, this is my favourite. Photography is simple, sometimes genius. Cross overs and amazing cuts, unexpected contrasts to enhance the level of drama of the scenes. I really don't know what else to say. Of course photography is not the first noticeable aspect, but it's worthy anyway.

Cast: the greatest I've ever seen in a TV series
They're all mostly unknown, apart from the blondie punk Cameron Howe aka Mackenzie Davis who got way more popular and known thanks to San Junipero episode from the Black Mirror (another great TV show at its release, it's just unfortunate Netflix bought it later on!). Halt and Catch Fire claims some extremely good performers, I gotta say I have a thing for the double-face good looking boy Joe MacMillan aka Lee Pace who, throughout the entire show, never loses his best charm, deep gaze, and brilliant way of speaking. In other words: the best actors I've ever seen in an American TV show. It's important to mention that they were all particularly great, i.e. a precious selection and casting were conducted prior the start of the production. And this is one of those aspects I appreciate a lot when it comes to pop culture productions. Even the secondary characters are all well played, even though most actors and actresses are pretty much unknown.

Duration and plot, again: long but gold
It's definitely very long. Both in terms of single episode playing time and numbers of episodes. Each episodes lasts 40 minutes, and they're 42 episodes total. That's a lot. Indeed, Halt and Catch Fire is not the typical lunch-break TV series to watch, because it requires time. Time to watch firstly, but also time to understand, in depth. I had to "stop and rewind" a lot of times because I just missed some aspects, some specifics, some details. Here's a piece of advice: pay grat attention to the dialogues - they're not quite everything, but very close. Last but not least, the plot may seem linear and crystal clear: well, it's not! So, remember not to forget what happens, what the characters do and say, because every move and every word matter to the ultimate understanding!

Audience: for many, not all
Since we're dealing with a kinda 'nerd' and very specific TV series about IT, technology history of innovations, and trust me when I say, SPECIFIC, the target can't be wider than those interested in such topics. I am not an engineer, yet I got to watch, understand, and appreciate the show as a whole. However, I struggled a little when the dialogues are extremely technical and contextualized to the software and hardware engineering sides of the plot. That is to say, you gotta be at least interested in those stuff to appreciate fully the TV series, because many times you'd watch without really understanding in detail if you're not a super nerd/ engineer and love digging into coding or computing. The bright side of all that is of course, IT engineers will find a paradise lost in watching Halt and Catch Fire, their honey, a magic world to jump in. A special one.
---
I hope you find this review helpful and interesting. I'm curious to know what you think about this TV show too, if you've already watched it and if you ever will! Please, leave a comment on this!