A couple times this week, the affects of technology on us as a society has come up, which is something that I am always interested in. In a session today, we were talking about communication in general and someone mentioned how interesting it was in the past, when they would build a mental image based on hearing a voice over the phone, and then be surprised by how different reality was.
Even though most of us barely use our phones as phones these days, I believe that this same concept happens when we interact through them, as we are still passing information between each other. The difference though, unlike the voice which is ours, the mental image being created is based on the information we provide, and while we are great consumers, we tend to rely on our ability to share this content to be our voice.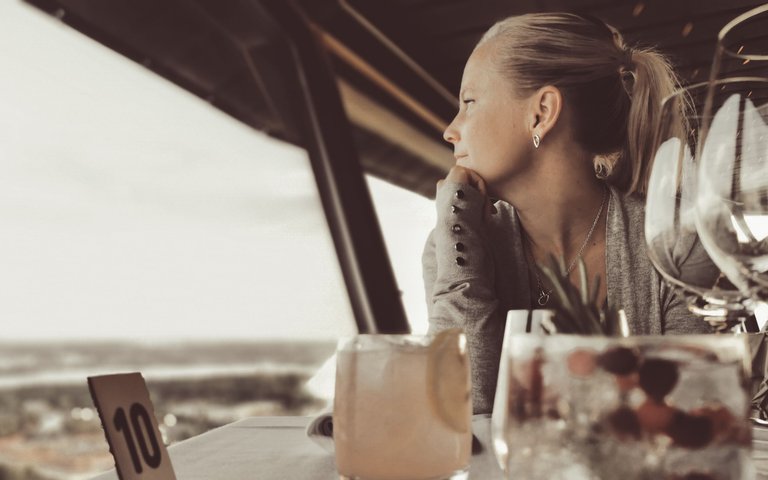 I think this is kind of like "personality via proxy" where a persona is built upon the shared content that represents the person sharing, even if that is not an accurate depiction of the person. At least anecdotally from my single friends, this seems to be the case, as the person they swipe on and talk to online, often is quite different in person, where the persona they have generated for themselves doesn't hold up under the scrutiny of reality.
There are several clustered reasons for this I think, with one being that people are able to "signal" a version of themselves that might be more an ideal they would like to have, or even a conscious decision to deceive. However, when face to face at a restaurant, someone with a modicum of human interaction experience is going to see all of the other clustered signs that a person is being dishonest or at least, don't entirely believe what they are saying.
However, in regards to the creative side of interpersonal content development, what I think is that people are losing the ability to small talk, joke, be charming, consider others and develop bonds - because we are relying on the content of others. Back in the day practicing (failing) and learning how to "flirt" was a required skill, otherwise a person would be lonely. However, these days it doesn't matter who you are, you can Google a personality and humor.
I used the example of where (these were older men in this group today) of going to a bar when they were eighteen and having to firstly build the courage and then, learn how to approach someone, engage them, attract them, hold their attention and through this process, each person evaluates how it is going and, if it is going to go further. This gives ample time for the "getting to know" each other and test to see if there is some compatibility on both sides.
However, these days, it is like me sending Brad Pitt over to the pretty girl at the bar, have him flirt, pique her interest, attract her, and then once she is willing to commit, he points to me and says - "now that is who you are actually going home with". Do you think she will still be as willing?
But, this isn't just about dating incompatibility, it is with all kinds of content, where with a Google search, anyone can feign expertise of almost any kind, even if they have next to zero practical experience and in their reality, will not come close to living that kind of life. However, because they are able to build a certain persona based on the content they share to represent them, they can actually influence others - much like those Instagram accounts of "highfliers" having their picture taken leaning on other people's luxury cars.
What I personally have found is that the most engaging content is created comes from real situations, not derivatives of already created content. However, as we rely more on the words of others to build our persona upon, we become less creative and also, less responsive to those around us, breaking down our ability to expose ourselves to quality content opportunity and pushing us further behind screens instead, as we start to fear interaction in real life. We might say that other people have changed, but we ourselves have changed too, and while it might not be the noticed reason, I feel that more and more, people I interact with online are less connected to what they share, yet position themselves as experienced.
I believe there is a homogenization of content and we are becoming less creative due to it, but we are improving our ways to source and share the content from the shrinking pool of creators. Not only this, because we are all eating from the same source, the type of content can be narrower and still satisfy the majority of people, meaning there isn't as much "low-level demand" on content creators.
What I mean by this is that in the past when we interacted with each other directly, we had to entertain each other, by both being interesting in some way ourselves, as well as taking an interest in other people. Now that everything is shared and just thrown into a void to an unknown audience, there is less need to develop ourselves, as well as no need to take an interest in individuals, as the content delivery mechanism treats them all as a mass, a demographic. Treating individuals as a generic group, is not going to end match well most of the time.
Flirting itself seems to be a skill near extinction, where people have turned relationships into a narrow transaction based economy that focuses primarily on the end goal and uses automation to handle all of the previously human process. However, I also think that because this process has been outsourced to machines and algorithms that can be gamed in many ways (intentionally and unintentionally), the end result is matching people who aren't actually compatible in reality, even though the information they have exchanged along the path matches each other.
However, I do see some light coming in this human interaction content tunnel, as people are going to be increasingly incentivized and rewarded for building skills that attract other people, not just the algorithms. Not only this, the rewards are going to get more localized through broad distribution of communities in many ways, meaning that there will be more interaction between people and possibly, a renaissance period of relationship building could return.
Often when we look at technological advancement we look at the technology itself and how it has progressed, but not as closely at how it has affected as as individuals or society. We bought into the concept of phones "connecting people" even though it is quite obvious that we have never been this disconnected from each other at any point in history. Yes, we have a lot more information at our fingertips and yes we can potentially contact anyone globally, but what has increasingly happened is that we have become cells in society, trapped behind a screen membrane.
People see us through the lens we provide them, even if it is not who we are at all and then we ask ourselves, why we are depressed, disillusioned and disconnected by the world in which we live. Yet, we sit alone, providing an illusion of ourselves, not caring about the people who may see it.
But, while the pretty person at the bar gives us feedback with a no - when we are self-evaluating, we can say, it is not me, it's them.
We are right.
It is not us.
Taraz
[ Gen1: Hive ]