I found Trametes Pubescens and Roridomyces Roridus mushrooms by the river.

Hunt for mushrooms in a forest.
Living in a village is very fortunate, because the village is a place that is shady, cool, not noisy, and so on. In our village there are still many trees that grow lush and lush, and the air in the village is fresher than in the city. As for what is most unique if you are in the village, one of them is the forest which is still very natural and the river which is still clear.
In this case I had the opportunity to explore a forest that is on the border of our village, namely an oil palm plantation area and headed south past several residents' houses and rambutan gardens, for several kilometers when entering bushes and narrow alleys there is a river and a waterfall on a cliff. And I were looking for some mushrooms near that cliff, and I got lucky when there was one mushroom that was on a fallen hardwood stump, it was very big, but I wasn't sure it was edible. Through the Google search engine, this mushroom is called Trametes Pubescens.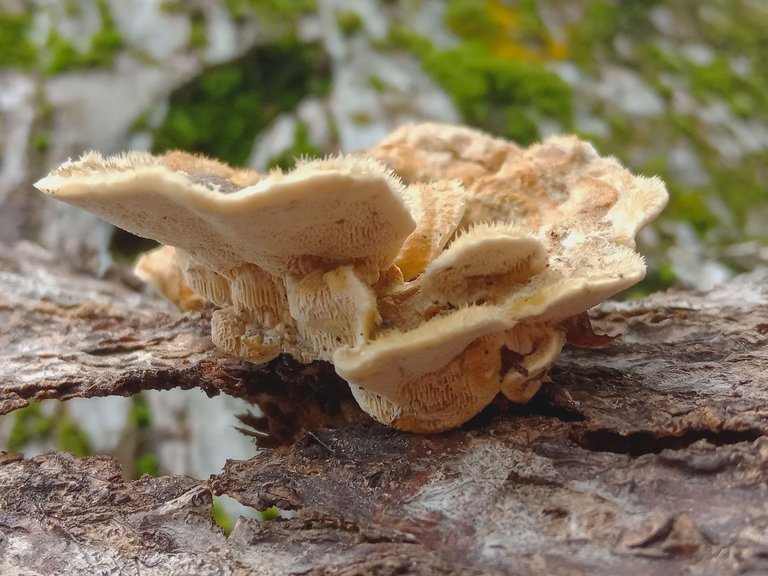 Tremetes Pubescens can be seen growing on dead bark.
While in the clear river, I would not pass up the opportunity to photograph the mushroom. There are some interesting things, this mushroom doesn't grow in the peat grass, and I saw it in the dry bark and it grows very well. Below I show some Trametes Pubescens mushrooms with different shapes, I photographed them using my smartphone Xioumi Redmi 6a.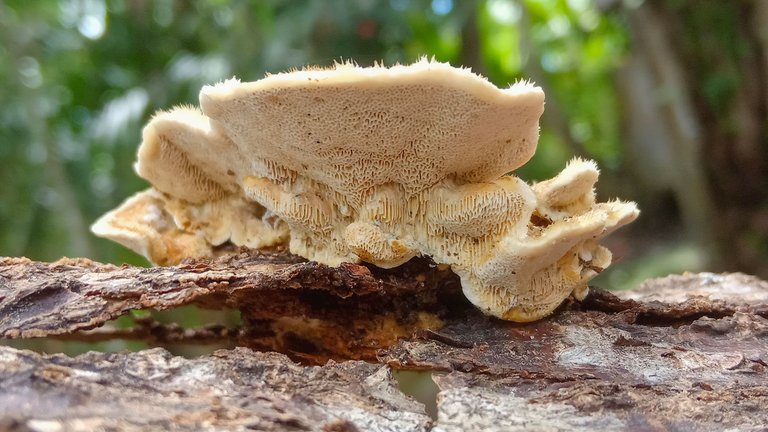 ---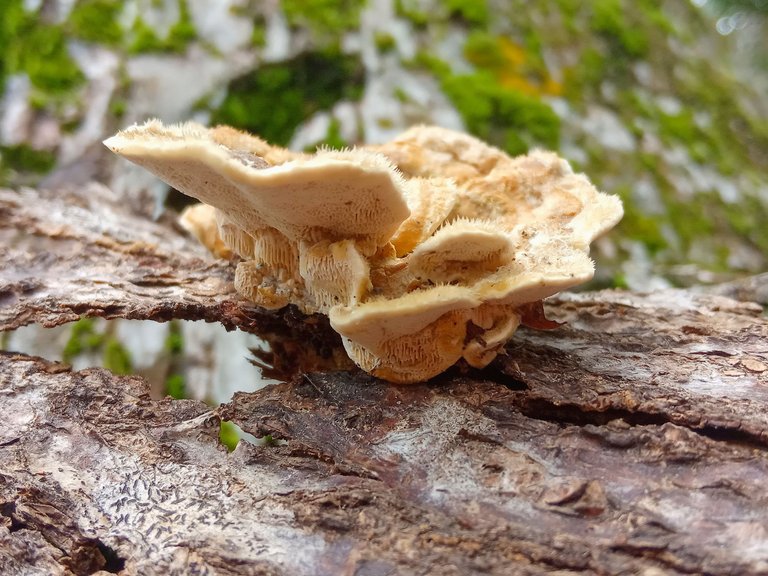 ---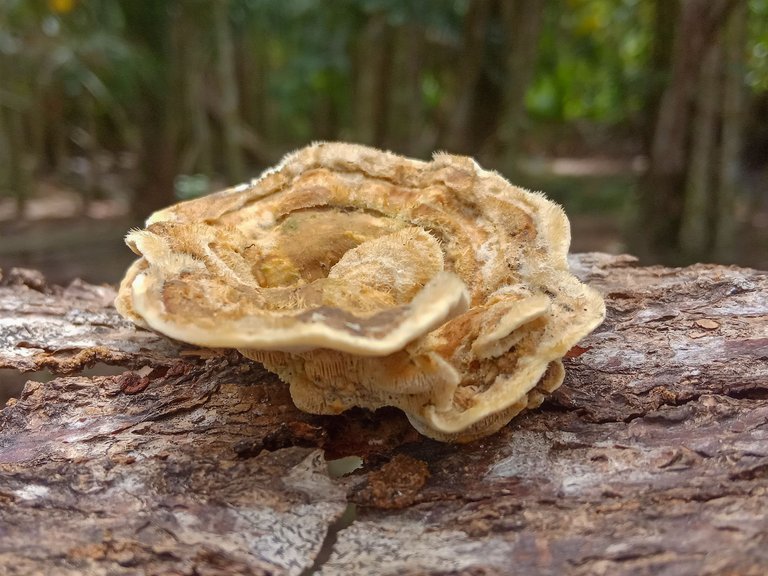 ---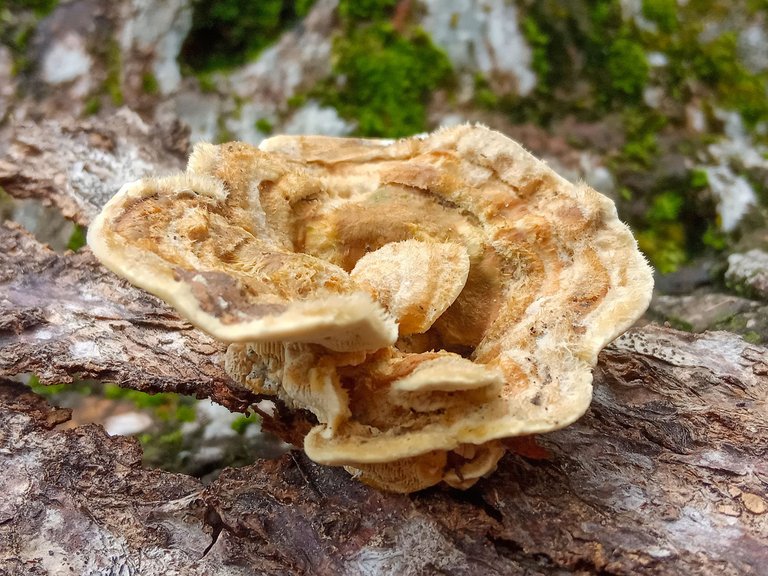 ---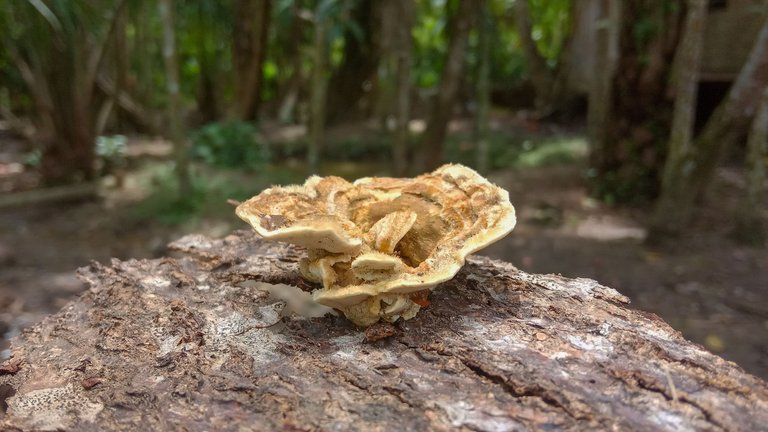 ---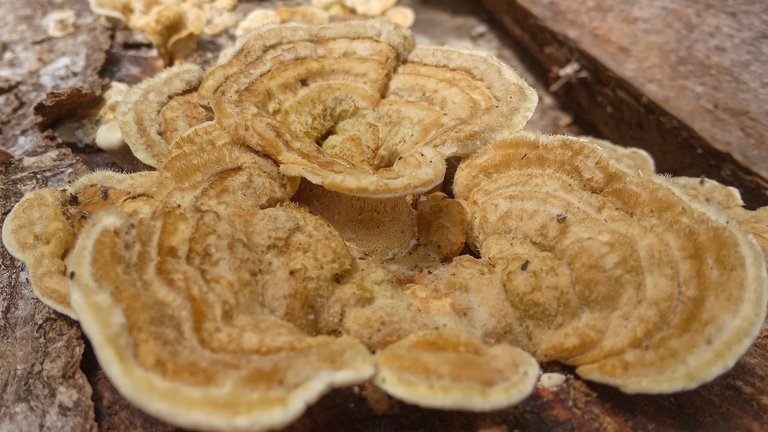 ---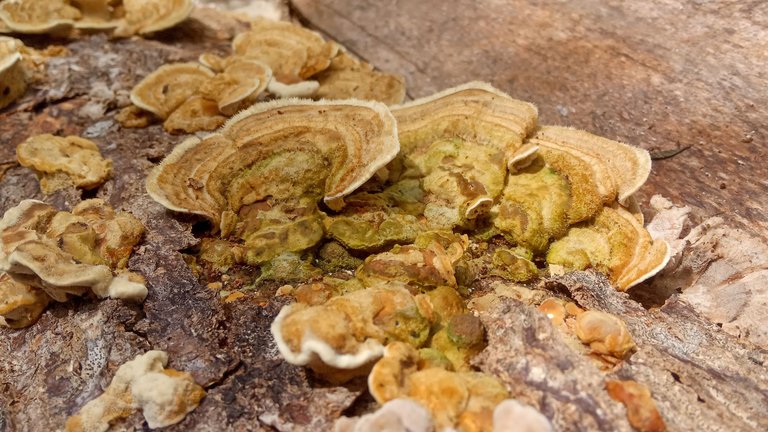 Among the grass, you can see very small white mushrooms.
Unexpectedly, I walked along the bank of the river and saw that behind the grass, on the sandy ground, small white mushrooms were clearly visible between the small broken and wet wooden branches. It seems that the little mushrooms have just grown and have not been touched by forest animals or insects that can taste these baby mushrooms.
See below buddy, I photographed some small mushrooms that were still pure white. I found its scientific name on Google, it's called Roridomyces Roridus.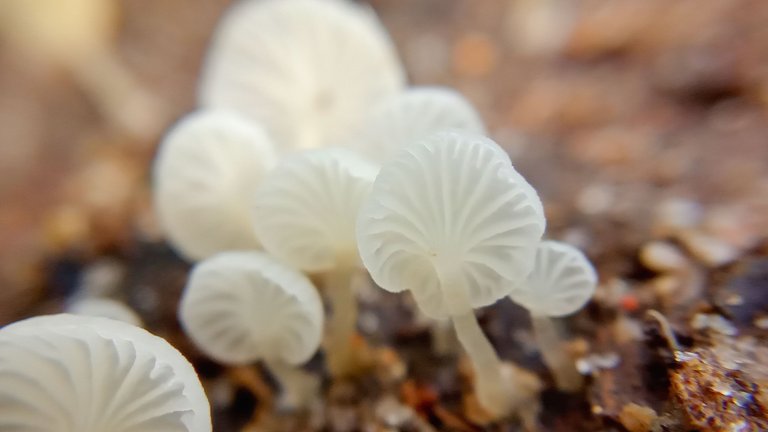 Young Roridomyces Roridus looks very clean.
Because the size of this mushroom is very small, I have to use a macro lens to put it outside the smartphone, then I shoot without a tripod and it's very difficult to get good photos. My hand was shaking when I shot so I had to shoot again and again. As for below some macro portraits about this Roridus Mushroom, I present it on this blog for all my friends. I hope you are entertained and like my shots.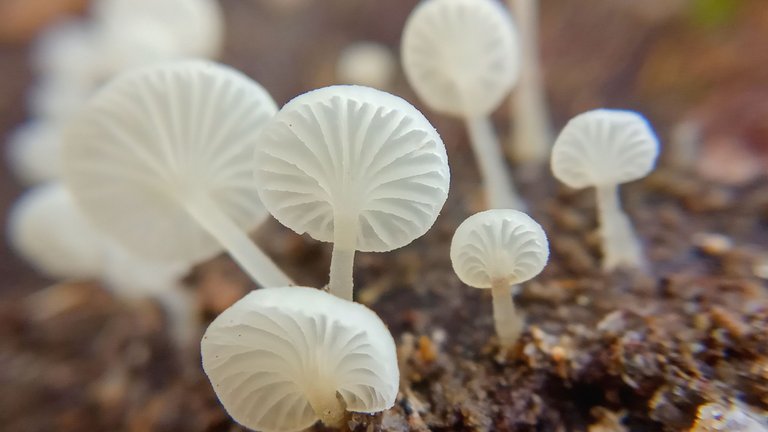 ---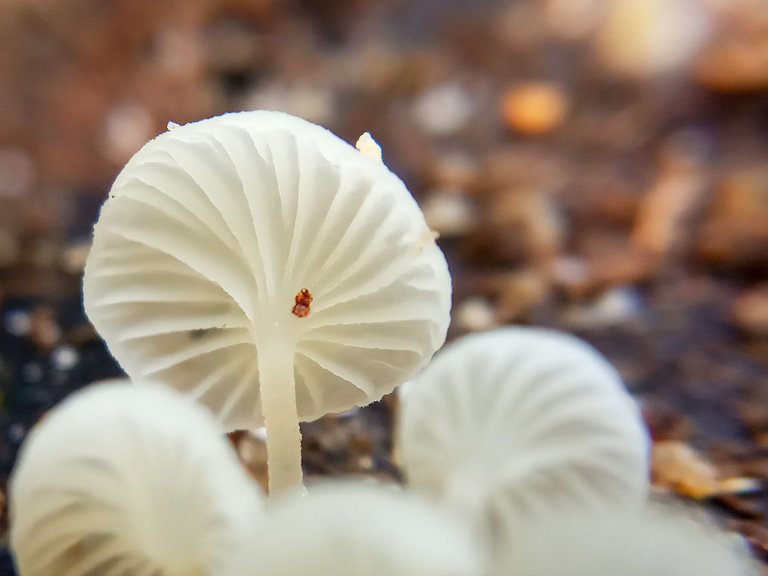 ---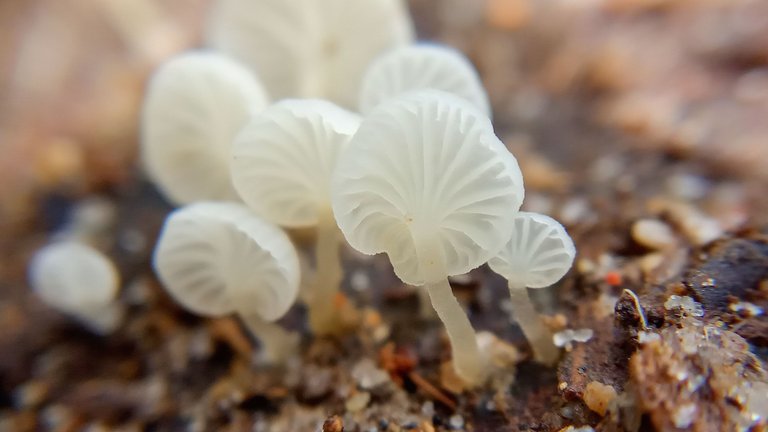 Unforgettable mushroom hunting trip.
In the wild, we are nothing, we are just wanderers who just want to survive. Everywhere there is a different wilderness, and not all are the same. The various habitats in it are also different. The landscape is also very different. I didn't waste this moment with my two friends, they both also enjoyed being in the forest because their camera memories would be full of beautiful and memorable moments.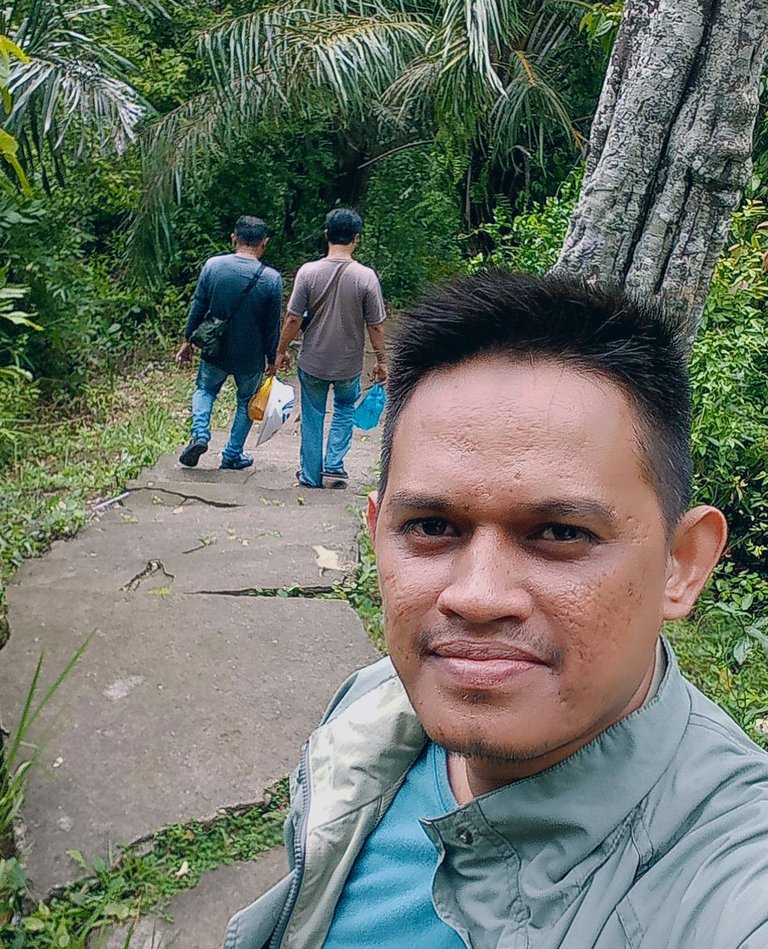 The photo above shows my tired looking face walking down the stairs at an abandoned nature resort. There is a river which also has clear water and dense forest at the end of the steps. But unfortunately I didn't take pictures for all of us about the river where there are mushrooms on the banks that I presented at the beginning of this blog, but there are only two photos below that I can present to all of you as thirst quenchers.
The river water is clear and the environment is still very natural, and I soak my feet to unwind by the river.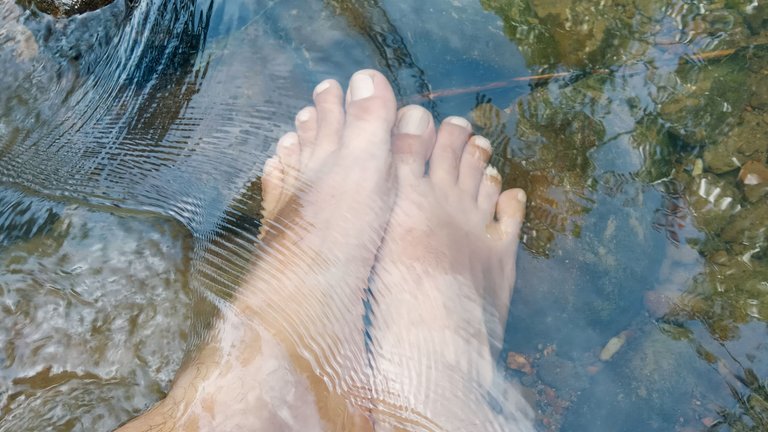 ---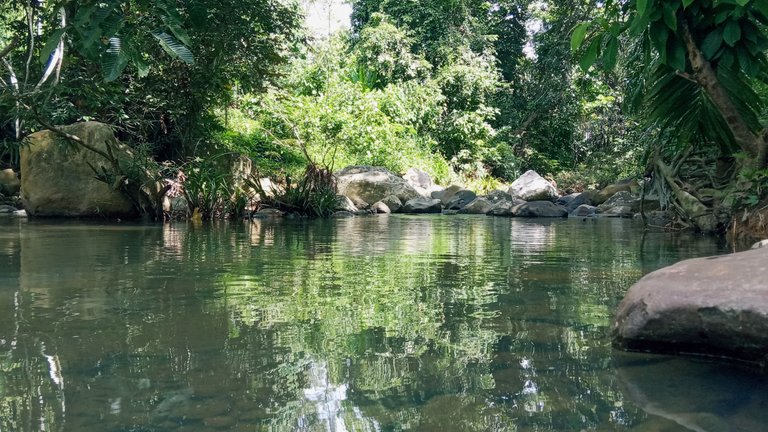 My friends wherever you are, that's all I can offer to all of you in this Fungi Lovers Community. I love photography, writing stories and what I love the most is cooking. But I'm not very good at cooking mushrooms and I have a lot to learn from you all. Of course to cook mushrooms as the most delicious dish, is a difficult subject for me. Greetings and success always to you all.
Regards!
@new-spirit
---
---