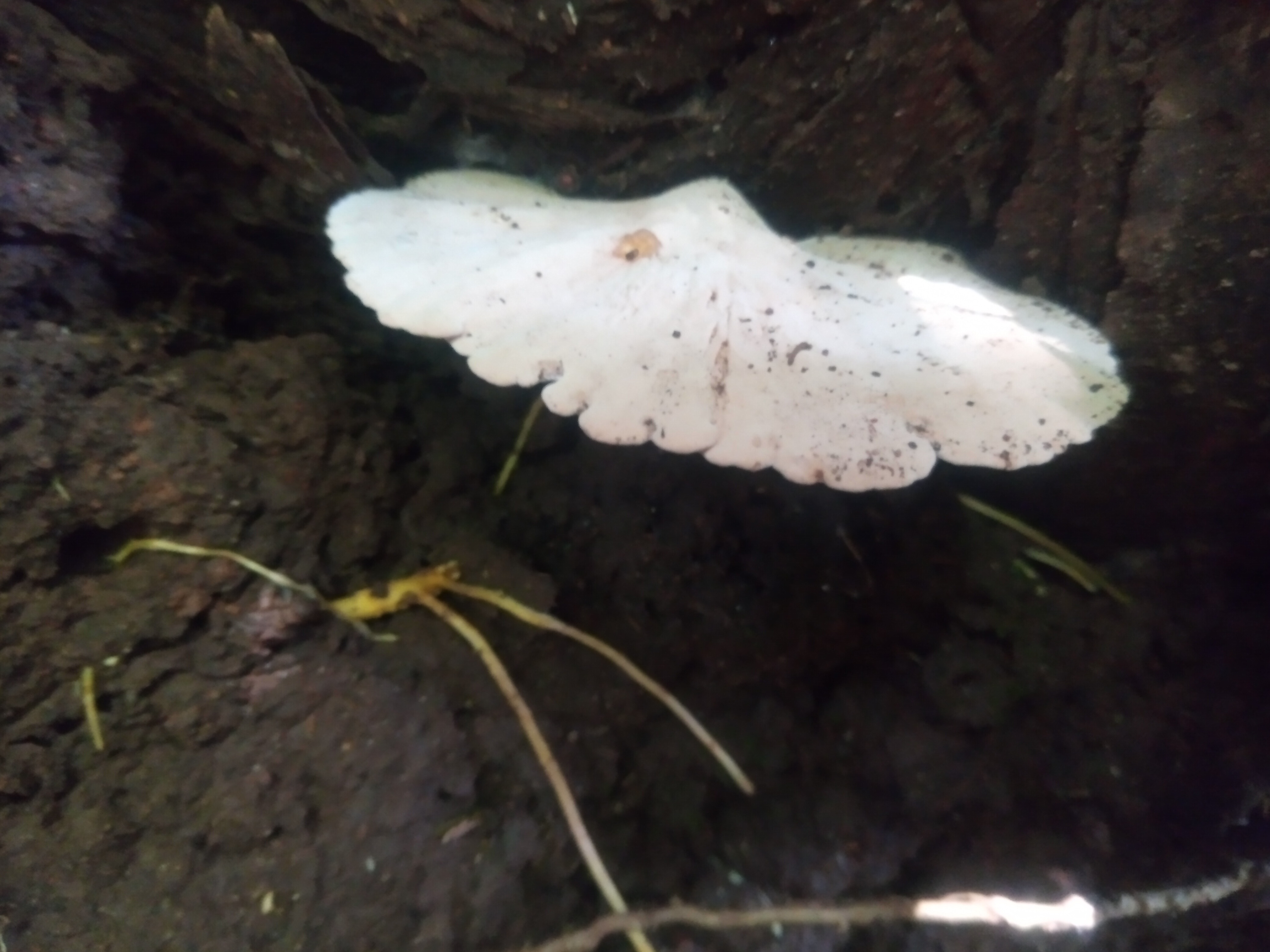 This is my favorite edible mushroom the tenquique the edible mushroom that we have here in our locality here I show you, this is one of the reasons why I love to go out to the mountain you don't know what surprise awaits you or what you will find, it is a walk to find things not looked for, because you never know what you are going to find.
Este es mi hongo comestible favorito el tenquique el hongo comestible que tenemos aquí en nuestra localidad aquí se los muestro, esta es una de las razones por las que me encanta salir a la montaña no sabes qué sorpresa te espera o que encontrarás, es un paseo para encontrar cosas no buscadas, porque nunca se sabe que se va a hallar.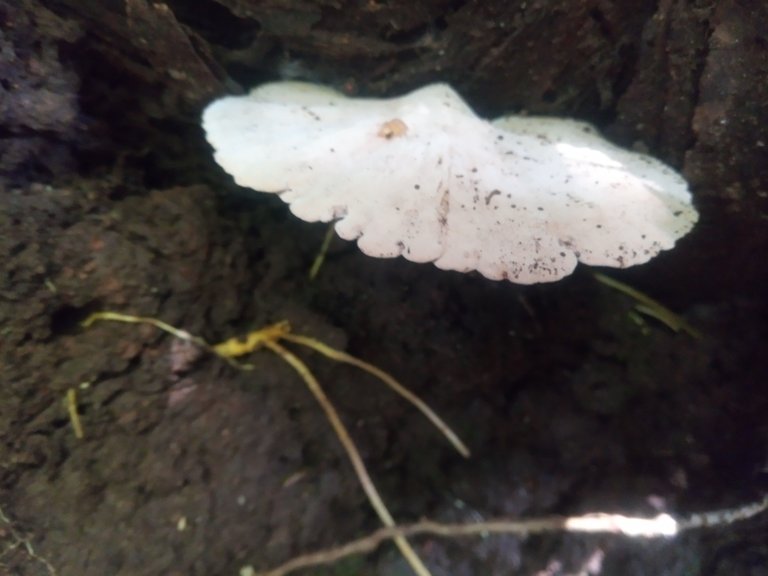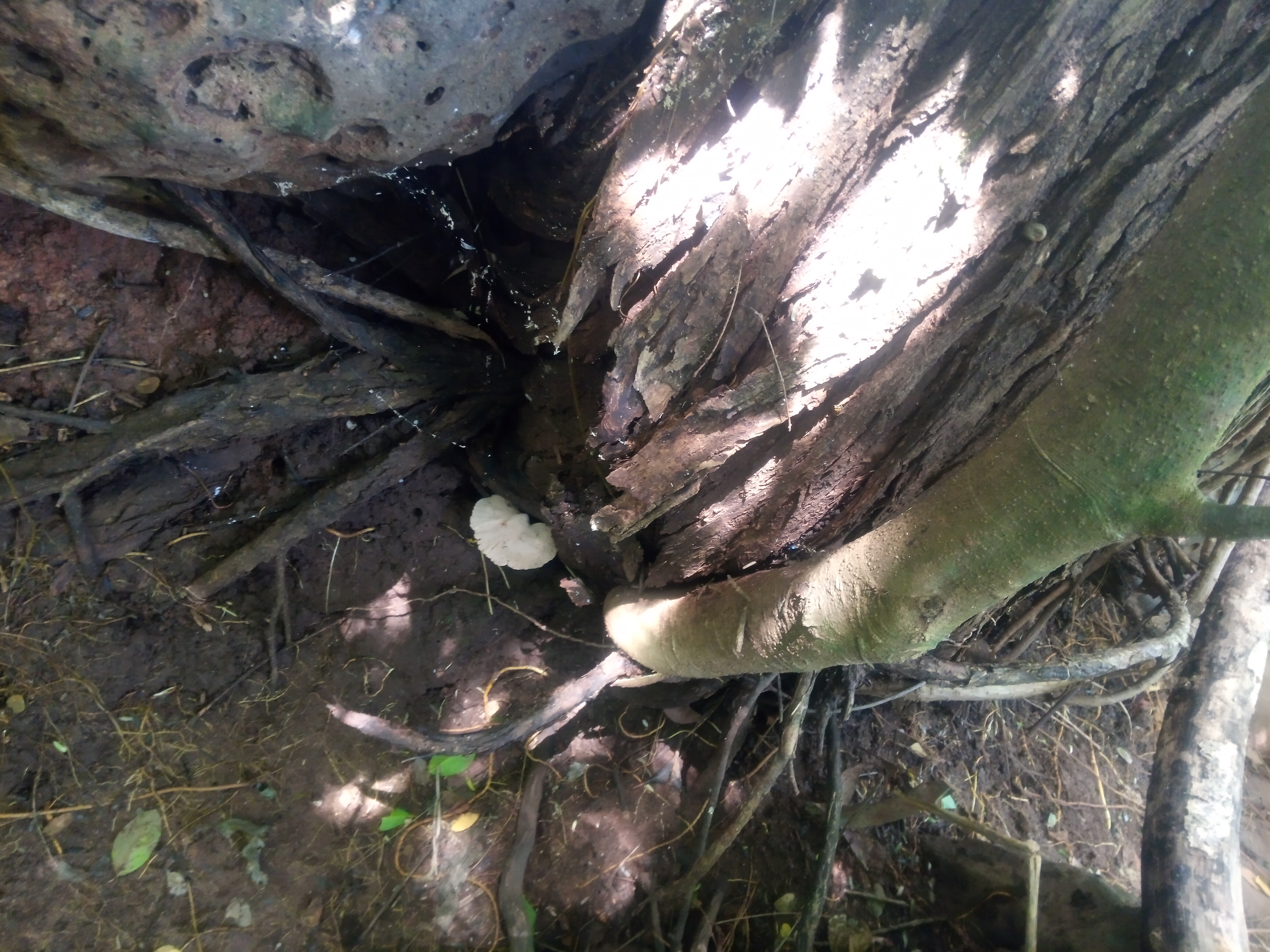 In this particular trip I found this jewel you can see it here, above you have its scientific name so you can be sure that when you see it you know that it is the legendary Tenquique, at the end of this post I will also show you some recipes that I have prepared with this species, as well as I show you how it develops, grows and dies, how we can take advantage of it to have the complete information.
En este viaje particular encontré esta joya pueden verlo aquí, arriba tienen su nombre científico para que estén seguros que cuando lo vean sepan que se trata del legendario Tenquique, al final de este post también les voy a mostrar algunas recetas que yo he preparado con esta especie, así como les muestro como éste se desarrolla, crece y muere, cómo podemos aprovecharlo para tener la información completa.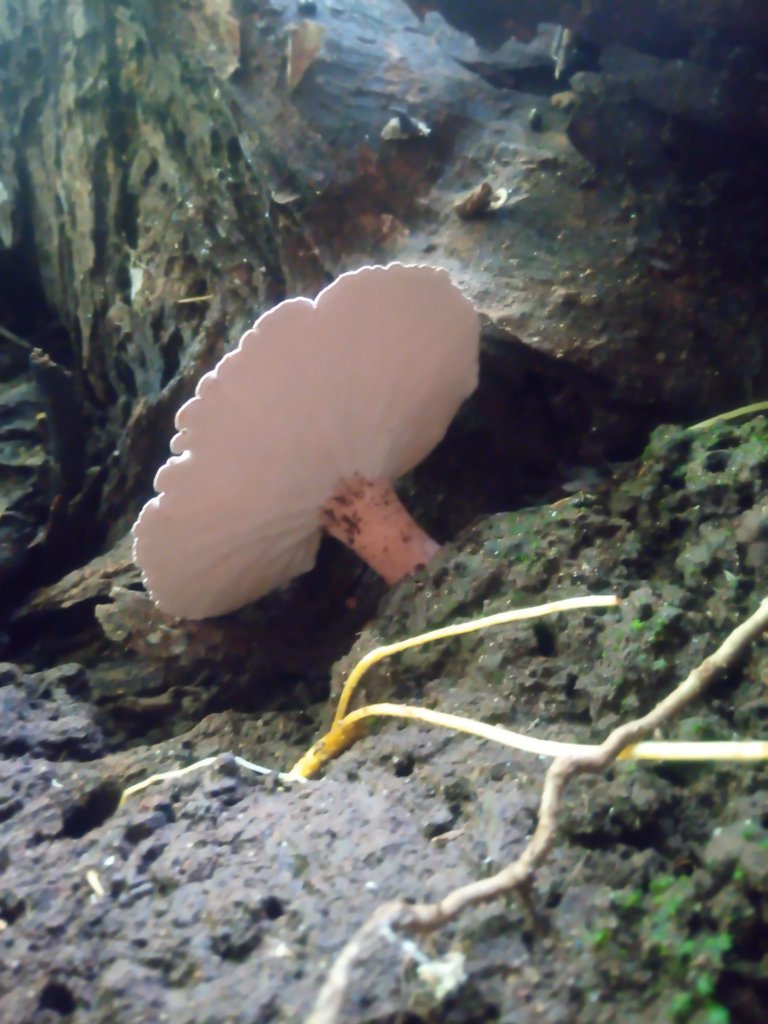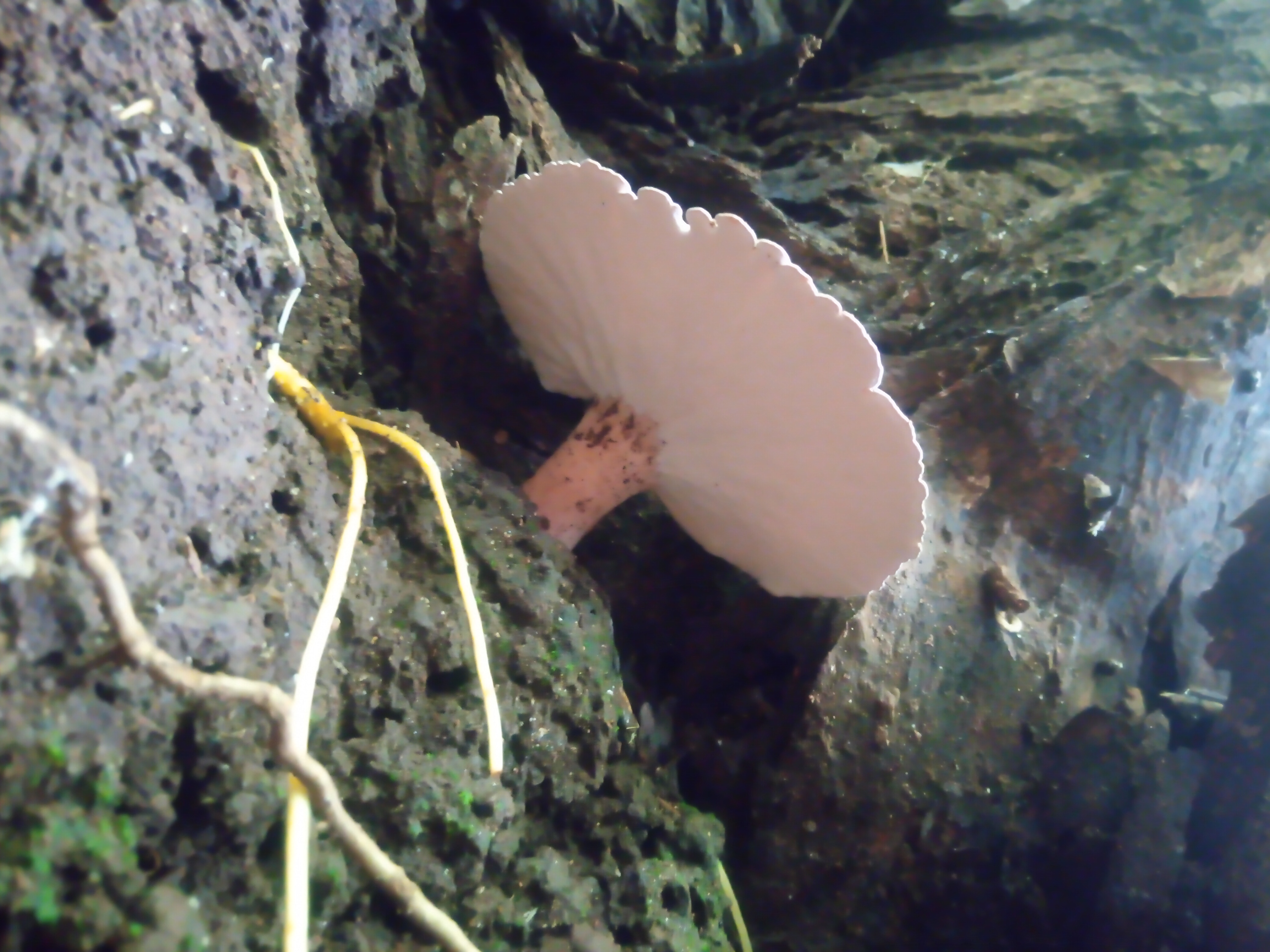 I had not found this type of mushrooms for a while and I had to buy them when you wanted to taste them because in my area they were scarce around here, and the place where I usually found it was the trunk of a guachipilín tree embedded in the bottom of a cliff at the edge of a creek that when it rained excessively and the trunk was flooded for several days it produced such a masterpiece, It is no longer there because the tree was cut down and therefore the fungus did not grow again, so I have dedicated myself to the task of searching for this fungus in body and soul in the confines of the entire mountain, finally I found it here.
Tenía rato de no encontrar este tipo de hongos y había tenido que comprarlos cuando los querías degustar debido a que por mi zona se había escaseado por aquí, y el lugar donde yo usualmente lo encontraba que era el tronco de un árbol de guachipilín incrustado en el fondo de un risco a la orilla de un riachuelo que cuando llovía en exceso y le tronco se inundaba durante varios días producía tal obra maestra, pues ya no está debido a que cortaron el árbol y por ende el hongo ya no volvió a crecer, por lo que me he dedicado a la tarea de buscar este hongo en cuerpo y alma en los confines de toda la montaña, finalmente lo encontré aquí.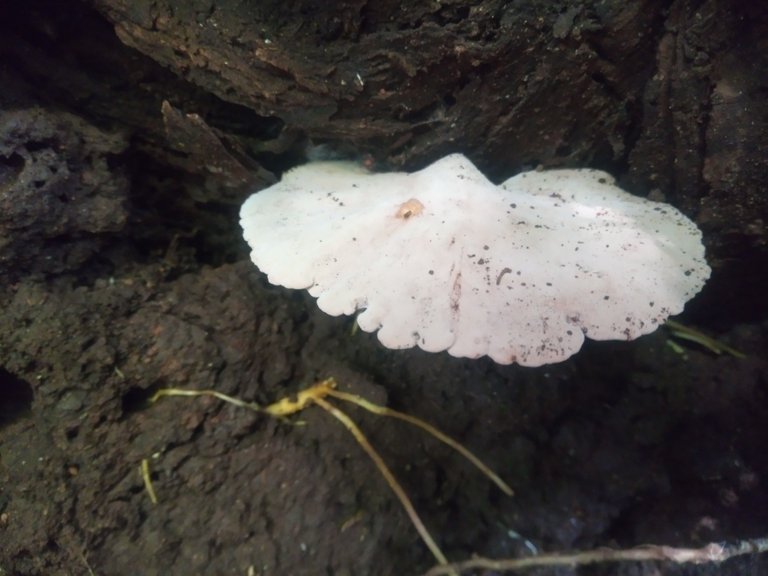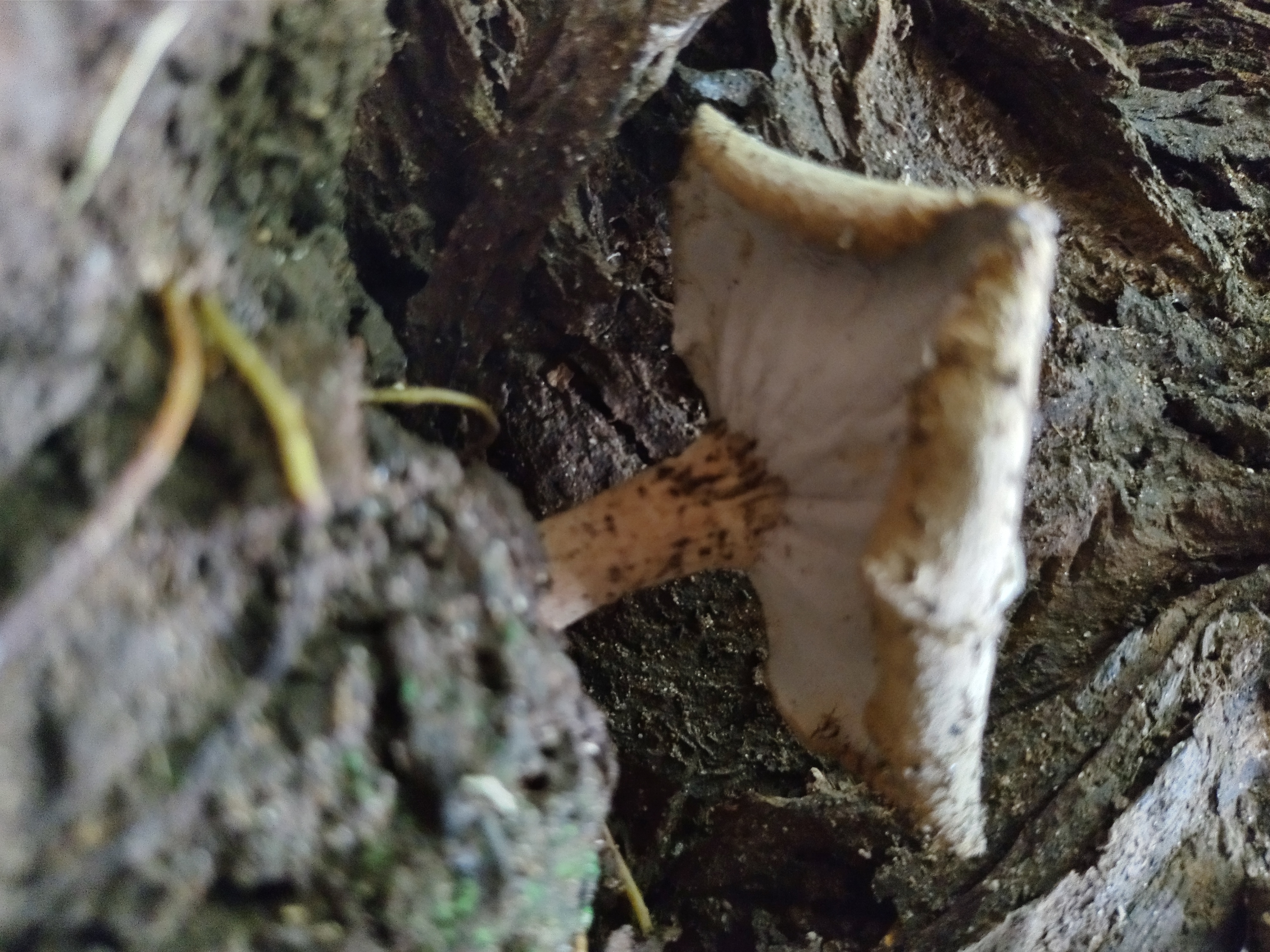 You can see it in what situation I found it, only one unit was emerging from a relatively young guachipilin tree at the edge of the creek, so when I saw it I went down to the bottom of the creek to take the best pictures I could, to admire it later, to see its small structures in full development and despite my great desire, I left it as it was there, it has remained unchanged, I left it like that because it was too small to be able to use it, although I could prepare a delicious cream and generate flavor to it as a way to take advantage of it, but I prefer to taste its meat in significant quantities, so I only dedicated myself to admire it and zonify where the tree is.
Lo pueden ver en qué situación lo encontré, solo una unidad estaba emergiendo de un árbol de guachipilín relativamente joven a la orilla del riachuelo, así que al verlo baje al fondo del riachuelo a tomar las mejores fotos que pudiera, para posteriormente admirarlo, ver sus pequeñas estructuras en pleno desarrollo y a pesar de mi gran deseo, lo dejé tal cual estaba ahí ha quedado inmutable lo deje así porque era demasiado pequeño como para poderlo utilizar, aunque podría prepararse una deliciosa crema y generarle sabor a la misma como una forma de aprovecharlo pero prefiero degustar su carne en cantidades significativas, así que solo me dedique a admirarlo a zonificar dónde está el árbol.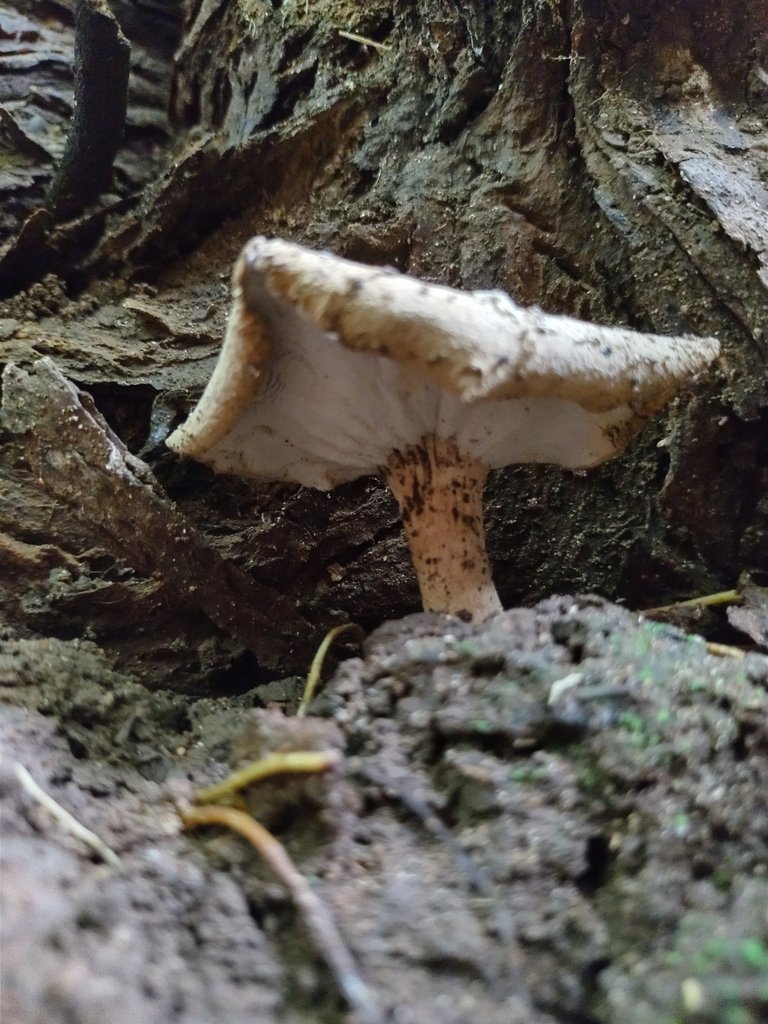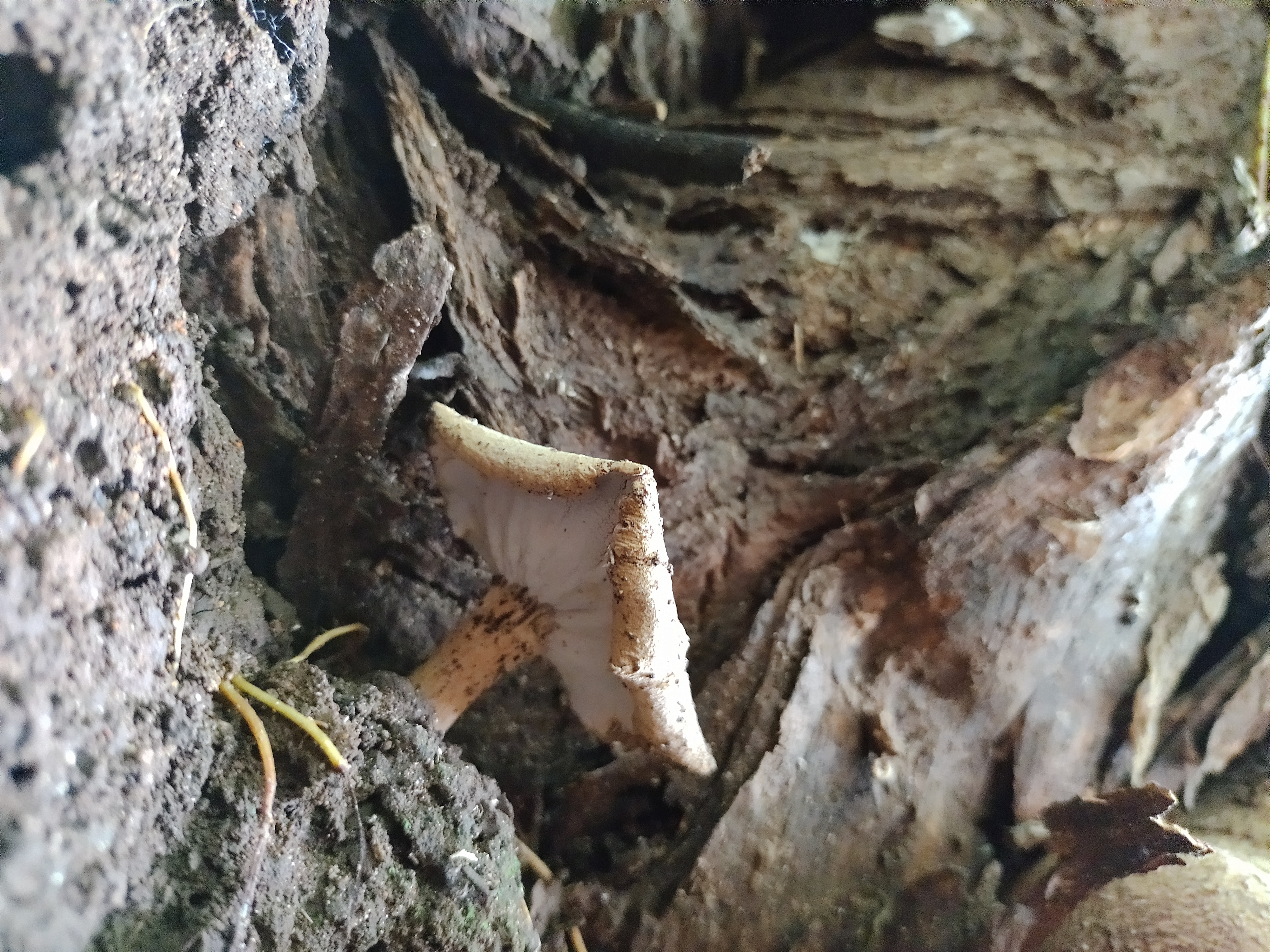 This one is located in a mountainous area quite rugged to reach which makes it difficult to access and I am 100% sure that it will remain there without anyone coming here, I have full certainty that no one will come to this place except me of course, so there we are, I left it waiting for it to grow to take better advantage, but unfortunately the harshness of winter and the scarcity of water due to lack of rain continues to cause that it did not develop in its fullness, then it dehydrated a little and there I left it as it was waiting to grow and produce spores so that it can finally general more with the passage of time, and thus be able to take full advantage of it, remember not to kill the goose with the golden egg and like saving, what we do not eat today will be multiplied in the not too distant future, that is what I show you here, we are not going to kill it without the proper growth.
Este lo ubicamos en zona montañosa bastante escabrosa para llegar lo que dificulta su acceso y estoy 100% seguro que permanecerá ahí sin que nadie se acercará aquí, tengo plena certeza que nadie vendrá hasta este lugar excepto yo por supuesto, así que así estamos, ahí se los dejo lo dejé esperando que creciera para poderlo aprovechar mejor, pero lamentablemente las inclemencias del invierno y la escases del agua por falta de lluvia continúa provoco que no se desarrollara en su plenitud, entonces se deshidrató un poco y ahí lo dejé tal cual estaba esperando crezca y produzca esporas para que pueda finalmente general más con el paso del tiempo, y de esta manera poderlo aprovechar de manera plena, recordemos no matar la gallina del huevo de oro y como el ahorro, lo que no comamos hoy será multiplicado en el futuro no muy lejano, eso es lo que aquí les muestro no lo vamos a matar sin el debido crecimiento.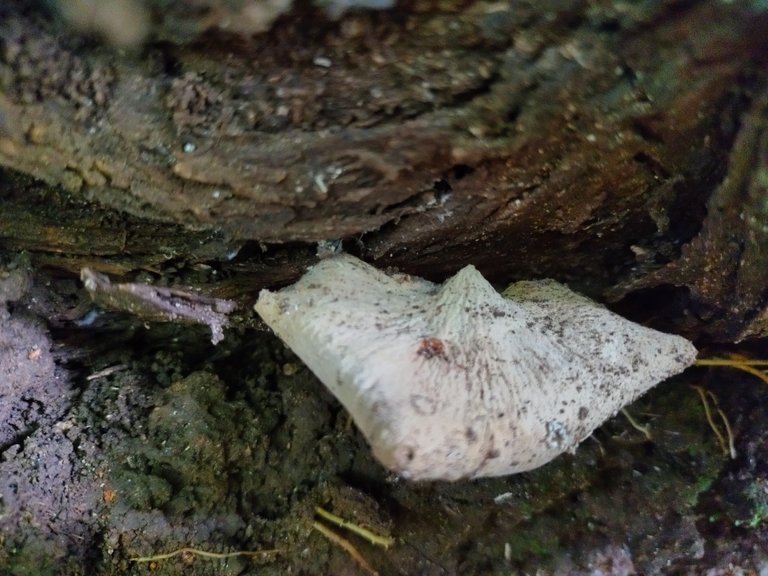 So here we have cited and documented how this species grows and how we have 100% full certainty of its edibility and tasting with a unique and essential flavor that here we have the pleasure of being able to taste, if you want more information on how to take advantage of it here are some links to previous articles where I have collected and used this delicious species so you know what I'm talking about and you can admire the species.
Así aquí tenemos citado y documentado como esta especie crece y como tenemos 100% plena certeza de su comestibilidad y degustación con un sabor único e imprescindible que aquí tenemos el placer de poder degustar, si quieres mas información sobre como aprovecharlo aquí hay algunos vínculos de anteriores artículos donde he colectado y utilizado esta deliciosa especie para que sepas de lo que estoy hablando y puedas admirar la especie.
Thank you for your visit, remember your own material, photos included, translation source Deepl
Gracias por la visita recuerden material propio fotos incluidas, fuente de traducción Deepl
Here the last post.
https://hive.blog/food/@galberto/tenquiques-la-trufa-salvadorena
https://hive.blog/spanish/@galberto/comida-directo-del-bosque-hongos-al-ajo-pseudofistulina-radicata-food-direct-from-the-forest-mushrooms-to-garlic