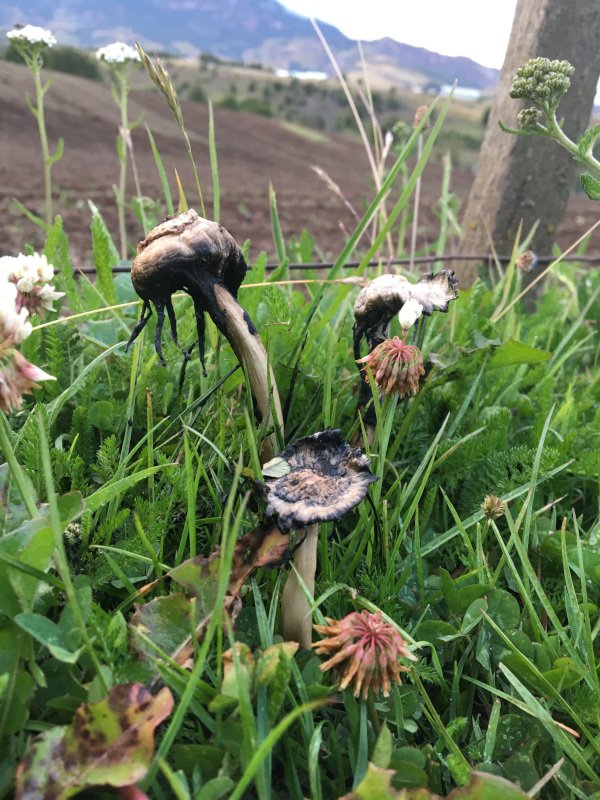 This will be a short post, mainly to leave a registry of one of my agricultural experiments. This time I'm trying to create a sort of "fungi playground".
Este será un post breve, principalmente para dejar un registro de uno de mis experimentos agrícolas. Esta vez estoy tratando de crear una especie de "parque de hongos".
In this spot, I had previously destroyed the vegetable layer of the soil to use it as a roof for my shelter so I wanted to help restore it. I could of just tossed fallen leaves and dry grass in the autumn but I wanted to try something different.
En este lugar, anteriormente había destruido la capa vegetal del suelo para usarlo como techo para mi refugio, así que quise ayudar a restaurarlo. Podría simplemente arrojar hojas caídas y pasto seco en el otoño, pero quería probar algo diferente.
So I've been slowly gathering decomposing branches, woodchips, horse dung, and some dry grass as well to cover the place. My theory is that by providing all this material I will create a nice environment for many types of fungi to develop.
Así que he estado juntando lentamente ramas en descomposición, astillas de madera, estiércol de caballo y algo de hierba seca para cubrir el lugar. Mi teoría es que al proporcionar todo este material crearé un ambiente agradable para que se desarrollen muchos tipos de hongos.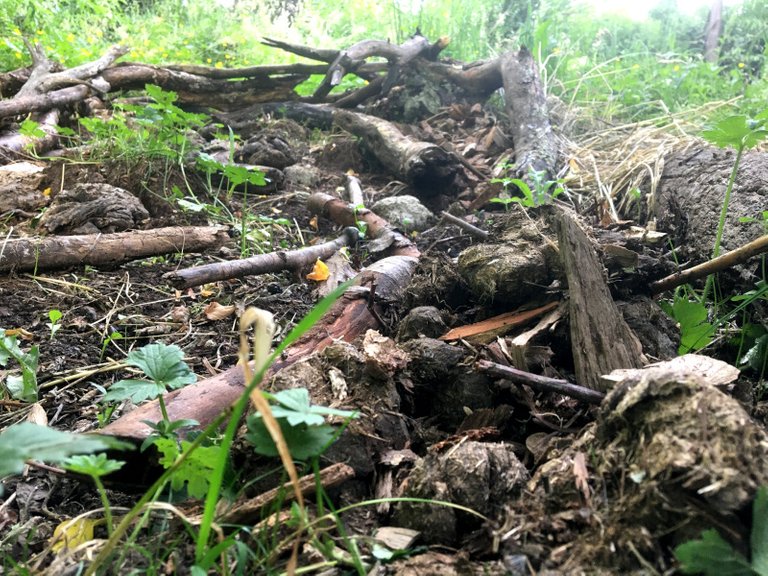 Horse dung usually grows a big diversity of mushrooms. I'm not sure if I should break it down or leave it whole, I wonder which might be more beneficial.
El estiércol de caballo generalmente produce una gran diversidad de hongos. No estoy seguro de si debería descomponerlo o dejarlo entero, me pregunto cuál podría ser más beneficioso.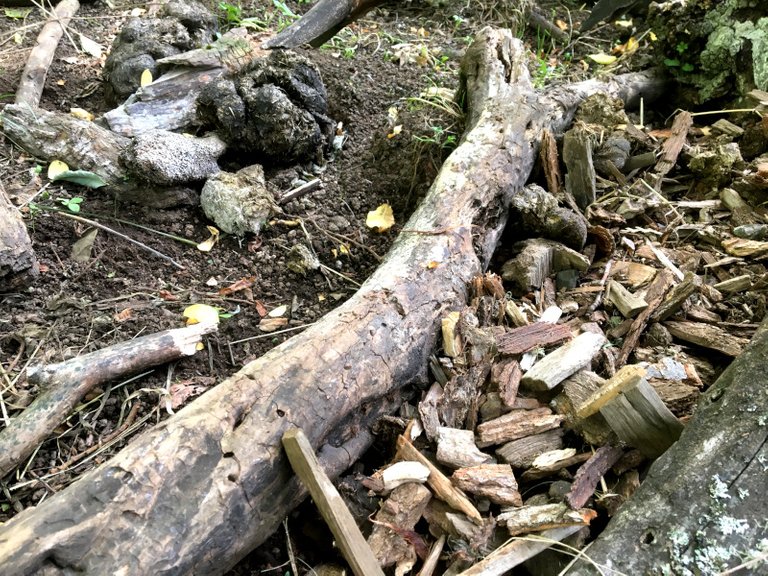 The wood chips should be interesting. I've seen shrooms grow in woodchips of other places of the world but I've never seen which ones might grow here. Waiting till autumn to see 🍂.
Las astillas de madera deberían ser interesantes. He visto crecer hongos en astillas de madera de otros lugares del mundo, pero nunca he visto cuáles podrían crecer aquí. Esperando hasta el otoño para ver 🍂.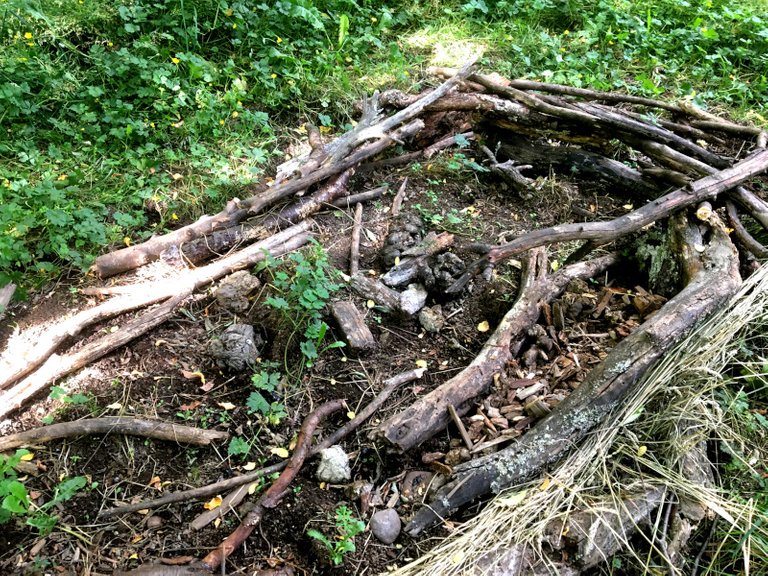 The branches are mainly fallen from native trees, such as nothofagus antartica and nothofagus pumilio. As you can see, there is a bit of a structure formed and I would like to eventually put some nylon on top to retain moisture and heat.
Las ramas provienen principalmente de árboles nativos, como nothofagus antartica y nothofagus pumilio. Como puede ver, se ha formado un poco de estructura y me gustaría eventualmente poner un poco de nailon encima para retener la humedad y el calor.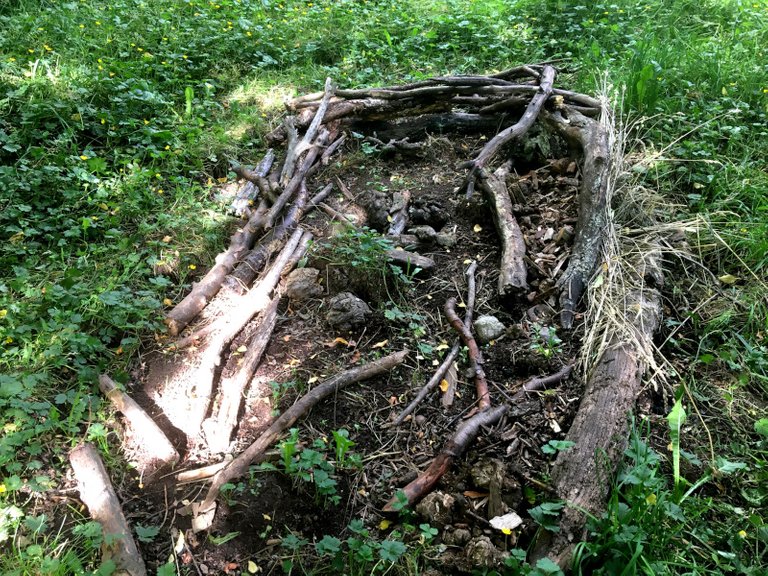 Well, even if I don't see any fruiting mushrooms, there will still be mycelium decomposing all this material and restoring the soil underneath. Not only it will be restored but probably improved which will be interesting for growing some food or planting native trees on spot.
Bueno, incluso si no veo ningún hongo fructificar, todavía habrá micelio descomponiendo todo este material y restaurando el suelo debajo. No solo se restaurará sino que probablemente se mejorará, lo que será interesante para cultivar algo de comida o plantar árboles nativos en el lugar.
---
Wait, what's a mycelium?! | Espera, ¡¿qué es un micelio?!
A short video for English speakers:
Y para quienes hablan español:
By the way, the experiment of growing pumpkins in rainy and windy weather didn't work. The plants dried up and died inside the mini-greenhouses. Maybe it just doesn't work or maybe my friend didn't pay enough attention, I have no clue. I might try it again under my supervision, though no promises.
Por cierto, el experimento de cultivar calabazas en un clima lluvioso y ventoso no funcionó. Las plantas se secaron y murieron dentro de los mini invernaderos. Tal vez simplemente no funciona o tal vez mi amiga no prestó suficiente atención, ni idea. Podría intentarlo de nuevo bajo mi supervisión, aunque sin promesas.
Results so far | Los resultados hasta el moment
I was going to just post the overview of the experiment but I decided to go turning around some things and see what was happening underneath. I know, not good for the fungi, but good for the research. So here's a few findings:
Iba a publicar la descripción general del experimento, pero decidí cambiar algunas cosas y ver qué sucedía debajo. Lo sé, no es bueno para los hongos, pero es bueno para la investigación. Así que aquí hay algunos hallazgos: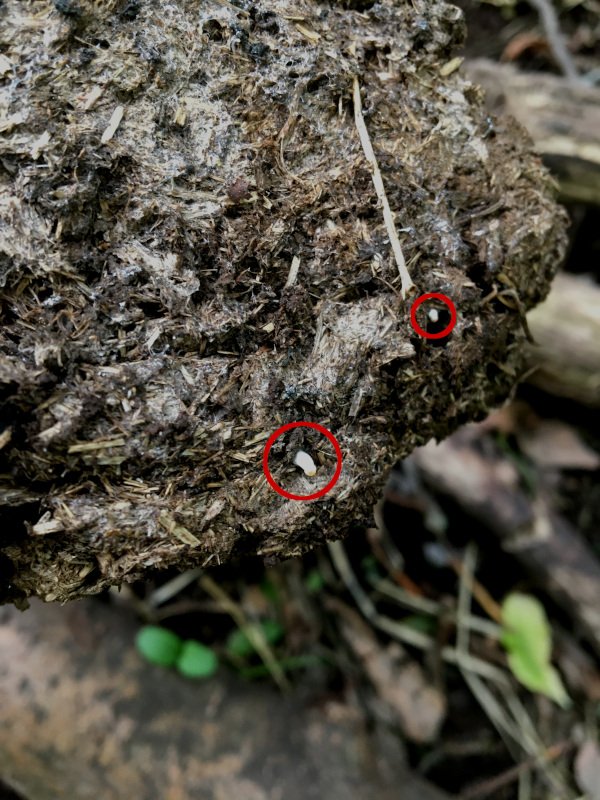 Little pins coming out from the horse dung. Guess that they tend to find their way upwards as they grow.
Pequeños alfileres que salen del estiércol de caballo. Supongo que tienden a encontrar su camino hacia arriba a medida que crecen.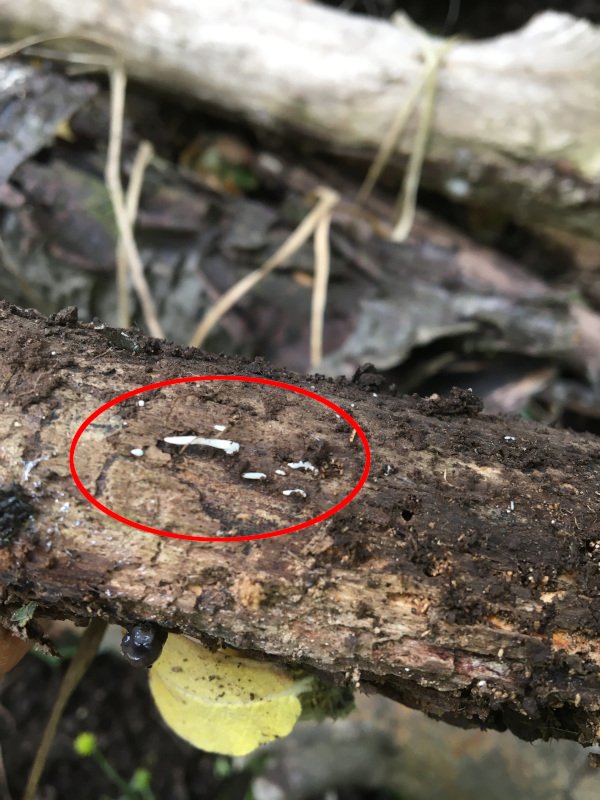 Not sure if a fruiting body or mycelium there.
No estoy seguro si es un cuerpo fructífero o micelio allí.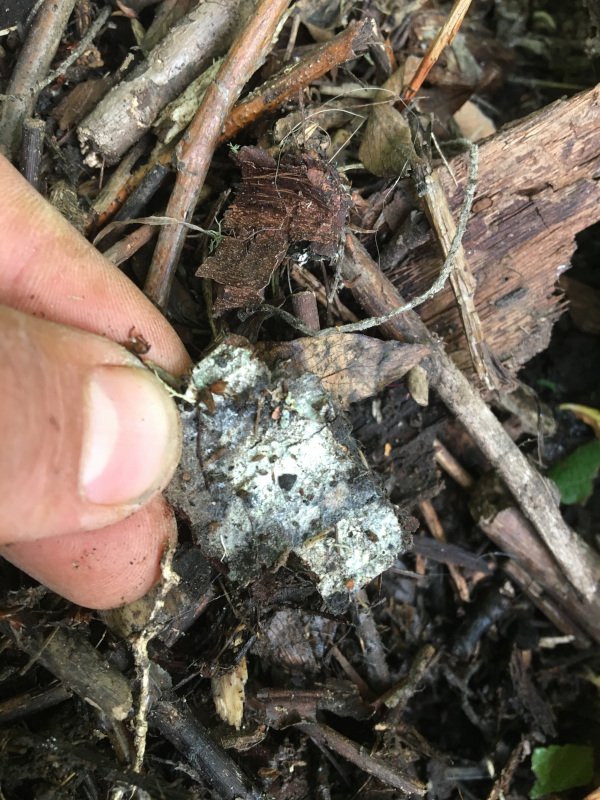 Lots of mycelium on that chip. I wonder what allows it to grow on some chips and not on others.
Mucho micelio en ese chip. Me pregunto qué le permite crecer en algunos chips y no en otros.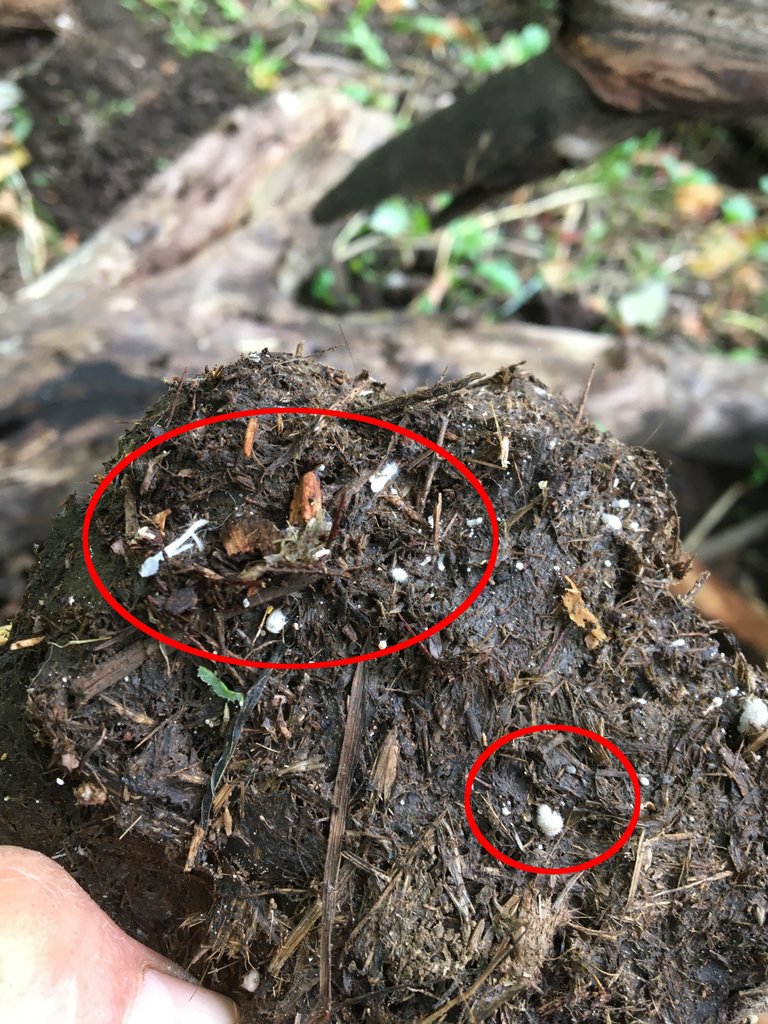 More pins coming out here.
Más pines saliendo aquí.
Nice, strong mycelium coming forward there.
Ahí avanza un micelio fuerte y agradable.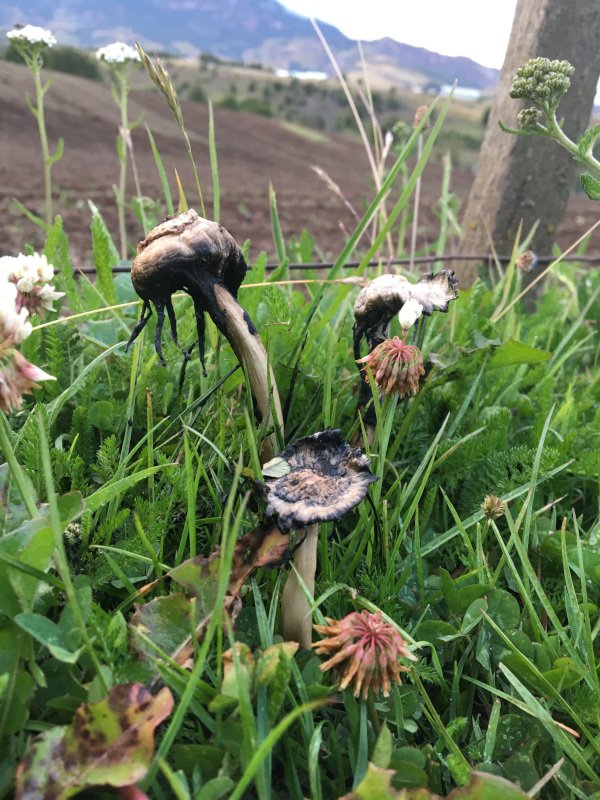 Ok, these were unrelated to the experiment hehe, just some eye candy for ya'all. Probably coprinus comatus, already in their inky state so too late to enjoy in a meal.
Ok, estos no estaban relacionados con el experimento, jeje, solo buscaba un poco de disfrute visual. Probablemente coprinus comatus, ya en su estado de tinta tan tarde para disfrutar en una comida.
That's all I got to report for today, thanks for tuning in, till next time!
Eso es todo lo que tengo que informar hoy, gracias por sintonizar, ¡hasta la próxima!