Yesterday I spent a couple of hours in Vizula, a small peninsula near the harbor of Medulin, my hometown. In yesterday's post published via Liketu, you saw a bit of the scenery and some archeology-related stuff. Today, I'll show you some mushrooms and lichens found along the way.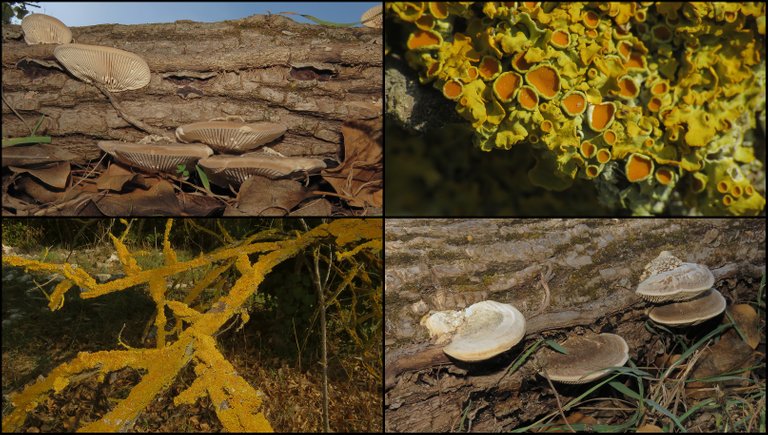 (Enlargeable)
I haven't found much, but what is here could be fairly interesting for a short post.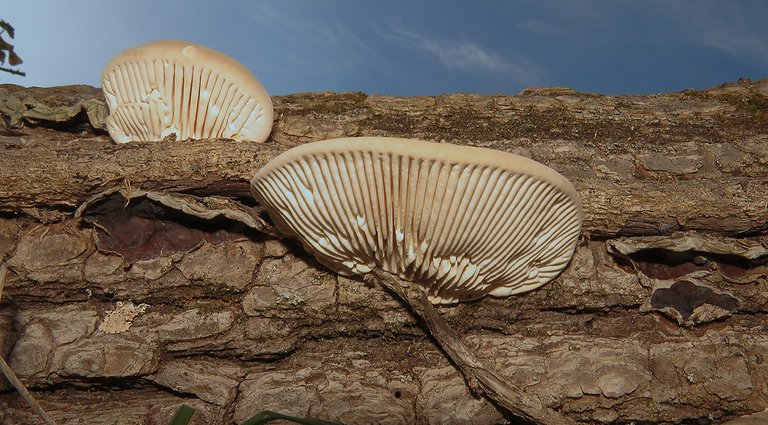 The shape of the polypores is relatively cool, especially the lower side of the fruiting bodies ...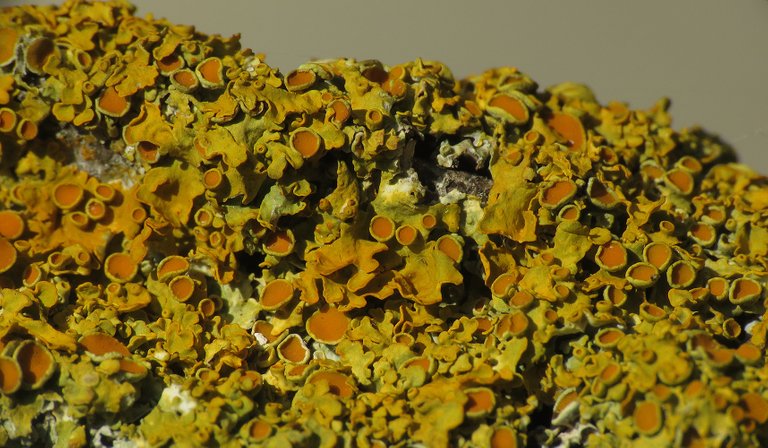 (Enlargeable)
... and the color of the lichens is intense and vivid, a joy to look at.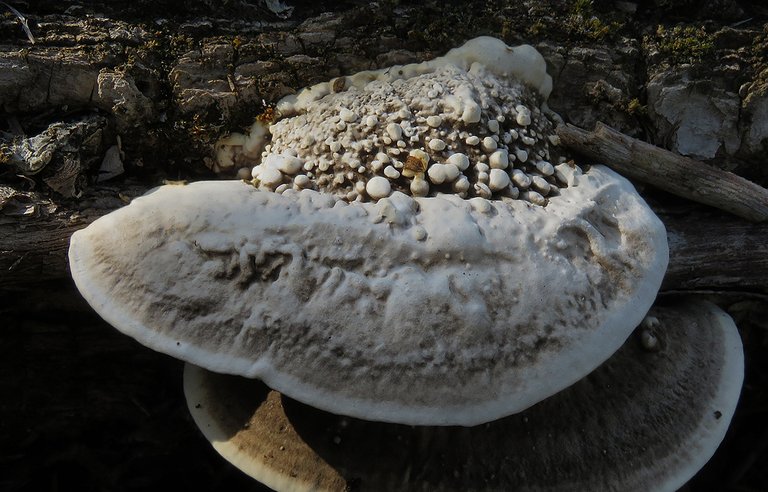 Here you can take a look at the upper side of one of those mushrooms. The little bubbles looked cool to me ...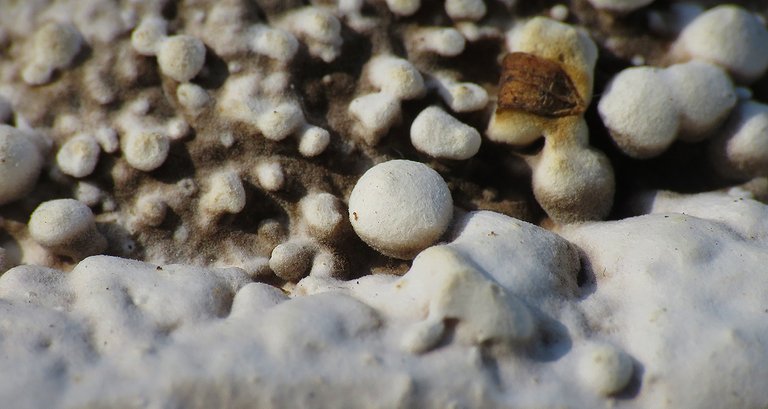 ... so I mounted the macro lens to take a better look.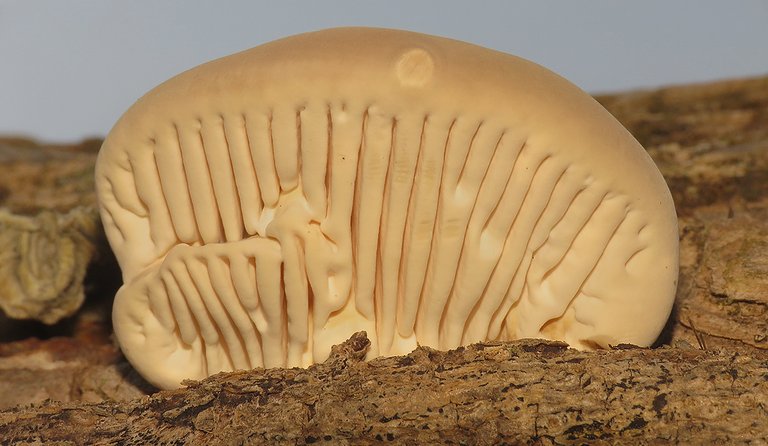 When it comes to the name of the species, I can't tell you that.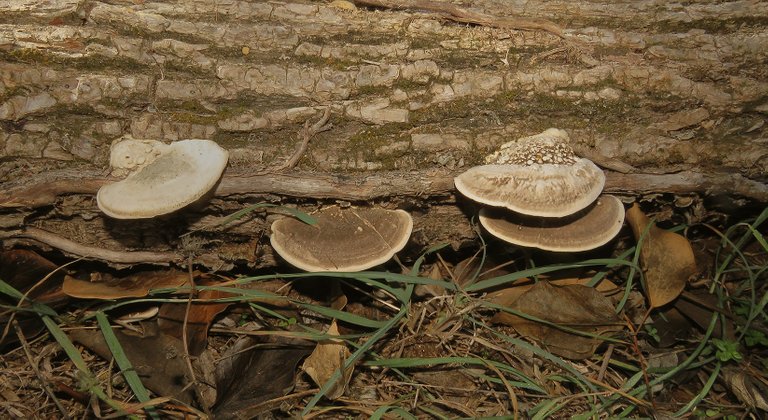 (Enlargeable)
It looks a lot like the Daedalea quercina, but the gill-like structures are different, so I'm not sure enough to say: " The name of this species is Daedalea quercina."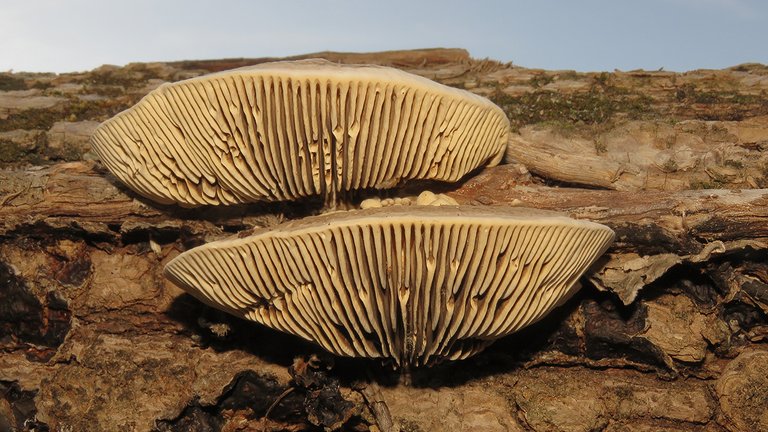 Unlike the underside of these mushrooms, the underside of Daedalea quercina mushrooms I saw in photographs found on the internet looks like a labyrinth. But maybe those shapes can vary. Or maybe these fruiting bodies are young and will change as they develop. I don't know. Maybe I'll find out if I remember to take a look at these polypores when I revisit the place.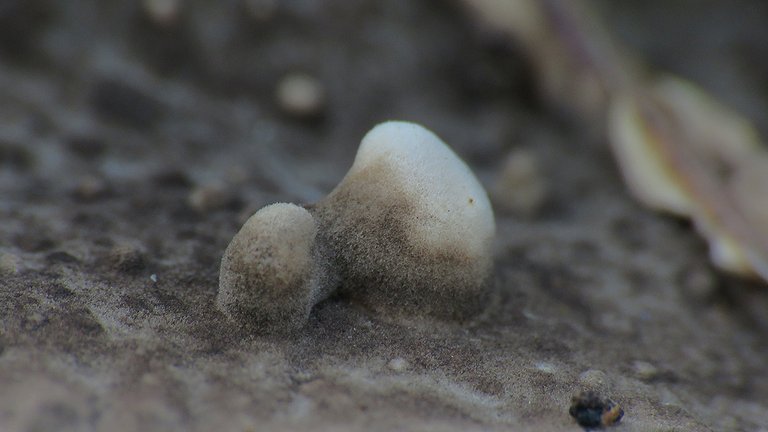 While exploring the upper side of the fruiting bodies through the macro lens, I found a series of small protuberances. Some looked like rocks in a desert or vague organic shapes in a surreal landscape out of the Dalí or Tanguy paintings.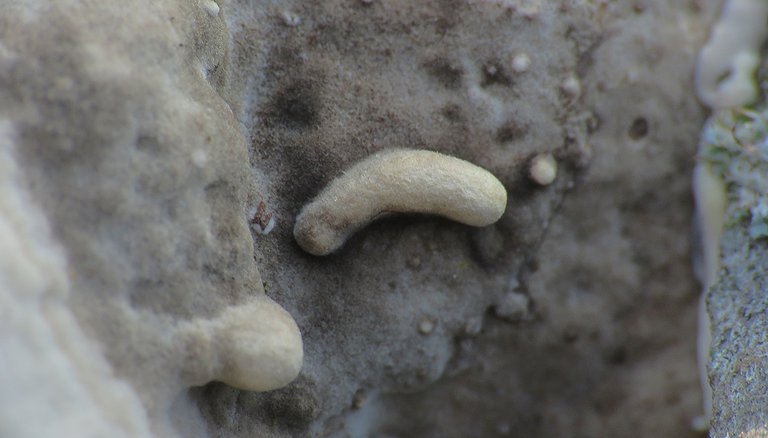 This one resembles a bacteria photographed through the electron microscope. Well, to me, at least.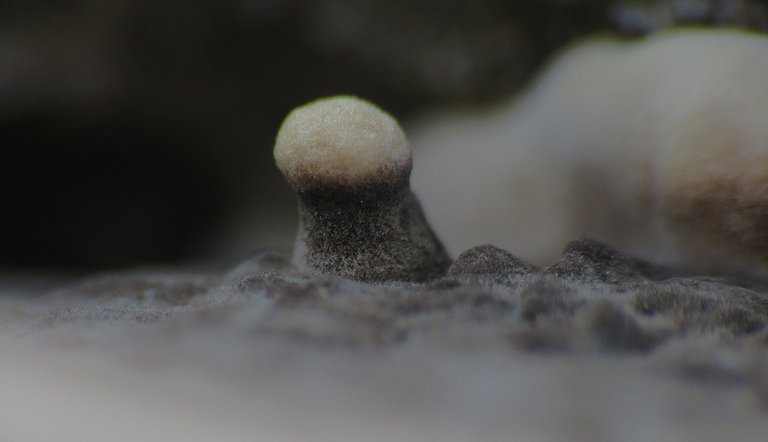 Here you can see a protuberance that looks like another mushroom, a young bolete or something similar, that grew on top of the polypore.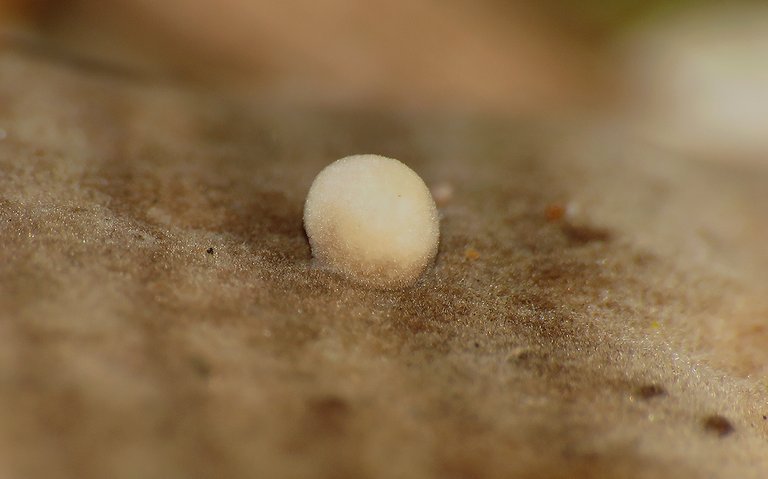 This little sphere looks like a minuscule puffball mushroom.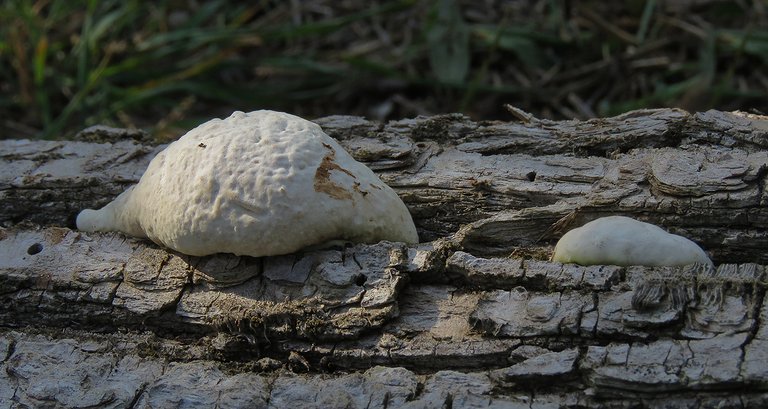 These fruiting bodies at an early stage of development look like expanding sealing foam coming out through the bark's crevices.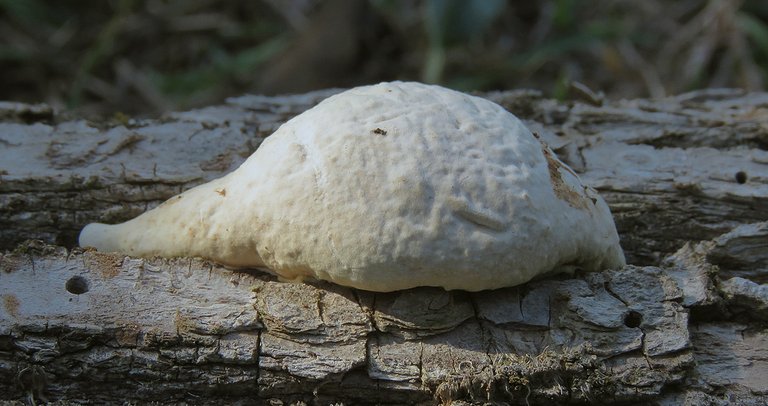 With a bit of imagination, it can be seen as the mysterious Blob from outer space. I like that old movie a lot. I like both movies, actually. The 1988 remake is a very entertaining piece of eighties horror cinema.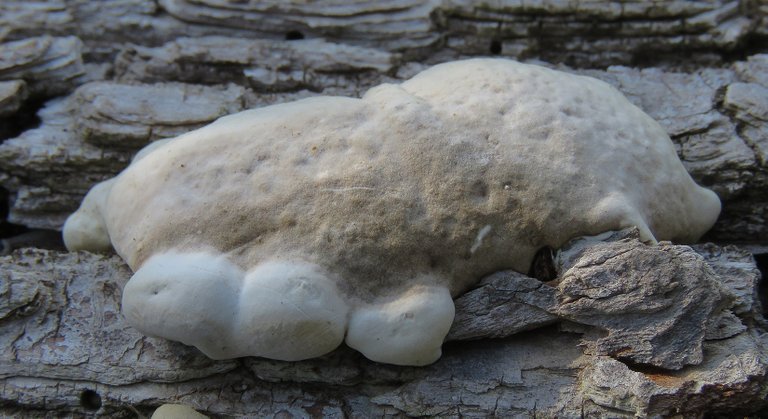 This fruiting body has recently started upgrading its basic blob-like shape.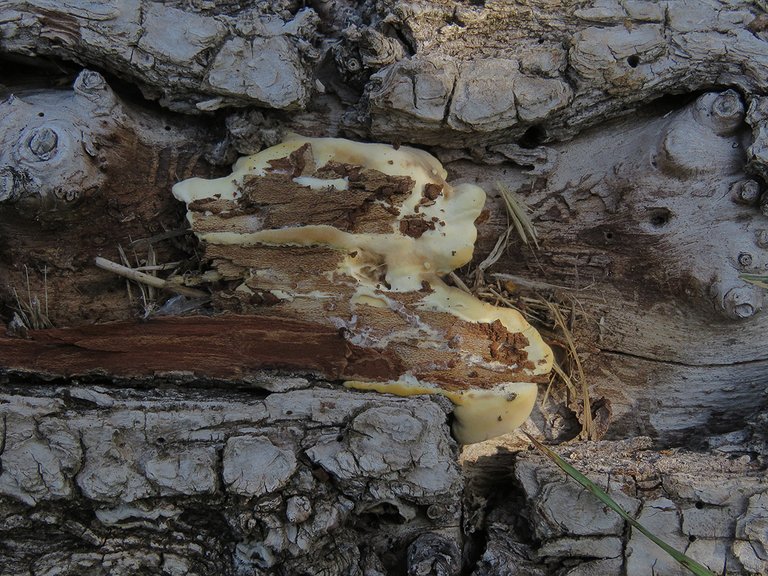 At one point, I noticed a minuscule blob fragment peeking from a crack in the bark. When I removed a piece of bark, I found a much bigger piece of polypore that was developing in the humid dark there. In the following photograph ...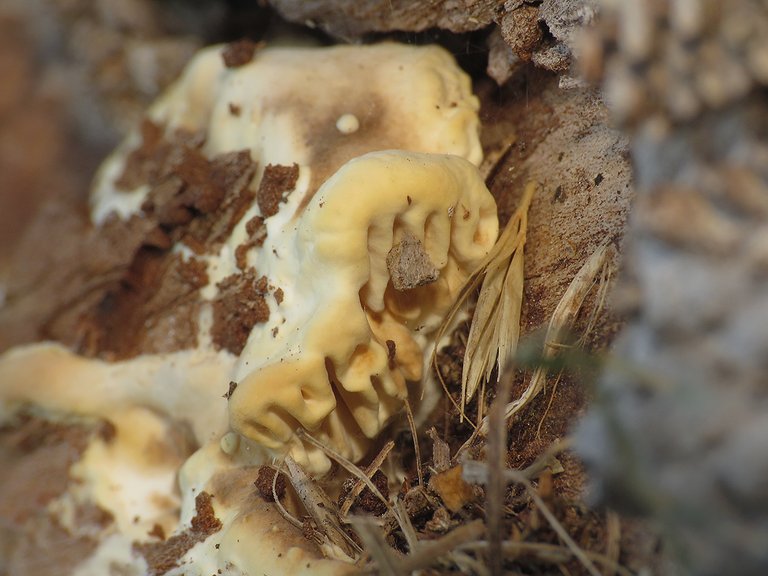 ... you can take a look at the mushroom's underside.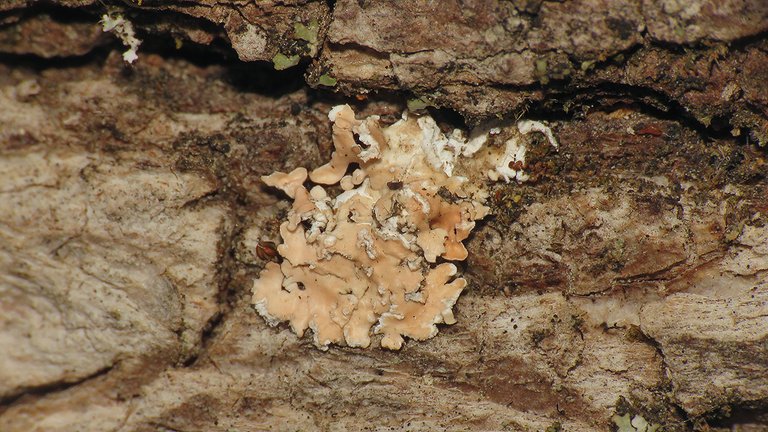 This thing that looks like lichen was found among the polypores, on the same piece of wood. It looks like lichen but I'm prone to think that this is some kind of crust fungus.

(Enlargeable)
A bit later, I was busy photographing some lichen-like things that not only looked like lichens but were definitively, undoubtedly just that - lichens.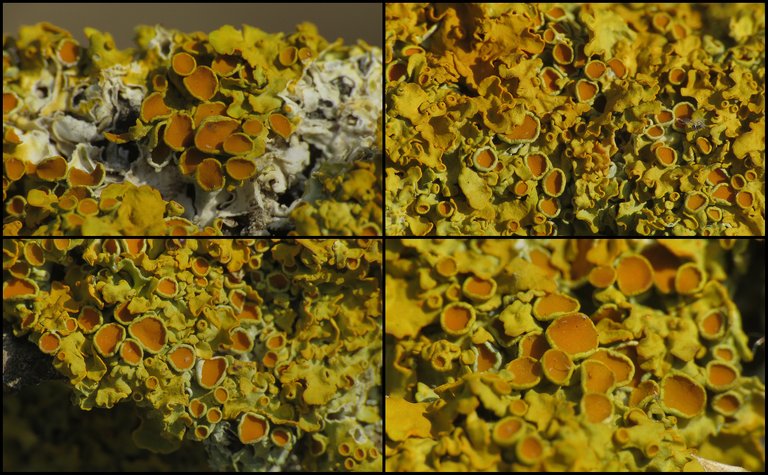 (Enlargeable)
These colorful Xanthoria parietina lichens ...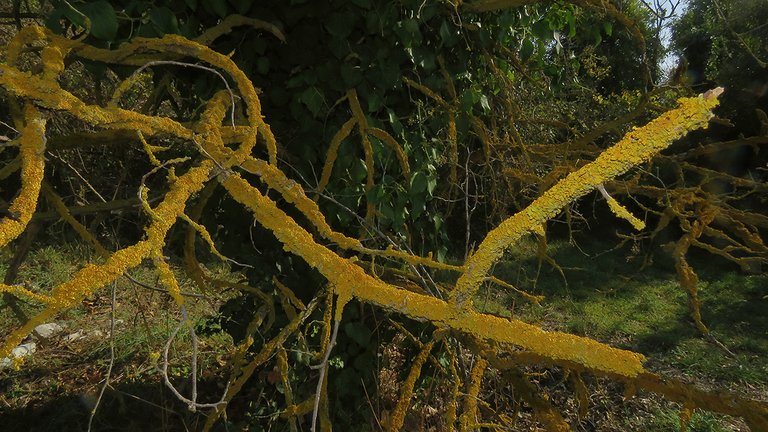 ... were covering the dead branches of a living tree. The tree was mostly alive but some of its lower branches weren't. Since lichens are composite organisms created by the mutualistic relationship of the fungal filaments and algae or cyanobacteria, and therefore at least partially fungi, I decided to include them in this fungi-themed post.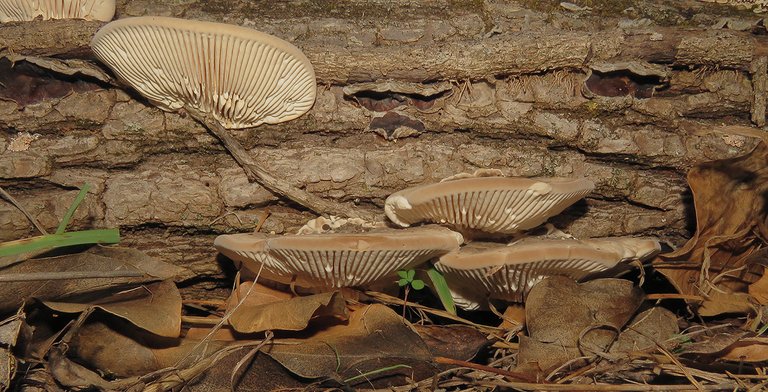 And that's it.
The following links will take you to the sites with more information about some of the protagonists of this post. I found some stuff about them there.
https://en.wikipedia.org/wiki/Polypore
https://en.wikipedia.org/wiki/Daedalea_quercina
https://champignouf.com/
https://en.wikipedia.org/wiki/Corticioid_fungi
https://en.wikipedia.org/wiki/Xanthoria_parietina
AS ALWAYS HERE ON HIVE, THE PHOTOGRAPHS ARE MY WORK.