In absence of fallen leaves and with so many flowers around ...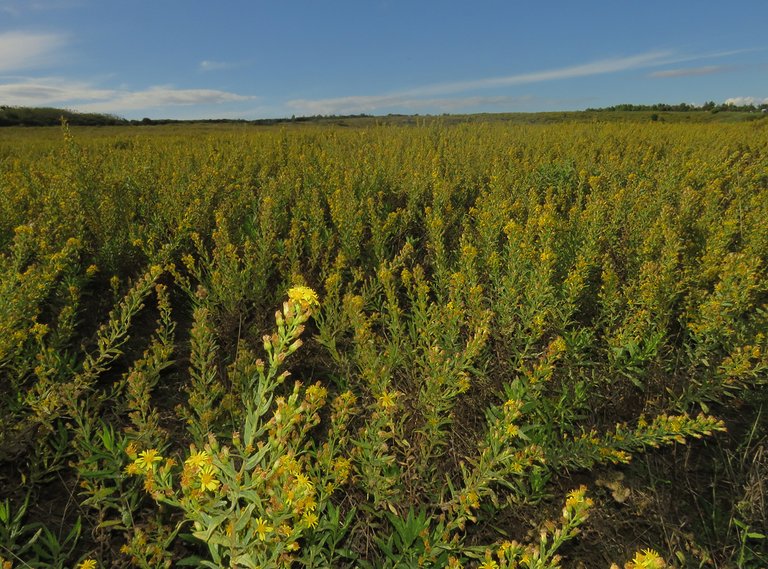 ... it could be easily mistaken for springtime ...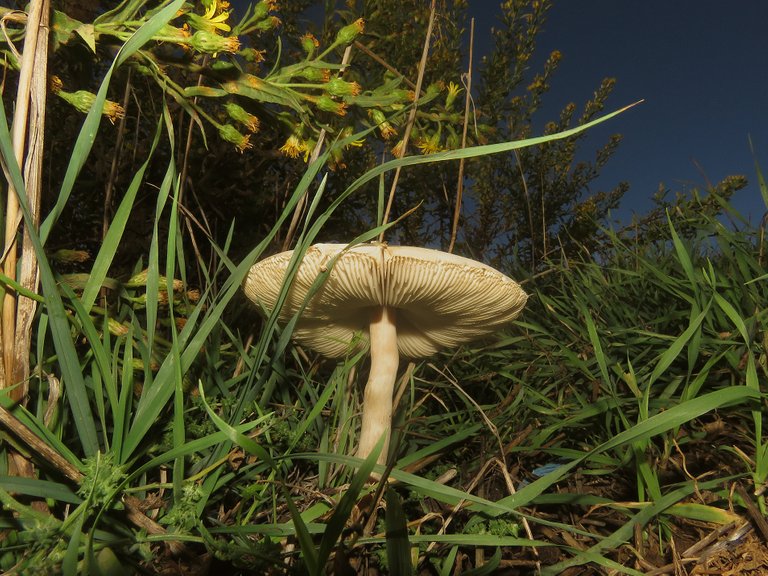 (Enlargeable)
... if there were no mushrooms around. Although some fungi appear from time to time in spring, they never appear here on the dry, open meadows near the sea. This is an autumnal exclusive ...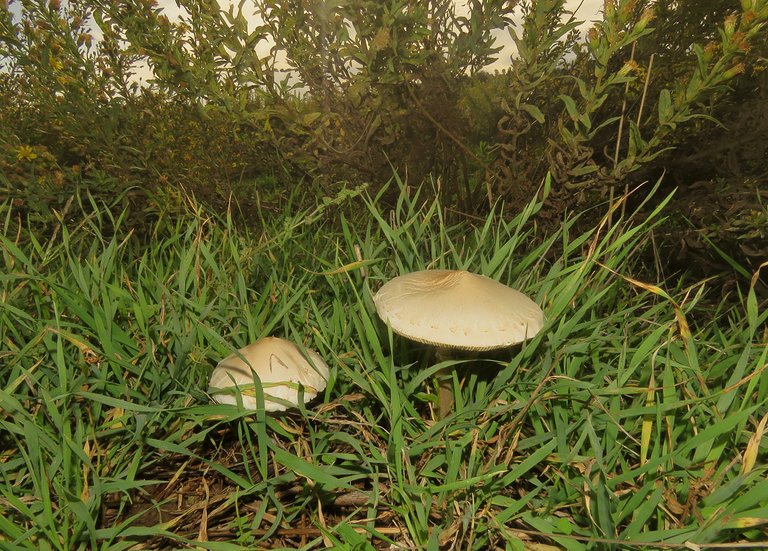 ... and the mushrooms you just saw ... look like some smaller relatives of the Parasol mushroom ... but I don't know what exactly they are ... the only thing I can say for sure ...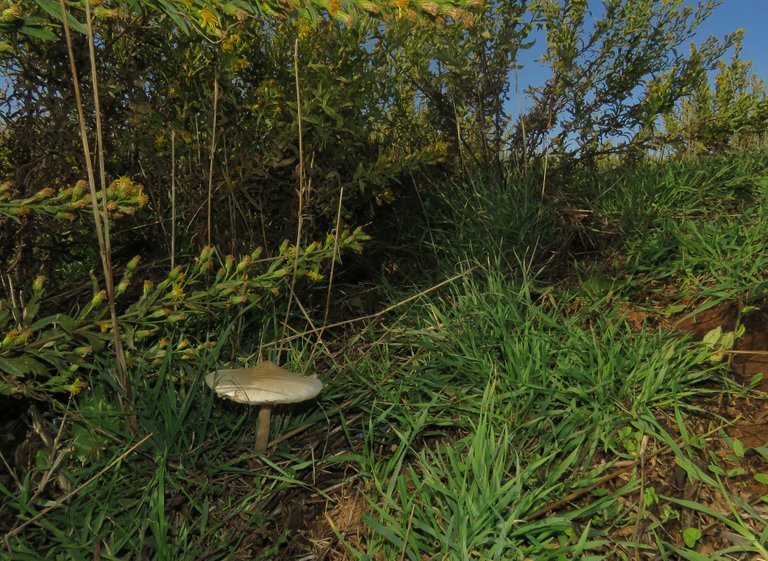 (Enlargeable)
... is that they are the most numerous mushrooms these days ...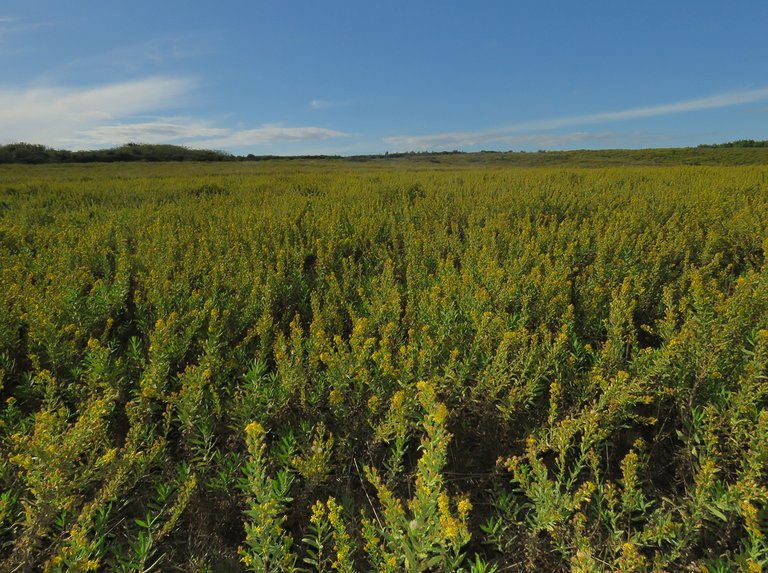 ... here on the yellow fields, covered with Dittrichia viscosa plants ...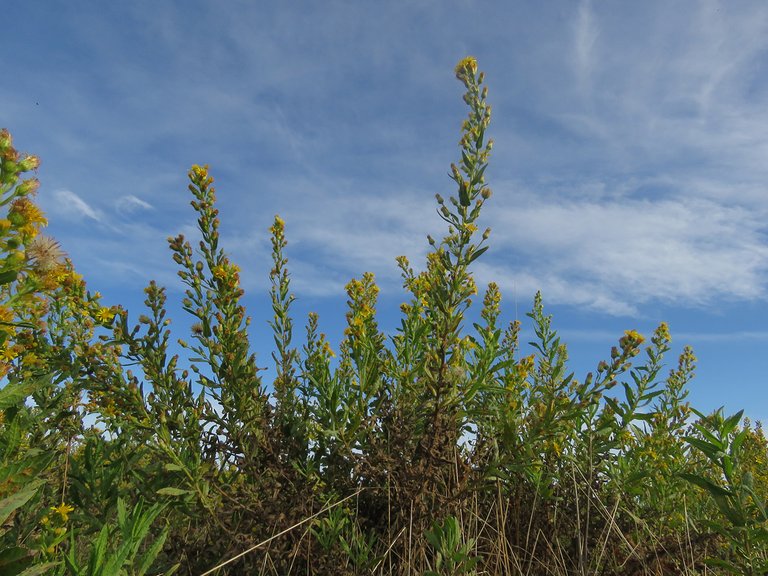 ... in bloom. These resilient weed grows so uniformly and abundantly here, that the entire area looks like some kind of cultivated plantation ...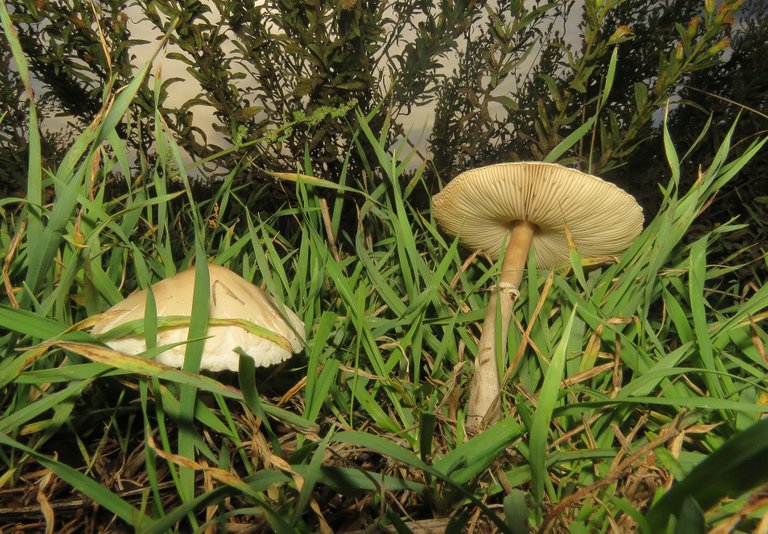 (Enlargeable)
... with mushrooms hidden in the grass.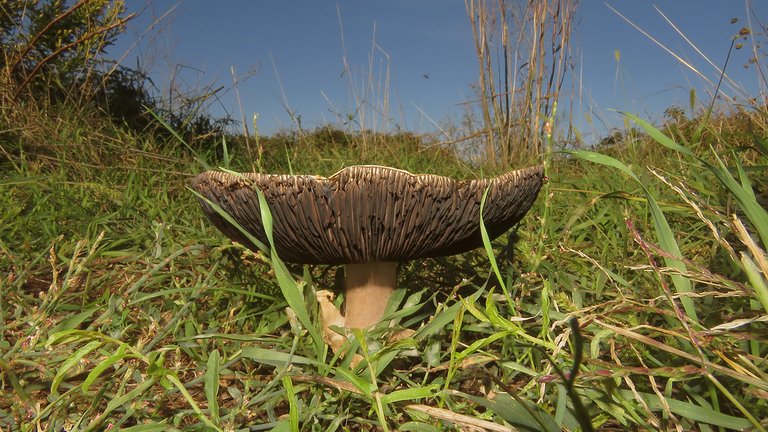 On the borders of the field ...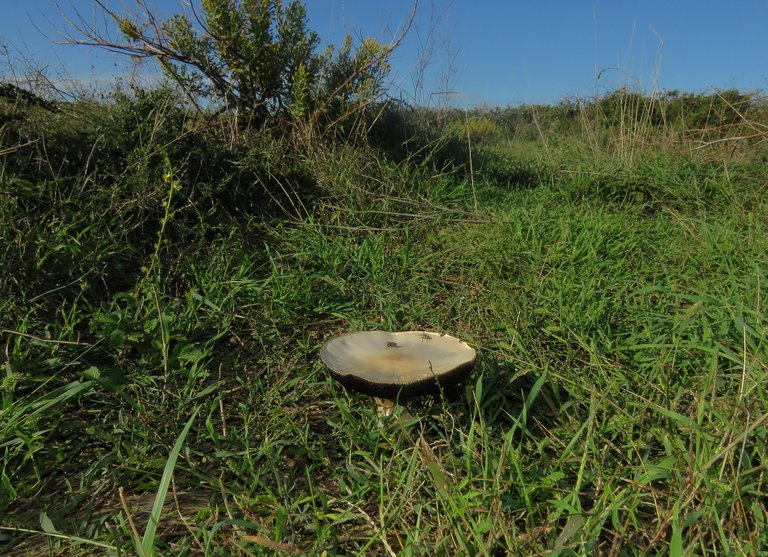 (Enlargeable)
... where the grass is shorter and vegetation less dense ... you can find the edible Agaricus campestris ... this one is old, is slowly decomposing and releasing strong aroma that attracts flies. You can see two of them if you enlarge the picture.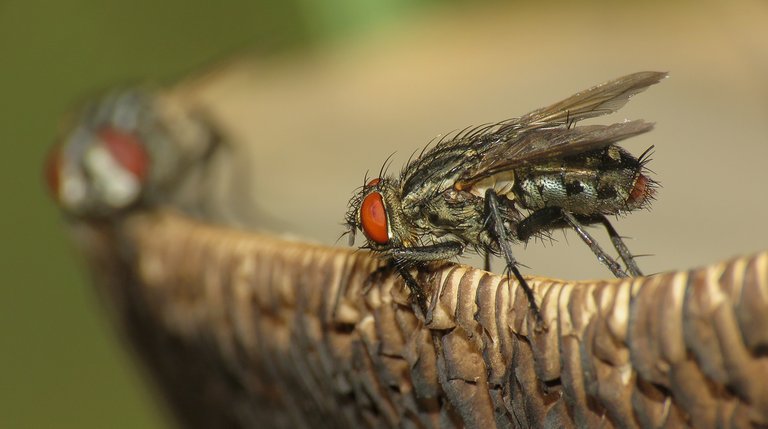 Here you can take a better look at those flies.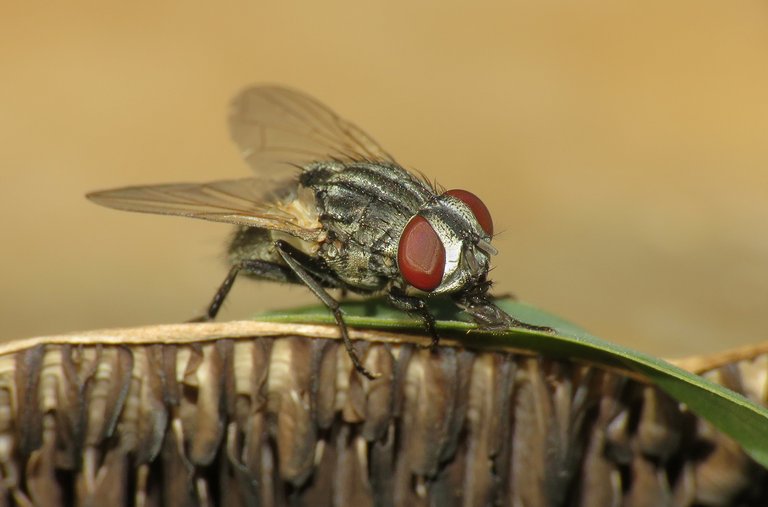 I spent ... well is hard to say how much time I spent observing them ...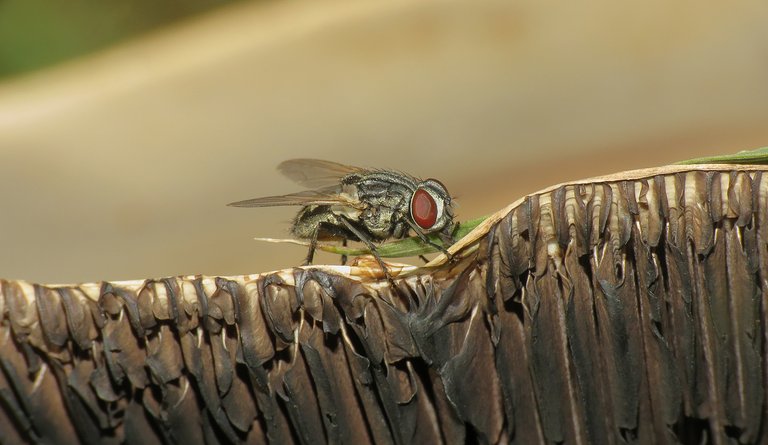 ... but I'm sure that I sat there near the mushroom longer than expected.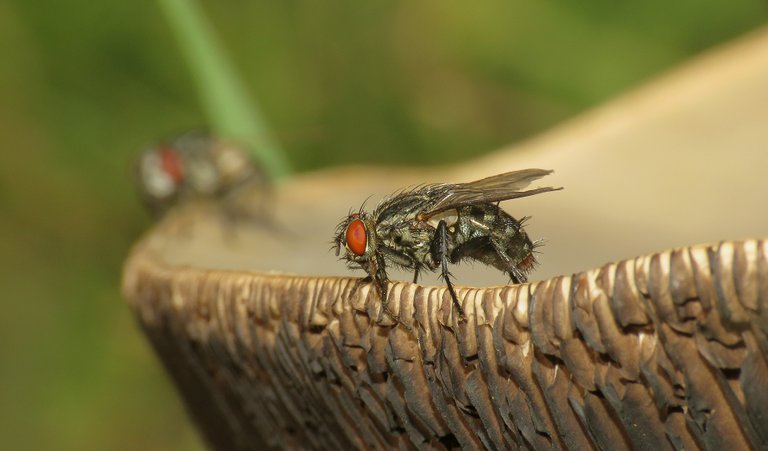 (Enlargeable)
Watching the fly feeding on rotting mushroom ...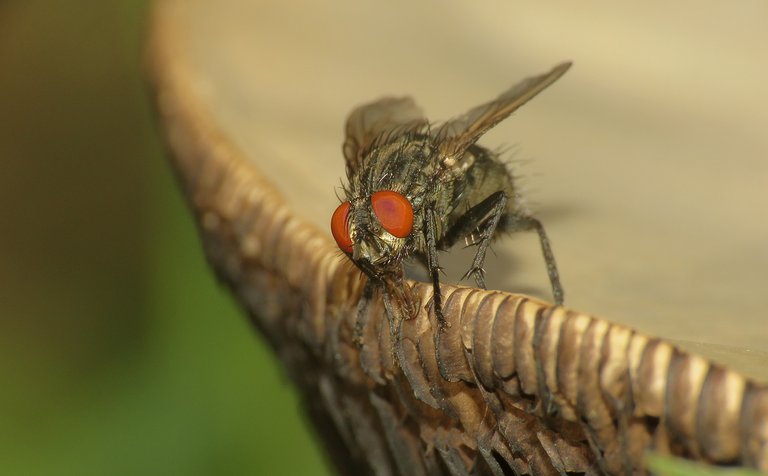 ... ended up to be surprisingly entertaining.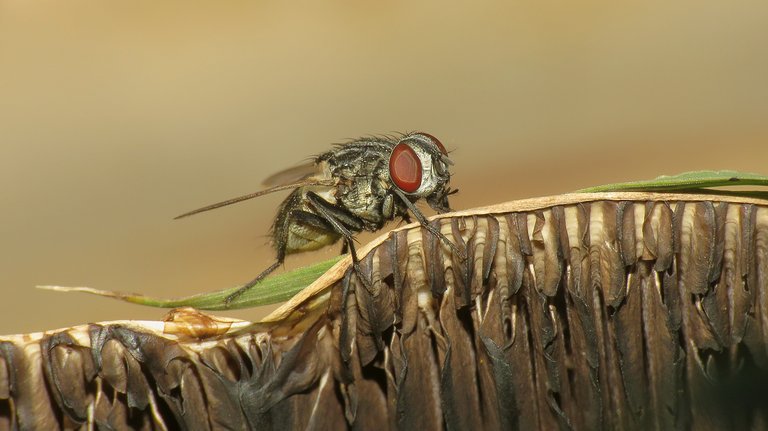 On the following photograph ...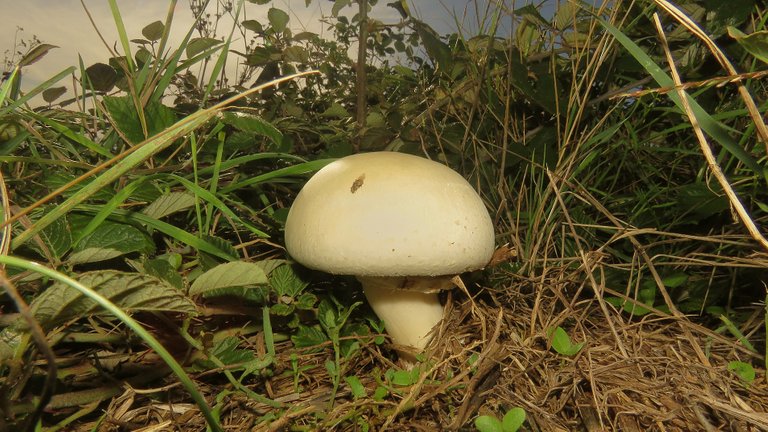 (Enlargeable)
... you can see the young and fresh Agaricus campestris.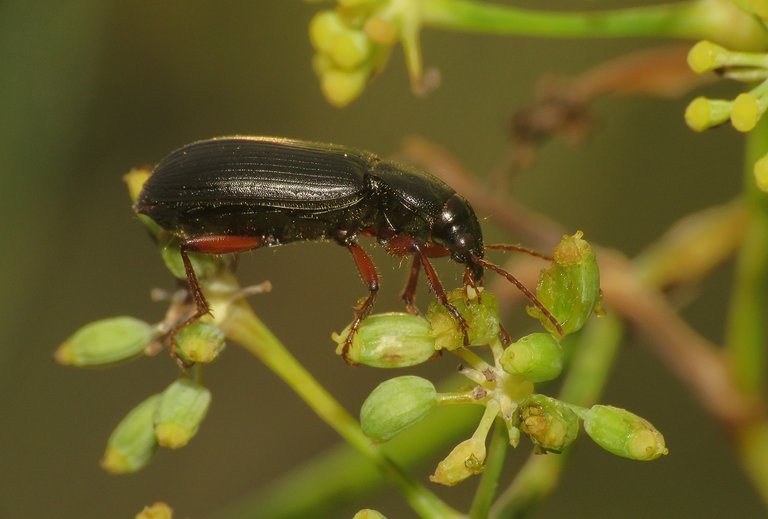 A bit later ... not far from there ...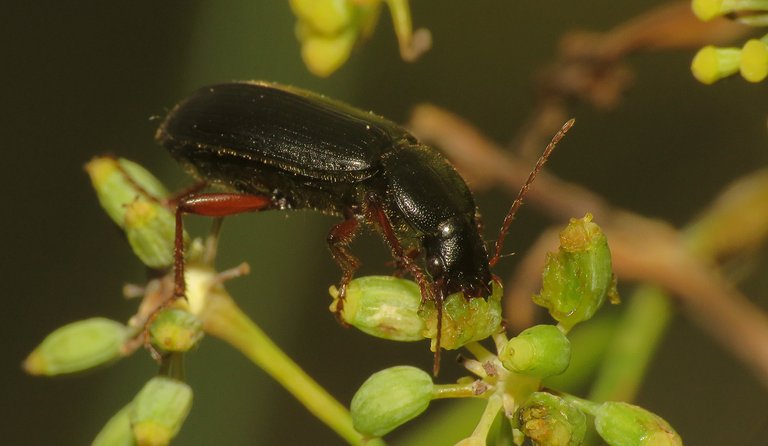 ... I stopped to watch another insect feeding.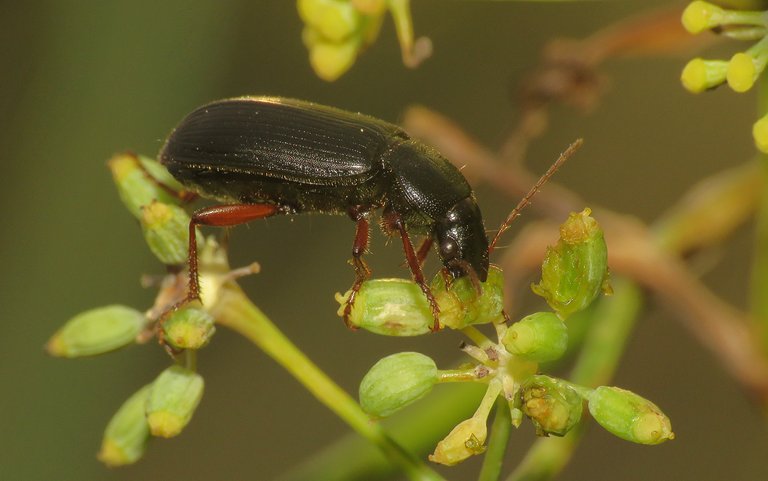 The ground beetle, of the Bembidion obtusum species ...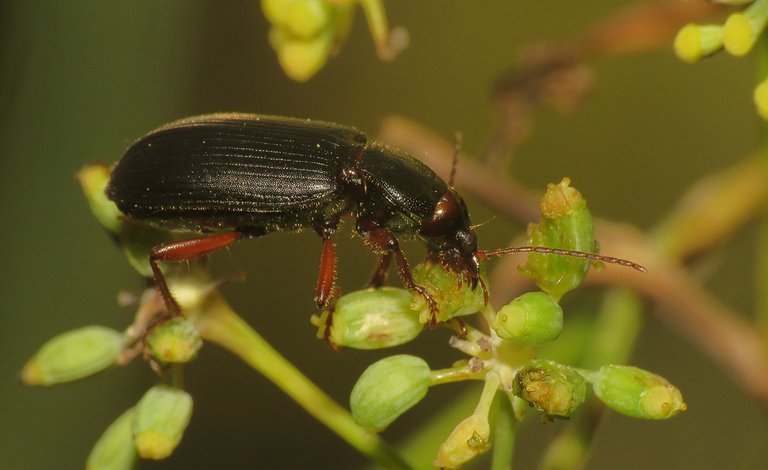 ... was eating the tiny, aromatic fruits ...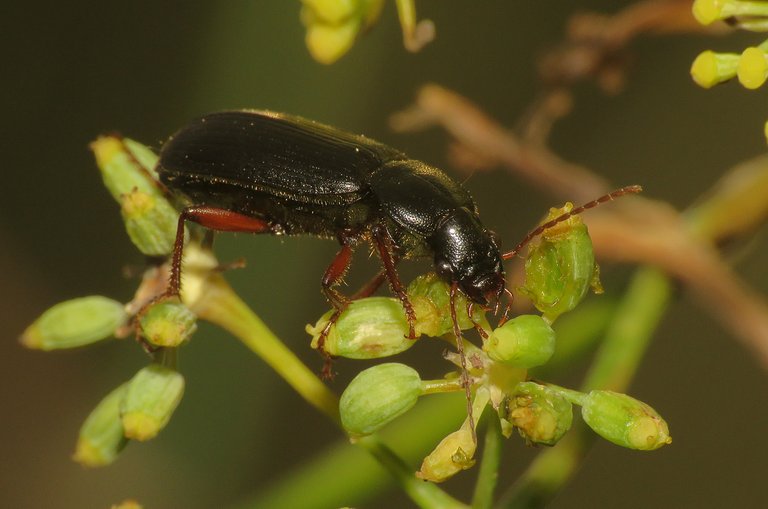 ... of the fennel plant.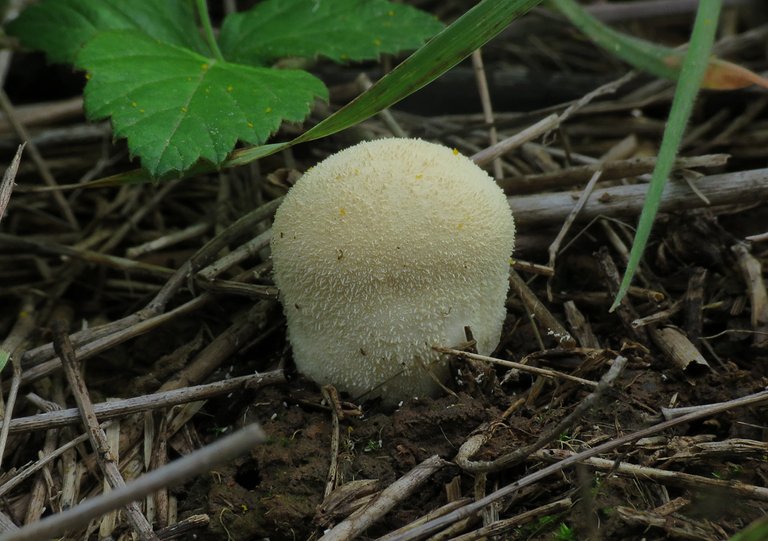 While photographing this puffball mushroom ...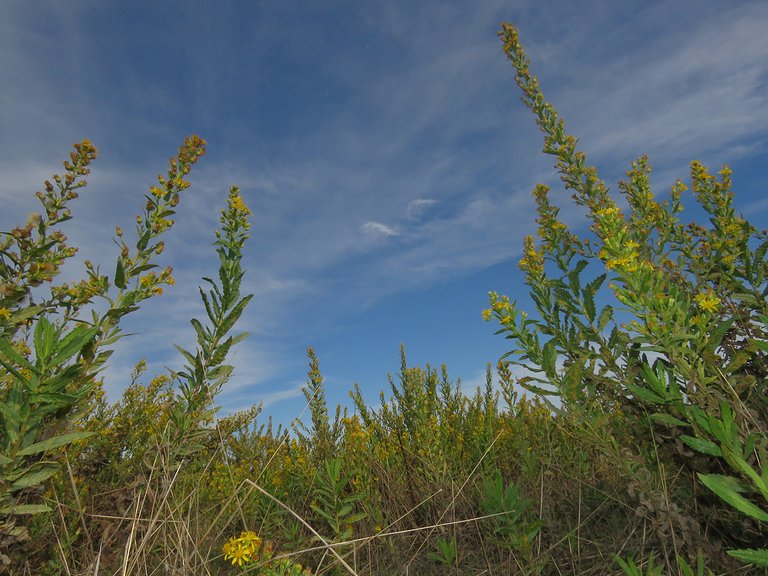 ... I was again surrounded with relatively tall Dittrichia viscosa plants ... this shot was taken from my sitting perspective.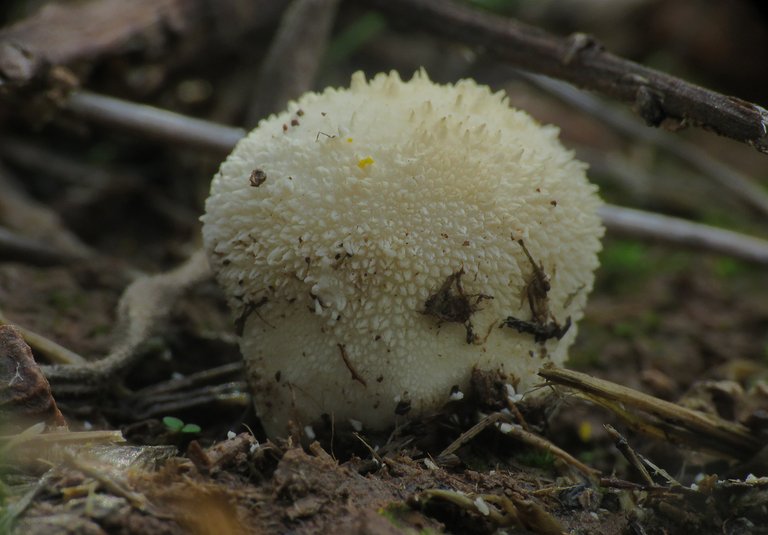 Puffballs of various sizes were growing in the humid shade under the dense growth of Dittrichia viscosa.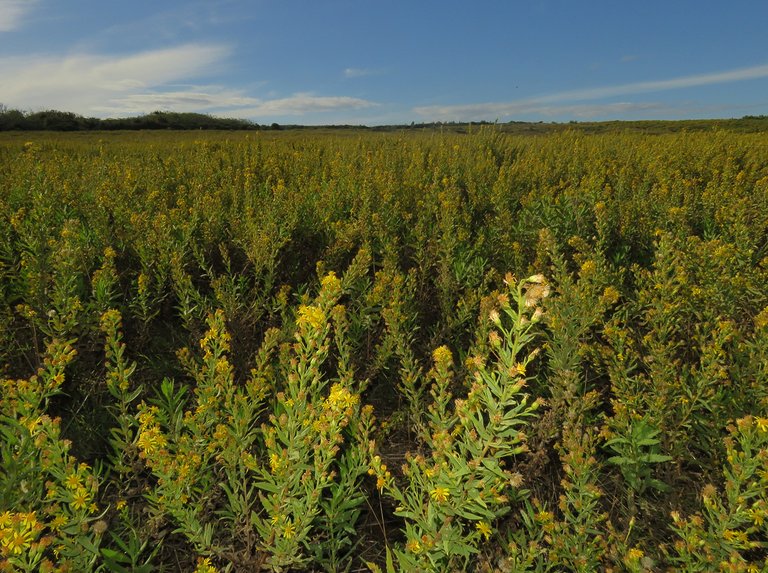 I saw many Puffballs that day ...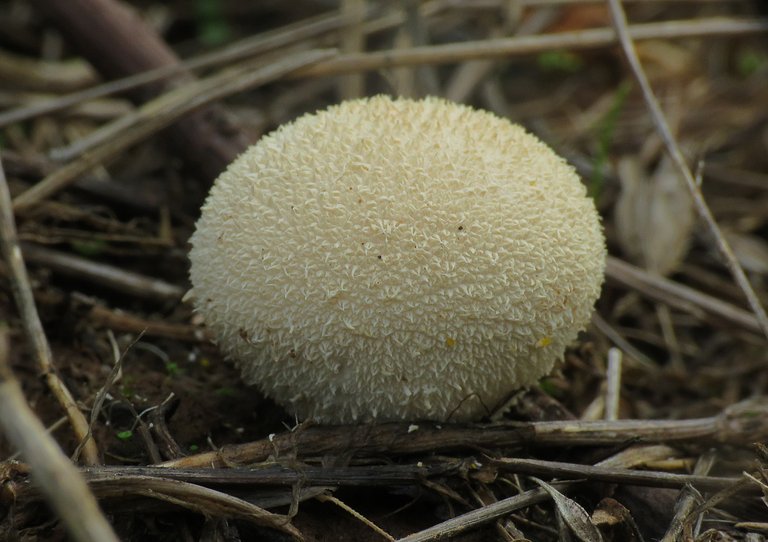 ... but no puffball was more elegantly shaped than the rounded beauty on this photograph.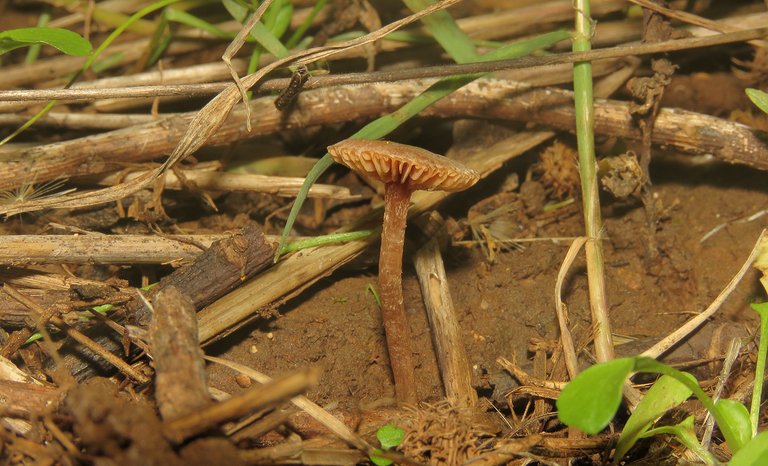 I took this shot ... of some minuscule brown mushroom ... also there, under the Dittrichia viscosa plants.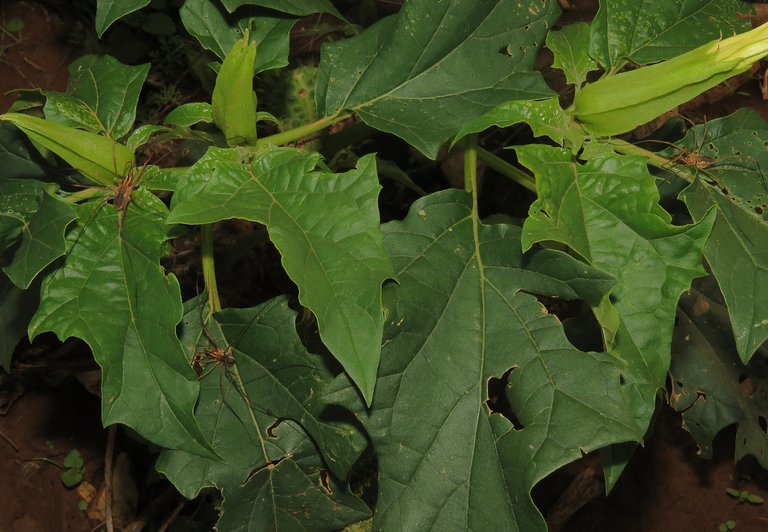 This Datura stramonium plant was photographed at the edge of the field ... mostly because of the three Phalangium opilio arachnids resting on its large leaves.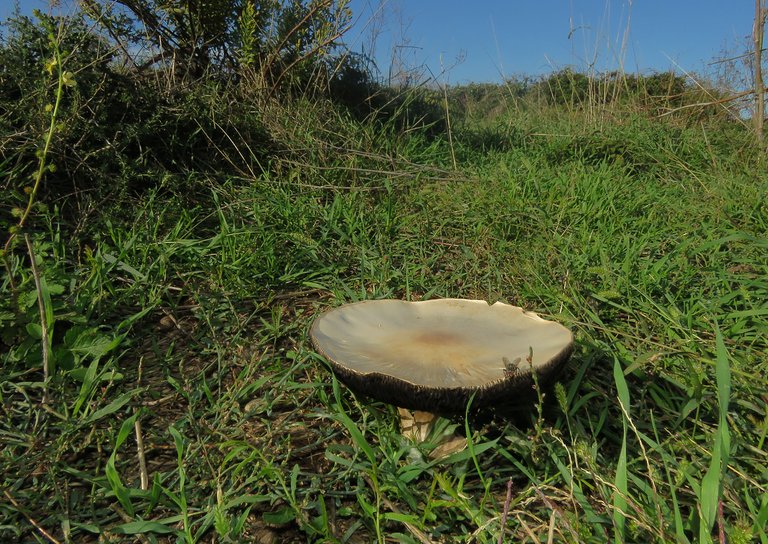 And that's it ... hope you enjoyed this short autumnal walk through the meadows ...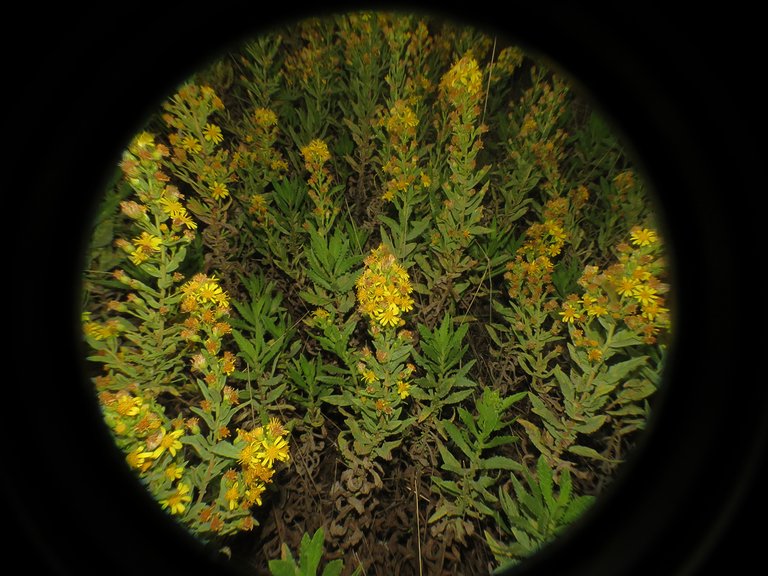 ... as always in these posts on HIVE, the photographs are my work - THE END.