It was a typical working day in the life of a Lagosian - left home as early as 6:00 am and came back around 11:00 pm. Tired, by all means, I slept off almost immediately only to be woken by a knock on my door. I jumped up from the bed, looked at the time on my phone, and was about to curse the alarm for not going off as programmed when I noticed that the time was 2:00 am. Could it be that the time on my phone is out of sync or why is my uncle's wife waking me up at this time?
The knock became louder. I answered to notify her that I am already awake and will attend to her shortly.
I just gave birth.
I was still trying to process what she said when she repeated the statement.
I just gave birth to a bouncy baby boy
What! How possible could that be? I put on a light cloth and quickly dashed for the door. The scene that greeted me looked like a part of a horror movie. She was holding the neonate in her hand with the umbilical cord still connecting the placenta. I was totally at a loss as to what to do. She told me where the cord clamp is and some other birth paraphernalia. Within a few minutes of passing instructions, the baby was ready and both mother and child are ready to be taken to the hospital. I put a call through to one of our neighbours and within a few minutes, we landed at the hospital. The rest is now history as the boy is about 10 years old now.
The experience always makes me wonder how the entire process from labour to giving birth can be a piece of cake to some women and a life-threatening process to others. I was the only one at home with my uncle's wife and she gave birth without making any form of noise (I am not a deep sleeper). Apart from her own case, I have heard stories about pregnant women gisting with their neighbours outdoor one minute, only to step inside their cribs, self-administered the delivery process, and then come out to announce a newborn the next minute.
Meanwhile, I have seen pregnant women going through the labour process for days, often ending up with assisted births such as Caesarean sectioning. In the olden days when conventional medical services were unavailable, women give birth on the farm in the middle of work and in places that would be considered weird by modern-day standards. Although not in all cases that the process goes smoothly, it is scientifically unimaginable that a huge success could be recorded in giving birth without conventional medical attention.
Nowadays, the percentage of women that give birth without being assisted keeps shrinking with Caesarian sectioning now accounting for more than 21% of annual births. All other things being equal, in Nigeria, a pregnant woman would normally be advised to register for antenatal latest by the end of the first trimester. Thereafter, a series of tests, scans, and drugs follow until the due date. There was nothing like antenatal care back then and vaginal birth was the only option available. Despite that and going by the available anecdotes, complications were very few and far in between.
Apart from those that willingly opt for Caesarian sectioning without any medical reason, a couple of reasons exist medically why women might require assistance in giving birth.
when the positive feedback loop for the Labour process does not progress naturally as it should.
When the fetus is in distress
when the birth canal is too small for the baby size, also known as Cephalopelvic disproportion
when the baby refuses to descend headfirst - abnormal positioning.
When the umbilical cord slips into the cervix
Underlining health condition
Abnormal placental positioning
Multiple fetuses at a go.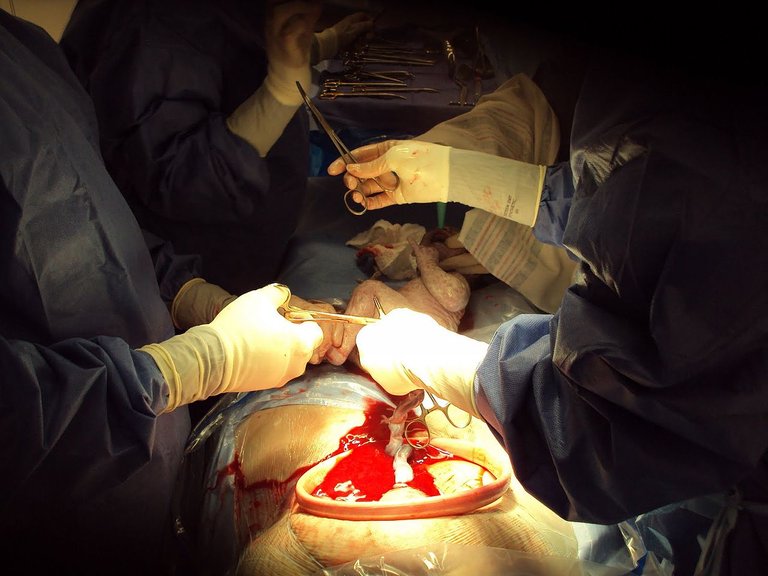 By David Thompson - sherrys camera 172.jpg, CC BY 3.0, https://commons.wikimedia.org/w/index.php?curid=17255859
Why the surge in the number of Caesarian sectioning?
There is no doubt that surgical procedures for removing a fetus from the womb have been fine-tuned to a very large extent. Nevertheless, this should not be the reason for a surge in the number of Caesarian sectioning.
The second baby we had could have been by Caesarian sectioning going by the prognosis of the doctor we met on duty when I and my wife visited the hospital on an emergency after observing some unusual symptoms in the middle of the night. In actual fact, we have been booked for Caesarian sectioning and are in the process of getting all the necessary drugs and materials when the consultant that has been on our case from inception came in, apologized to us, and told us to go home that nothing warrants a CS. My wife delivered safely about 30 hours after.
What I am trying to say in the essence is that wrong prognosis could be a major factor in the surge in the number of Caesarian sectioning, especially in the developing parts of the world where the technical know-how remains inadequate.
Another factor to consider is that Caesarian sectioning comes at a cost that is significantly higher than vaginal birth. Many pregnant have complained about not being given an adequate chance to prove that they can deliver their babies vaginally. In fact, many have complained of being coerced into opting for Caesarian sectioning. If these claims were to be true, the only logical deduction would be that Caesarian sectioning is being promoted for economic gains. This will totally not be out of place in societies where healthcare is commercialized.
Apart from mis-prognosis and for economic gains, advancement in technology means that our life is becoming more and more sophisticated with time. Less effort is being invested and more keeps getting done. Processed food, pollution, etc., are the order of the day. New non-pathogenic diseases keep emerging and our resilience keeps diminishing. The implication is that a surge in the number of abnormalities relating to pregnancy becomes inevitable, and thus, an increase in the number of Caesarian sectioning.
What do you guys think?
Resources