Newborns can be boring, especially in the first few weeks after birth. They start becoming interesting once they know how to smile and their cognitive ability starts showing signs of primitive development. A baby's smile can make one forget all their problems for a few seconds.
It becomes a different ball game entirely though once they start crawling and graduate to walking. The experience becomes a mixture of annoyance and joy. They annoy one because they will find everything interesting, including things that can harm them. Hence, one spends a huge part of their day preventing them from harming themselves.
The joy they give around the period is related to their ability to be effortlessly funny in some of their actions and words (when they start talking). Toddlers can be pure entertainers based on how some of them behave. It is also at this point they learn the act of blackmailing using their cries and tears. Once they get the hint that crying and shedding tears get them whatever they want, it becomes a weapon for them. Not just that, toddlers also play a lot of mind games with their parents/guardians. This leads me to the subject I wish to discuss today - habit coughs.
Habit Coughs
Habit coughs are simply coughs that have no underlining cause. They are quite common in children, especially after an episode of cough with an underlining cause. For example, a child that develops a cough due to the irritation of the throat and continues coughing even after the irritant has cleared is suffering from a habit cough. Habit coughs can be deliberate or psychogenic.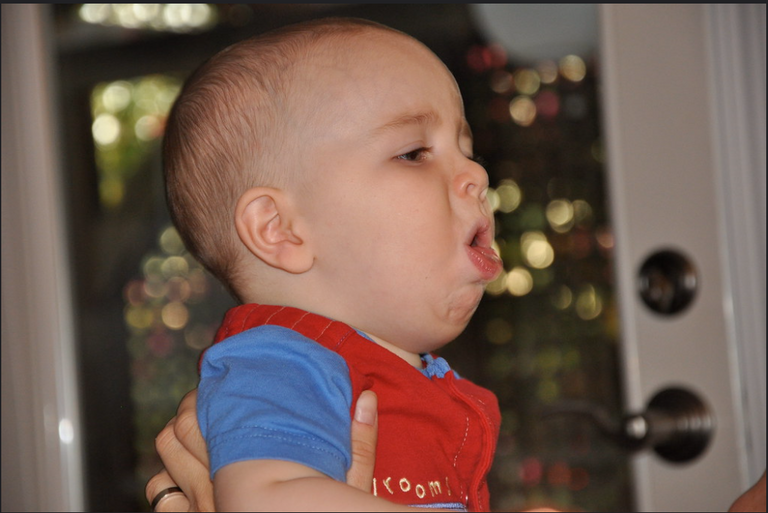 Image credit: Ryan Boren on Flickr
Children might develop a deliberate habit cough upon realizing that they get more attention whenever they are coughing. It is normal for parents to give their children utmost attention when they are not feeling well but some cunny children weaponize this gesture and deliberately act sick just to get attention or escape punishments.
Psychogenic habit cough, on the other hand, is not deliberate, even though it also has no underlining cause and usually develops after coughs with causal factors. It usually originates in the mind or in a conflicting emotional or mental state.
Just how does one recognize a habit cough? This is something I have been battling with recently with my toddler. He has developed this cough before age one, 3 years old now and he is still battling with it. One thing, however, is that the cough goes and comes back at intervals which could be as short as a week or as long as three months.
We have exhausted virtually all the available conventional medical options and even tried herbal/alternate medicine options. All forms of medical tests have been conducted without any positive results. Sometimes, it seems like the medicine/herb works, only for the cough to resurface again a few weeks after. Other times, there will be a pattern such that we will think we have cracked the code as to the cause of the cough, only for all our hypotheses to be thrown down the drain all of a sudden.
On one hand, there is this deep sense of feelings that the cough has some underlining factors for some basic reasons:
It occurs simultaneously with cold most of the time. Hence, you will see him coughing, sneezing, and bringing out mucus from the nose all at once.
It once occurred simultaneously with septicemia. He was prescribed antibiotics when it occurred and both the cough and the septicemia ceased after a while, only for the cough to resurface on its own later.
The cough disappears on its own without taking any drug. Whenever he starts coughing, all we need to do is keep him indoors for about 48 hours and allow him to rest as much as possible during this period.
On the other hand, however, the cough looks like a psychogenic habit cough because:
It disappears on its own without drugs. Sometimes, I just encourage him to try and stifle the cough and it works. He also hardly cough in sleep as long as he is deeply sleeping.
The cough usually sounds harsh and comes frequently
He does not cough up any phlegm, although he may be too young to cough up phlegm on his own, and might perhaps be one of the reasons he throws up sometimes.
I and the mother have tried a lot to unravel the mystery behind the cough without any result. One thing that people keep saying, though, is that he will outgrow the cough with age. I sincerely hope this would be the case as the cough gives me sleepless nights whenever it happens.
Do you have any experience with coughs in children? Feel free to share it in the comment section.
Thank you all for reading.