This past week I've been having Adventures in Kansai. Kansai is a part of Japan consisting of Osaka, Kyoto, Kobe and a few other areas. Yesterday I headed over to the Akashi suspension bridge which was the longest suspension bridge in the world at 1991 meters(6532 feet) long, until March of this year when Turkey opened their 1915 Canakkale bridge. Regardless of losing the #1 slot, it's still very impressive.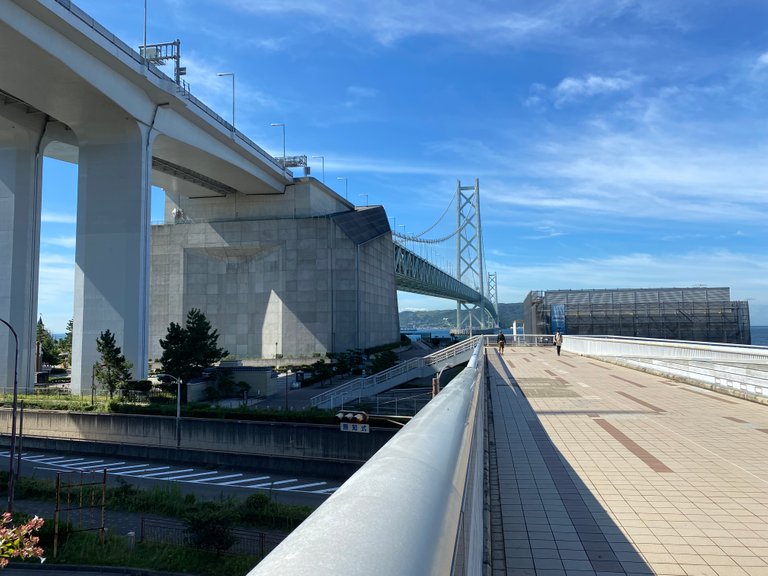 The Akashi bridge is located in South East Kobe, about 15minutes from Kobe Sannomiya station and costs about $3 to get to by train. The bridge connects Honshu, the main landmass in Japan to Shikoku island. It is part of a 3 bridge system connecting Honshu & Shikoku.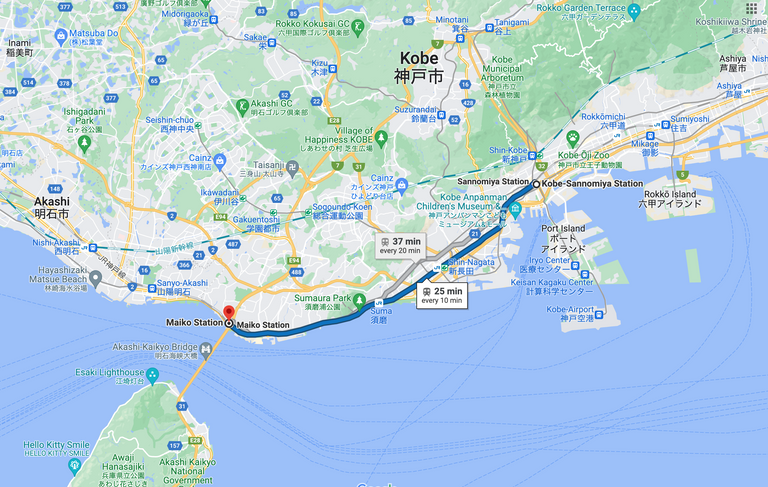 Arriving the bridge is just across the street from the station so it's very easy to get to.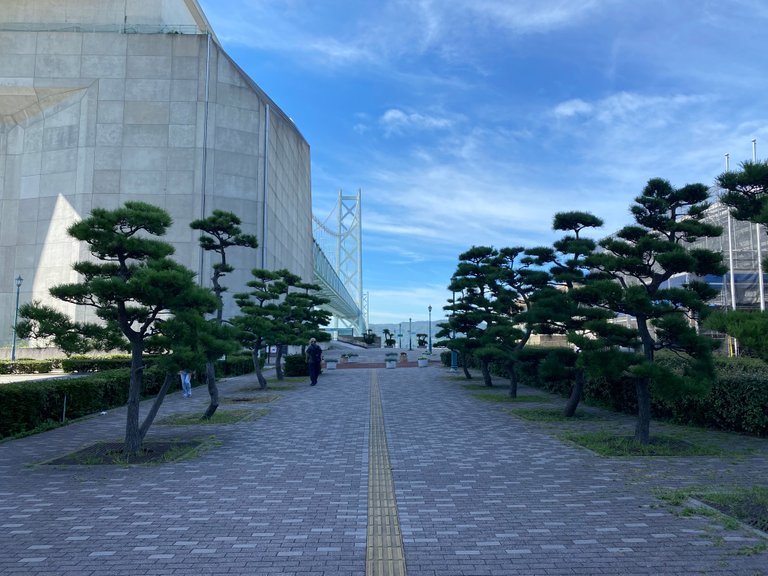 Before you get to the main span there are various displays of parts of the bridge, like this securing clamp that ties the deck to the main cables.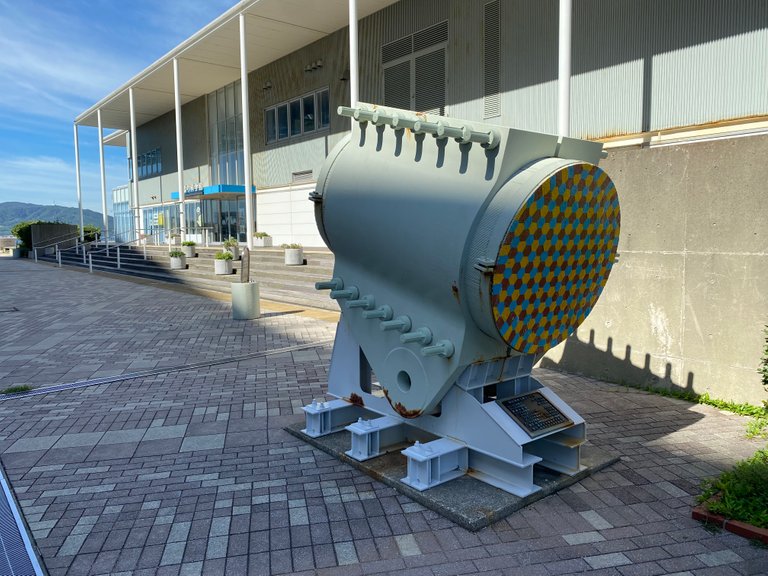 It's always fascinating to think about all of the engineering, manufacturing and labor that goes into building something of this scale.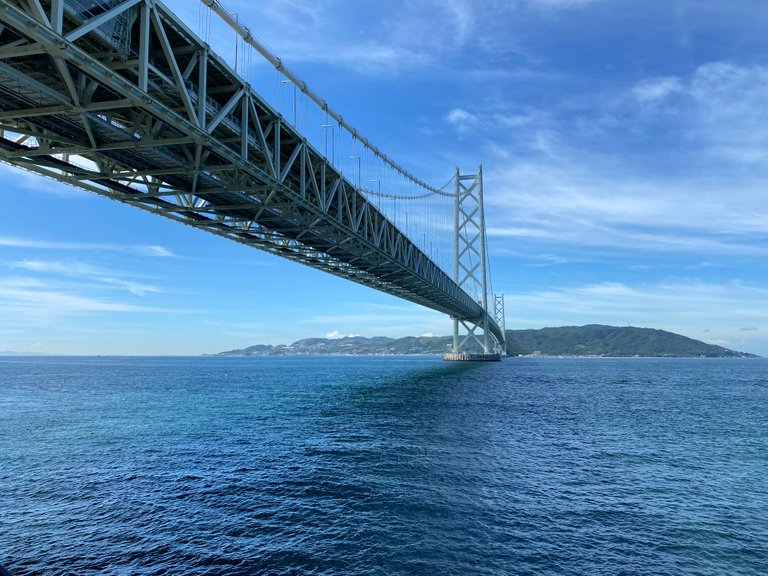 The Akashi straight was first studied as a possible location for a bridge beginning in 1957. Many years of studying and bad economic times stalled construction on the bridge until 1988. After 10 years of construction the bridge was finally opened in 1998.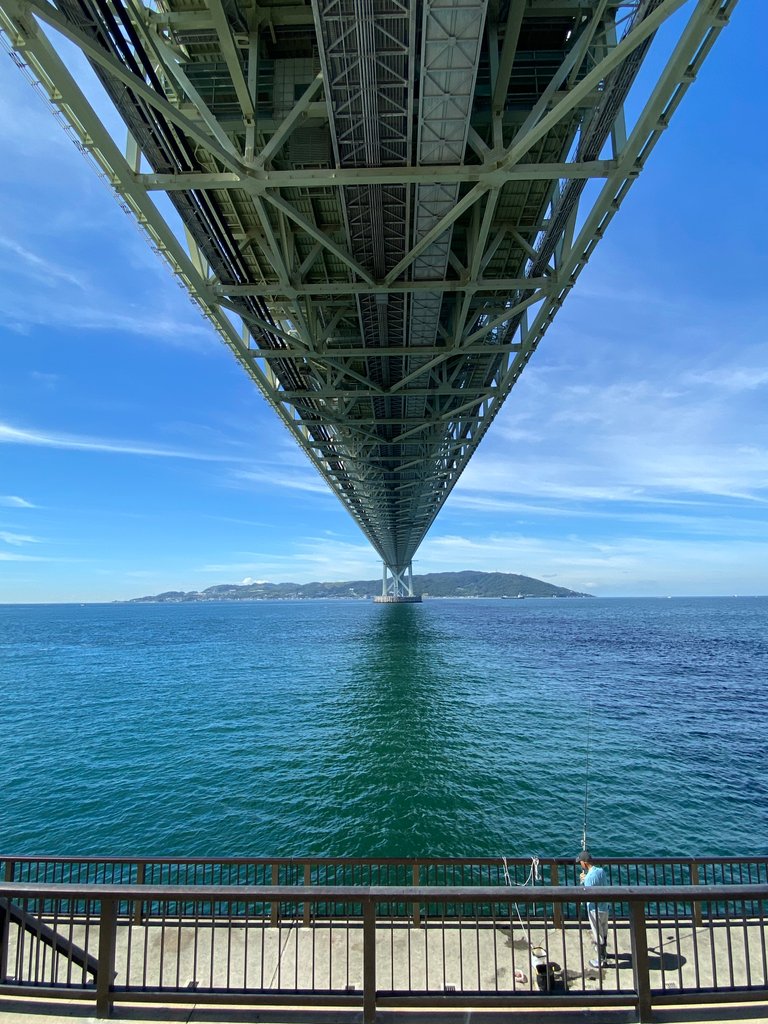 As with so many Japanese landmarks one of the features of the Akashi bridge is it's observation deck just below the roadway above it.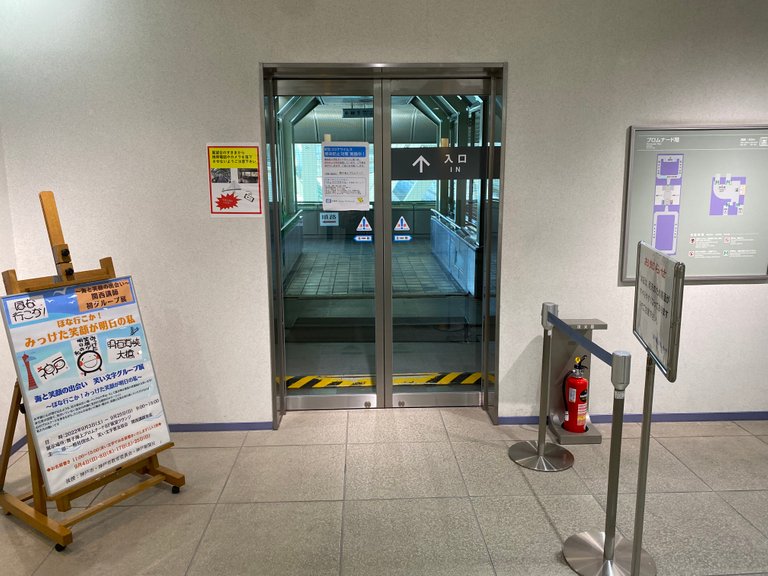 In order to get there you have to pay $3 and take an elevator 8 stories up. After exiting to a staging room you then walk outside to an open walkway. This walkway will take you to the enclosed observation deck which has a viewing area, a cafe and a souvenir shop.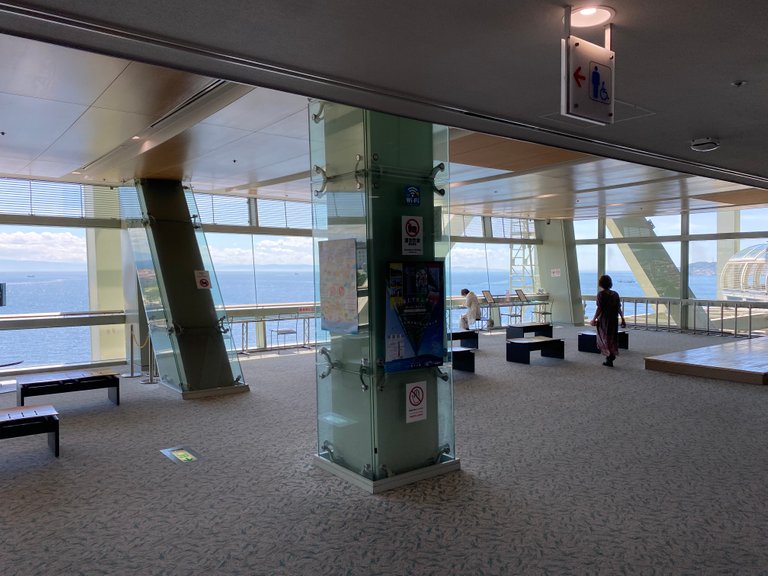 View looking East towards Osaka.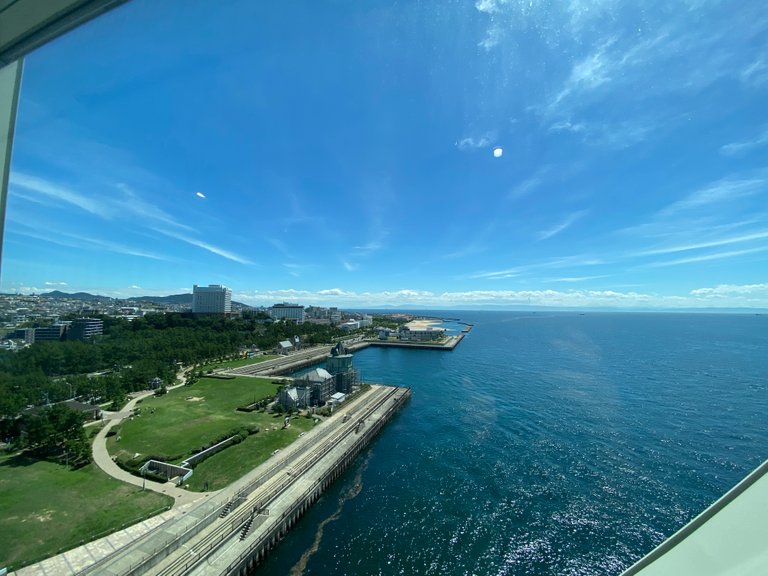 The view West towards Hiroshima.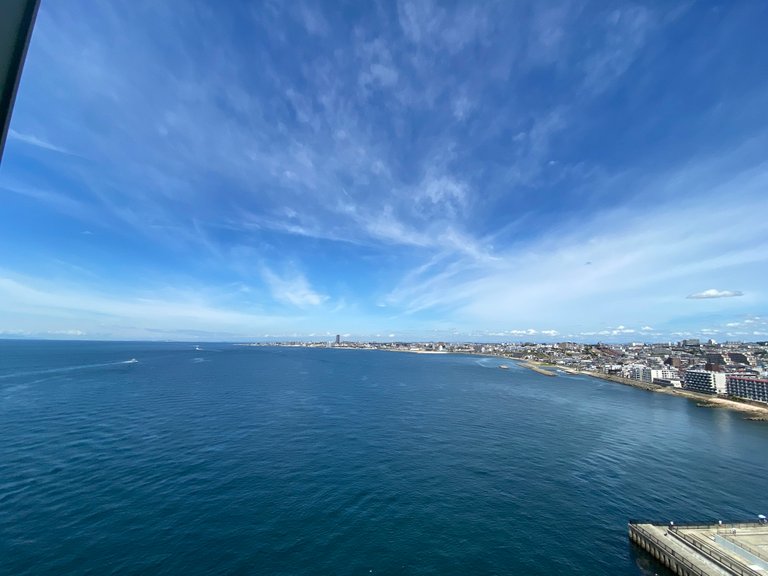 Just beyond the observation deck there is a second open air walkway witch will lead you to Han Solo & Chewie.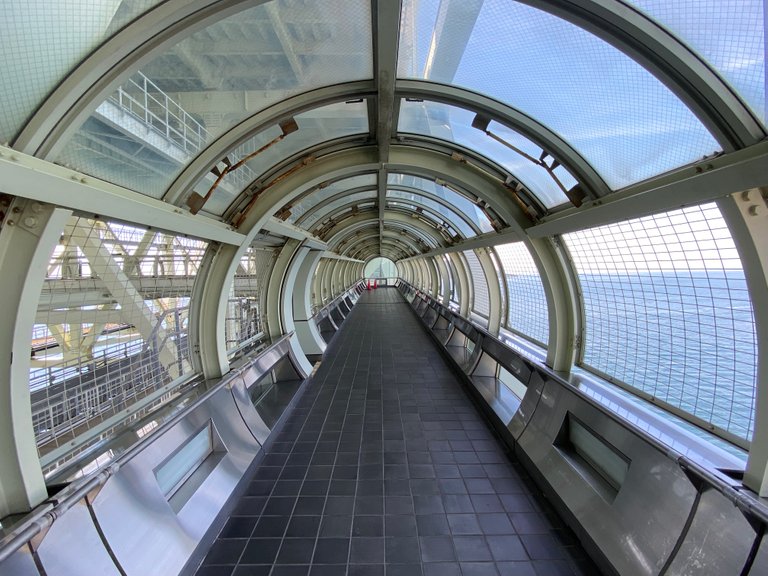 Ok, not Millennium Falcon, but there are glass sections that allow you to view the water below and boats that pass by.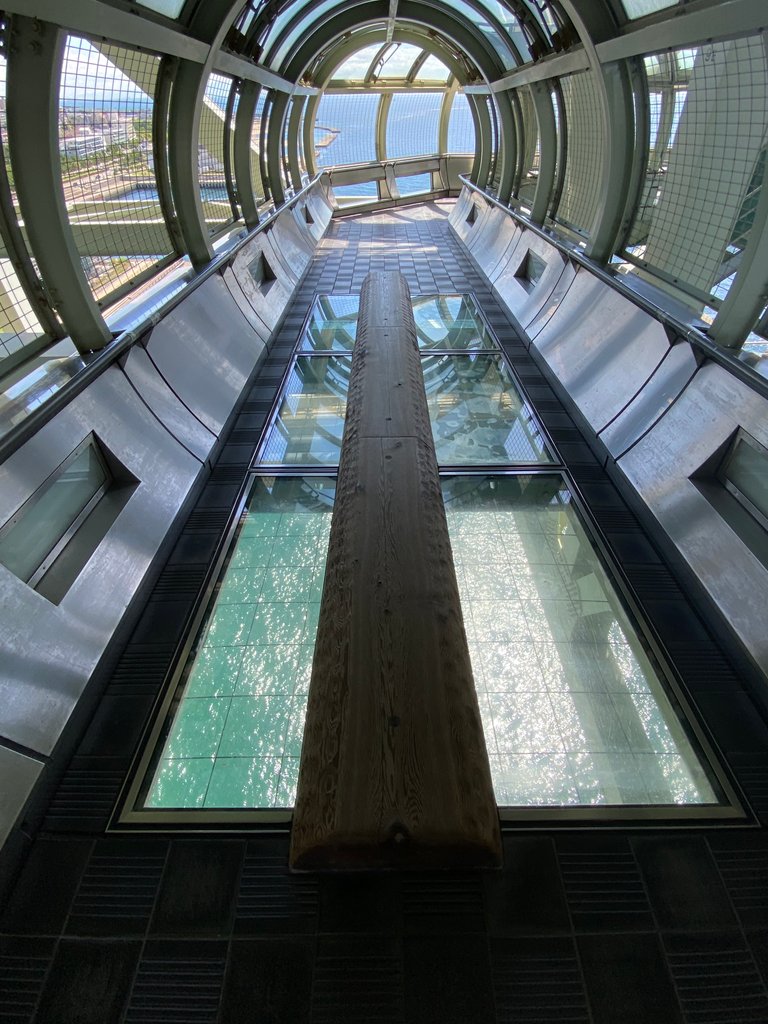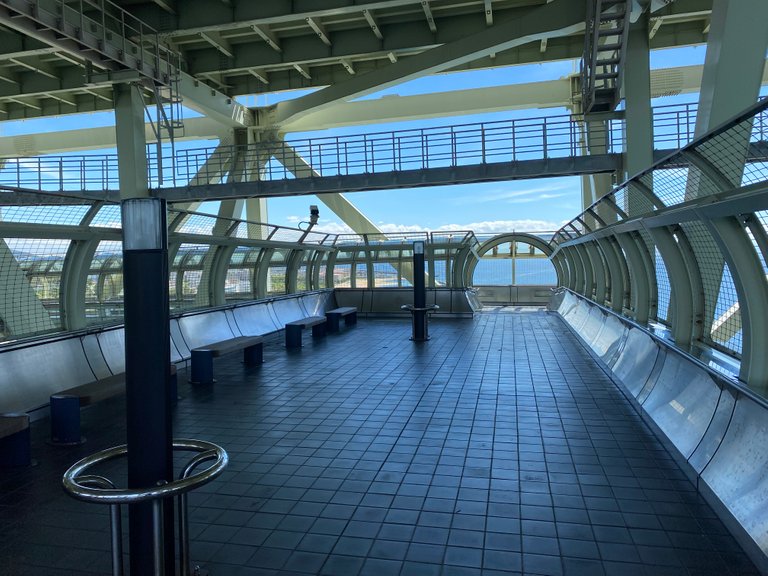 There is beauty in the steel construction if you look.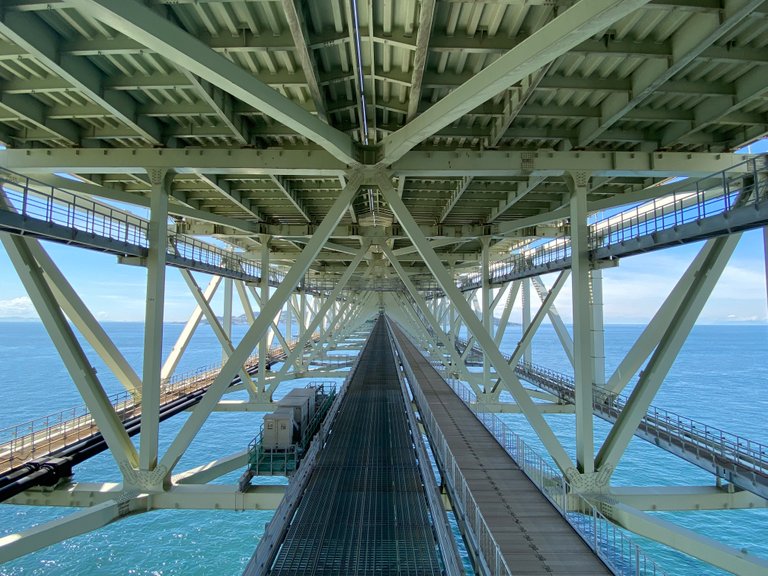 One thing I forgot to mention, the bridge is constantly shaking and swaying from booth the traffic above and the winds. Sometimes it's subtle, other times it's strong enough to make you think there is a small earthquake. I'm not a fan of heights so I got my thrill tour in quickly and made my way back down to the safe ground below.
Just passed the bridge there was this sculpture called "Monument Lens".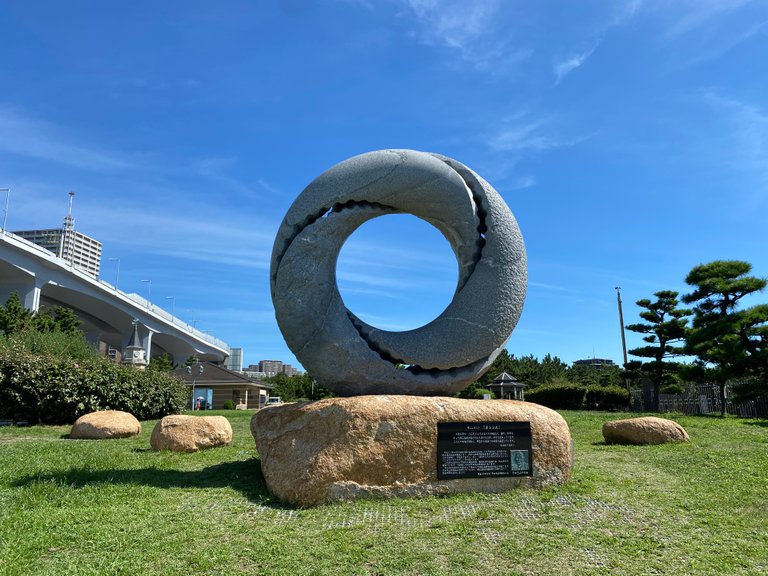 I immediately took a liking to it. It's a granite sculpture in 3 phases of finishing, the initial rough phase, a second smoothing followed by a third polished phase. Now I'm not sure what their reasoning was behind the sculpture, but I loved it for what I took it to be. It also offered some cool framing for pictures.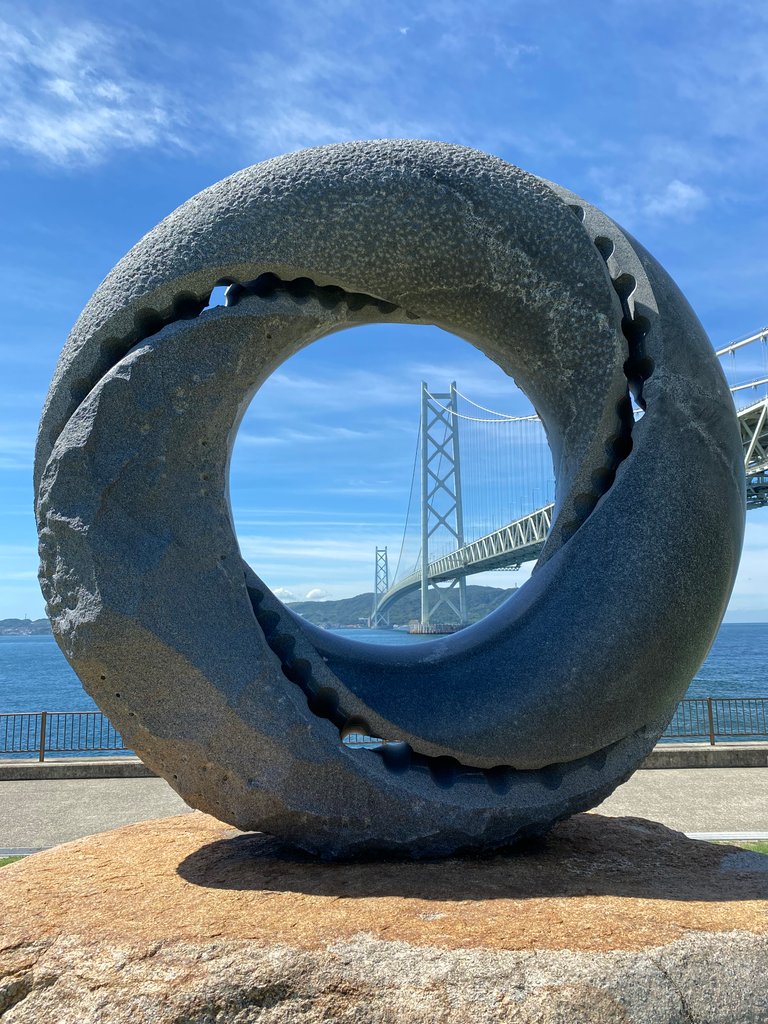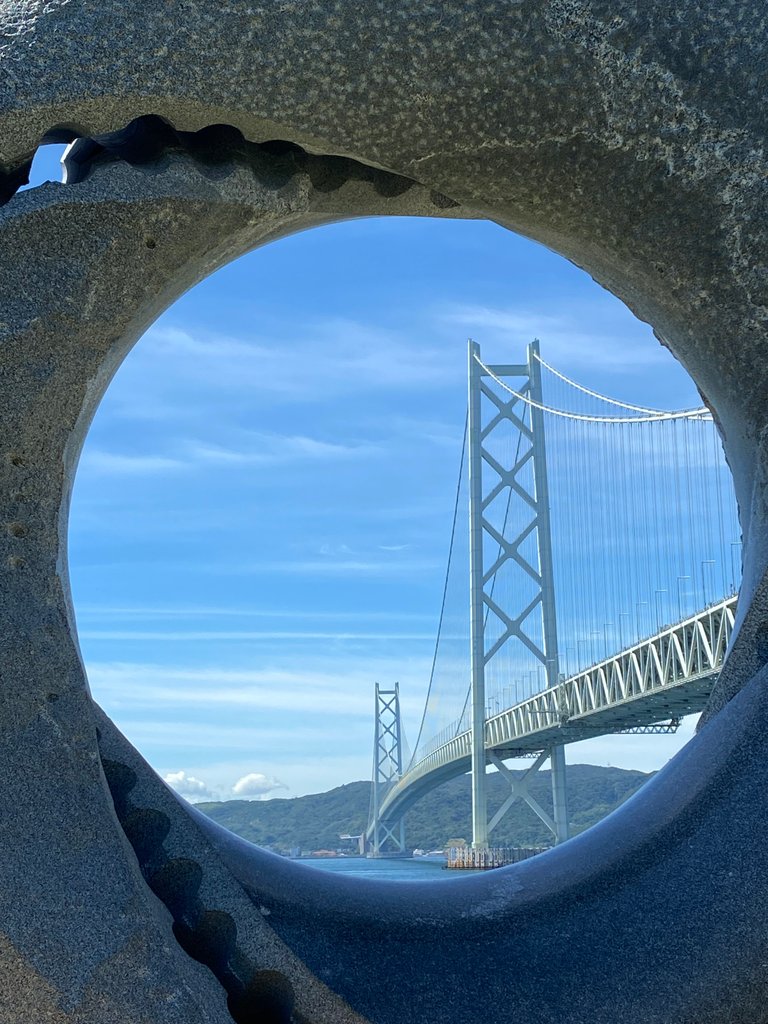 Continuing on I knew there was a beach about 5 minutes away so I headed over there.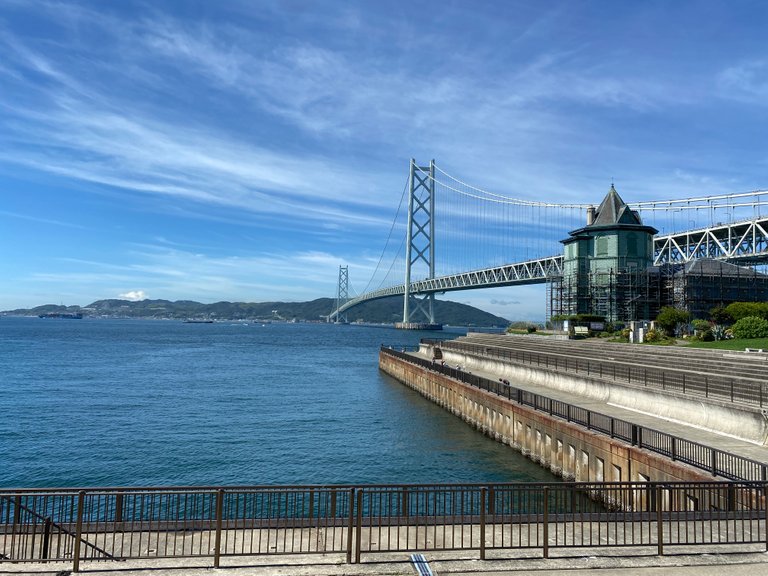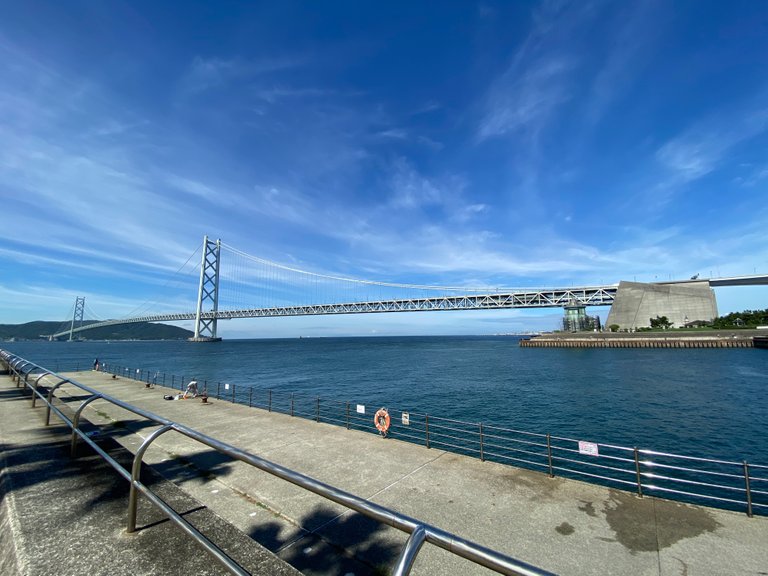 I rounded a corner and there it was, a beach!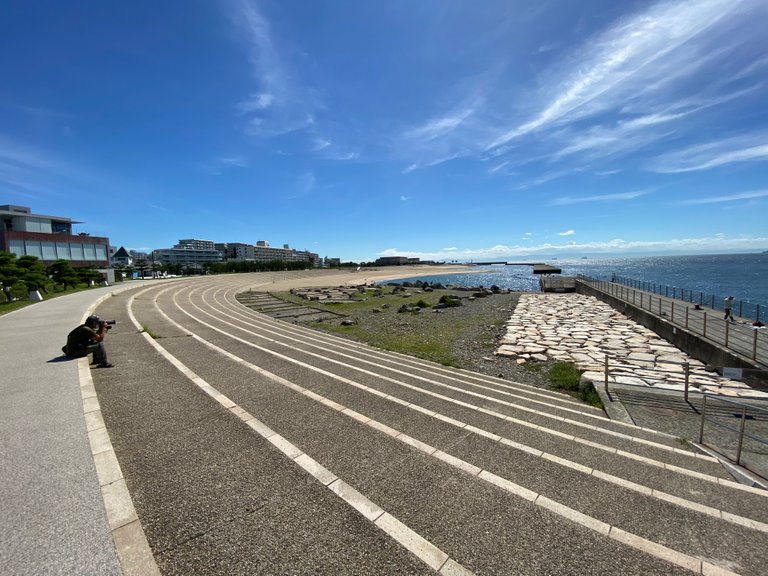 The beach is called Azur Maiko and has areas to do BBQ and of course water to dip your feet in.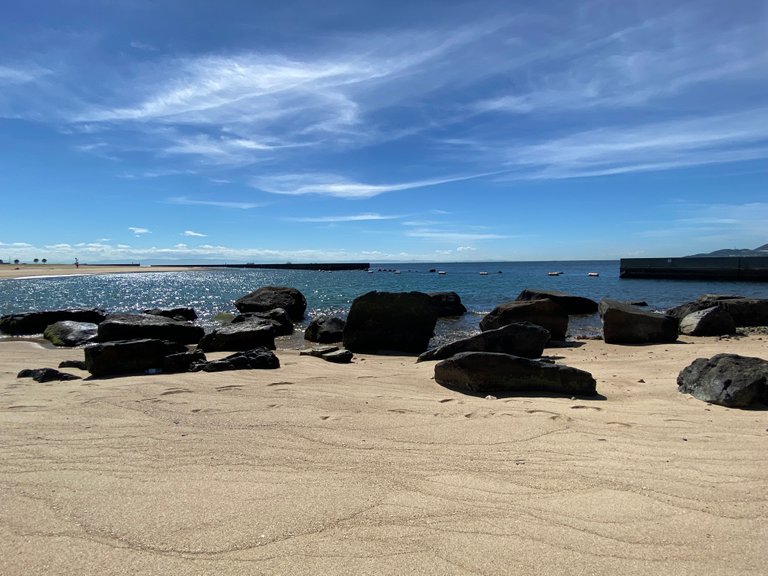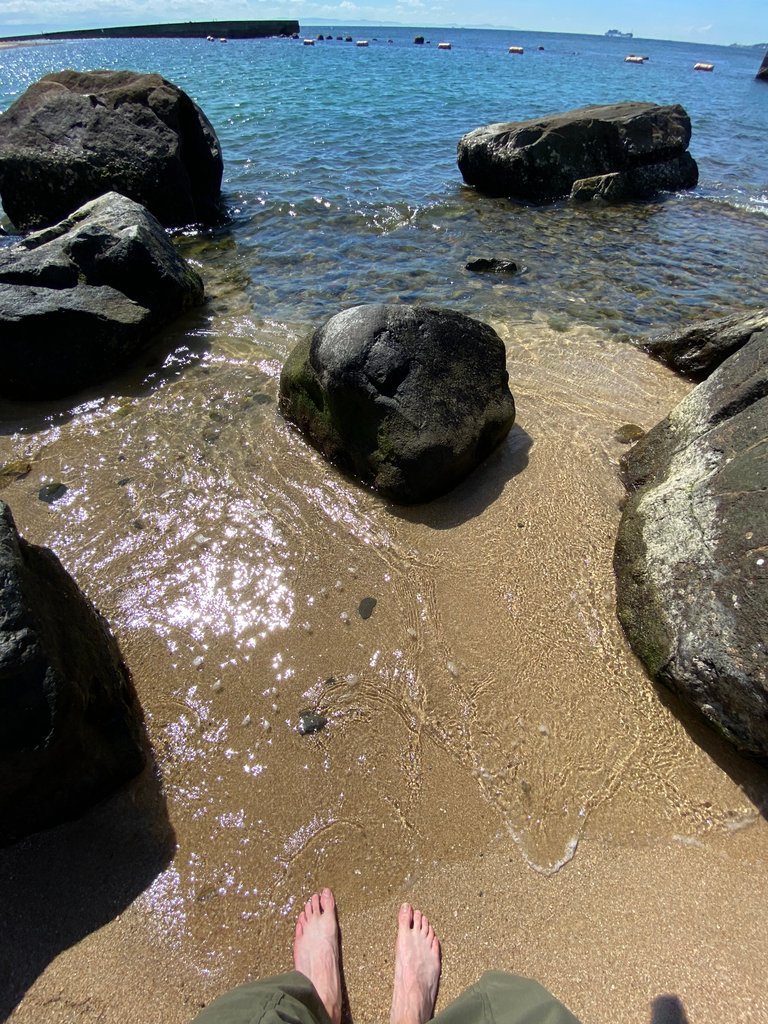 After walking around for several days in a row the sand and cool water on my feet felt amazing. I was Earthing. There was one drawback to this beach though.....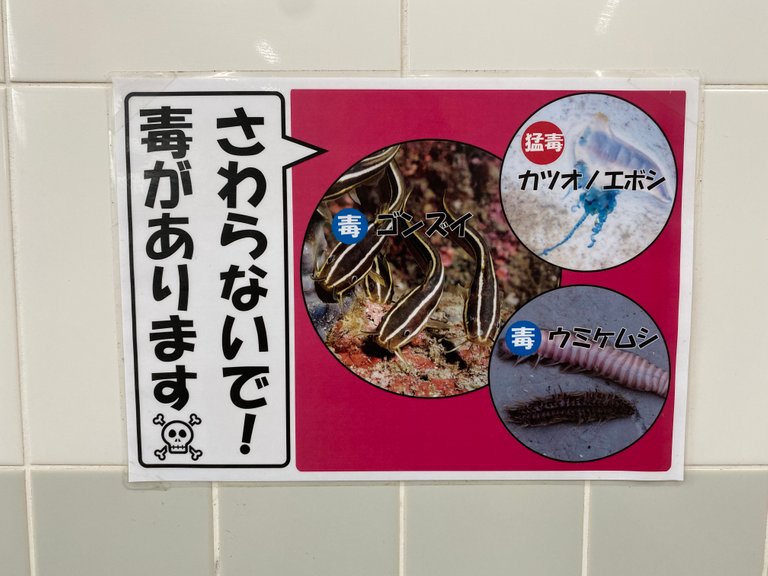 3 poisonous critters can lurk in the water. A fish species, some worm looking thing and the most dangerous, the jelly fish. I didn't see any so I walked in the water along the way.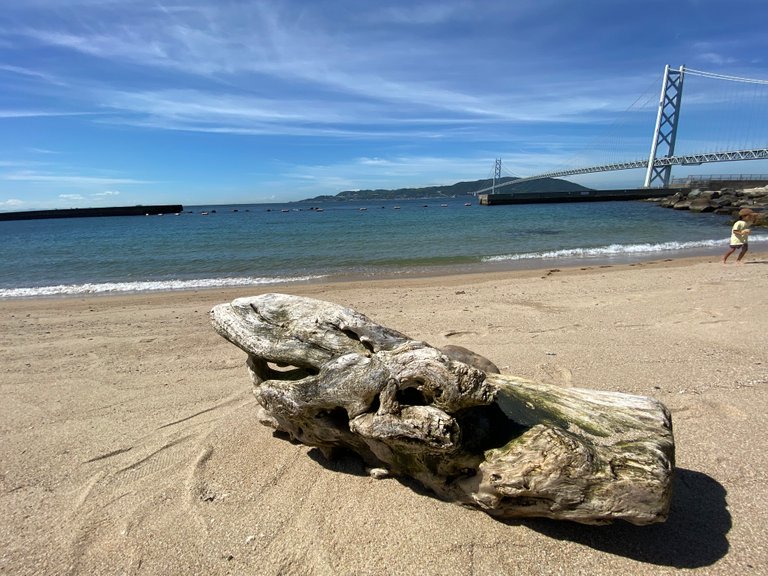 The weather was nice, but a little on the hot and humid side. Nothing a swim in the bay couldn't cure, but I wasn't prepared to go swimming so That just means I'll have to come back another day.
That concludes this first of a 5 part Adventures in Kansai series I'll be doing. The other 4 will be about Kobe, Osaka & Kyoto. I had an incredible trip down there and hit a bunch of major tourist spots taking about 700 pictures & video.
I've heard people mention how different the Kansai region is from Tokyo. It's known as the heart of Japan and while not being able to grasp completely what that difference is, you can definitely experience it. It's like the DNA of Japan or the origin of culture, from the people to the places you feel it. I still love Tokyo, but man I really would like to live somewhere in Kansai and soak up what ever it is down there.
Anyway, see you in the next installment in a few days.
If you are interested in Japan or mining gems and minerals in the Western US you can see all of my posts on Pinmapple over the years here: https://pinmapple.com/@rt395
Thanks for reading!
https://images.ecency.com/p/54TLbcUcnRm4Bw8fmw3Y3ebiYW61dkW16qTycFmcqeXNzuTciodg6XME4GiyKtJXHVFdcfxUwqAoXTX4Cspdwt5JZXNT44BXXh6civFcHfxgtkaBbHK3jDPjSmYzVNFSHBCJ7yoo4.webp?format=webp&mode=fit