I can't scroll through Google or FB these days without being confronted by an aircraft that's been turned into a cafe.
It seems to be the latest trend in Thailand, but old aircraft laying around the town in strange places is not a new phenomenon. Just do a search on @pinmapple around Ramkhamhaeng 62 in Bangkok and there at least three posts about the aircraft graveyard there.
But now, we are sick of planes rusting away, we want to eat and drink in them....and take lots and lots of photos!
But I didn't just want photos, Oh no! I wanted to sit in the Captain's seat on the flight deck, and wear a Captain's hat whilst twiddling some knobs and pulling on some levers and the only aircraft cafe I know where I could fulfil this minor life goal was the 747 Cafe, close to the real airport in Lat Krabang.
As you arrive, you immediately notice the size of the thing, peeking out from the side of a very popular Korean BBQ restaurant.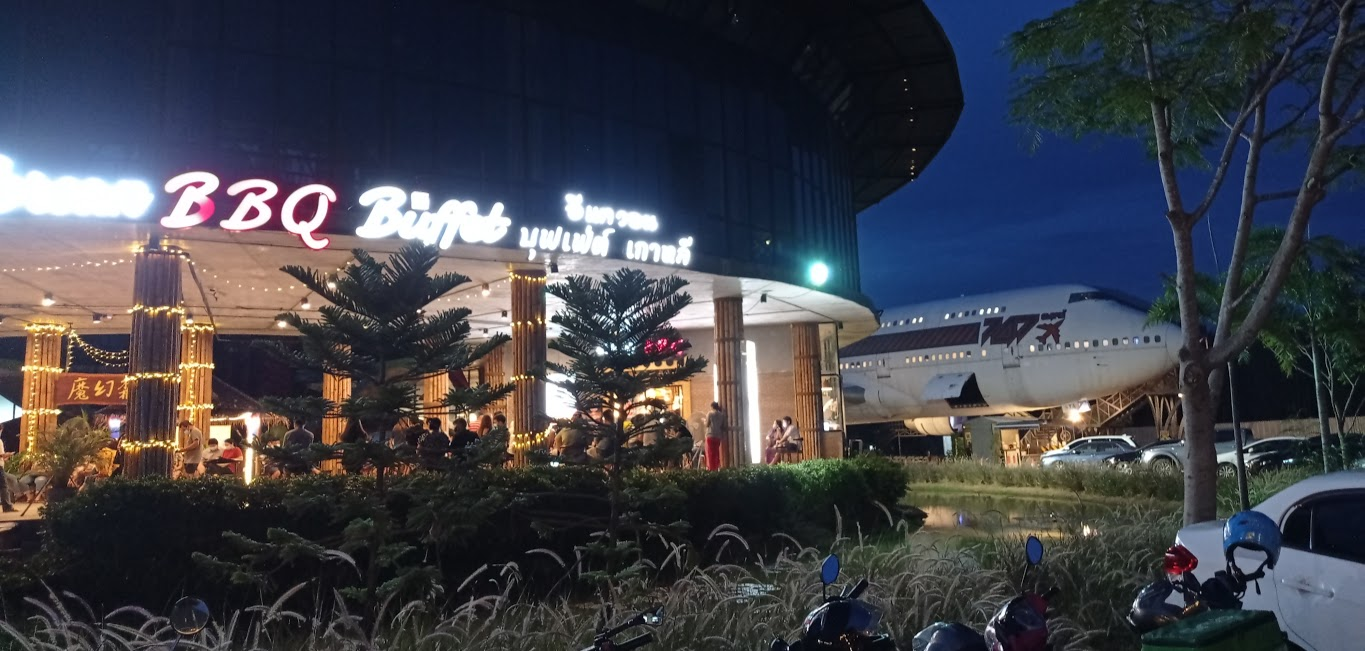 Now we actually arrived in the light and there were a number of people milling around the outside, taking photos and swinging on the swing that hung from one of the wings. You could also actually go and sit in the engine cowling, Instatunities were everywhere!
To be honest, my first impressions were a little sad. The cafe logo is rubbish and the old girl herself looked tatty and rundown, not what I was expecting from a venue that's only been open for about a year I believe.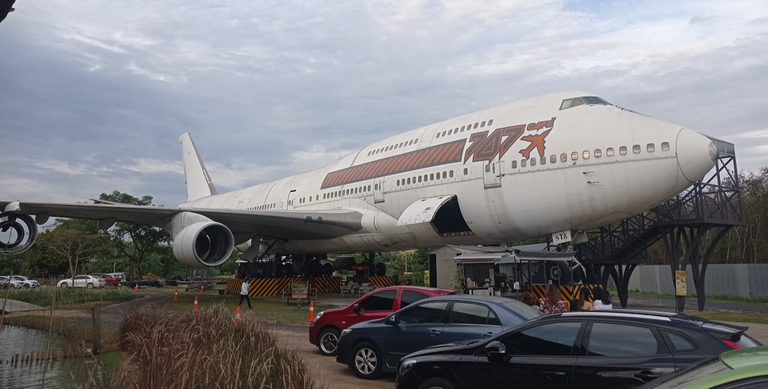 Never the less, it was a very rare opportunity to get a close-up view of a genuine Boeing 747-400. There will now follow, a few close-ups of aircraft parts with a little commentary which I find fascinating but if you're here for the food and drink review, scroll down a bit!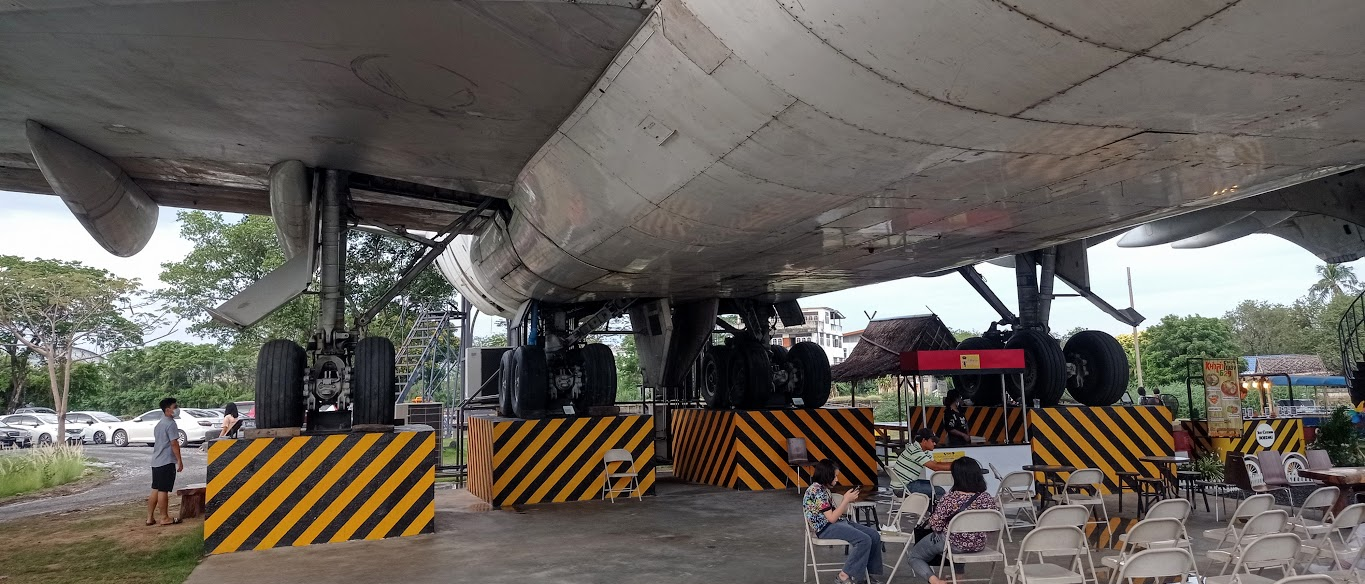 Walking around underneath it left me in awe of the sheer size and weight of this mechanical marvel. Those wheels have to support the 412,000 Kg of weight and then that same 412,000Kg gets pushed 7 miles up into the air by 4 huge jet engines and gets blasted along at over 500mph. The rivets, flaps and panels were all original from the day it left the factory in 1992 and I was a little sad, as I often am when I get up close and personal with any mechanical marvel that is now simply sat, never to move again in the way it was designed to.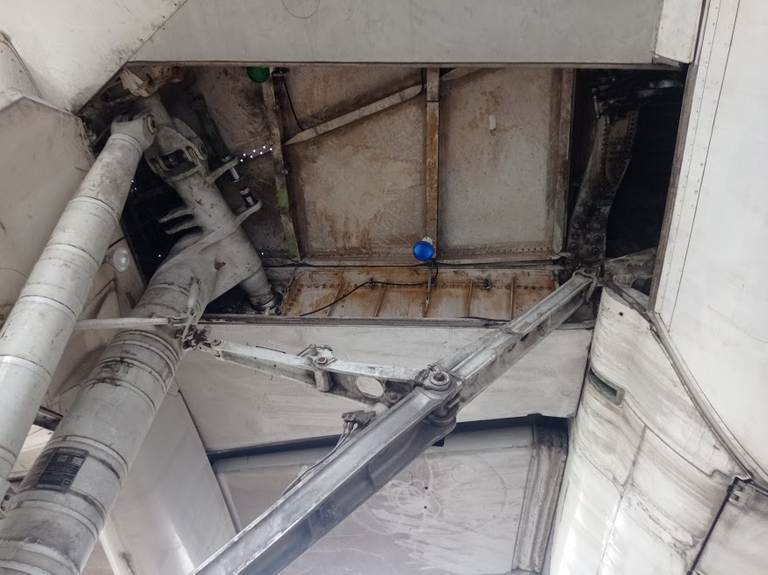 This is the strut and wheel-well where the undercarriage disappears into and where sadly, some people have met their end as they tried to stow away.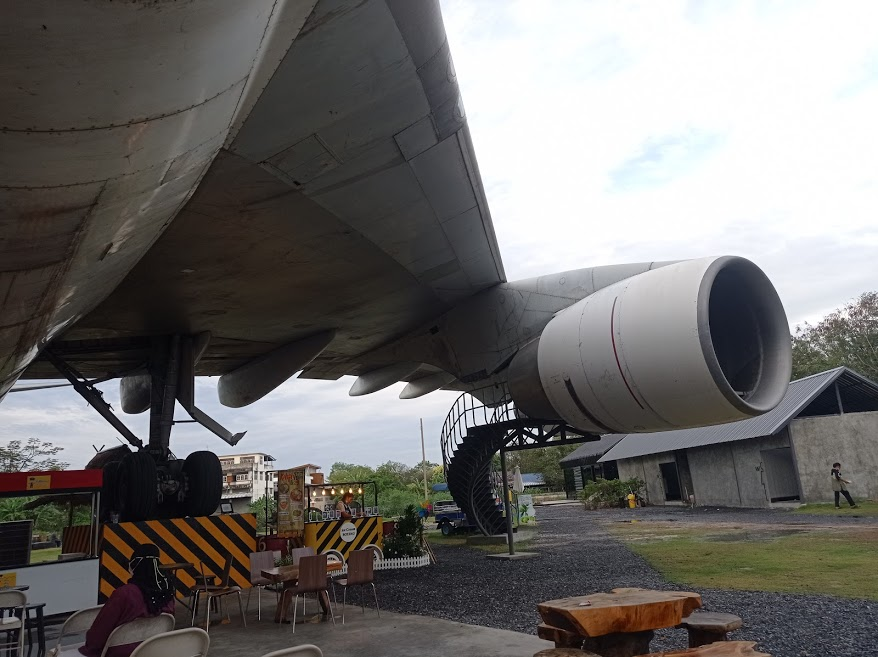 The 747-400 has a 212 feet wingspan and has four huge engines slung underneath producing 252kN of thrust per engine! How the hell do they stay attached to the fuselage? See the staircase? Although the engines are removed, the cowls are still there and you can walk up the stairs and sit inside the engine for a photo. Again, it's Thailand so we won't worry too much about falling out onto the concrete below and smashing your head open. Everything at your own risk!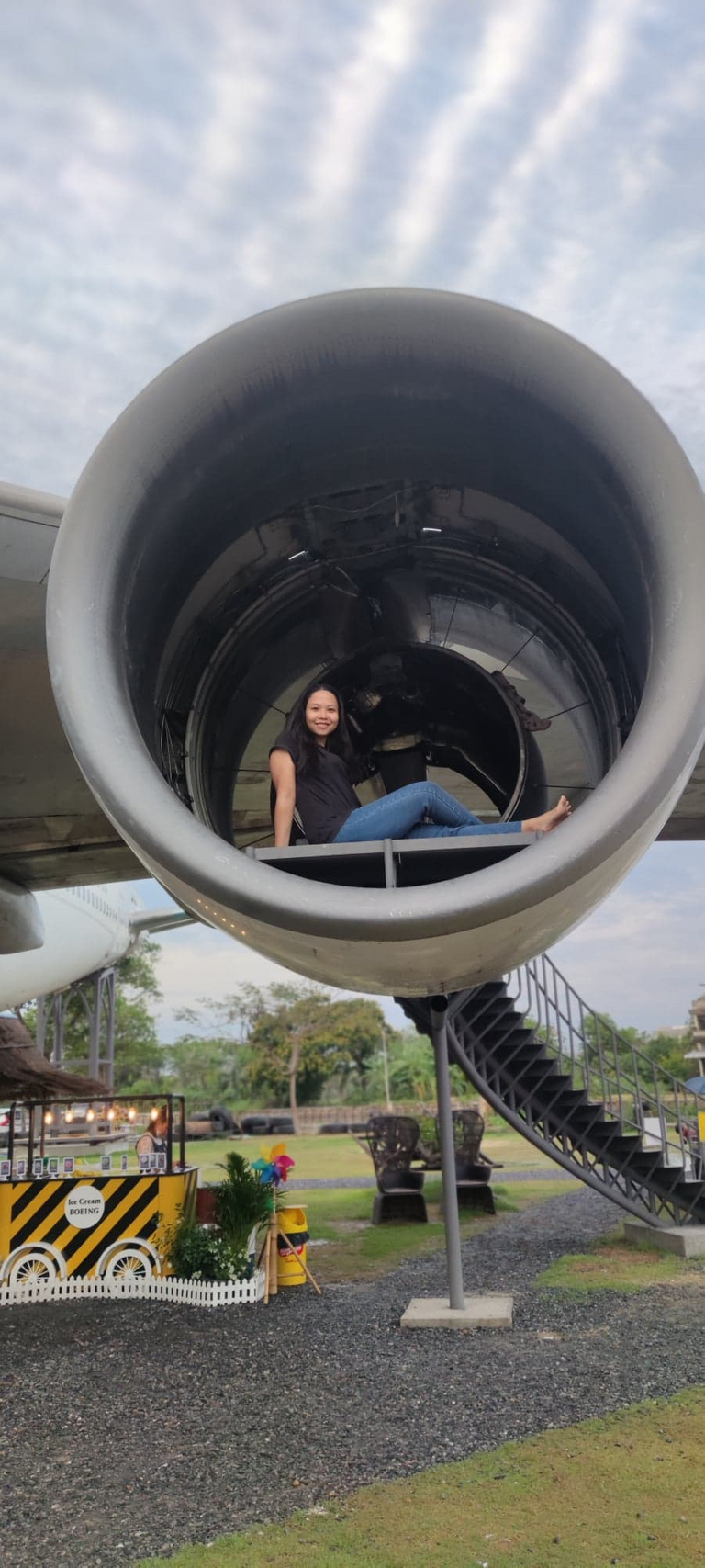 The wife ably demonstrating her sit-anywhere-with-her-legs-stretched-out Instagram pose. Learning this pose is actually part of the national curriculum in Thailand.
So before we actually get inside, let's have a little history about this actual aircraft
Boeing 747-422 rolled out of the factory in Seattle and took to the skies for her maiden flight on 18 September 1992 and was delivered to her new owners, United Airlines, 10 days later for whom she flew all over the world until they put her into storage in October 2009 until she was sold to the now-defunct Thai Orient Airlines in July 2011. She was then leased out to Saudia Arabia Airlines a couple of times before Thai Orient retired her and put her into storage at BKK in April 2016 and there she stood until she was sold and dismantled before being transported to her current location to become an Instattraction and Cafe in February last year.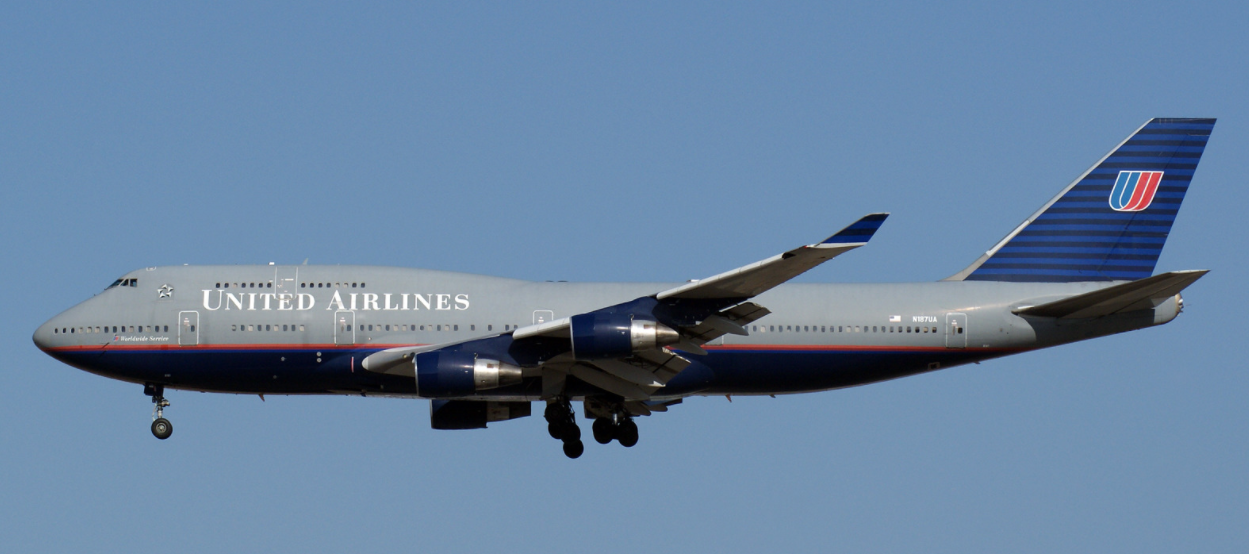 Hard to believe, but this is the very same aircraft in her smart United livery taken in 2007. This photo has obviously cropped and screen-shotted because I 'borrowed' it. The copyright belongs to Kaoru Kajima from planespotters.net. Don't grass me 'cos planespotters, like trainspotters are touchy buggers when it comes to their beloved snaps!
Finally, it was time to buy a ticket and climb the stairs!
Buy a ticket? Yup, the very ticket pictured below. They don't want people just going up there to take photos, so they rather craftily make you buy a ticket for 120Baht (£2.60, $3.30 USD) which is refundable against a drink purchase! Not a bad idea, I thought!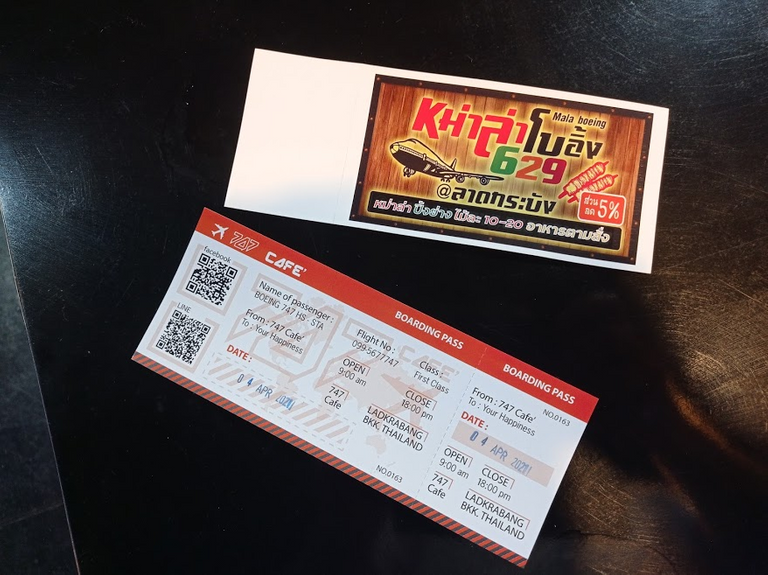 The ticket is a nice touch and gives you a sense of occasion and a nice memento if you like saving stuff!
And at the top of the stairs, you're greeted with a door that gives you a clue to the design of the space...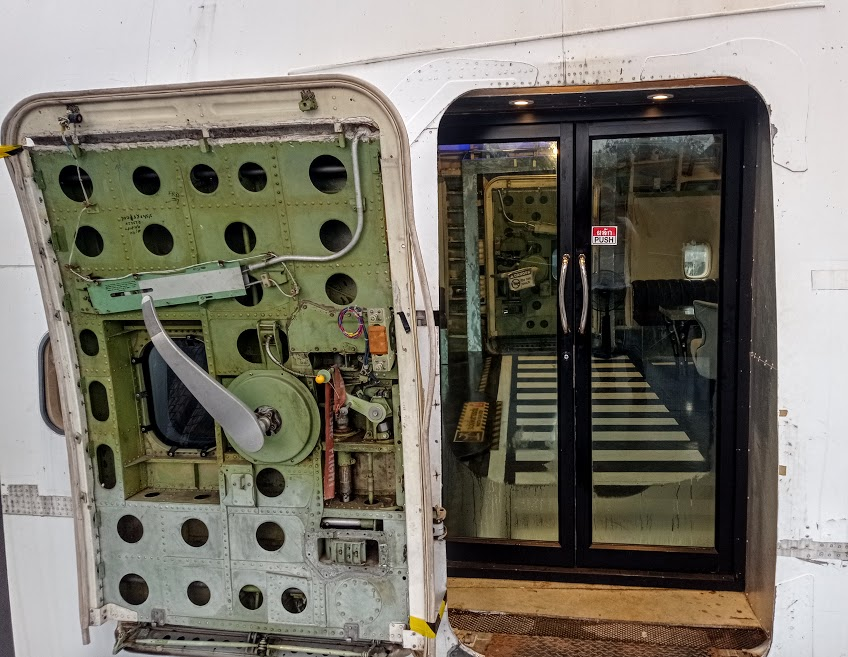 The Design
You walk through the door and the rather shabby exterior is instantly forgotten. The panels have been removed to reveal the airframe itself with a lot of the original electrical and hydraulic trunking still in place. The space is cavernous! The floor has rather been painted as a runway. There is various seating and tables but all continue the theme and everything combines to create a glorious, industrial-style design. The large glass table down the middle looks as though it was created from an aileron and whether the table legs are actually salvaged aircraft parts, or cleverly designed to look like they are, it really works for me!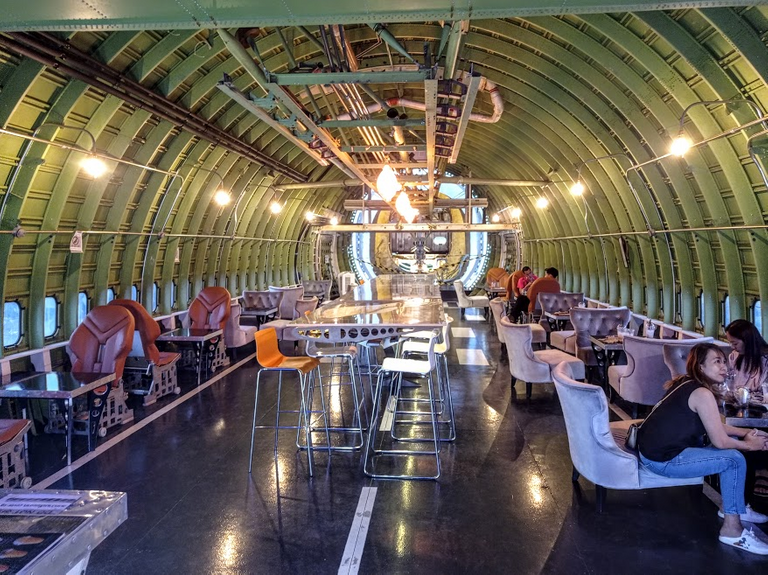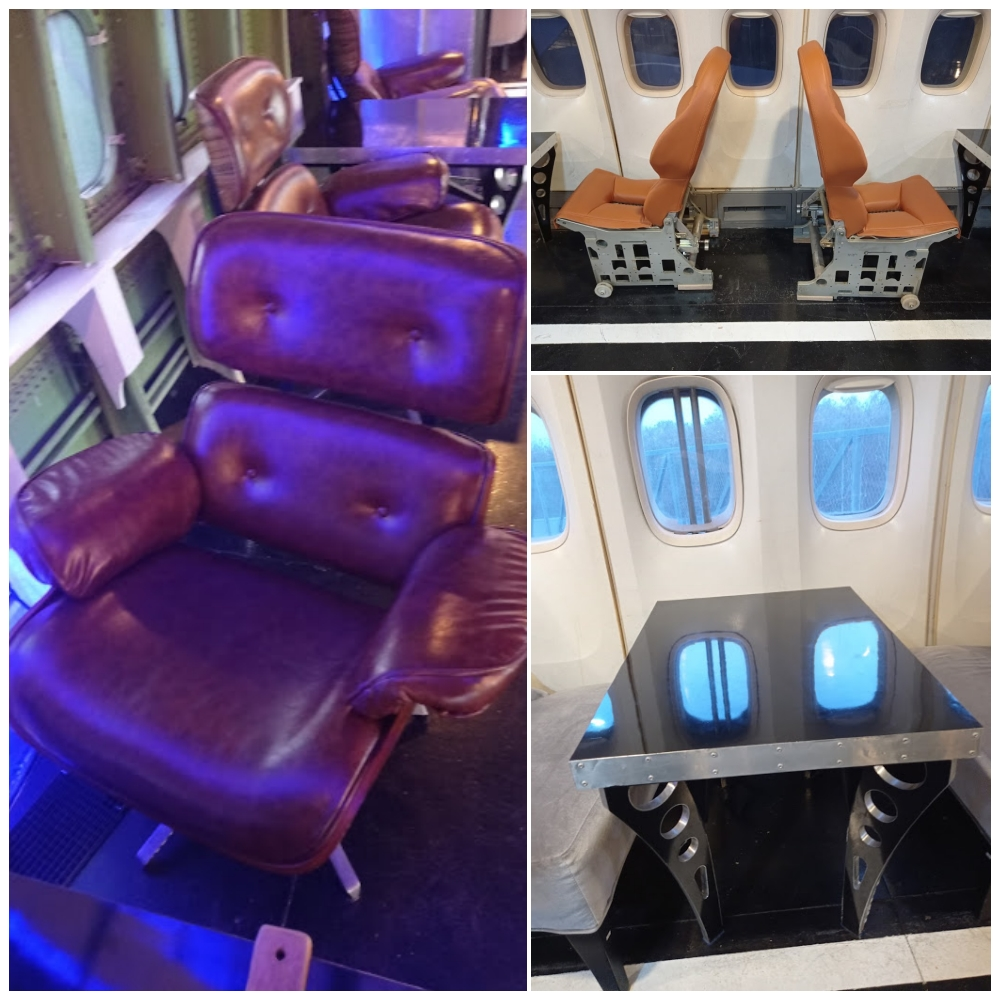 The chairs and tables were all absolutely sublime!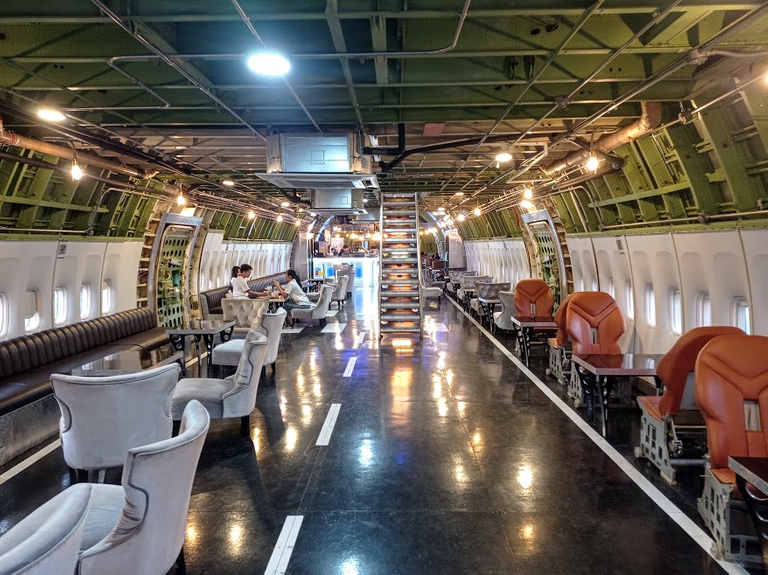 Looking the other way, the cafe counter is on the left, way off in the distance, and the staircase that takes you up to the famous upper deck takes centre stage!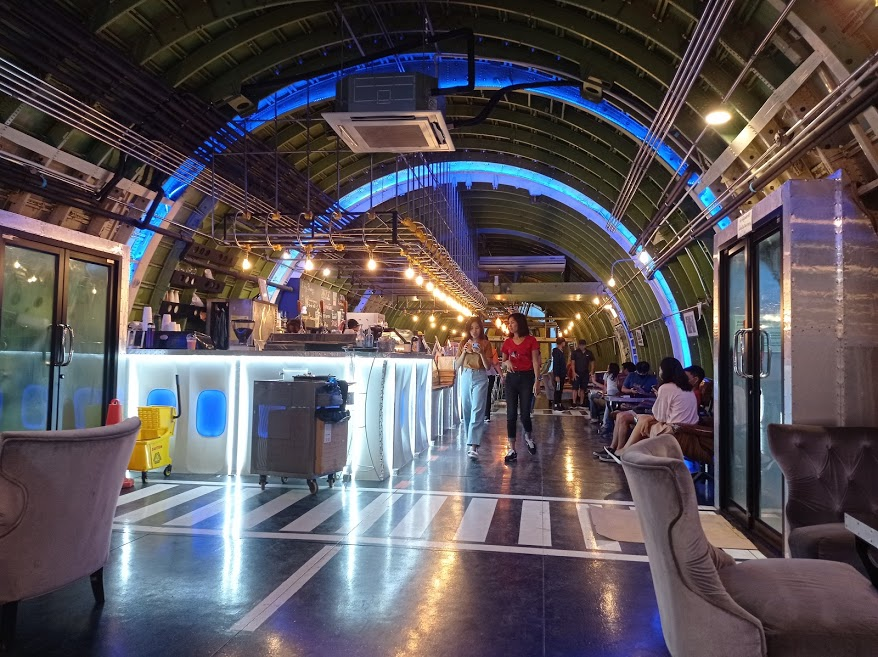 The counter itself was superb and as you can see, was made up of spare window panels and cleverly backlit! The hanging, central split aircon units whilst not being original of course, just added to the whole, futuristic and industrial scene! I must add, they were working hard. It was actually bloody freezing!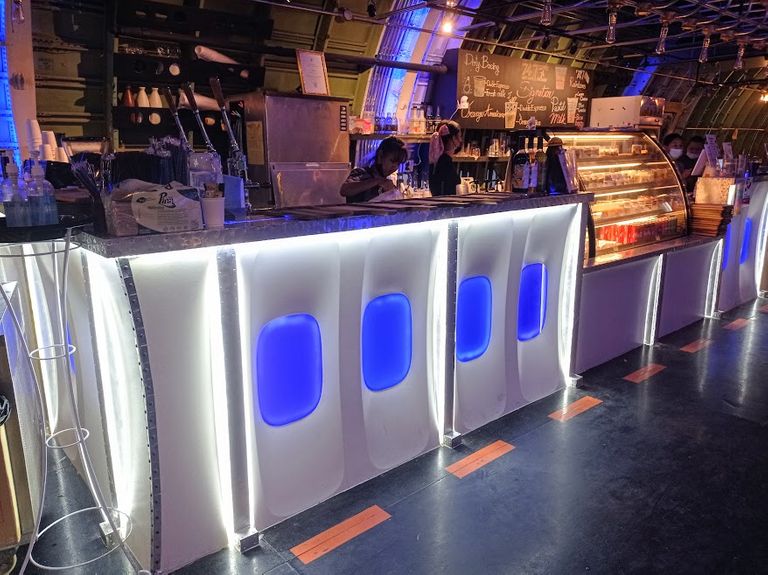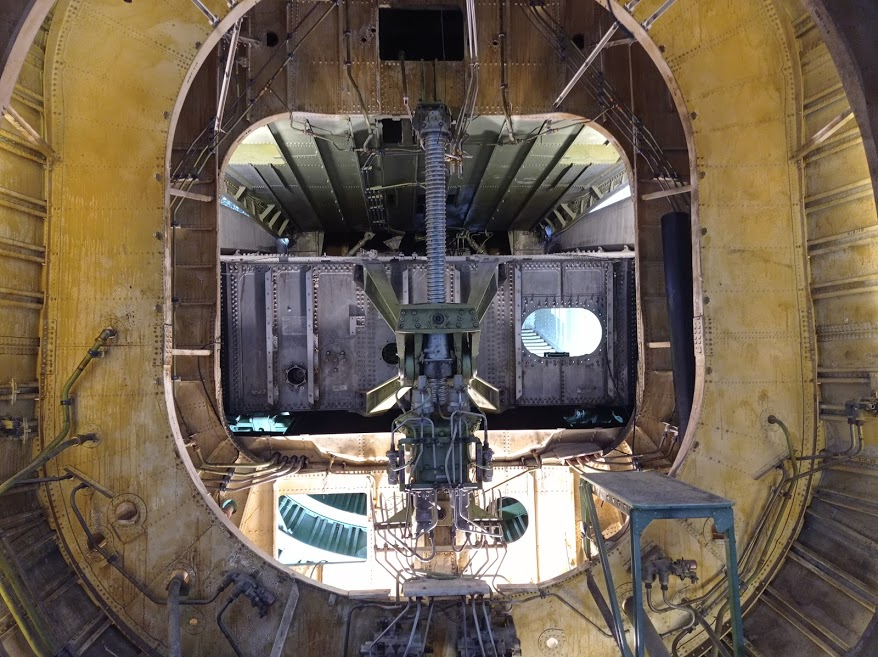 I'm sure you're wondering what this is. It is located right at the rear of the aircraft and normally this space would be hidden by a very strong bulkhead to create a barrier between the pressurised cabin and the unpressurised area in which the APU (Auxilliary power unit) would have sat. This has been so well done and proves that machinery truly can also be an art form!
At the front end, they really had gone for art and built this amazing interpretation of a jet engine where the normally boring front bulkhead used to be. Another perfect Instatunity!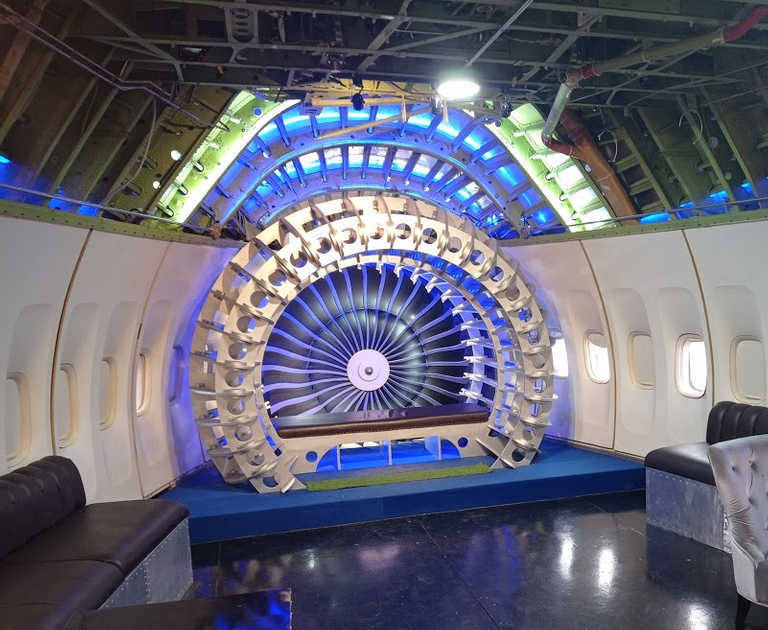 The funny thing was that it reminded me of fictitious Steampunk but yet this is a modern jet aeroplane and the whole interior is totally genuine!
Let's go Upstairs....
Now it's all getting a little exciting, I have never been up the magic stairs on a 747 before and of course, I knew I wasn't going to get the business class experience, I was going to sit in the Captain's chair...
Upstairs was simply a table and some seating but the holy grail was beckoning!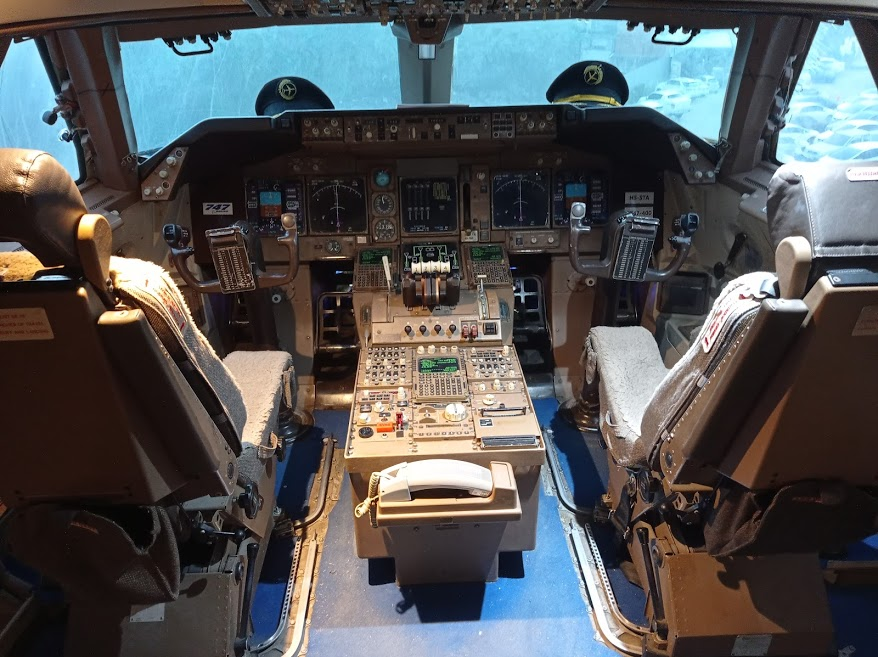 Look how high up the pilots sit!
Finally, the flight deck and the first thing to mention is that it's all genuine. The displays have pictures overlaid on them but the dials, knobs and levers were all as they were when it was flying. You could really turn the knobs and the control yokes could be turned and pushed and pulled and the pedals could be pressed! All the labels were intact and it was fascinating to study the bewildering array of controls!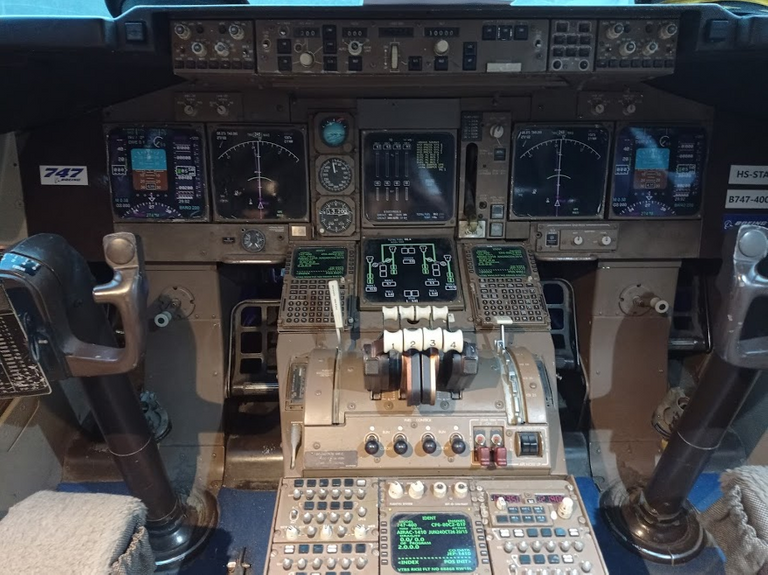 It was strangely a mix of very heavy duty vintage-looking flight controls and modern electronics and technology all placed into a very utilitarian scene. No 'fly-by-wire' when this girl was built, the yokes moved lever and rods which are connected to actuators and then hydraulics do the final movement.
See this next picture, as the kids upstairs were moving the yokes around, you could see the linkages that once would have run the whole length of the aircraft to the rudders and flaps.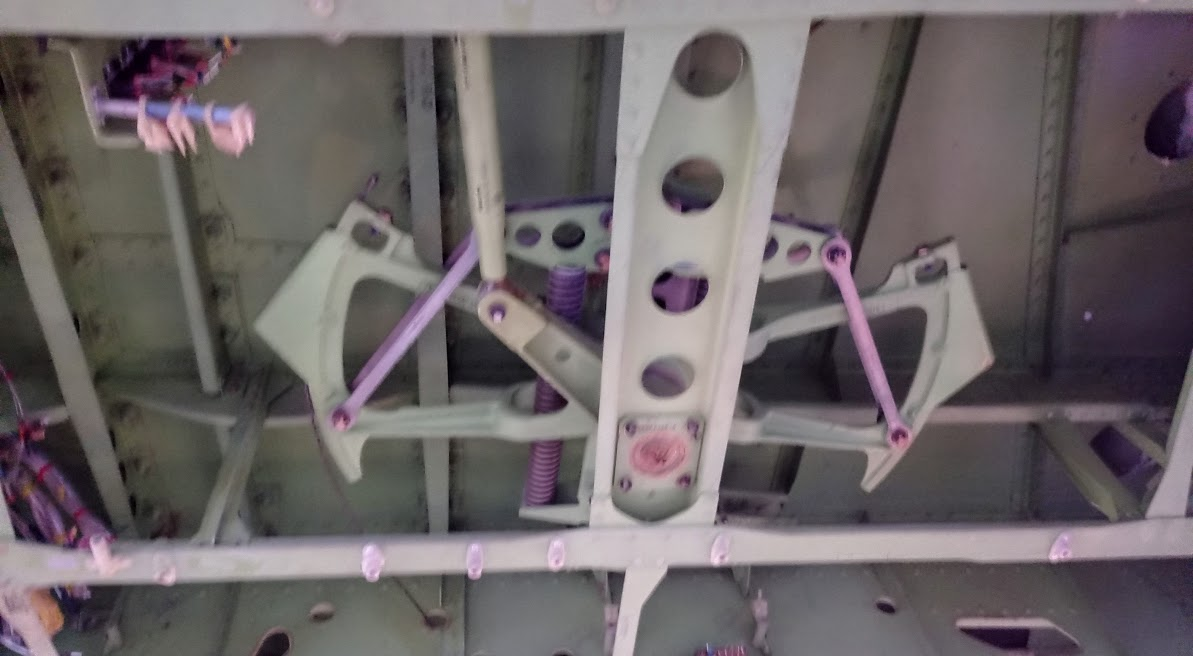 Not the best photo in the world but the lighting was difficult and I was so excited I was trembling lol
I'm glad we visited when we did. I am sadly sure that if I come back in a few months, half of these units will have been unscrewed and robbed. This stuff fetches a fortune on eBay and AV Geeks will do anything to get old aircraft parts. The picture I forgot to take was the pilot's ashtray which wasn't even screwed in, neither was the flight deck printer. Even the control knobs and switches could easily be removed as mementoes and so I got to fiddle around on the complete thing!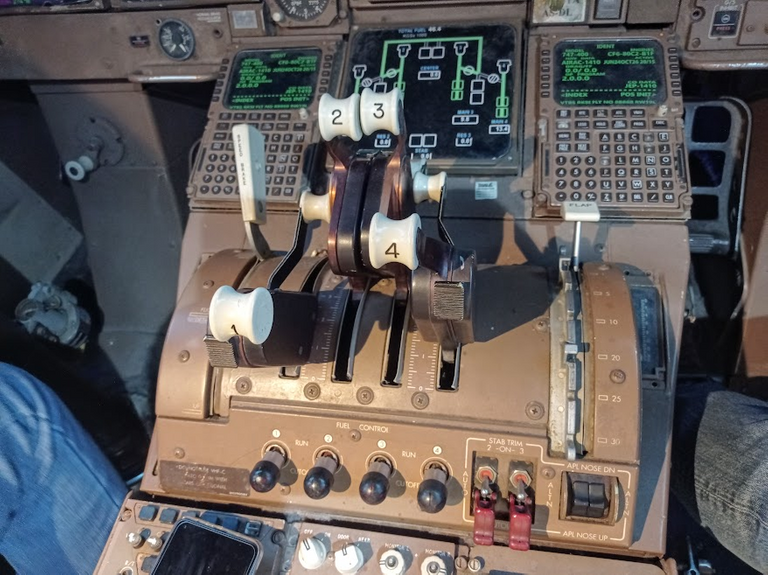 Engine 1 rolled back, 2 and 3 on full thrust and engine 4 can't make up its mind! The wife was driving at this point!
I am so regretting not taking more pictures but I was just too busy examining what everything did and enjoying the whole experience of trying to imagine what it must be like sitting up there in charge of 450 lives, 400 000kg of technology with a value of over $300million USD! No pressure then!
So back downstairs...
and a quick trip out onto the wing, and this time, they'd gone full-on health and safety with a railing stopping the selfie-takers falling off the wing!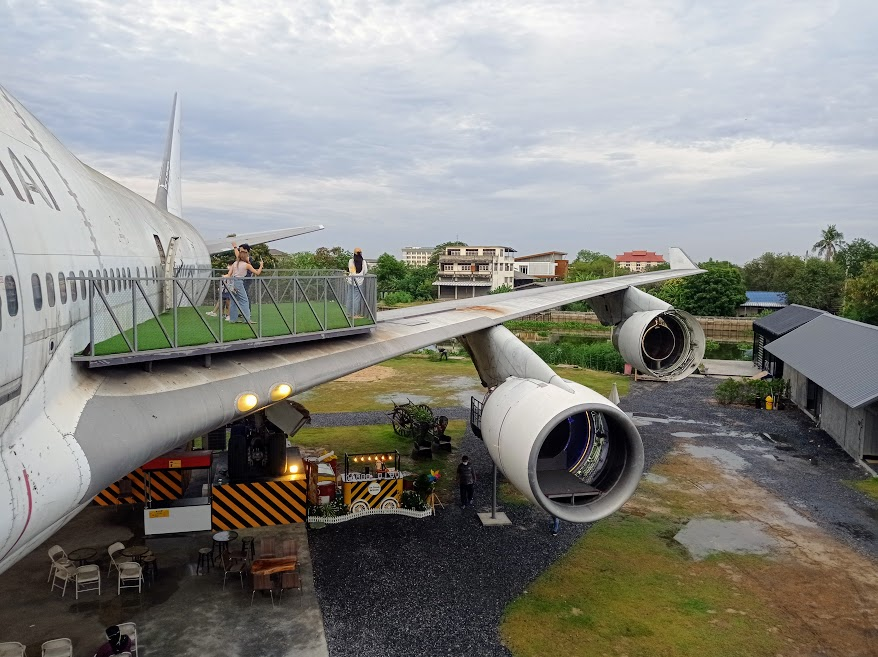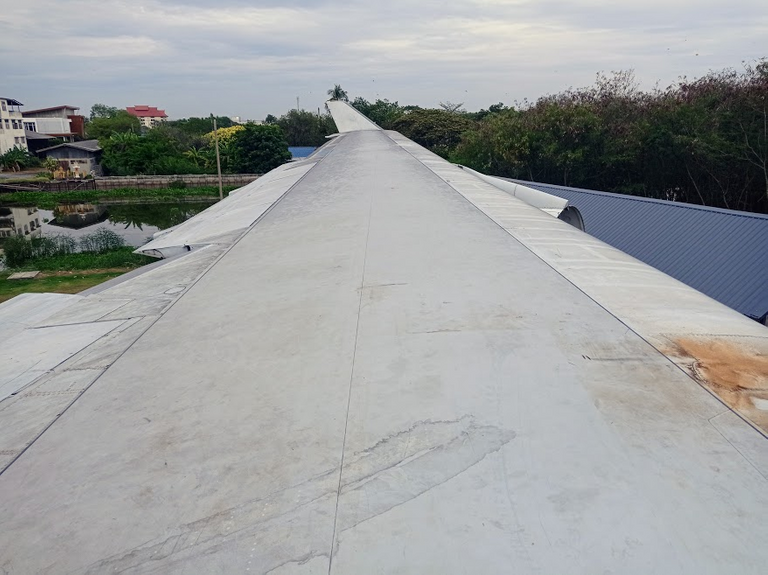 A view down the wing!
Err. The food and Drink Part?
Sorry, I almost forgot! Well, there wasn't really any food. They used to do a range of meals but that got put on hold so there was just the usual fayre of Iced teas and coffees and 'Italian' sodas. To eat, there were a few pieces of rather unappetizing cake in the cool display unit but we didn't bother so it was a quick cappuccino for me and a Chai yen for the wife!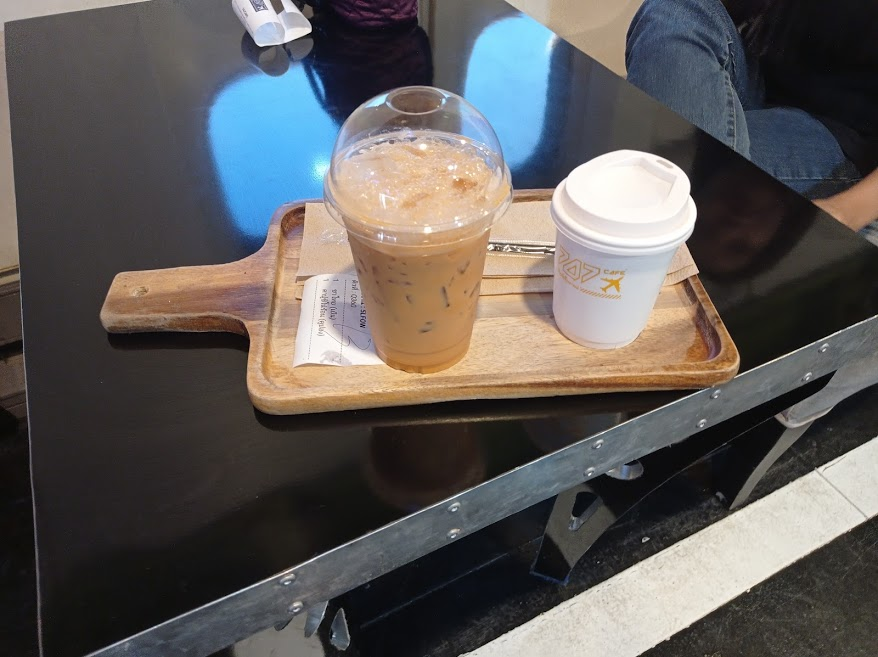 You wouldn't come here just for the drinks, although for all the nomads, it's a fabulous workspace in a handy location.
It closes at seven and as night fell, it was time to go. The plane had all her lights on and the engine cowls had been given a ring of LEDs to make them glow as though they were firing...
...and if you looked up at the old girl, and squinted your eyes ever so slightly, she suddenly didn't look so shabby in the half-light. She looked magnificent as though she was flying proudly through the sky once more carrying excited passengers in safety and luxury to a far off paradise!
As usual, this post has been pinned on the wonderful @pinmapple. All photographs, unless stated are mine and any additional reference has come from www.planespotters.net and www.wikipedia.com.