Little Switzerland, Lynmouth in UK
Lynton and Lynmouth are a pair of quaint seaside villages on the North Devon coast of south west England. Lynton is perched on the hilltop at 500 feet above sea level and Lynmouth is located down by the sea. A while ago I wrote about my visit to Lynto and walking along the coast down to Lynmouth. This time, we're going to explore Lynmouth.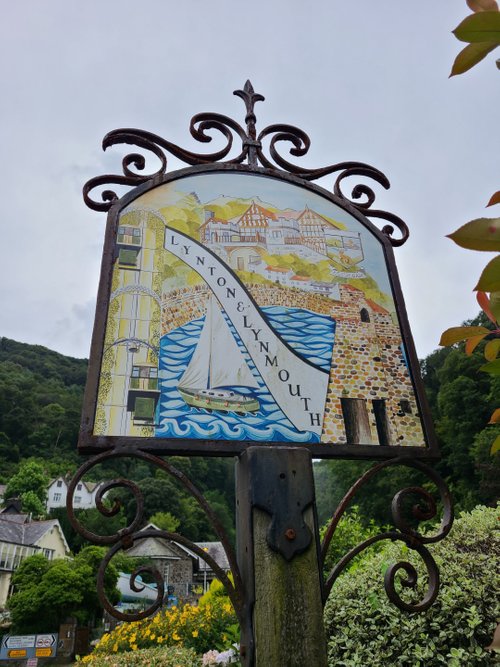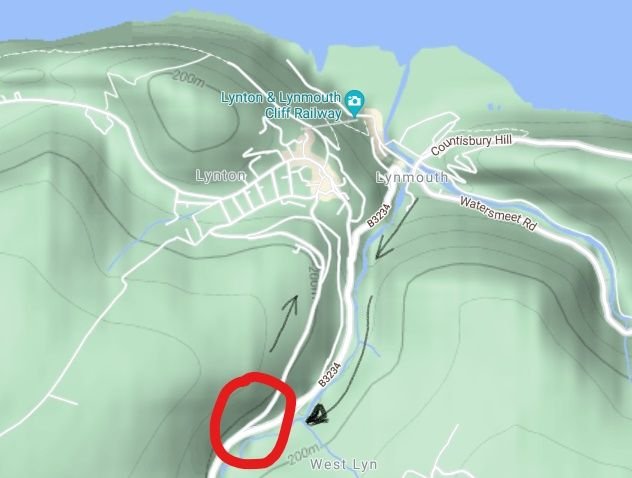 The two villages are only less than a mile away by car but the drive is quite a challenge, or thrill depending on your driving skills. From Lynmouth you drive along a stretch of road with a slight uphill, then you take a sharp hair pin turn up a narrow road with a 1:4 gradient which is just enough for two cars to go by. This short stretch of road will take you from sea level to 500 feet above sea level. Boy! I totally wasn't expecting that. The little stretch of drive nearly scared the hell out of me especially when I saw that steep hairpin turn!!! If you love driving, I'm sure you will enjoy driving around here. That said, once I got up to Lynton, it's a really charming little village and all was forgiven.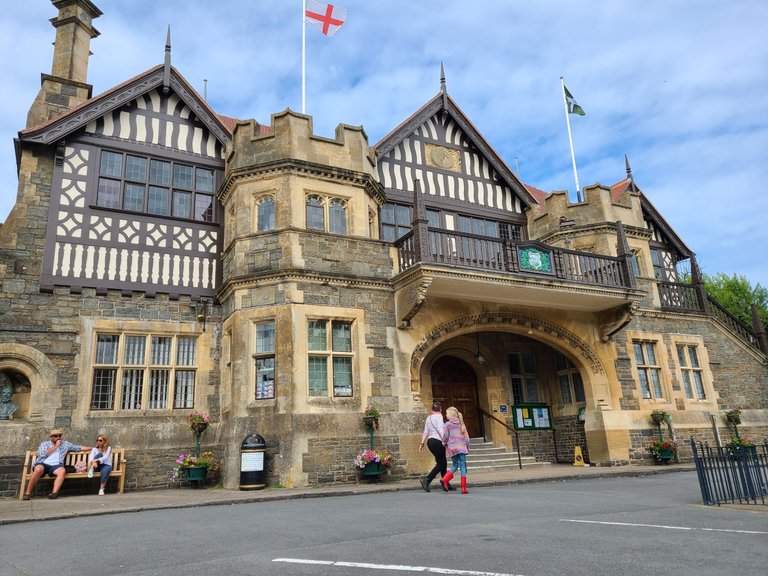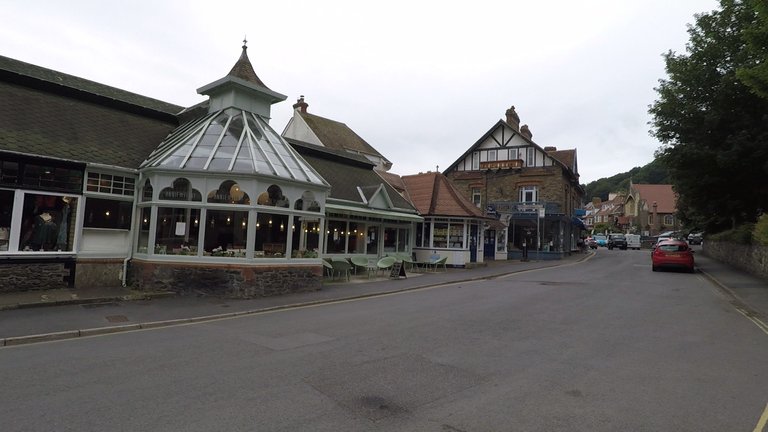 ---
Little Switzerland
Lynmouth is a lot busier than Lynton, maybe because it is more accessible as visitors don't have to drive up that steep road. The area is also known as Little Switzerland, after the English poet Robert Southey visited in 1799 and remarked that it looked like Switzerland! What do you think?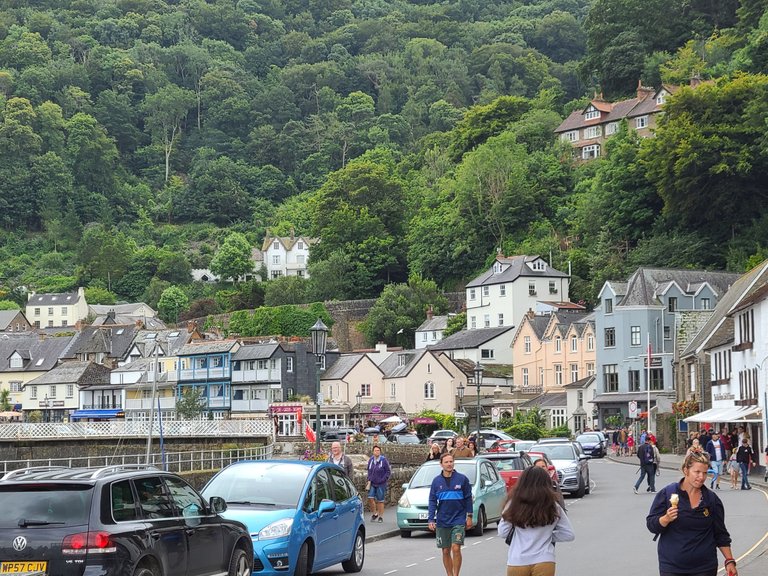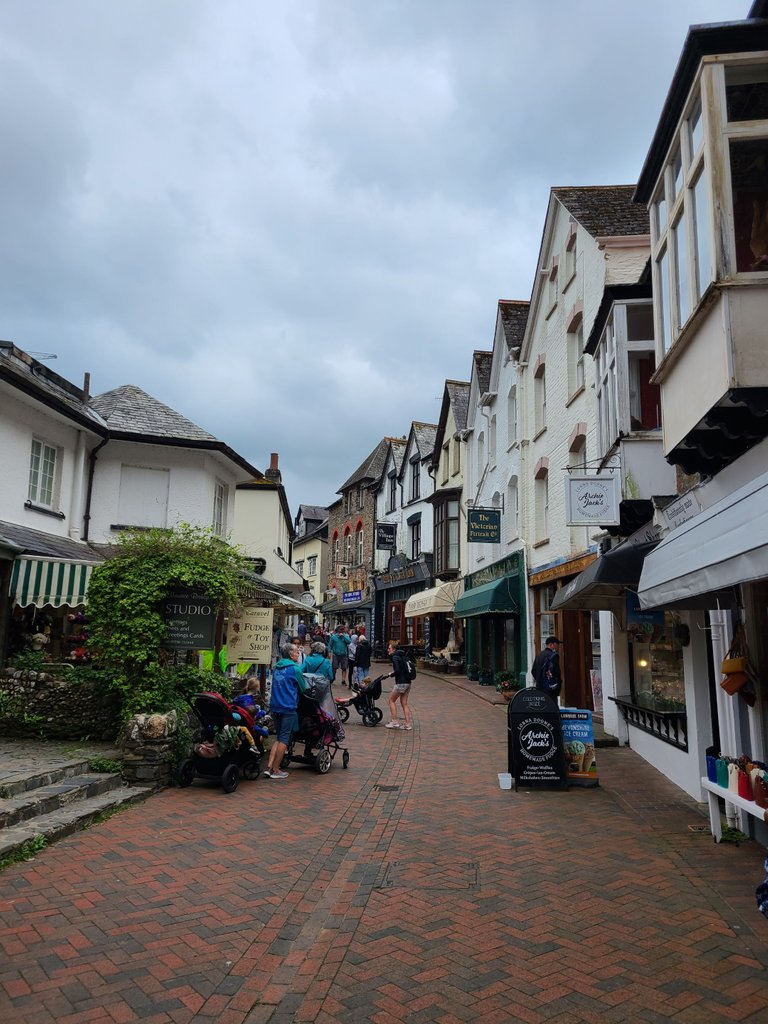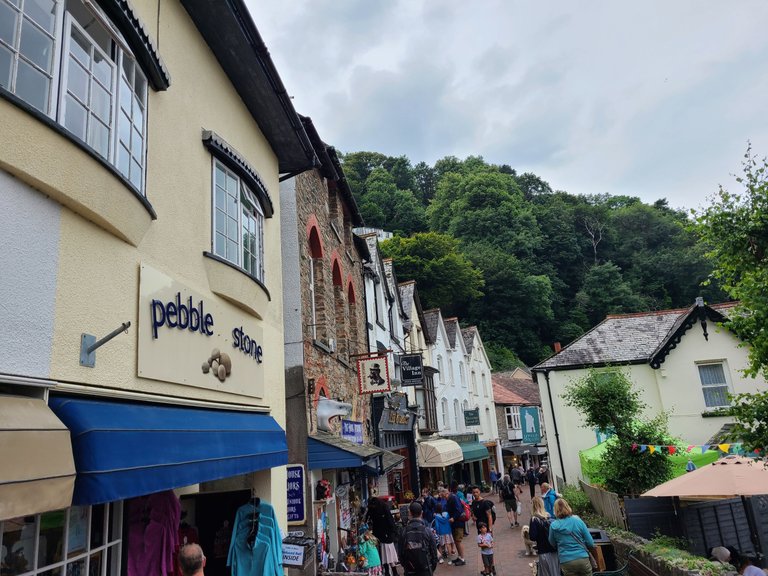 ---
West Lyn River
In England, place names that end with 'mouth' (pronounced 'muff') are normally located by the mouth of a river. Lynmouth is located by the West Lyn River. The river is important to Lynmouth as it is an integral part of two of the most famous local landmarks which I'll show you in a minute.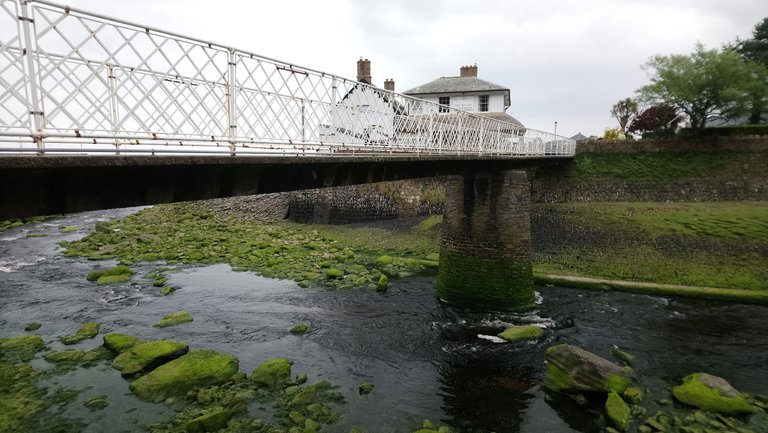 This is the West Lyn River looking inland towards Lynmouth village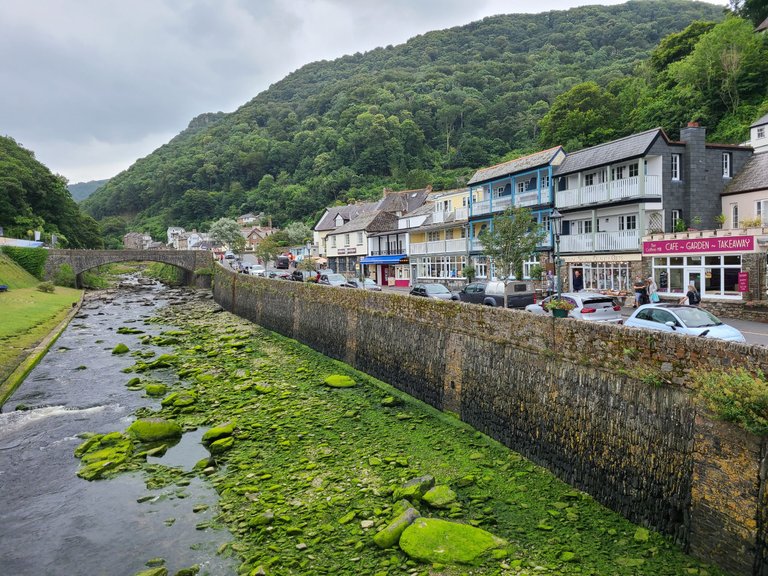 And this is looking north towards the sea. The West Lyn River ends here, entering into the Bristol Channel and then out into the Atlantic. Although I was standing right by the sea and it was quite a gloomy day, it wasn't windy at all. The whole area felt really calm and pleasant, no wonder it's such a popular place in the region.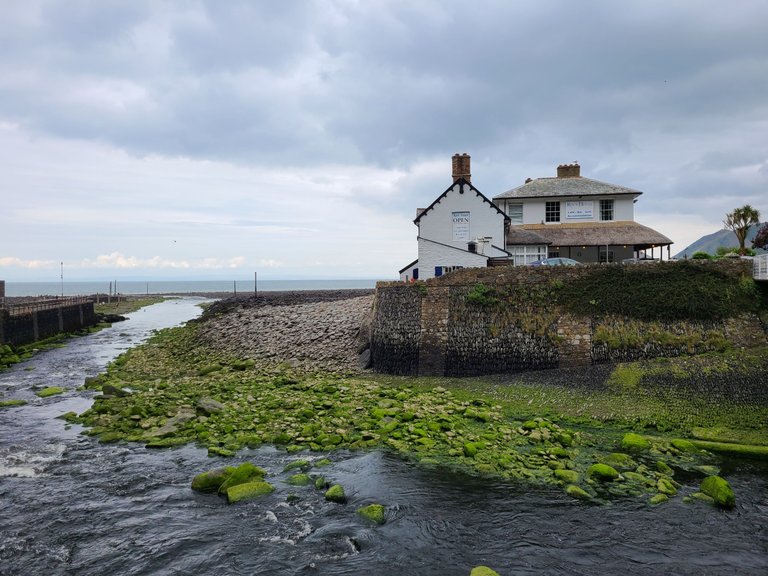 The same couldn't be said back on 15th August 1952, pretty much 69 years to the date as I'm writing this. On that day, Lynmouth suffered the worst flood in English history. It had been raining heavily for two weeks already, and during those 24 hours on 15th August, 9 inches of rain fell in the area. Much of the nearby regions were flooded and the water that fell in that one day would supply the water needs of Lynmouth's total population for 108 years. The network of tributaries from the upstream rivers carried lots of water and rubble downstream, eventually meeting at Lynmouth. All this was too much for Lynmouth, and the West Lyn River rose by 60 feet flooding Lynmouth and killling 34 locals. Source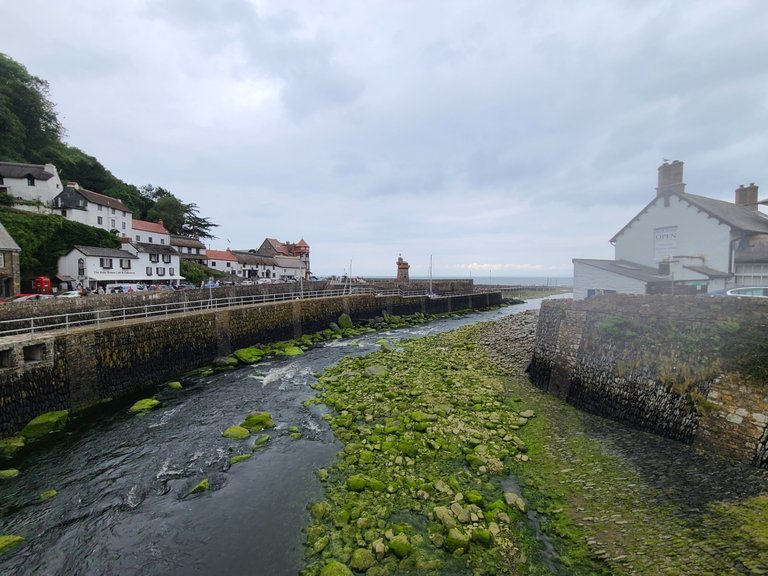 ---
Glen Lyn Gorge
The 1952 flood was a tragic event for Lynmouth and there are various exhibitions in the village if you want to learn more this. One of the exhibition can be found inside the Glen Lyn Gorge. The gorge is a few minutes walk along the West Lyn River, and it meets the East Lyn River at this point. There's a £7 entry fee to see the gorge and the waterfall. I thought that was rather expensive so just took a few photos outside, especially of the massive water jet. I'd say this is the second most famous landmark in Lynmouth.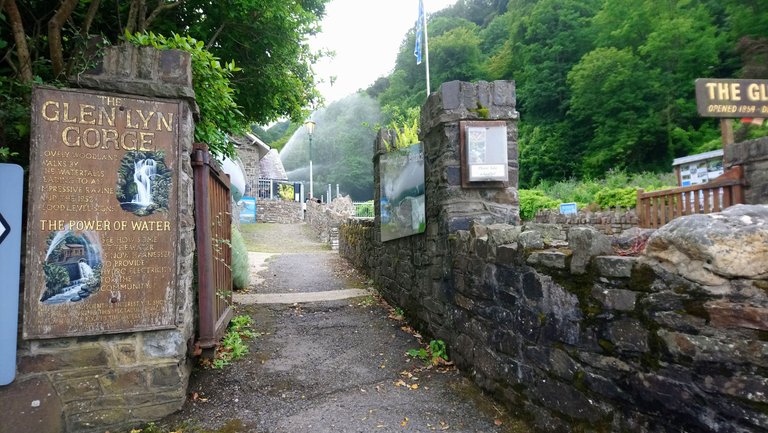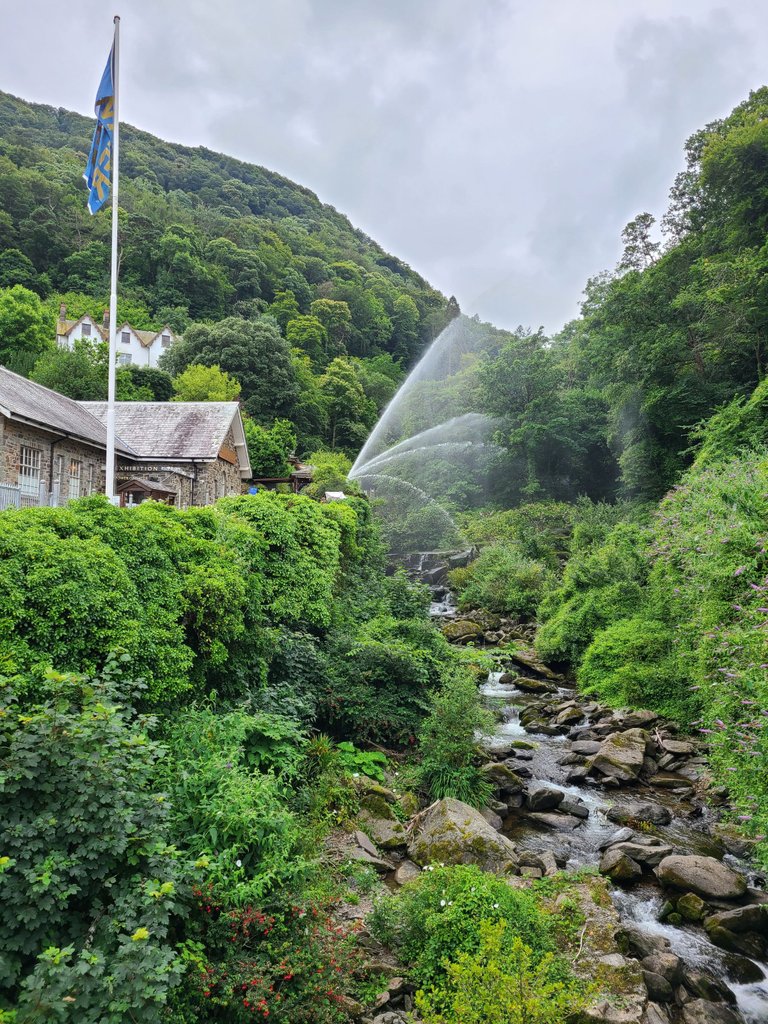 ---
Cliff Railway
I knew you were going to ask? What's the most famous landmark in Lynmouth? 😀 Here we are....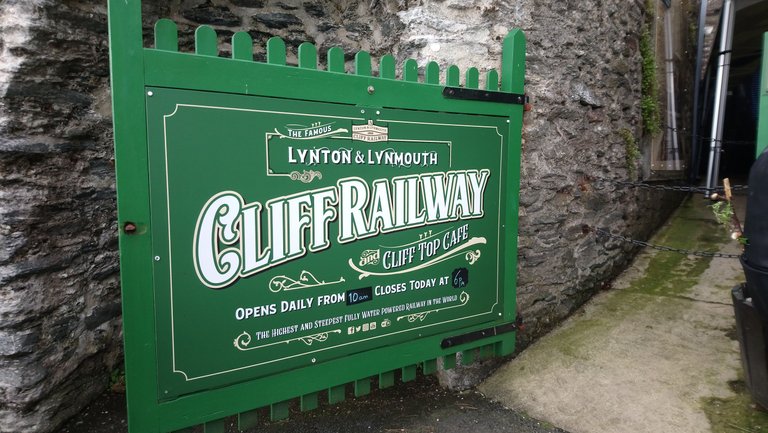 Remember I mentioned earlier on the challenge of driving between Lynmouth and Lynton? It's not an issue for locals as they do it all the time, but for tourists, there's an alternative, and one that's absolutely worth doing. The Lynton and Lynmouth Cliff Railway connects the two villages via a cliff railway (duh!!!). Ok, that part didn't need an explanation. What you probably don't know is that the cliff railway is the worlds highest and steepest water powered railway, only one of three remaining in the world. The other two are in Braga, Portugal and Fribourg in Switzerland if you're interested.
Of course I wasn't going to miss the opportunity to take a ride, and at only cost £3 I would highly recommend it if you ever visit. Plus I had to get back up to Lynton after walking down via the coast walk.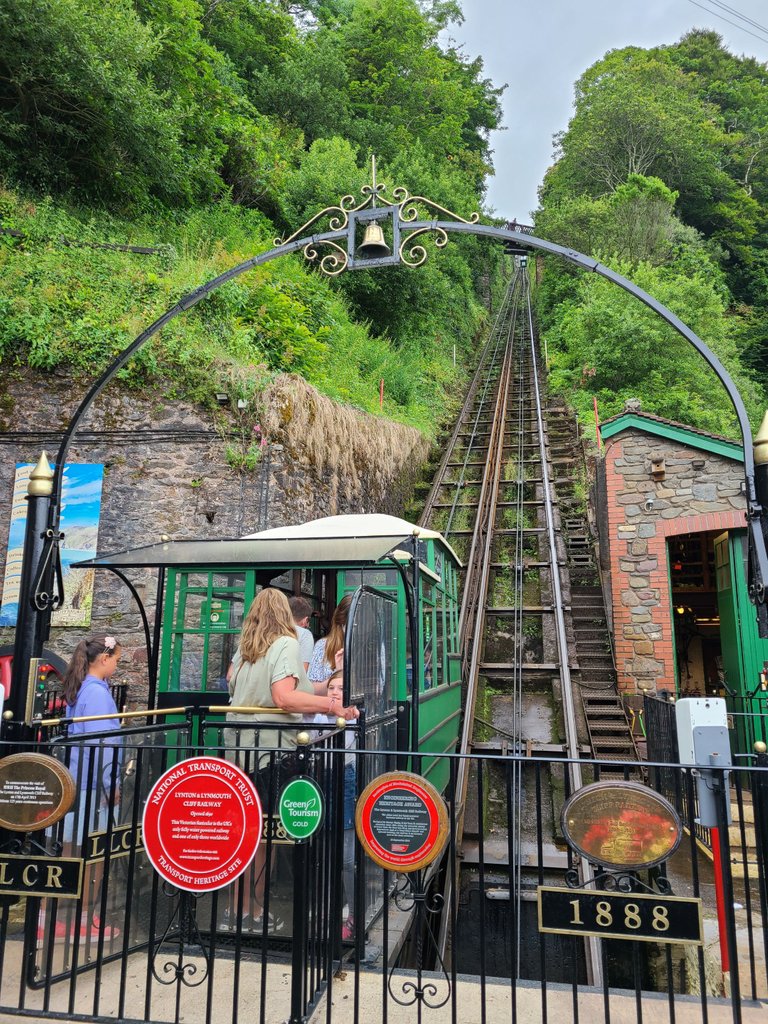 The cliff railway opened in 1890 and is powered entirely by water from the West Lyn River using a pulley system for the two trams. Each tram holds 700 gallons of water and the water helps to balance the weight of the two trams so the one coming down pulls the one going up. I waited about 15 minutes to get on the tram and was lucky enough to bag the oustide standing spot so I could get full view of the ride going up. It was as absolutely fascinating experience, like I was slowing reaching for the sky!
| Gradually ascending up the cliff | We meet the other tram going down at half way | Getting near the top of the cliff with a clear view of the coast |
| --- | --- | --- |
| | | |
The whole rail track is about 900 feet long and rises some 500 feet, taking about two and a half minutes. It's just long enough to draw in the magnificent view, and experience this amazing piece of engineering that was so eco friendly from over a century ago.
A great way to round of my visit to the amazing villages of Lynton and Lynmouth.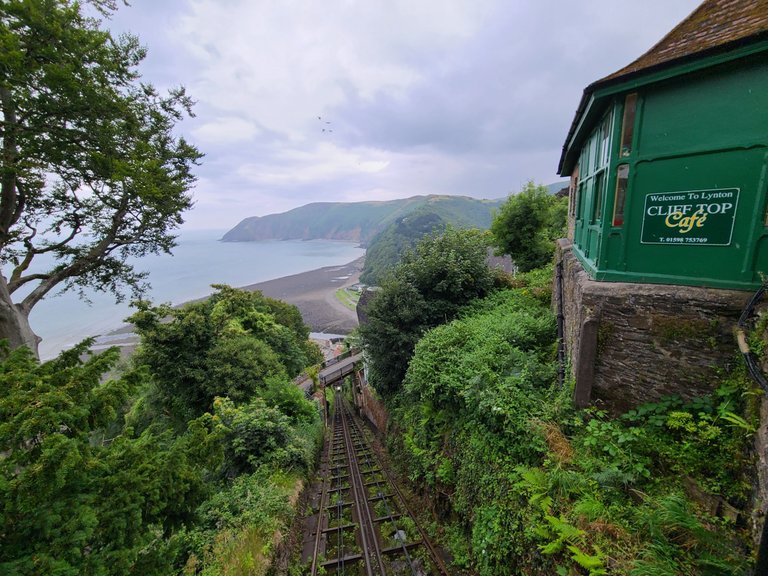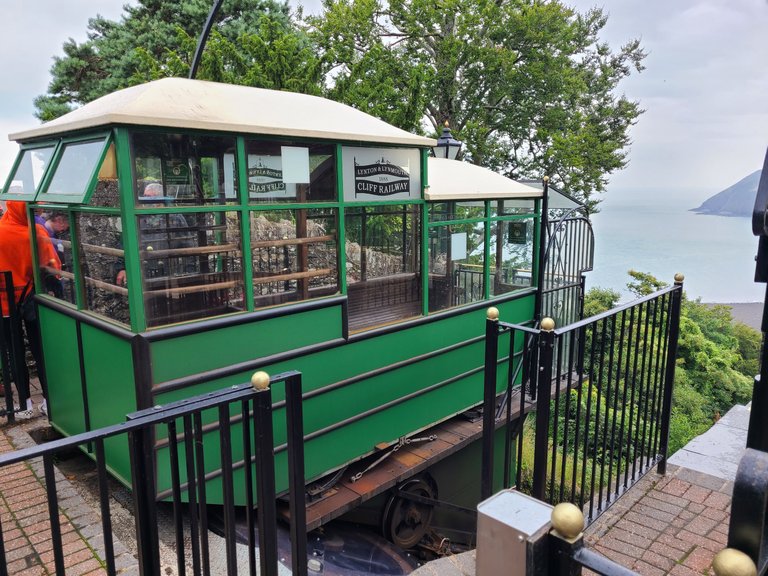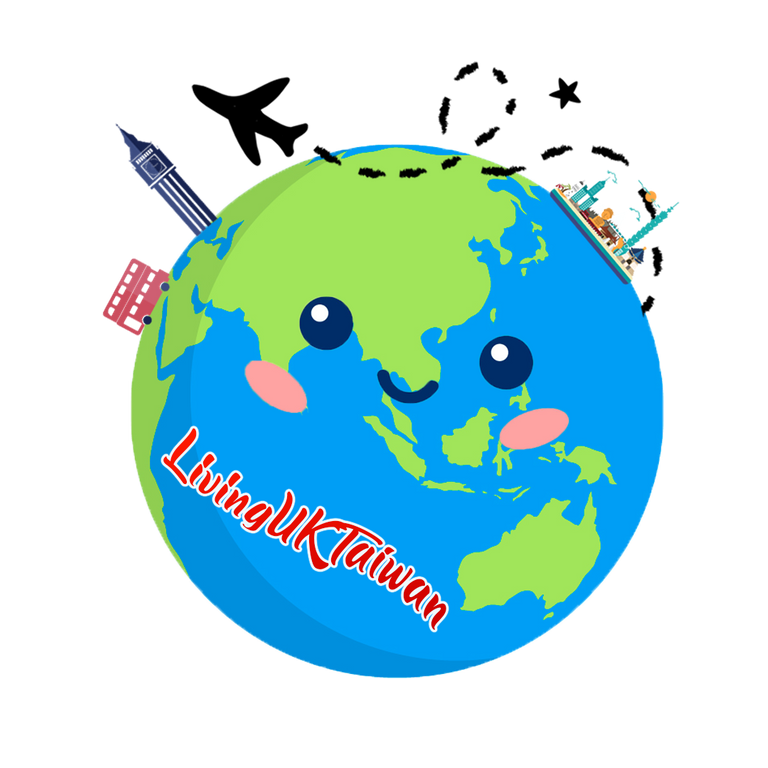 You can checkout all my travel post on the Pinmapple here or click on Mr Pinmapple below

---
---