Three days doesn't seem like much.
Then again, it's amazing how long a few hours can take.
I'm writing this Sunday late afternoon from my small room overlooking frozen Lake Demontreville. I'm in the final hours of a three-day silent retreat. That's no talking, no electronics, not even reading any novels. Such mental escapes would defeat the purpose of this place. That purpose: spiritual presence, reflection, and prayer.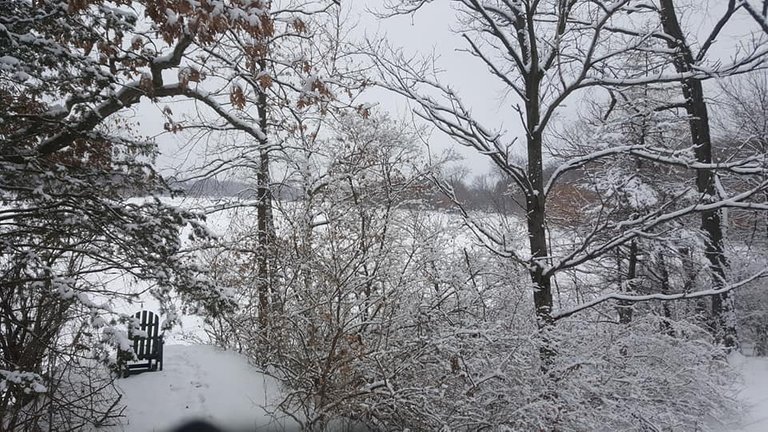 But you're not alone here. I've been staying in the housing on this lakeside estate along with 30-some other guys. (Usually it's 70, but you know... So, this year you get even more privacy at this retreat.) Nor are you left on your own spiritually. This center is run by Jesuit Catholics. I'm not Catholic, but I dearly appreciate the talks given all weekend on lessons from Christ's life: service, unity, our role in the world, and a connection with a loving God. The combination of spiritual focus plus the removal of distractions is enriching to say the least. It also causes time to slow down. Normally in life, the weeks fly by, but right now it feels like weeks since I've been on social media or read the news.
Despite knowing—or perhaps because—the issues addressed here are so vital to our lives, one is really able to see the prominent role distractions play in our life. I just returned from our final session. This time, the priest asked attendees to speak—about their experience over this weekend. For the first time in about 70 hours a few men spoke. One expressed gratitude for relief of the pressure he'd been feeling around his recent on-the-job accident, the future of his business, and his marriage. Another man said he was struck by the idea that all life is "contingent" upon each other. The final guy first spoke of today's "divisive" media, the anger and bad news we hear all the time. He then said he was refreshed to be at a place all about "love." Given the work I do, this last share especially spoke to me.
Technological development increases ways we can connect—and get caught up in distraction. And more than just kill time, they can also really bring us down. All the more reason to stay on the ball that's been rolling along for me the past few days: early to bed, early to rise; less snacking; and, most notably, free of the negativity raining down from online and on TV—which is also what gets us hooked ("They did what?!")
The priest leading the retreat spoke of how "the enemy" tempts and manipulates people. It's sly and subtle, and its main goal: become a wedge between you and God (Love). As a wedge, it grows by sinking deeper if you let it in.
I'm now looking ahead to how I'll allow these distractions to wedge back into my life starting tomorrow. Will my 10:00 p.m. sleep time change in one or two nights because of looking at the phone for an hour before bed? (I just turned my phone back on to type this message, and bam-bam-bam-bam-bam. Up came the notices of emails and messages and updates from three days away.)
This is my 4th retreat here in as many years, and I continue to grow in my discipline and connectedness to God each time I return. Good thing, because the world seems to be getting noisier and noisier each time I take these three-day breaks. As much of an adjustment as it is the first day or so here, it's also apparent it's one all the more needed.
---
By the time you read this I'll have returned to the "real" world, which in some ways isn't nearly as real as the grounded one I just came from.
That said, it's good to be able to connect with you all here so easily on Hive:) It's also good to be back to work on upcoming projects. Look for an announcement about my West Virginia Carrie video next week.
Until then, stay grounded within the soundwaves of an evermore noisy world.
-Brandon
(p.s. If any one of you—or someone you know—is interested in learning more about this retreat outside the Twin Cities, comment below or email me at [email protected])
[//]:# (!pinmapple 45.024206 lat -92.935525 long Demontreville Silent Retreat d3scr)