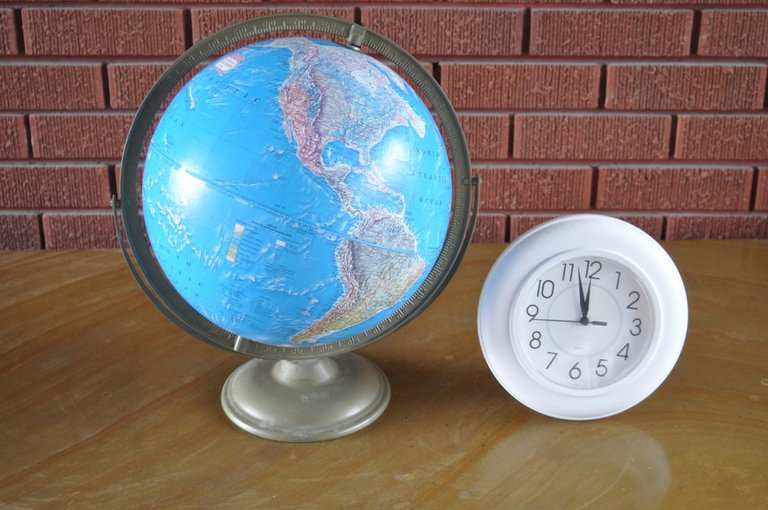 It is interesting, but as communication technologies develop, people seem to becoming more in tune with UTC (Coordinated Universal Time). Having configured thousands of electronic devices through the years, I now see local time simply as a display filter for UTC.
When programming, I am prone to use a convention called JulianDays which, in theory, provides a continuous count of days since what would be Monday, January 1, 4713 BC on the Gregorian calendar.
The continuous count of days makes it easy to calculate the duration of time. One needs to use different displays to discuss what the locals would be thinking at any given moment.
Daylight Savings Time
The earth is a titled oblate spheroid that revolves around a large glowing sun. People who live North and South of the tropics experience different day links throughout the year.
In 1784, Benjamin Franklin noticed that people were living by their clocks and not the natural cycle of the day. He suggested that people would develop better habits and preserve candle wax if they turned their clock back in Spring and forward an hour in Fall.
Canada was the first nation to legislate that people change their clocks in a program called Daylight Savings Time.
The United States implemented Daylight Savings during the First World War with the passage of the Calder Act on Act of March 19, 1918. Congress further clarified the issue with the passage of the Uniform Time Act of 1966 .
Most states in the US observe DST with those in tropical areas such as Florida and Arizona. Interesting the Navajo observe DST and the HOPI do not; So Arizona presents a patchwork of different time zones.
The current US Senate is considering legislation to make Daylight Savings Time permanent. As I understand the legislation, they want us to turn our clocks back in March 2023 and that they will stay back for all time and eternity.
This idea seems wrong headed to me. Ideally noon should be half way between sunrise and sunset and midnight (as the name suggests should be half way between sunset and sunrise.
Regardless of what the Congress does, people in the future will live their lives around the HIVE blockchain, which is on UTC, and the local time will be a configurable display value.
Posted with STEMGeeks