The Art of Storing: Unraveling JK Flip-Flop Memory
It has been a curiosity since my childhood how any electronic device or memory card stores data that we can read even after some time, today we will know about this topic in detail that any memory data How to store data that is safe even when disconnected from power and after some time we can read it
I understood this topic now when I read in detail about flip flops. The flip flop is a topic of digital electronics, in which it is explained in detail how data is stored in a memory and that too is readable.
Digital Electronics
Digital electronics is a subject in which we learn to control, produce and operate an electronic single, not going into much depth about digital electronics.
Now we will talk about the flip flop, a topic of digital electronics.
Latch
Before knowing about flip-flops we should know about the latch because a flip-flop is originated from the latch itself. The flip flop is an improved version of the latch circuit.
A latch is an electronic circuit that can store a single bit of information and at the same time can suddenly change the value of the output according to the input. The output of all types of latch depends on the value of their previous state and its output also depends on the value of the input. But to turn on all these latches it is necessary to give a clock pulse to them because, without a clock pulse, they are not triggered.
ClockPulse
The clock pulse is like a 1-way switch that turns the circuit on and off for a specific time period. Usually, the clock pulse is used to turn on the information-storing device like a latch flip flop. etc.
There are two types of triggered clock pulse
Edge Triggered clock pulse
Level Triggered clock pulse
Edge Triggered clock pulse allows the circuit only when it is on its edge
Positive edge and negative edge.
Whereas the level-triggered clock pulse allows the circuit to operate at a specific level only.
Flip-Flop
A flip flop is a type of latch, it can also store single-bit information, it is needed because the race round condition is generated in the latch, due to which flip flop circuit is needed, it is the first of the combination of NAND gate. Its latch is made and by applying two more NAND gates, an edge-triggered clock pulse is given in it such that the race around condition is not generated, both the outputs of the match are used as feedback. Used as an input, an edge-triggered clock pulse is applied to the next two inputs. This complete circuit is a flip-flop circuit, in which the output depends on the previous output when the input is given, and in its condition, the input as well as the output They also consider the next state.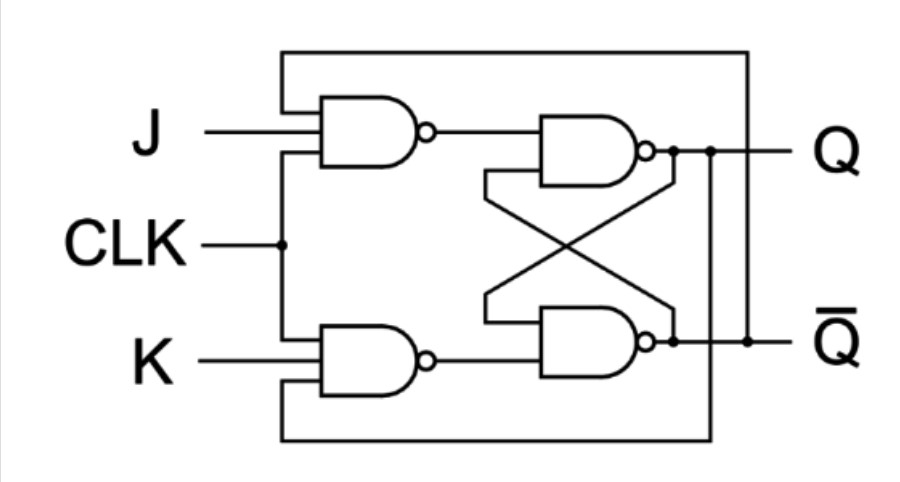 Truth table of J K Flip-Flop
| CLK | J | K | Qn+1 |
| --- | --- | --- | --- |
| ON | 0 | 0 | HOLD |
| ON | 0 | 1 | 0 |
| ON | 1 | 0 | 1 |
| ON | 1 | 1 | FORBIDDEN |
Race-Around Condition
In flip flop we use a level trigger instead of a clock pulse edge triggered, then many positive and negative levels are created in the circuit in a short time period and it becomes very difficult to consider it, so this condition is called race around. condition and to overcome it, by removing the level-triggered clock pulse, applying edge triggered clock pulse
Types of Flip-Flop
S R Flip-Flop
J K Flip-Flop
D Flip-Flop
T Flip-Flop
Storing data in JK flip flop
When the clock pulse is applied with edge triggered and given input on j and k both are zero so the next state of JK flip flop will be the same and the previous input and the next input both are the same its hold the single bit value in the form of zero and one which was got in the previous state.
Posted with STEMGeeks
---
---