Learn ENGINEERING and try to make something new | My WELDING SHOP Experience in Workshop Lab.

It has been the tendency of man that he always wants his own development and wants to know about new things, he has always been attached to machines, whenever he has had any more difficulty, he has done something or the other in doing some work. Whether by making that machine or by doing some other measures, I have found an easy way to do it. This is the reason that, out of all the living beings present on earth, man is said to be the most intelligent creature and the most dangerous because of so much intelligence.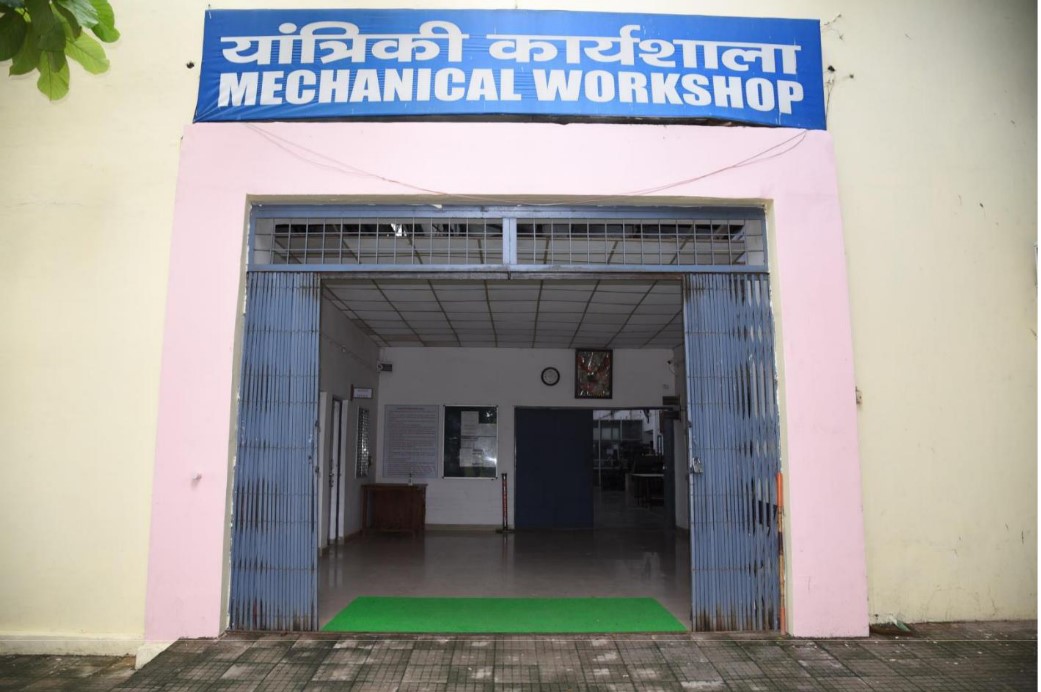 Many colleges and many branches have been formed for this use of machines and its studies, in which students are taught about it as well as the opportunity to invent new ones.
I have also got this privilege that I have also got a chance to learn about all the machines and try something new. I am keeping my to post about this machines, in which I was taught to do welding soon and I will share all its procedure and details of other instruments with all of you.
---
---
ELECTRIC ARC WELDING
---
---
In arc welding, the heat required for joining the metals is obtained from an electric arc. Transformers or motor generator sets are used as arc welding machines. These machines supply high electric currents at low voltages and an electrode is used to produce the necessary arc. The electrode serves as the filler rod and the arc melts the surfaces so that, the metals to be joined are actually fused together.
To supply the current for welding, three types of power sources are available:
Transformers, motor generators and rectifiers. Sizes of welding machines are rated according to their approximate amperage capacity at 60% duty cycle, such as 160,200,260,300,400,600 and 600 amperes. This amperage is the rated current output at the working terminal.
In a welding shop, 2 metals are joined by a welding machine, and at this time it is being used a lot, welding is used in everything made of iron, whether it is a small car or a big Airplane.
In welding we cannot join anything in any way, there are different ways to join them, which we are taught, I am sharing these methods with you all.
Although welding is done in four ways, but here I am discussing only about electric arc welding, which is done by electricity. If we talk about the way it works, then you can assume that it is done by short circuit of electricity. In which the two metals that have to be joined are also melted and the same substance is melted on the second medal and put on top of it. But the way I am speaking or exact is not like this, there are ways to do it and there are different tools for that.
EQUIPMENTS AND TOOLS
TRANSFORMERS:
The transformer type of welding machine produces A.C current and is considered to be the least expensive. It takes power directly from a power supply line and transforms it to the voltage required for welding.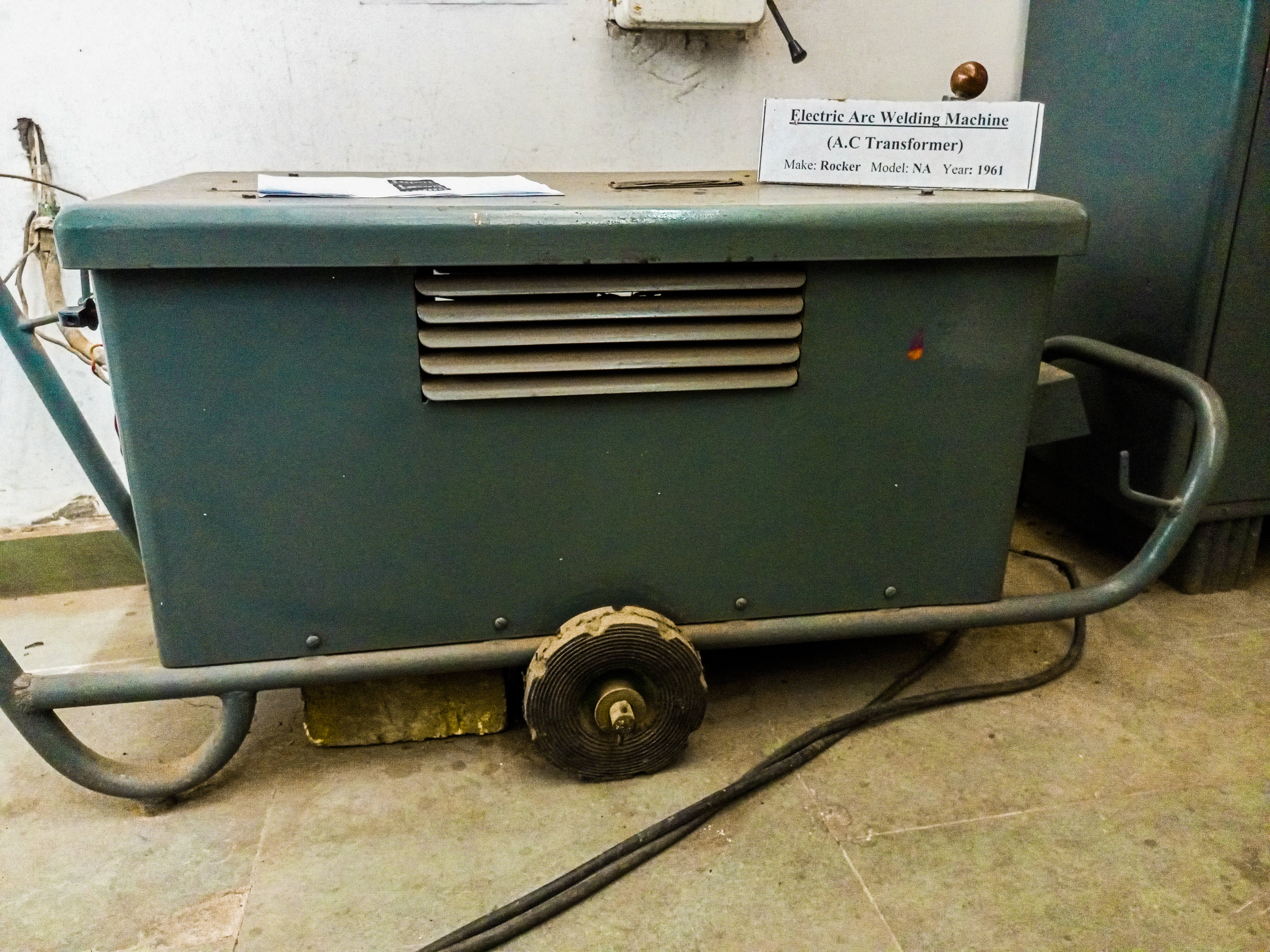 MOTOR GENERATORS:
These are D.C generator sets, in which electric motor and alternator are mounted on the same shaft to produce D.C power as per the requirement for welding. These are designed to produce D.C current in either straight or reversed polarity. The polarity selected for welding depends upon the kind of electrode used and the material to be welded.
WELDING CABLES:
Two welding cables are required, one from the machine to the electrode holder and the other, from the machine to the ground clamp. Flexible cables are usually preferred because of the ease of using and coiling the cables. Cables are specified by their current carrying, capacity, say 300 A, 400 A, etc.
ELECTRODES:
Filler rods used in arc welding are called electrodes. These are made of metallic wire called core wire, having approximately the same composition as the metal to be welded. These are coated uniformly with a protective coating called flux. Flux acts as an insulator of electricity. The size of an electrode is measured and designated by the diameter of the core wire in SWG and length, apart from the brand and code names; indicating the purpose for which they are most suitable.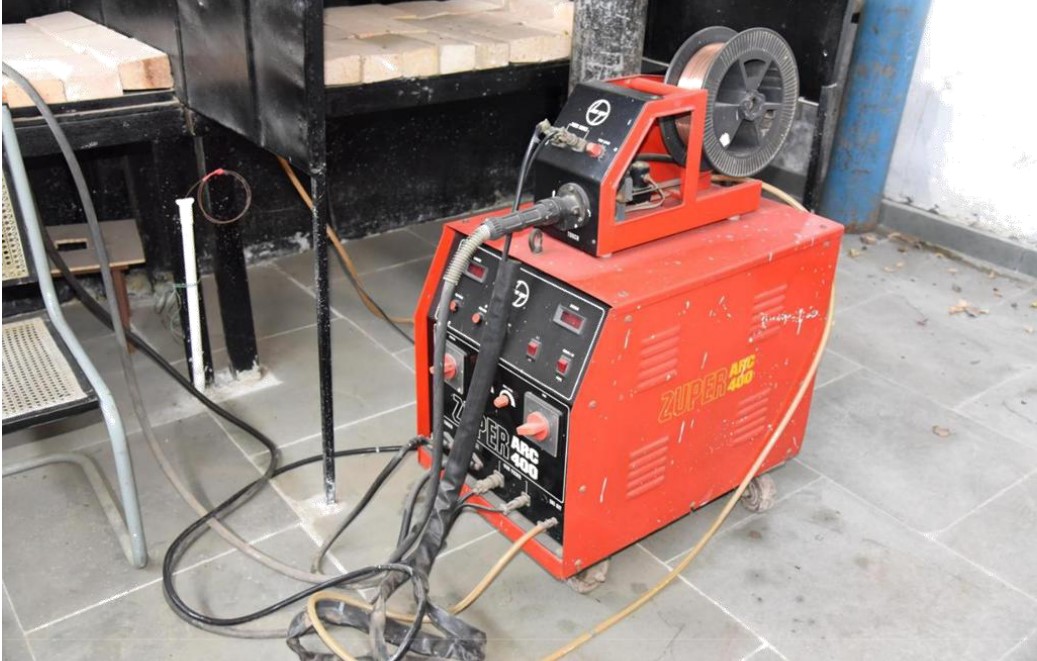 ELECTRODE HOLDER:
The electrode holder is connected to the end of the welding cable and holds the electrode. It should be light, strong and easy to handle and should not become hot while in operation. The jaws of the holder are insulated, offering protection from electric shock.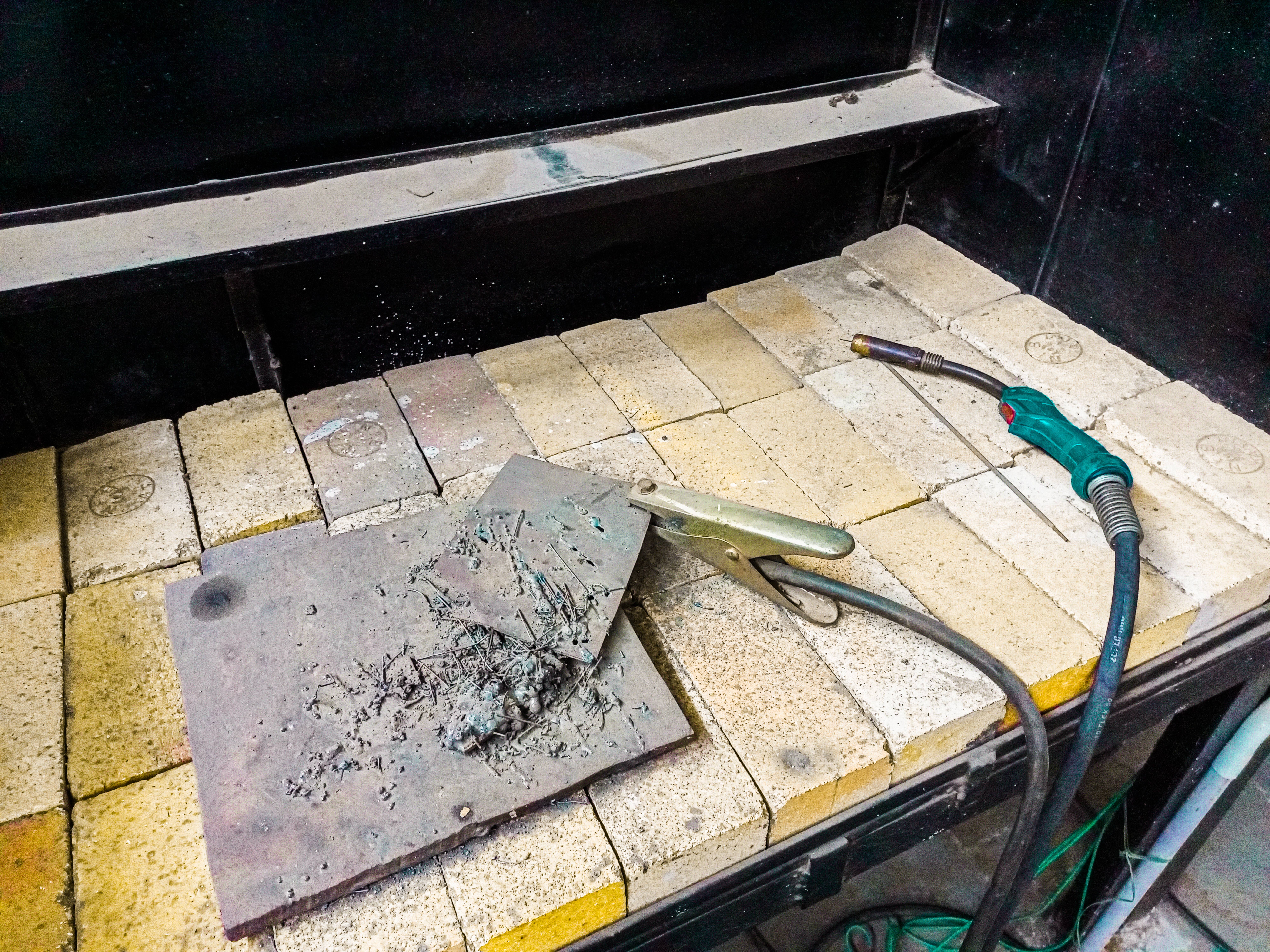 GROUND CLAMP:
It is connected to the end of the ground cable and is clamped to the work or
welding table to complete the electric circuit. It should be strong and durable and give a low resistance connection.
WIRE BRUSH AND CHIPPING HAMMER:
A wire brush is used for cleaning and preparing
the work for welding. A chipping hammer is used for removing slag formation on welds.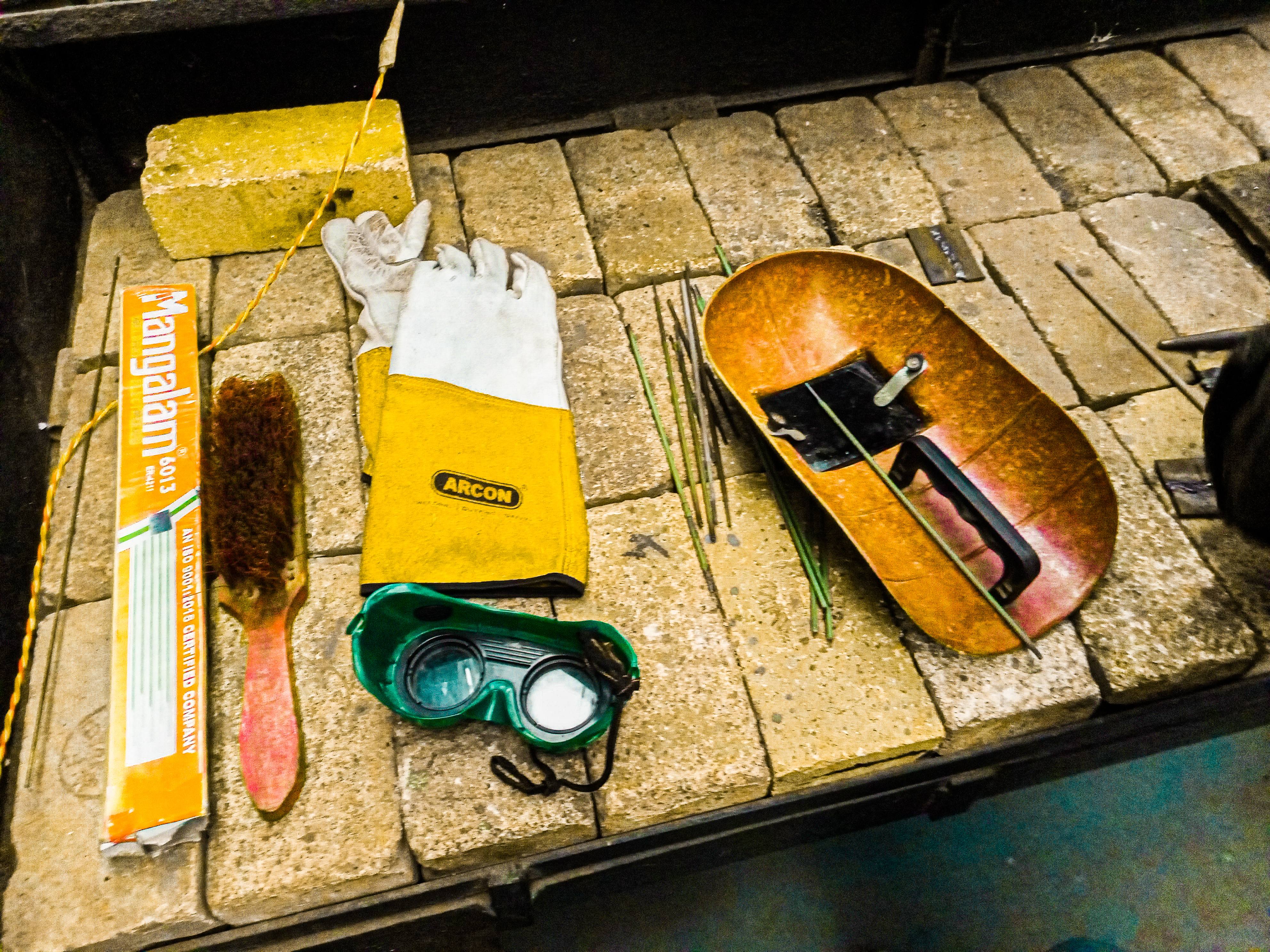 FACE SHIELD:
A face shield is used to protect the eyes and face from the rays of the arc and from spatter or flying particles of hot metal. It is available either in hand or helmet type. The hand type is convenient to use wherever the work can be done with one hand. The helmet type is more comfortable to wear and both hands free for the work.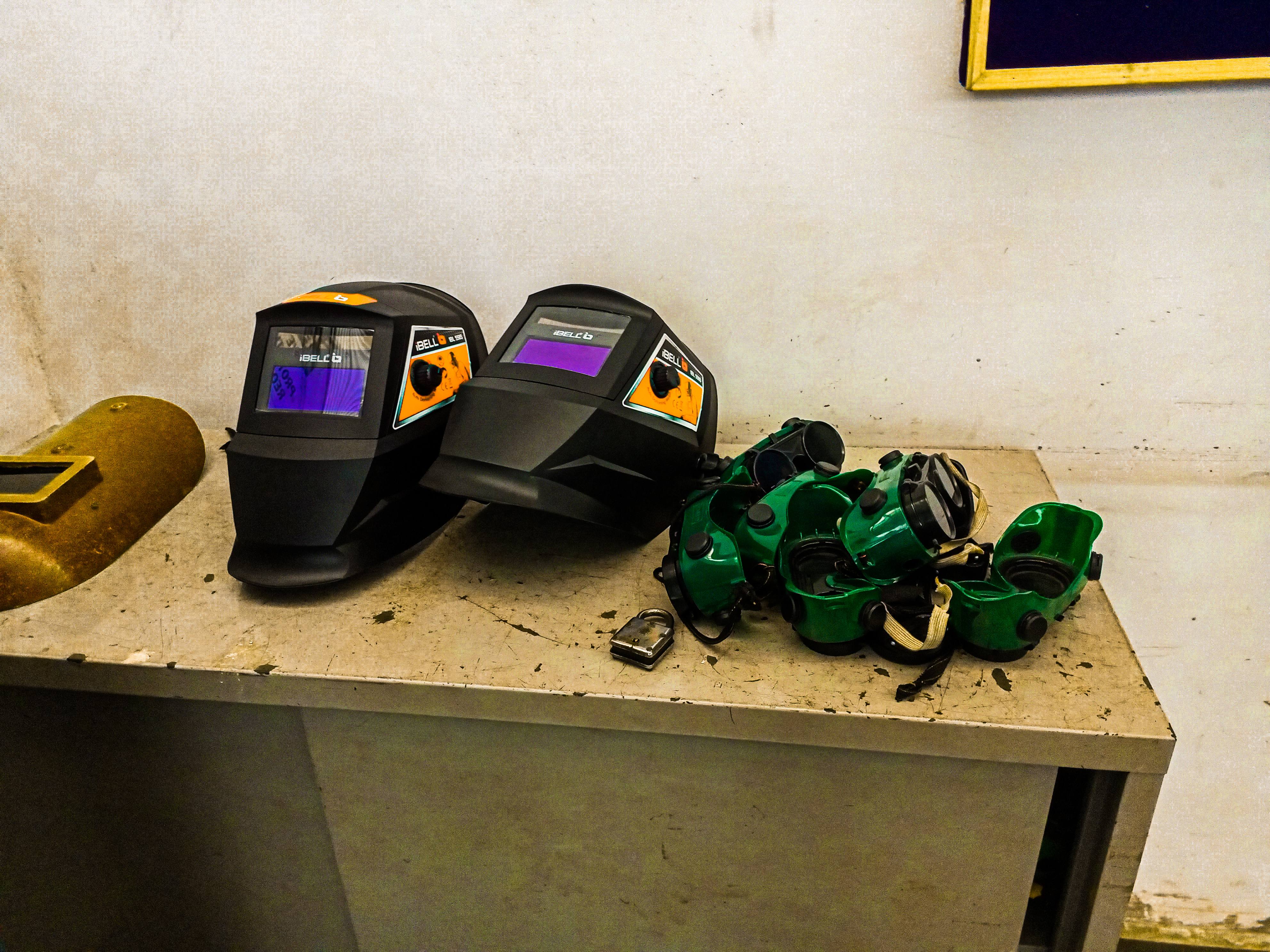 HAND GLOVES:
These are used to protect the hands from electrical shock and hot spatters.
PROCEDURE
First of all, we pass the current into the transformer which reduces the voltage to about 420 very low and increases its current to the metal through the welding cable, where we keep its anode by touching it beforehand and the electrode We put a holder on the end of the metal so that we can hold the metal road straight and when we touch the electrode with the cathode, an arc is generated so that all the three metals are joined by melting two connecting and one rod but In melting metal by arc, some other substances get oxidized and settle on top, to remove which we use wire brush and chipping hammer. First break off the oxidized material with a chipping hammer and then clean it off with a wire brush.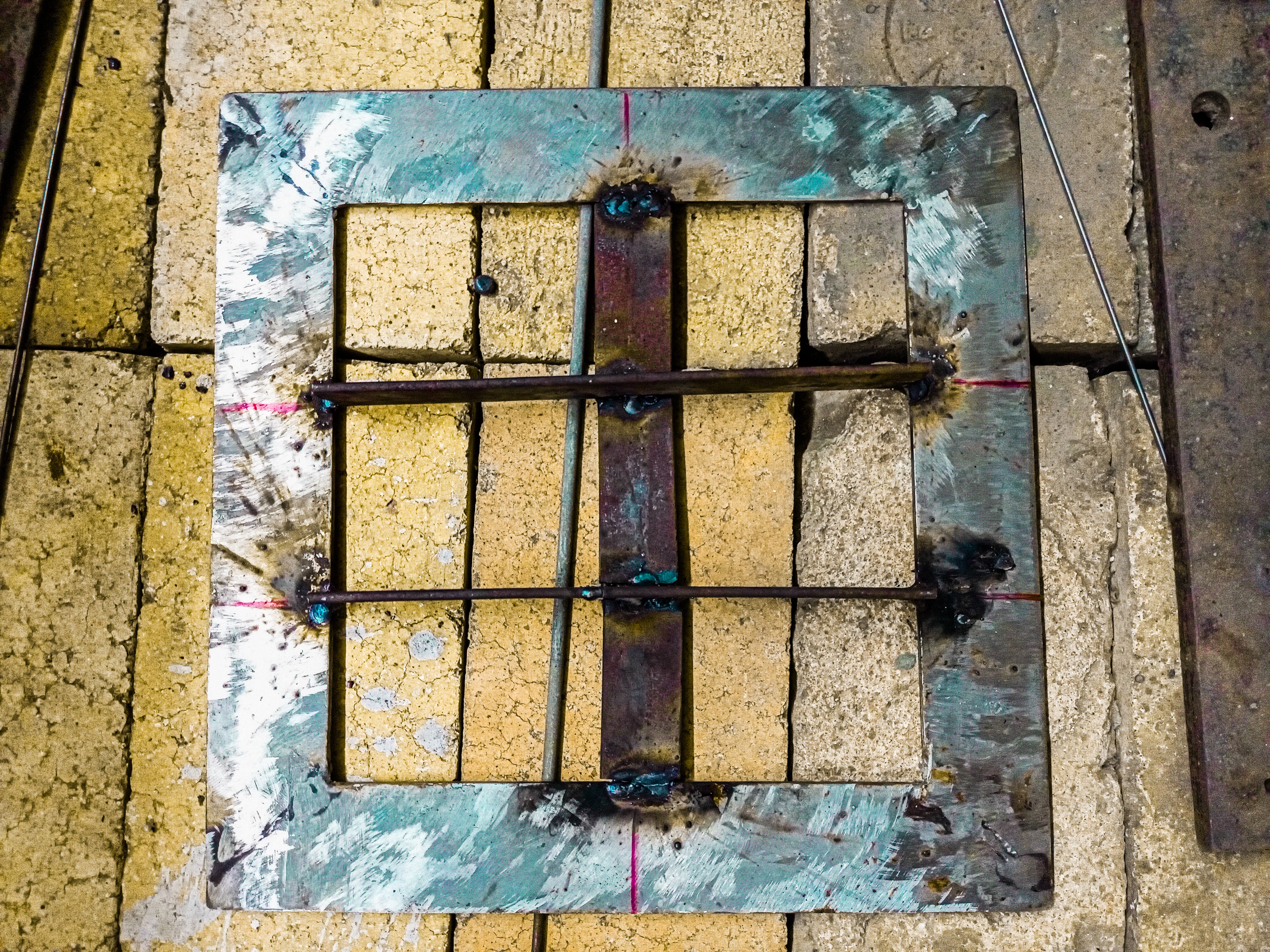 ADVANTAGES OF ARC WELDING
Welding process is simple.
Equipment is portable and the cost is fairly low.
All the engineering metals can be welded because of the availability of a wide variety of electrodes.
DISADVANTAGES OF ARC WELDING
Number of electrodes may have to be used while welding long joints. Unless proper care is taken; a defect (slag inclusion or insufficient penetration) may occur at the place where welding is restarted with a fresh electrode.
PRECAUTIONS
While doing arc welding, we should keep some things in mind, in these things we should always wear rubber gloves in our hands. Feet should have shoes and cover our eyes with helmet to protect our eyes from ultraviolet rays.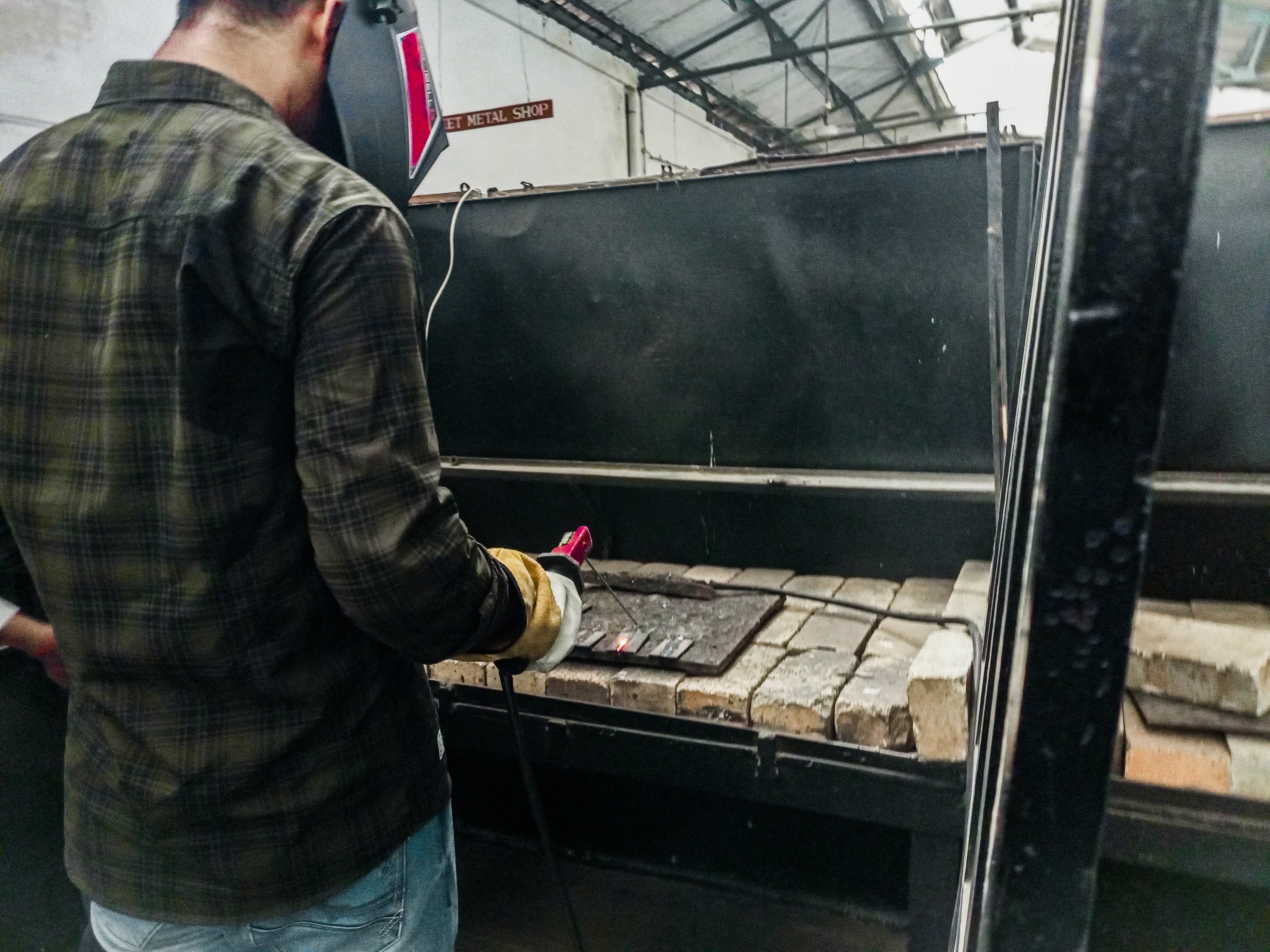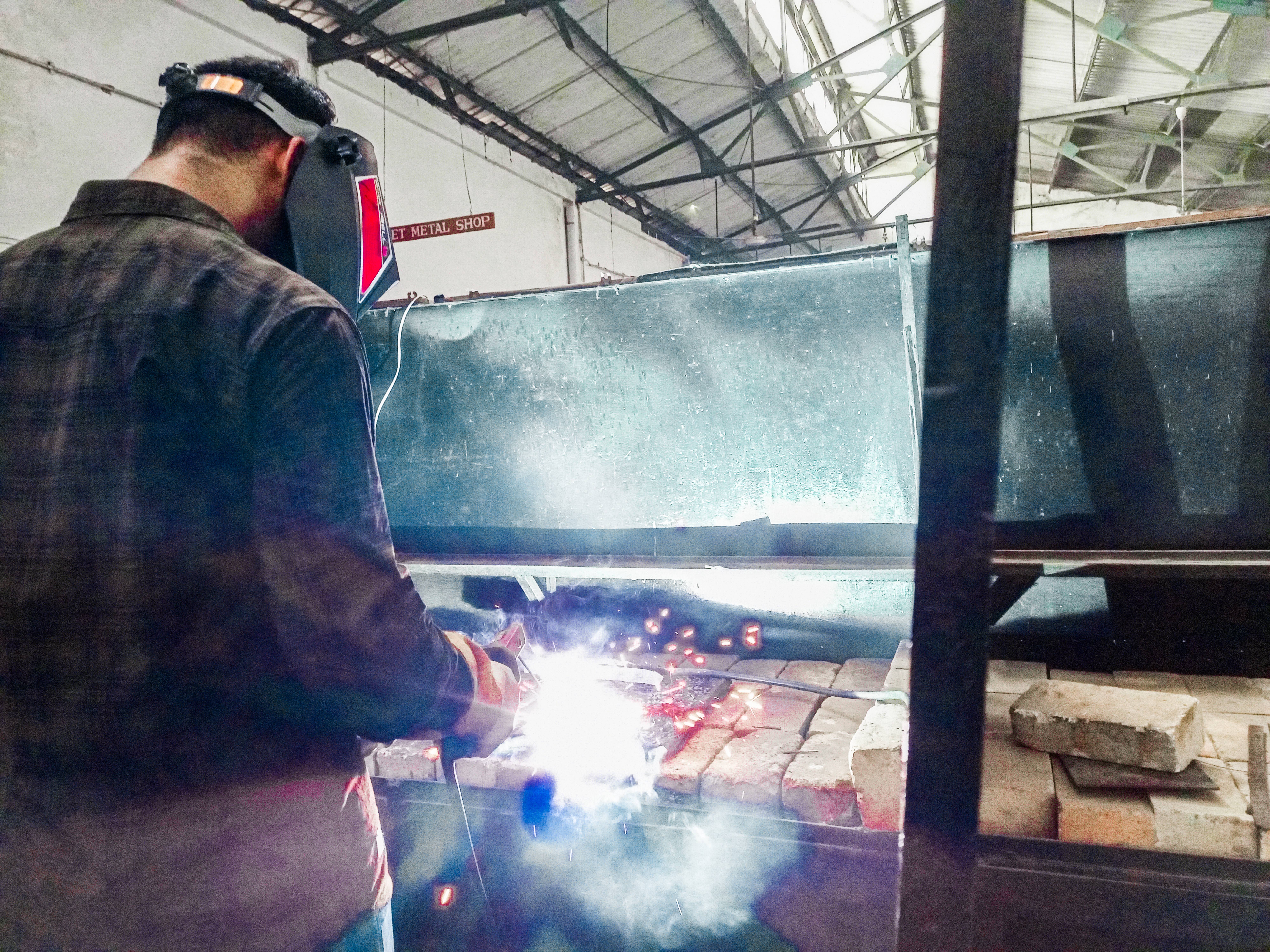 Thanking you all...........

Posted with STEMGeeks
---
---