Etwas, was mich in Windows 11 stört, ist, dass man den Tablet-Mode nicht mehr wie in Windows 10 manuell ein- und ausschalten kann.
Windows 11 entscheidet von sich aus, ob der Tablet Mode aktiviert ist oder nicht und die einzelnen Apps, wie sie damit umgehen.
Ist der Tablet Mode aktiviert, werden die Abstände der Icons in der Taskleiste und im File-Explorer größer und im File-Explorer bekommt jede Datei eine Checkbox. Das nervt. Und man kann das nicht mehr deaktivieren.
Der Tablet Mode beim Surface Pro ist praktisch, wenn man das Gerät per Touch bedient, aber wenn man das Tablet per Maus und Tastatur verwendet, möchte man eigentlich immer im Desktop-Mode bleiben.
Das Problem ist, dass ich eine Bluetooth-Tastatur und Maus verwende und Windows 11 denkt, ich wäre im Tablet Mode.
Auch der Brave Browser ändert das Layout, wenn man im Tablet Mode ist. Die Adressleiste wird größer und es wird der Maximieren-Button deaktiviert?! Damit kann man das Fenster nicht mehr maximieren.
Wenn das Brave Fenster zum Beispiel vorher nicht maximiert war oder wenn man es auf die Seite snappt, kann man es nicht mehr mit dem Button maximieren 🙈
Aber es gibt zum Glück eine Abhilfe, wie sich der Tablet Mode im Brave Browser deaktivieren lässt:
Fix: "Touch UI Layout" im Brave Browser / Chrome deaktivieren
"about:flags" öffnen (in der Adressleiste about:flags eingeben).
Nach der Option "Touch UI Layout" suchen und diese deaktivieren.
Danach muss der Browser neu gestartet werden und befindet sich dann wieder im Desktop Mode.
Voilà! Was sagt ihr dazu?
Enable/Disable Tablet Mode (Touch UI Layout) in Brave Browser / Chrome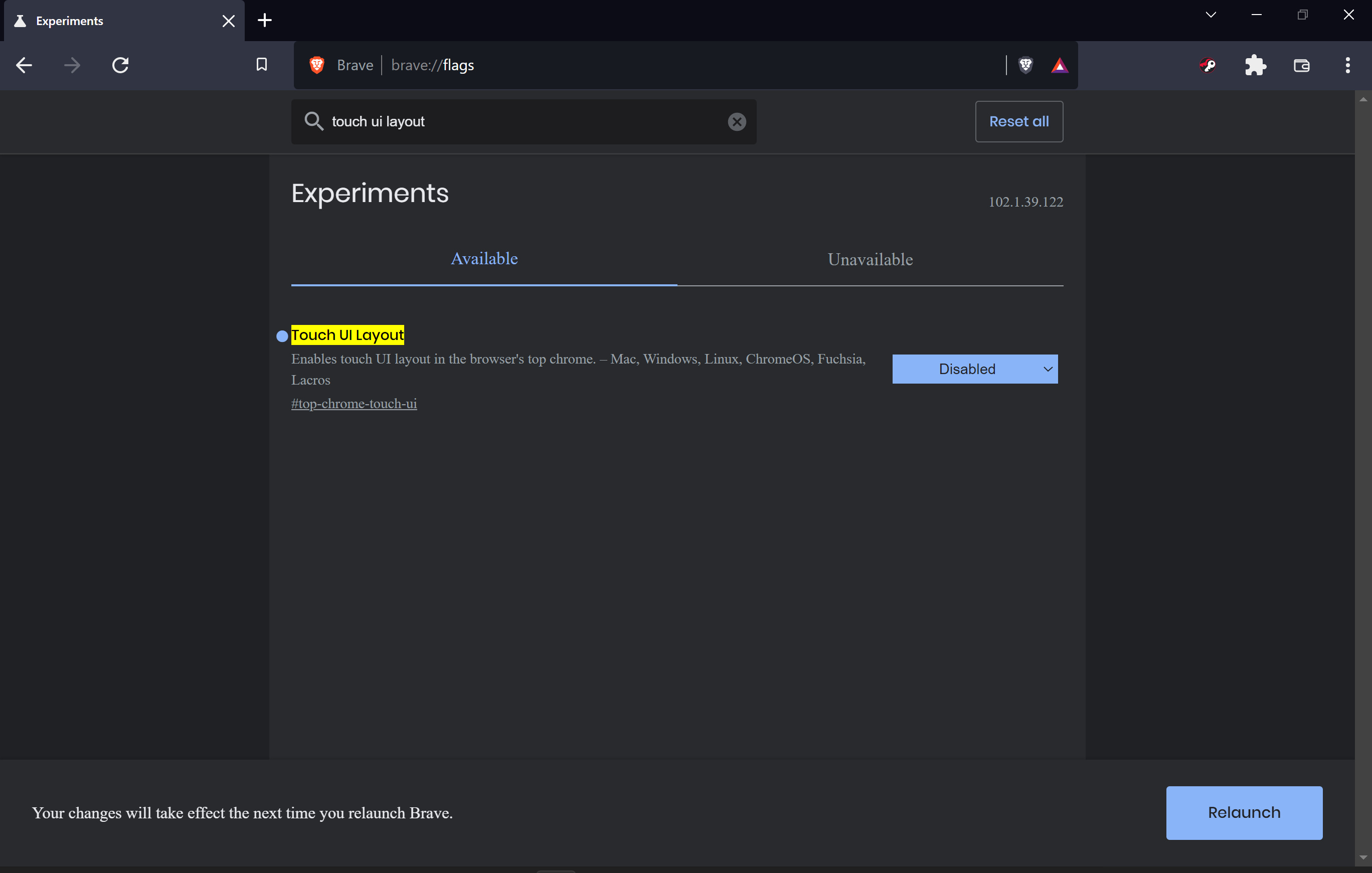 Brave Browser Version 1.39.122 Chromium: 102.0.5005.115 (Official Build) (64-bit)
Touch UI Layout On vs Off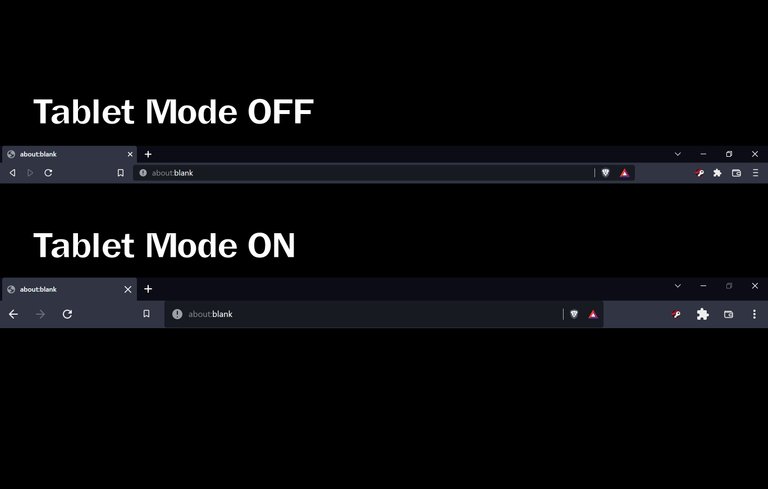 If tablet / touch UI mode is enabled in Brave Browser, you can no longer maximize the window and the address / navigation bar gets bigger.
English
Something that bothers me in Windows 11 is that you can no longer manually turn on or off Tablet Mode like in Windows 10.
Windows 11 decides on its own whether Tablet Mode is enabled or not, and the individual apps how to handle it.
If Tablet Mode is enabled, the spacing of the icons in the taskbar and in File Explorer becomes larger and in File Explorer every file gets a checkbox. This is annoying. And you can't deactivate it anymore.
Tablet Mode on the Surface Pro is handy when you're using the device by touch, but when you're using the tablet by mouse and keyboard, you really want to stay in desktop mode all the time.
The problem is that I use a Bluetooth keyboard and mouse, and Windows 11 thinks I'm in Tablet Mode.
Also Brave Browser changes the layout when you are in tablet mode. The address bar gets bigger and it disables the maximize button?! So you can't maximize the window anymore.
For example, if the Brave window was not maximized before or if you snap it to side, you can no longer maximize the window with the maximize button 🙈
But luckily there is a workaround on how to disable Tablet Mode in Brave Browser:
Fix: Disable "Touch UI Layout" in Brave Browser / Chrome
Open "about:flags" (type about:flags in the address bar).
Search for the "Touch UI Layout" option and disable it.
After that, restart the browser and it will be back in Desktop Mode.
Voila! What do you guys think about the Touch UI mode in Brave Browser?
Sources
[1] Brave Browser https://brave.com/
[2] How to Disable Tablet Mode in Google Chrome https://www.howtogeek.com/790530/how-to-disable-tablet-mode-in-google-chrome/
Live your Secrets and Hive Prosper 🍯
xx Viki @vikisecrets
Posted with STEMGeeks