Ich habe gestern spekuliert wie ein Rückzug von Facebook aus der EU aussehen könnte.
https://peakd.com/hive-167922/@vikisecrets/meta-threatens-to-shut-down-facebook-and-instagram-in-the-eu-if-not-allowed-to-transfer-data-to-the-us-how-a-withdrawal-could-a
Habe allerdings den Bedarf an Rechenzentren und Internet-Verbindungen überschätzt. Danke an @mima2606 für den Hinweis.
Nur 3 Rechenzentren in der EU
Facebook ist zwar eine der meist genutzten Websites im Internet, laut eigenen Angaben betreibt Facebook aber nur 3 Rechenzentren in der EU, nämlich in Irland, Schweden und Dänemark und nur eines in Asien (Singapur).
Die Mehrheit der Rechenzentren (14) ist schon jetzt in den USA.
Das heißt eine kurzfristige Verlagerung der Rechenzentren zum Beispiel nach Nordirland, UK, oder in die Schweiz wäre durchaus möglich, ohne neue Internet-Leitungen bauen zu müssen.
Vielleicht könnten auch kurzfristig einfach die US-Rechenzentren den europäischen Traffic übernehmen, sollte die EU Facebook verbieten, Daten in die USA zu transferieren.
Die Seite würde vielleicht etwas langsamer werden, aber im Prinzip wäre es möglich.
Jetzt ist es auch verständlicher, warum Facebook die Daten in den USA verarbeiten möchte und nicht nur in der EU, da sie in den USA einfach die meisten Rechenzentren besitzen. Es geht aber vor allem darum, nach welchem Recht sie die Daten verarbeiten. Nach strengen EU-Datenschutz-Auflagen oder nach laxerem amerikanischen Recht.
Big Tech baut massiv Internet-Leitungen aus
Facebook investiert wie andere IT-Unternehmen übrigens massiv in Unterseekabeln und Internet-Leitungen, aus gutem Grund. Allerdings ist auch dies wieder problematisch, wenn Dienste-Anbieter auch gleichzeitig die Internet-Infrastruktur betreiben. Das schafft Abhängigkeiten, Interessenkonflikte.
Finde es wäre wichtiger zu regeln, wie Firmen mit personenbezogenen Daten umgehen, wie sie diese erheben und was sie damit machen dürfen, anstatt ihnen zu verbieten Daten intern zwischen den Standorten zu transferieren, auch wenn sich die Standorte in den USA befinden. Eine solche Einschränkung würde gegen das globale Prinzip des Internets verstoßen.
Wenn wir die USA als wirtschaftlichen Partner sehen, muss es auch möglich sein, Daten zwischen den Kontinenten zu transferieren.
Grundsatzfrage
Was ist erstrebenswerter? Ein globales, freies, dezentrales Internet mit möglichst wenig Einschränkungen und Regulierung, aber potentiell schlechtem Datenschutz, übermächtigen Tech-Konzernen, oder eine Aufteilung des Internets in ein amerikanisches, europäisches, chinesisches Internet, wo jede Region die Inhalte nach ihren politischen Interessen filtern und regulieren kann, mit möglichst wenig Datentransfers zwischen den Netzen.
Was meint ihr?
Facebook data centers in the EU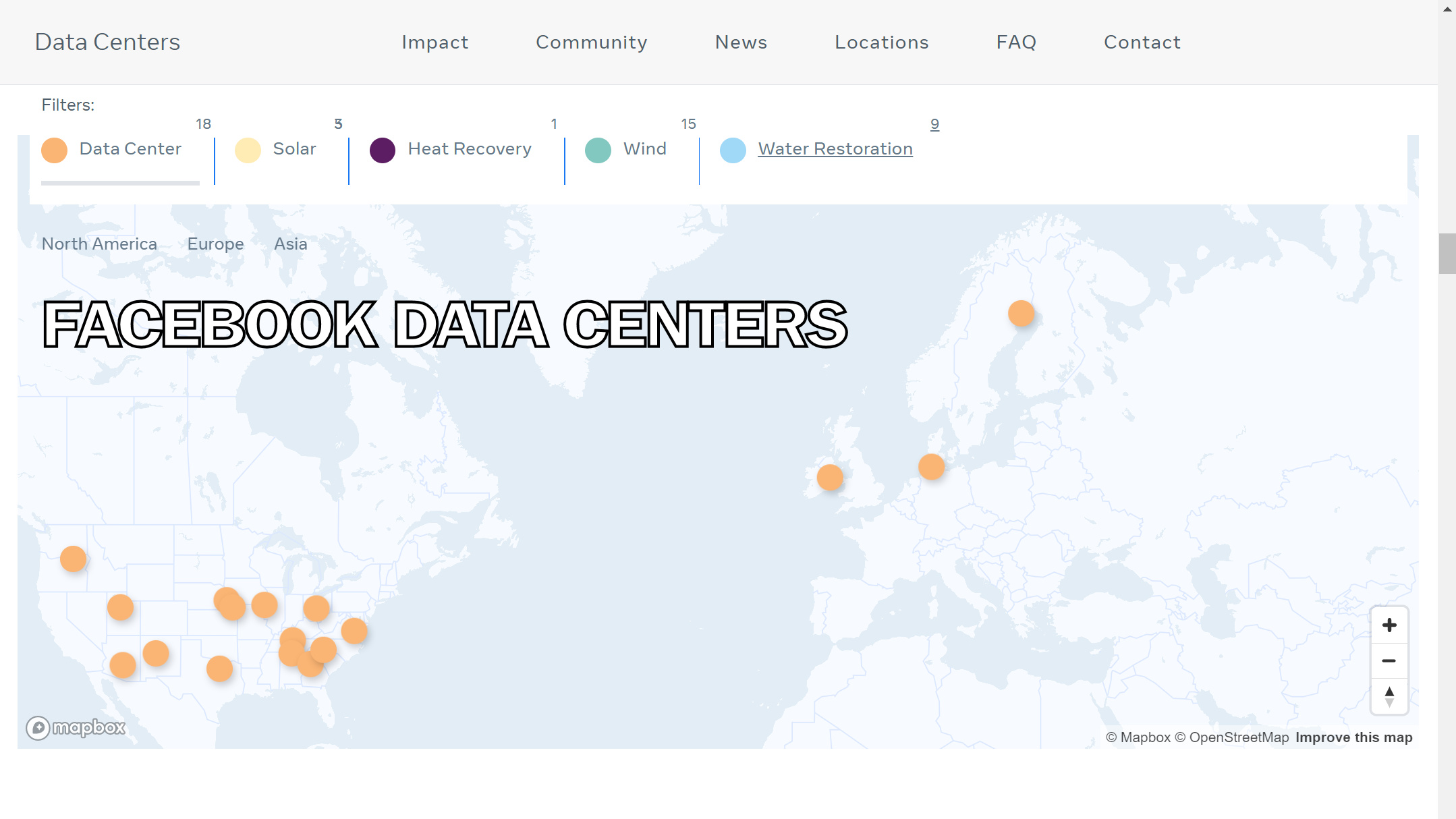 English
Yesterday I speculated how a withdrawal of Facebook from the EU could actually look like.
https://peakd.com/hive-167922/@vikisecrets/meta-threatens-to-shut-down-facebook-and-instagram-in-the-eu-if-not-allowed-to-transfer-data-to-the-us-how-a-withdrawal-could-a
However, I overestimated the need for data centers and Internet connections. Thanks to @mima2606 for pointing this out.
Only 3 data centers in the EU
While Facebook is one of the most used websites on the Internet, according to its own data, Facebook operates only 3 data centers in the EU, namely in Ireland, Sweden and Denmark and only one in Asia (Singapore).
The majority of its data centers (14) are already in the U.S.
This means that a short-term relocation of data centers to Northern Ireland, the UK, or Switzerland, for example, would be entirely possible without having to build new Internet lines.
Perhaps in the short term, the U.S. data centers could simply take over the European traffic, should the EU prohibit Facebook from transferring data to the U.S.
The site would perhaps slow down a bit, but in principle it would be possible.
Now it's also more understandable why Facebook would want to process the data in the U.S. and not just the EU, as they simply have the most data centers in the States. The main issue, however, is the law under which they process the data. According to strict EU data protection regulations or under more relaxed American law.
Big Tech is massively investing in submarine Internet connections
Facebook, by the way, like other IT companies, is investing massively in undersea cables and Internet lines, for good reason. However, this is again problematic when service providers also run the Internet infrastructure at the same time. This creates dependencies and conflicts of interest.
I think it would be more important to regulate how companies handle personal data, how they collect it and what they are allowed to do with it, instead of prohibiting them from transferring data internally between sites, even if the sites are in the U.S. and not the EU. Such a restriction would violate the global principle of the Internet.
If we see the U.S. as an economic partner, it must also be possible to transfer data between continents.
Fundamental discussion
What is more desirable? A global, free, decentralized Internet with as few restrictions and regulation as possible, but potentially poor data protection, uber powerful tech corporations, or a division of the Internet into an American, European, Chinese Internet, where each region can filter and regulate content according to their political interests, with as little data transfer between the networks as possible.
What do you think?
Sources
[1] Meta threatens to shut down Facebook and Instagram in the EU if not allowed to transfer data to the US. How a withdrawal could actually look like? https://peakd.com/hive-167922/@vikisecrets/meta-threatens-to-shut-down-facebook-and-instagram-in-the-eu-if-not-allowed-to-transfer-data-to-the-us-how-a-withdrawal-could-a
[2] Facebook data centers https://datacenters.fb.com/#locations
[3] The economic contribution of Facebook data centres in Denmark, Ireland, and Sweden https://tech.fb.com/wp-content/uploads/2019/12/The-economic-contribution-of-Facebook-EU-data-centres-with-cover-image_final.pdf
[4] Microsoft, Facebook and Telxius complete the highest-capacity subsea cable to cross the Atlantic https://news.microsoft.com/features/microsoft-facebook-telxius-complete-highest-capacity-subsea-cable-cross-atlantic/
[5] Google, Facebook & Co bauen Unterseekabel in Asien und Afrika aus https://www.heise.de/news/Google-Facebook-Co-bauen-Unterseekabelnetze-in-Asien-und-Afrika-aus-6168035.html
Live your Secrets and Hive Prosper 🍯
xx Viki @vikisecrets
Posted with STEMGeeks