Gegengewicht für die Oculus Quest 2, zahlt sich das aus?
Einer der größten Nachteile von Virtual Reality ist im Moment, dass die VR-Headsets immer noch ziemlich schwer und unangenehm zum Tragen sind.
Das trifft vor allem auch für die Quest 2 zu, da sie sehr frontlastig ist. Man muss sich das so vorstellen, wie eine große Taucherbrille, wo sich das ganze Gewicht (ein gutes halbes Kilo!) im vorderen Teil befindet.
Um das Gewicht etwas auszugleichen, gibt es zwei Möglichkeiten. Entweder man kauft sich das Elite-Strap mit Batterie, wo sich im hinteren Teil des Riemen als Gegengewicht ein Akku befindet, oder man bastelt sich selbst ein Gegengewicht.
Habe Letzteres selbst ausprobiert, da ich wissen wollte, ob sich das auszahlt, und eine alte externe Festplatte an das Headset befestigt, die mit dem Gehäuse etwa 150 Gramm schwer ist.
Möglich wäre auch einen externen Akku-Pack wegen dem Gewicht zu verwenden, allerdings habe ich ein mulmiges Gefühl dabei, mir noch einen Akku direkt an den Kopf zu schnallen, wegen der Explosionsgefahr, auch wenn diese sehr gering ist.
Würde als Gegengewicht circa 150-250 Gram empfehlen, nicht schwerer.
Und siehe da, der Tragekomfort hat sich tatsächlich verbessert.
Allerdings darf man sich keine Wunder erwarten, das Headset wird durch das zusätzliche Gewicht etwas schwerer und träger, und wird nach wie vor bei Verwendung heiß, und ich bekomme immer noch unangenehme rote Druckstellen an der Stirn. Aber es ist etwas weniger unangenehm als davor.
Was haltet ihr von der Idee mit dem Gegengewicht?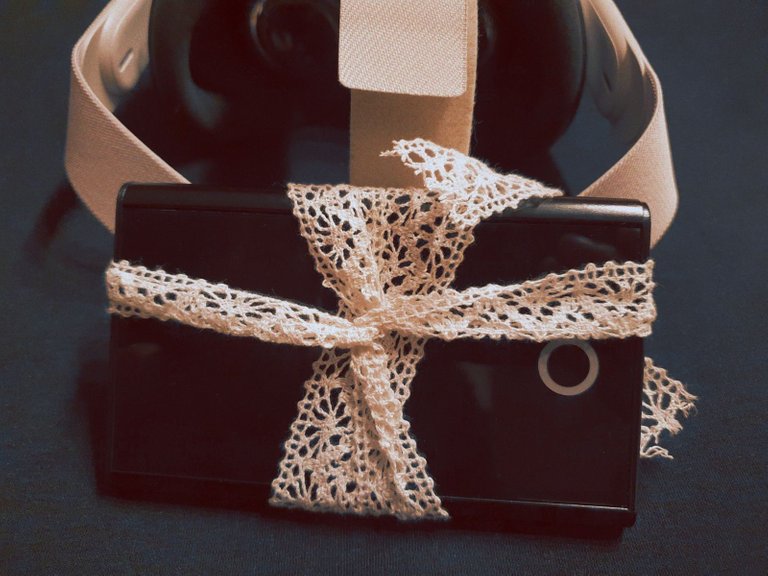 Counterweight for my Oculus (Meta) Quest 2 experiment 😎
English
One of the biggest drawbacks of Virtual Reality at the moment is that VR headsets are still quite heavy and uncomfortable to wear.
This is especially true for the Quest 2, as it is a very front-heavy device. You have to think of it like a large pair of diving goggles, where all the weight (a good half kilo, way over a pound!) is in the front part.
In order to compensate for the weight somewhat, there are two options. Either you can buy the Elite Strap with battery, where there is a battery in the back part of the strap as a counterweight, or you make your own counterweight.
I tried the latter myself because I wanted to know if it's worth it, and attached an old external hard drive to the headset, which weighed about 150 grams with the case.
It would also be possible to use an external battery pack because of the weight, but I have an uneasy feeling about strapping another battery directly to my head because of the explosion risk, even if it is very small.
I recommend about 150-250 grams as a counterweight for the Quest 2, not heavier.
And the result is, the wearing comfort has improved indeed.
However, you should not expect miracles, the headset is slightly heavier and more sluggish due to the additional weight, and still gets hot when in use, and I still get unpleasant red pressure marks on the forehead. But it's a little less uncomfortable than before.
What do you think of the counterweight idea?
Live your Secrets and Hive Prosper 🍯
xx Viki @vikisecrets