Apple hat ein neues Batterie-großes Tracking-Gerät veröffentlicht, das einen helfen soll, Gegenstände, die man bei sich führt wie einen Schlüsselanhänger, Laptop oder die Geldbörse, jederzeit orten zu können.
Dieses kleine Spionagegerät, das aus einem James Bond-Film stammen könnte, heißt AirTag und verwendet für die Ortung Bluetooth und, das ist interessant, das Netzwerk von bestehenden iPhones, iPads und Macs auf der ganzen Welt um verloren gegangene oder gestohlene AirTags zu tracken.
Sobald ein iPhone, egal welches, Kontakt mit einem unbekannten AirTag herstellt, wird dessen Position aktualisiert.
Die erste Frage, die man sich stellt, kann man damit auch Menschen heimlich tracken, in dem das Gerät zum Beispiel hinterlistig in der Handtasche der Freundin oder in der Jacke des Freunds platziert? 😂
Offiziell nicht, da es Apple mit ein paar Sicherheitsfeatures verhindern möchte, aber im Prinzip ist es möglich. Zumindest eingeschränkt.
Hat die getrackte Person ebenfalls ein iPhone, wird eine Warnung auf dem iPhone angezeigt, dass man einen unbekannten AirTag mitführt.
Hat die Zielperson allerdings kein iPhone, dann wird es schwieriger das Stalking zu erkennen. Nach 72 Stunden würde sich der AirTag mit einem Beepton melden, wenn er sich so lange außerhalb der Reichweite seines Besitzers befindet.
Genug Zeit um jemanden zu tracken.
Hat schon jemand einen AirTag ausprobiert? Wie gefällt euch die Idee?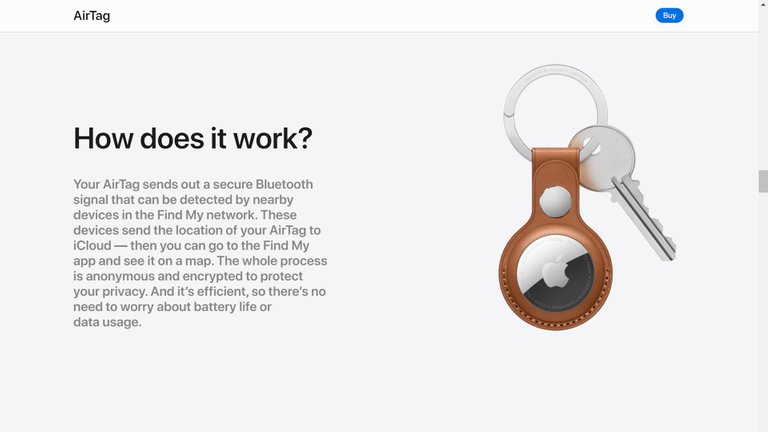 English
Apple has released a new battery-sized tracking device that should help you locate items you carry with you like a keychain, laptop or wallet at all times.
This little spy device, which could have come out of a James Bond movie, is called AirTag and uses Bluetooth for tracking and, interestingly, the network of existing iPhones, iPads and Macs around the world to track lost or stolen AirTags.
As soon as an iPhone, any iPhone, makes contact with an unknown AirTag, its location is revealed and updated.
The first question that comes to mind, can it be used to track people secretly, for example by sneakily placing the device in the girlfriend's handbag or the boyfriend's jacket? 😂
Officially not, because Apple wants to prevent it with a few security features, but in principle it is possible. At least in a limited fashion.
If the tracked person also has an iPhone, a warning is displayed on the iPhone that you are carrying an unknown AirTag.
However, if the targeted person does not have an iPhone, then it becomes more difficult to detect the stalking. After 72 hours, the AirTag would trigger a beep sound if it has been out of range of its owner for that long.
Enough time to track someone.
Has anyone tried an AirTag yet? How do you like the idea?
Sources
[1] https://www.apple.com/airtag/
[2] Can Apple's AirTags Track People & Do They Protect Privacy? https://screenrant.com/airtag-track-stalk-people-apple-privacy-features-explained/
[3] Can you Track People with Apple AirTags? https://www.technadu.com/can-you-track-people-with-apple-airtags/268205/
Live your Secrets and Hive Prosper 🍯
xx Viki @vikisecrets