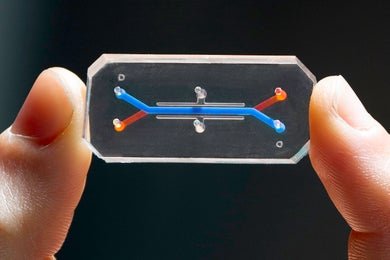 source
"First 'Vagina-on-a-Chip' Will Help Researchers Test Drugs"
This a funny headline I stumbled upon today that I didn't know what to expect 😂
A microchip with a microvagina? A vagina small as a chip? A vagina with a microchip?
Well, turns out it refers to a small device that's supposed to recreate the microbiome of the human pussy vagina.
Apparently, real pussy in laboratory settings doesn't come by easily, and animal pussy isn't a good candidate either since the microbiome is totally different.
There is no human model that faithfully reproduces the vaginal epithelial microenvironment for preclinical validation of potential therapeutics or testing hypotheses about vaginal epithelium-microbiome interactions.
And who is better to solve this problem other than a bunch of geeky virgins scientists from Harvard University.
So, last year a research team from that University published a paper where they describe how they developed a unique microchip that contains live human vaginal tissue from a donor to simulate the environment of the real thing. The chip is rectangular and one inch long so I guess it's pretty tight 😊
Here, we describe an organ-on-a-chip (organ chip) microfluidic culture model of the human vaginal mucosa (vagina chip) that is lined by hormone-sensitive, primary vaginal epithelium interfaced with underlying stromal fibroblasts, which sustains a low physiological oxygen concentration in the epithelial lumen.
Supposedly, it will come handy to study vaginal diseases like bacterial vaginosis and HPV, and to even give experimental drugs a first try before moving to the real thing.
This study demonstrates the potential of applying human organ chip technology to create a preclinical model of the human vaginal mucosa that can be used to better understand interactions between the vaginal microbiome and host tissues, as well as to evaluate the safety and efficacy of live biotherapeutics products.
Anyways, this was a fun and interesting read. Here's a direct link to the actual paper (where all the quoted text is from) and here's a link to ScientificAmerian with a dumbed down article on the matter.
Enjoy 😂
Posted with STEMGeeks