This is a cool phenomenon I experienced for the first time yesterday night, in my 30+ years of life. I just went out to feed the silly dogs and when I gazed the moon it was there.
A moon halo!
I had never heard of it before and I was hmmmmm...wtf is?!?! It looksreally cool! Unfortunately, my shitty phone couldn't capture it properly, despite my best efforts.
So, I went inside and told my wife something weird is going with the moon and if she could try to take a picture with her brand new camera.
She was like, "aahhhh, I know this, it's a moon halo" and briefly explained me what it is!
She also tried to take a photo with her brand new and super expensive toy but with not much luck. Unfortunately it's too new for her and she still has a big learning curve to go.
So here's a photo of what we pretty much saw... From wikipedia 🤣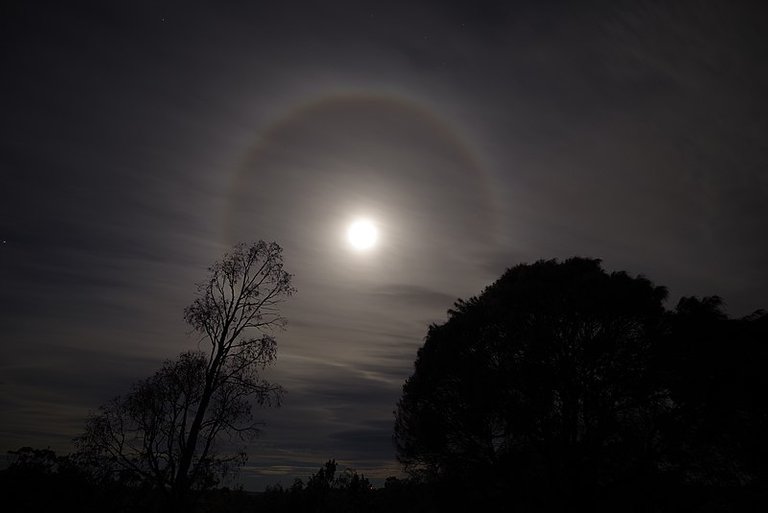 source
And here's a brief explanation of moon halos and when they occur:
A 22° halo is an atmospheric optical phenomenon that consists of a halo with an apparent radius of approximately 22° around the Sun or Moon. When visible around the Moon, it is also known as a moon ring, storm ring, or winter halo. It forms as sunlight or moonlight is refracted by millions of hexagonal ice crystals suspended in the atmosphere. Its radius is roughly the length of an outstretched hand at arm's length source and more info
All in all a really cool sight!
Have you ever been lucky enough to encounter one?
Posted with STEMGeeks