Check out these dope fish I just heard about out:
They look like tiny submarines with headlights, don't they? 😂
Not surprisingly, they are commonly known as flashlight fish. Scientifically described as Photoblepharon palpebratum, these are small fish occurring in the western and central Pacific Ocean, usually near rocks and corals. Other common names it comes by are the the eyelight fish and the one-fin flashlightfish.
But what's the deal with the flashlight eyes? And how do they work?
Underneath the eyes, the fish has special organs filled with bioluminescent bacteria that produce a vibrant blue-green light that is used for all kinds of stuff, like attracting prey, confusing predators and even communicating with other individuals of the species.
The fish also has a special dark lid to turn the light on and off depending on the circumstances 😂
In case you wonder, here's how it actually looks like: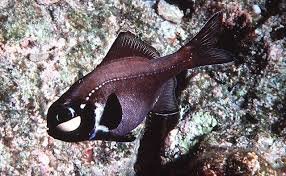 source
Yep, it's one ugly mother fucker 😂
Apparently, these fish are pretty common in their habitat, but you would need to go about 15 meters deep or more if you wanted to find one. Or just visit an aquarium that has them as an exhibit.
Other than their cool eyes, there's not much else interesting about these creatures. Here's some more boring info from wikipedia about em:
The eyelight fish spends the day hidden in caves and crevices and emerges at night to feed, generally in large groups away from the reef. Its primary food source is likely crustaceans it finds or attracts with its light organs. Like other anomalopids, the eyelight fish's reproduction is oviparous. Mated pairs spawn near the water's surface. Each female can lay up to around 1,000 eggs per spawning. These eggs go through a brief planktonic phase before attaching to a nearby surface. Within a day, eggs turn milky white and sink to the substrate. Spawning has been documented in the early months of April and May, though it is likely the fish spawns at other times during the year as well. source
Ok, I ll wrap things up with a video from National geographic capturing the magic of these creatures in the wild...in the dark.
Damn, lucky fuckers to have experienced such a show!
Posted with STEMGeeks