I'll really miss my Chuwi computer. I really came to love it. It was lightweight and powerful enough to fulfill most of my daily needs. For basic computing, blog posts, paying bills, some light trading, etc, it really was the perfect machine. It all came to an early end though with a cup of coffee and a half asleep clumsy owner. It lived exactly 1 year and 2 months before it met its untimely demise. Here's the original review.
https://peakd.com/stem/@the-bitcoin-dood/new-laptop-review-chuwi-gemibook-13-inch-laptop-with-metal-case
Over the course of that year I really came to love that Chuwi. Honestly, had I not spilled the coffee on its keyboard, I suspect I would have gotten several more years out of it. It was well made, had a nice metal case (titanium), met all my needs, and costed under $260. My first thought was to just order a second one. I pulled up my Amazon order and the vendor had 1 left. Quickly I decided to look around and see what else was available.
I went to the Chuwi site and they were out of GemiBooks. They had HeroBooks available but looking into some reviews, people were a little disappointed with the processing power. So I did a couple Amazon searches just to see what else was out there in this price range and found the EcoHero GammaPro for under $200 early black Friday special and it just seemed like a little more computer for a little less money. It had really good reviews, so I had to give it a try. It's Amazon, if it sucks I'll return it. So far, that's not the case.
The EcoHero GammaPro has 12GB of memory, 4 more GB than the Chuwi GemiBook. The ssd storage is the same size upgradable to 1TB. It came with WPS Office included. The monitor is 1 inch larger. Like the Chuwi GemiBook, this one runs an Intel processor. It also came with 3 USB ports, and HDMI port, an SD slot, and an ethernet port. The Chuwi only had one USB port.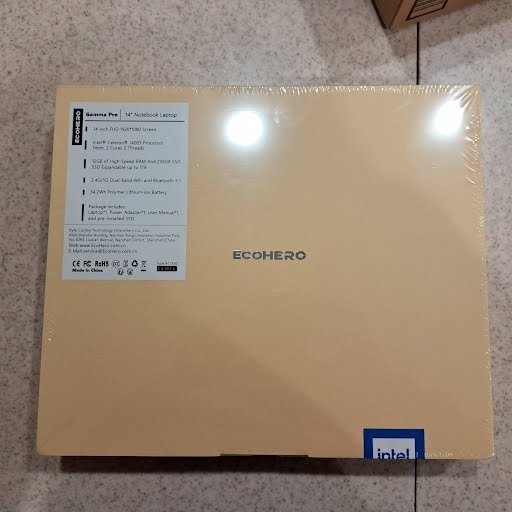 This is the third computer with this exact same box. The only difference is the name printed across the front. I find that kind of interesting.
Processor Intel(R) Celeron(R) J4005 CPU @ 2.00GHz, 2001 Mhz, 2 Core(s), 2 Logical Processor(s)
Installed Physical Memory (RAM) 12.0 GB
OS Name Microsoft Windows 11 Pro
So basically I swapped the metal case and backlit keyboard, for a little more power and functionality. I'm good with that. I have to admit, I do enjoy a smaller laptop. I was good with the 13 inches. For me, smaller and lightweight is better. I'm sure the added inch wont make that much of a difference in my backpack while traveling around. I'm really not comfortable with the plastic case bouncing around my backpack, but I guess we're about to find out how it holds up. My Samsung Chromebook was plastic & lasted a long time. Actually outlived it's updates.
This is what it looked like right out of the box. I plugged it in to give it a good charge before I booted it up for the first time.
The EcoHero GammaPro came pre-installed with Windows 11 and the usual bloatware Windows ships with it. They did include an open source copy of WPS Office with it. I didn't research too much, but it looks like another open source office project. I generally use Libre Office, but I'll give this a try. Besides that, I installed Brave browser.
Updates took forever and the software seemed to load a little clunky out of the box. After I ran updates Microsoft Defender found 2 worms. WinWorm something or other. Seems to have caught the problem and fixed it already. Everything is running super smoothly now. I find it odd, that the computer got infected that fast, however after it's detection and removal, the computer is running exactly how I expected it too. Seems solid, software loading smoothly, everything seems quick and fast.
The PC also seemed to run really hot when updating and installing the updates. Once it was updated though, it seemed to cool right down. Currently running a browser window with 4 tabs including tradingview, listening to music, and writing this post, and the bottom feels relatively cool with just a slight warmth to touch. Hopefully overheating wont be an issue. Besides trading, blogging, and email, this computer wont be used for much else. Although I may get curious and test it's capabilities with video editing. I generally leave that task to my much more powerful desktop computer.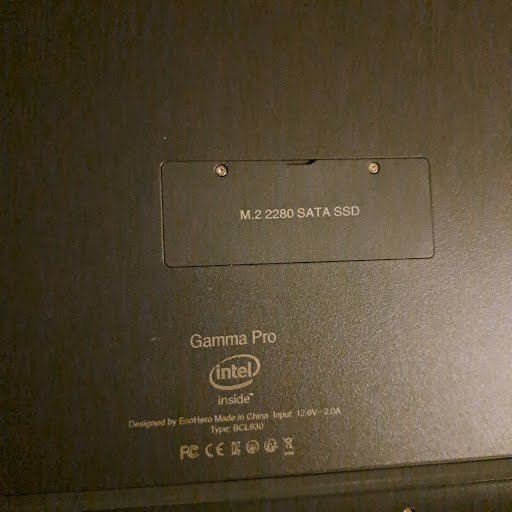 I like that there's no name anywhere on the laptop. Underneath the laptop on the bottom it says Gamma Pro with the Intel Inside logo. It's just a plain charcoal slate gray almost black. There is also a small logo right under the screen that's almost hidden. You really don't see it unless the light hits it just right.
The mini SD card slot is misaligned. At first I thought it was broke, then realized I had to put the SD card in at a slight angle because it wasn't going in the slot properly. Once I got the SD card seated properly, everything was fine. I only had a 32GB sd card, I'll upgrade to a TB card eventually. For now, I'll use the one I have until it's full.
So this is my third cheap Chinese computer. One common theme I've found with them is cheap feeling keyboards. I had to replace my Jumper laptop because of keyboard issues. The keyboard on the EcoHero feels and responds like a more expensive laptop. It's stiff yet comfortable. I will miss the light up keyboard of the Chuwi. As many of you know, I'm brutal on my keyboards. It's always a keyboard issue. Even with the spilled coffee, the B & V keys died. Besides that, the Chuwi laptop seemed to still be useable. I could have plugged in a USB keyboard and might try that when I need to recover some data out of there. Most of my data is stored on removable SD cards these days though.
I will say this. Losing the Chuwi in this way made me remember the importance of having SEVERAL backups! Especially for your crypto interests. Technically, I don't think I lost any data. I'll figure that out in the next couple days though. I'll probably play around with the Chuwi anyway and see what's recoverable from the drive. It does boot to a log in screen. The coffee just appears to have borked the keyboard and mousepad.
I think this laptop adds more bang for the buck if you take away a couple of the luxuries the Chuwi offered. Losing the Titanium case, and backlit keyboard are a small price to pay for added USB ports, and the HDMI port. There were more than a few occasions I had wished the Chuwi had more than one USB port.
A few things I don't like right out of the box. The touchpad or scratch pad on the EchoHero is enormous. Much bigger than the Chuwi. It's right in the center too. I can already tell, I'll be hitting it as I type. Could be an issue. So far, it hasn't been that bad.
Not to keep returning to the keyboard, but the delete button is directly next to the power button. I don't know why so many companies think this is a good key configuration. I'm sure that will become bothersome. This isn't my first laptop with that configuration so I'm sure I'll get used to it. Still, I know I'm going to shut down the computer in the middle of a blog post from time to time while editing LOL. I actually did it once while writing this post. That will take some getting used to.
So I've used the computer for my first blog post and so far so good. I haven't done any trading yet but it looks like Bitcoin is waking up as I write this so maybe I'll get a couple trades in before the end of the day. So far I'm really liking this little computer. For under $200 early black Friday deal, I'm really loving it. Regular price was I believe $269. So far seems to be worth every penny.
Honestly, when I buy these cheap computers, I'm not expecting much and each time they tend to exceed my expectations. As long as I can trade and blog on them, I'm good! Would I buy this laptop for heavy gaming? Probably not. For general use, maybe a little HTML and javaScript coding, seems perfect. In my humble opinion, this is a nice little laptop to stuff into a backpack when running around town, travelling, or heading to class.
I guess with the early Black Friday deal, if there was ever a good time to spill coffee on your computer, this was it. Not a bad piece of kit for under $200 in my humble opinion. I guess time will tell. We'll have to see how it performs over the next year or so. I'll post some updates down the road.