I am writing this as someone who gave up eating meat about thirty years ago for various reasons such as health, the environment and animal welfare. It can be a contentious subject as many people will argue fiercely about their keenness to keep eating meat. Despite this more and more people are turning to diets with less or no meat, but meat demand in general may be on the increase as it is seen as part of an affluent lifestyle across the world. This is a problem as meat production is very intensive requiring lots of land, water and often chemicals. The majority of birds and large animals in the world are domesticated for food production. This is squeezing out the wildlife.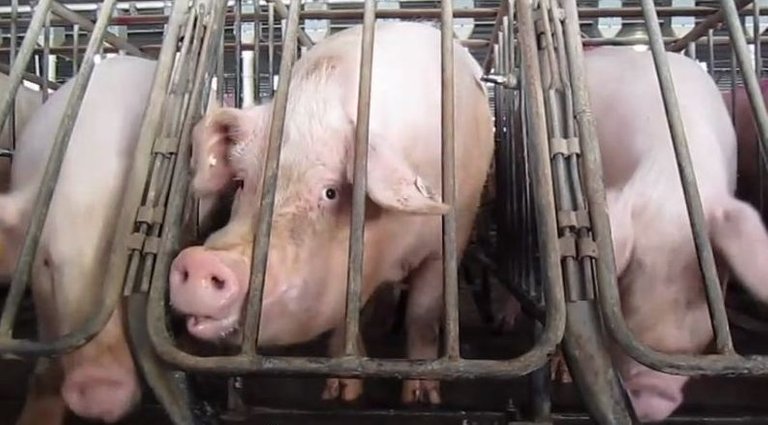 Image from Wikimedia.
If everyone had a plant-based diet then far less land would be needed for agriculture as much is currently used to produce animal feed. In my opinion it is going to be hard to convert enough people, so we need alternatives that they will eat. There are various meat alternatives such as Quorn, but some will demand their meat. One option is to 'grow' the meat from cells. This has been worked on for a long time, but in only just becoming economically viable. The first lab-grown burger was produced just seven years ago and cost many thousands of dollars. In the last few week companies have been working to make something available that is actually affordable.
In Israel a restaurant called Chicken is producing a $35 burger that is grown in vats using cells from a live chicken. They claim it produces 96% less greenhouse gases and uses 99% less land than conventional farming. Of course if you want free range chickens then that could be using a lot more land than intensive factory farming. The cost needs to come down a lot more, but these are still early days.
Meanwhile, a US company has approval in Singapore to sell chicken nuggets made from lab-grown meat. It seems they could not get approval yet in the USA. This process has a growing medium using foetal blood from cows, but they are working on a plant alternative.
Personally I might consider eating such meat if it was not using animal product beyond the original cells. Some will say we do not need meat in our diets, but eating is about more than just needs.
I have seen some say 'yuk!' at the thought of lab-grown meat, but is it more yuk than an animal that may have been taken away from its mother shortly after birth, put in a cage to be be intensively fed whilst being pumped with antibiotics only to be killed a few weeks later having possibly never seen the sky or walked on grass and then processed into something that does not even look like ti came from an animal? We are brought up with picture books of happy animals, but that is not how the industry of meat production works and that industry would rather we did not see what goes on.
Anyone for pink slime?
Of course you can buy organic meat from free-range animals, but that sort of farming cannot satisfy demand at the low prices people expect now. If all processed meats could be replaced by lab-grown it could make a big difference whilst not compromising the taste of the product. It could be healthier too if some of the less healthy aspects can be tweaked.
The world needs big changes soon to avoid causing more destruction of irreplaceable habitats and species whilst lessening our environmental impact. This could be part of that. The status quo is not a long-term option.
We rely on science to improve our lives in various ways. It has already changed what we eat in various ways. This seems like progress to me.
I cannot see us going down the path envisioned by Douglas Adams of animals that want to be eaten.