I have expanded my solitary bee homes to new locations. One of them is further up in the mountains from my home, and I was curious what kind of bees would check out the homes I made. I saw the expected species earlier this year, a Mason Bee was spotted going into the homes. Though I did not see much activity this year from them. Though to my surprise a week or so some Giant Resin Bees have moved into the bee homes and are busy laying their larva and making cells for future bees to emerge from.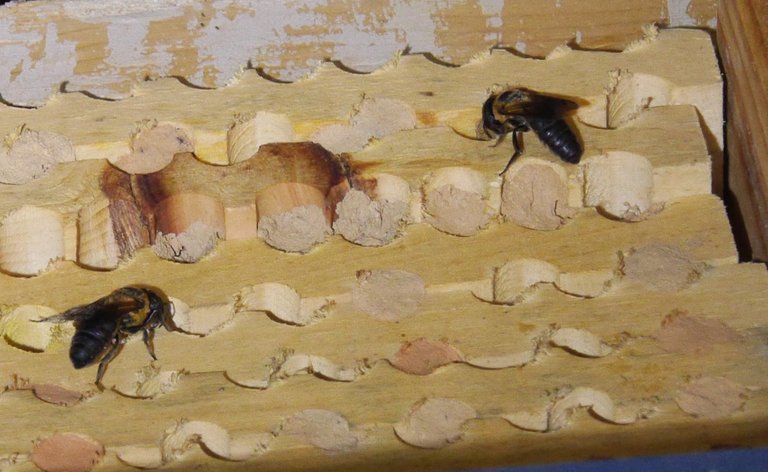 These bee boards are 1x6 inch pine boards, not pressure treated or painted in any way. I take a wood router and carve out channels into the boards. This gives solitary bees, ones without colonies to make homes in them.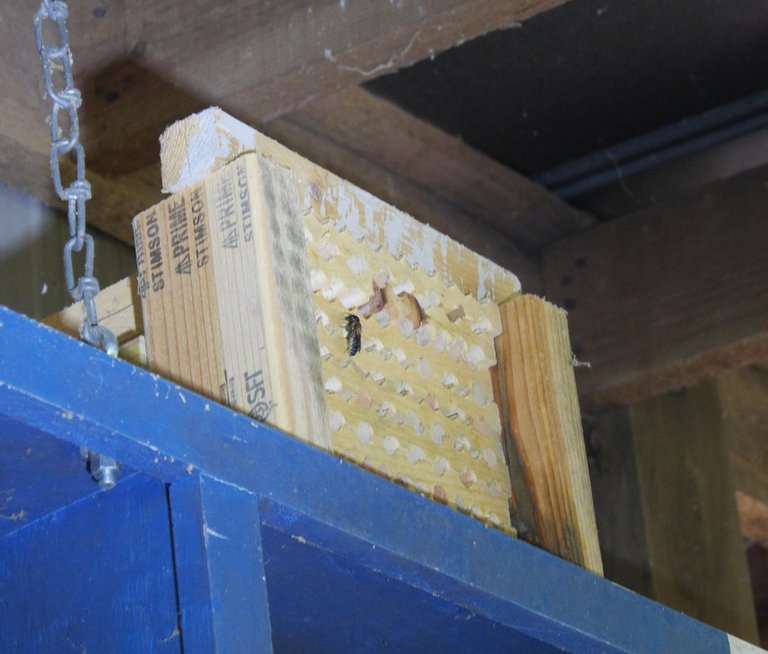 When I first noticed them it the early morning, seeing a big insect going into the homes I thought hornets or big wasps were over there. So I carefully got a flash light and took a better look at them. I was pleasantly surprised to see they were a species of solitary bee.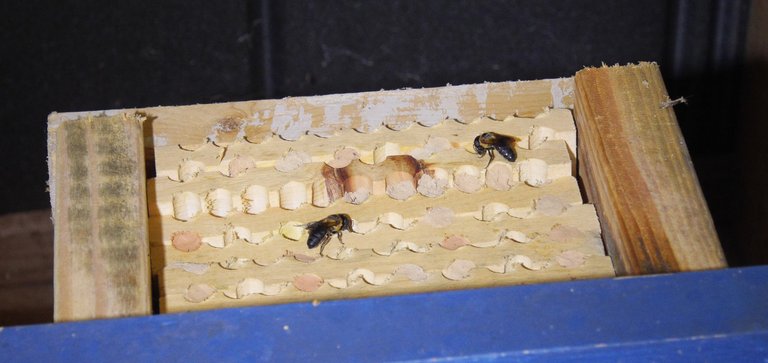 I have seen them before on my property, but due to a cluster of spiderwebs near their home they ditched it this year. But glad to see them in a different location using the bee boards. Normally my solitary bee season would be finished by now as the Mason Bees are only active from February through April. So having a different bee come by later in the year makes me quite happy I can care for more species.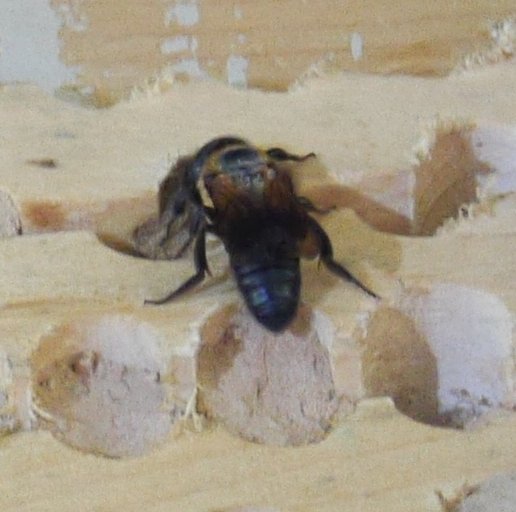 The Giant Resin Bee is closely related to the Mason Bee and Leafcutter Bee. Both of them make use of the homes I have so good to see its "cousin" is also finding use for the routed boards.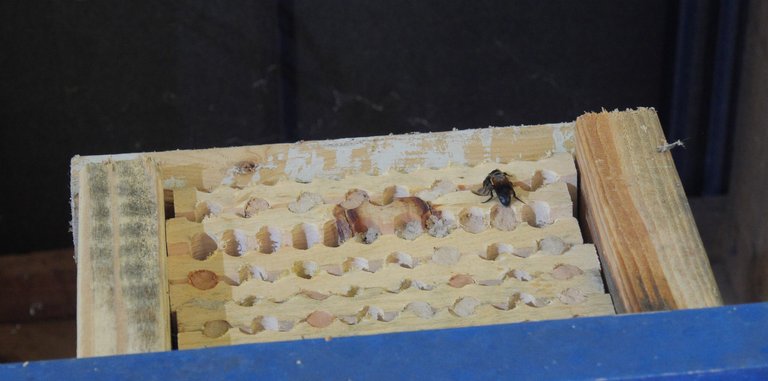 The main difference between these Giant Resin Bees and Mason Bees are the materials they collect. Mason Bees go for mud and clay, Giant Resin Bees go for tree resin. Honey Bees also collect tree resin which they make a substance called propolis.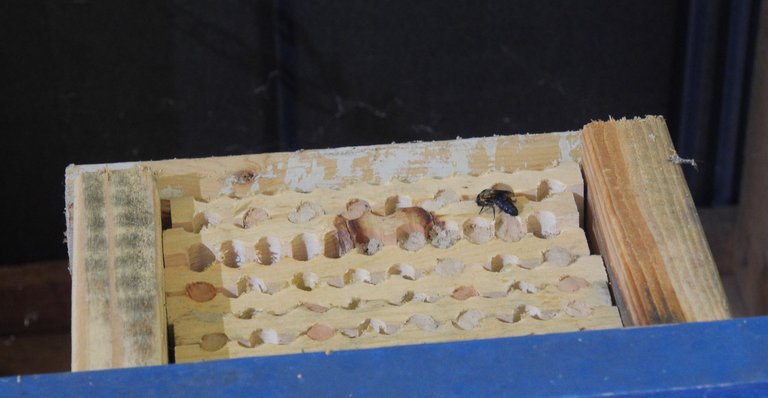 Watching the Giant Resin Bees fly around they have a mouth full of tree sap as they approach the entrance of the homes.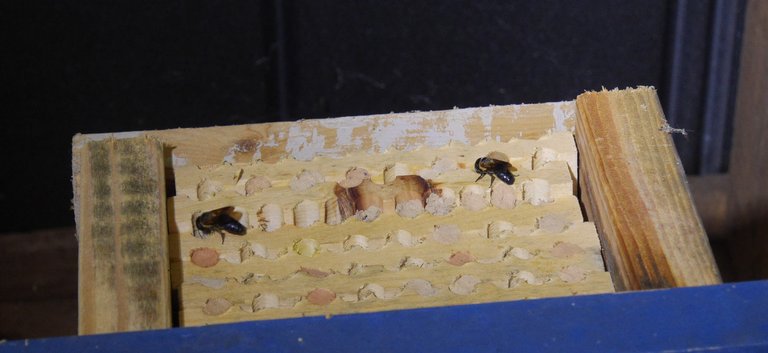 I did not have my macro lens on me, and did not have a ladder so most of my pictures were taken from the ground. I am confident I can get real close to them like I did with the Mason Bees for some good macro shots.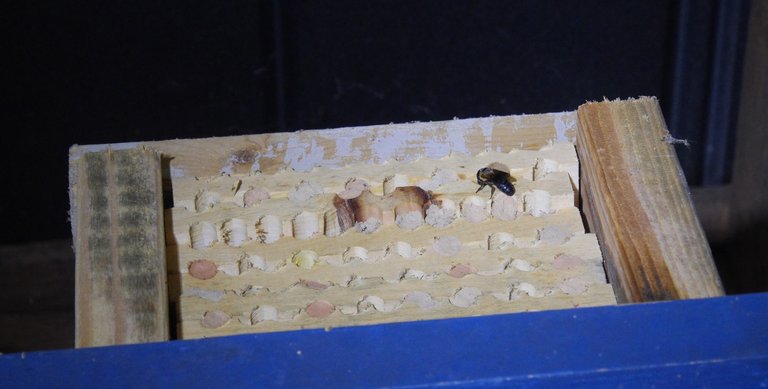 The only aggression these bees exhibit is their tendency to take over cavities of other bees. Mostly the Carpenter Bee is susceptible to this. But honestly I am glad for that, as the Giant Resin Bees will just use pre-existing holes. Compared to Carpenter Bees that will actively chew through wood and be quite destructive.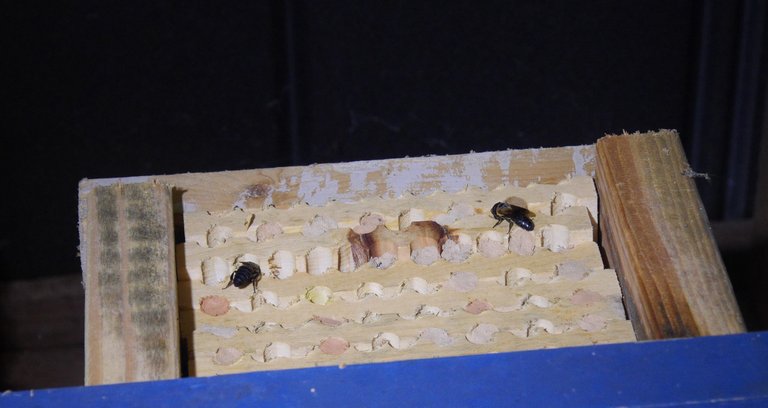 Now that I know these bees are visiting this location, I will increase the amount of homes for them. And maybe I can even harvest cocoons just like I do with my Mason Bees. Though since this is the first year of these homes I may just let them emerge naturally.. IDK yet still thinking about it.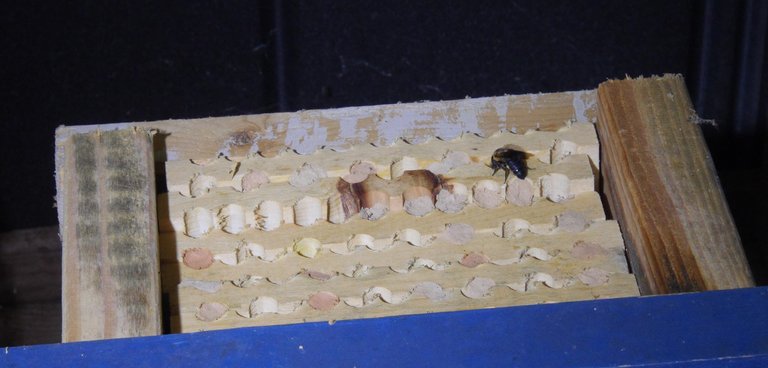 Using a work light I set it up to help me take pictures, but I really need to get more light there for some better pictures of these bees.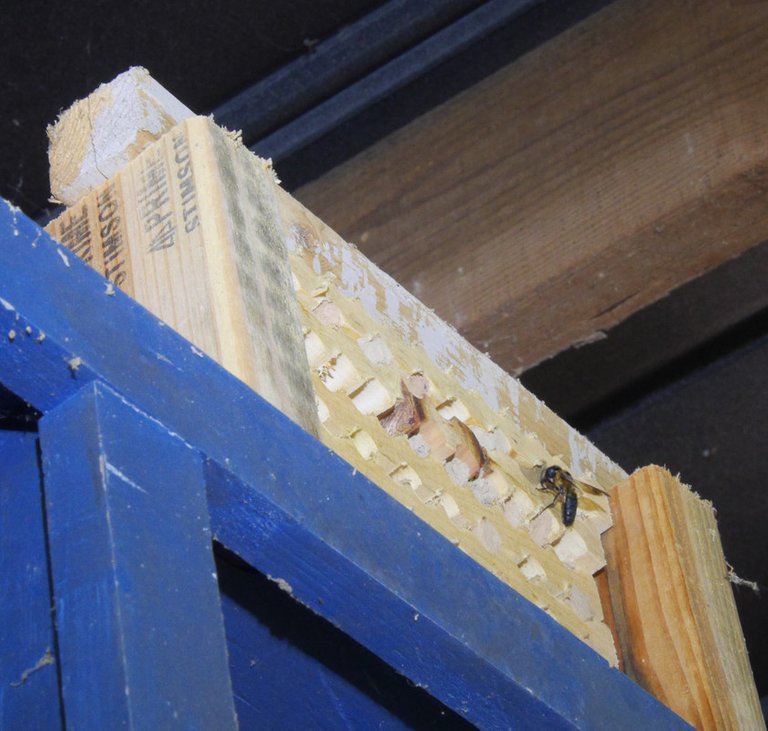 I move to different angles to get a better idea of what they look like and how massive they are. These Giant Resin Bees sure have their name to them, they are about three times as big as a Mason Bee, twice as big as a worker Honey Bee and about half the size of a Carpenter Bee.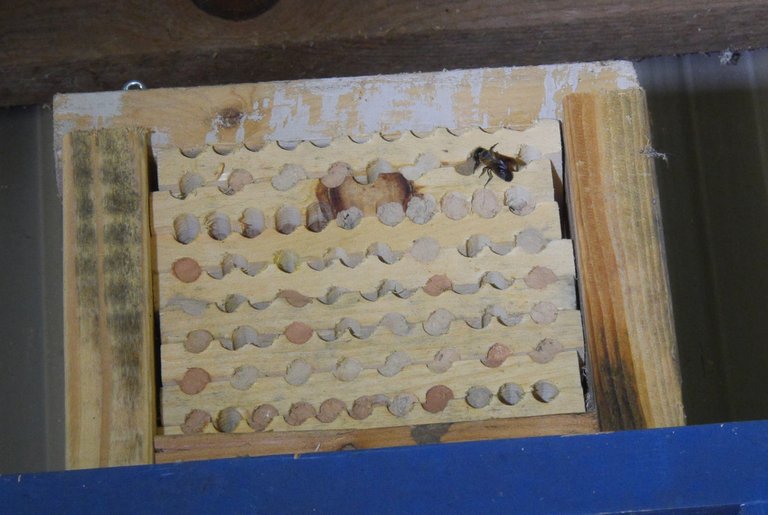 Most of those holes have been filled in by the Giant Resin Bees, I checked out the filled holes after I saw a Mason Bee earlier this year visiting these homes. It maybe filled one of them. But seeing that now 3/4 of them are filled it must be mostly Giant Resin Bee larva inside.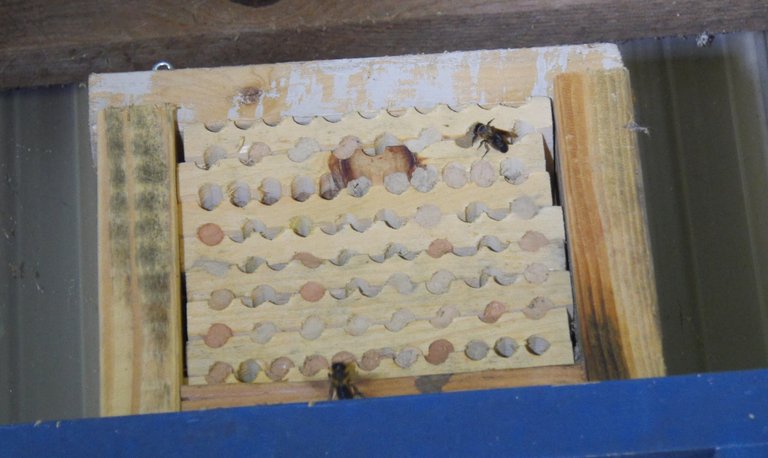 If you have carpentry skills, even very basic ones and are curious about these bees. Its worth making your own. I have had these boards for a couple years now and all my bees (besides my Honey bees) love them.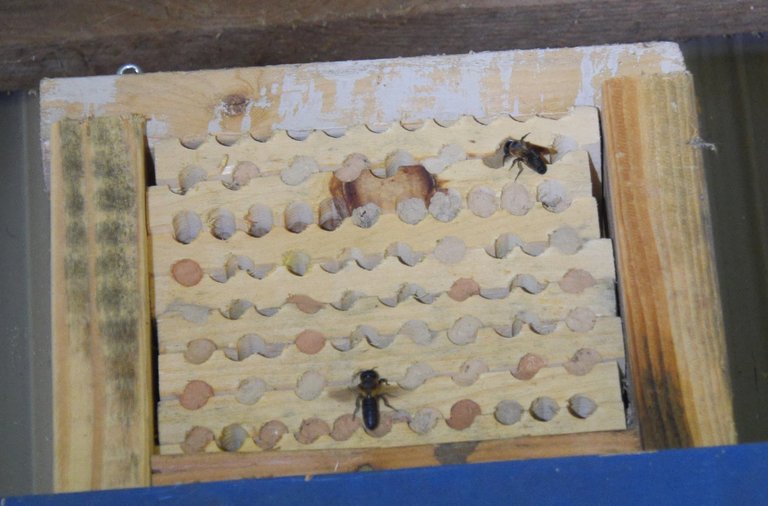 Just like the Mason Bees these are kind of clumsy, I saw them fall off of their mud homes a couple times but mostly they just stay busy building homes and do not care about me at all.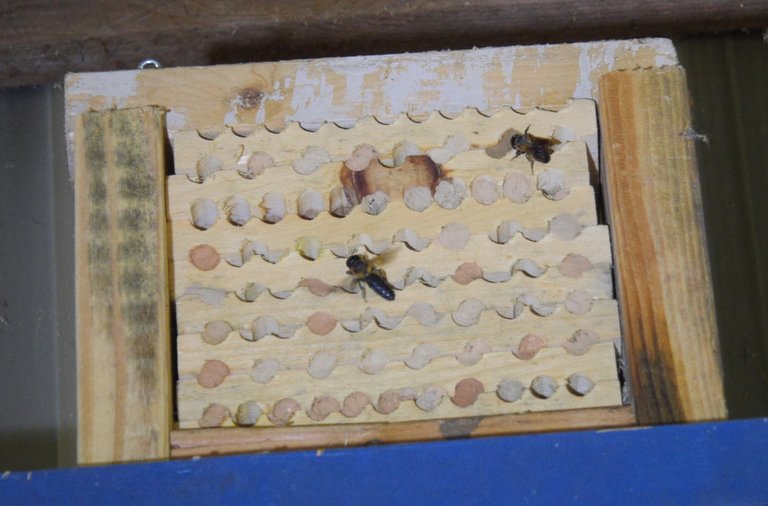 I wonder how long their season will last, I hope they will return next year too.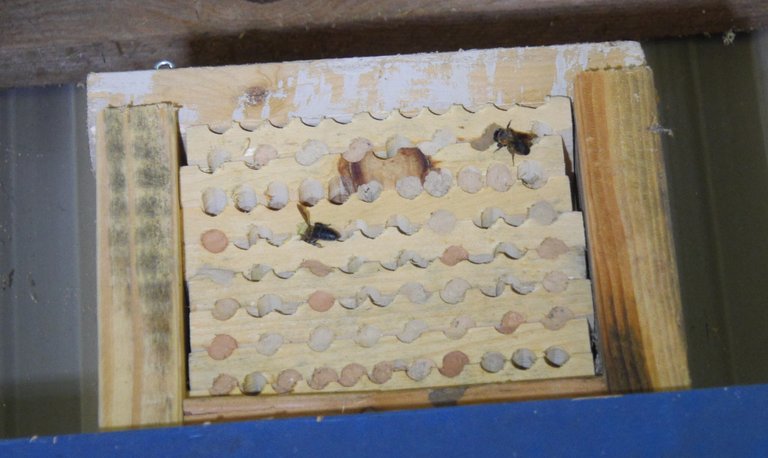 Knowing my bee boards are good homes for these Giant Resin Bees I think I will try to do a 2 stage approach next year. Have some boards just for my Mason Bees and then some just for my Giant Resin Bees. Since they are separated by about 3 months in their cycles.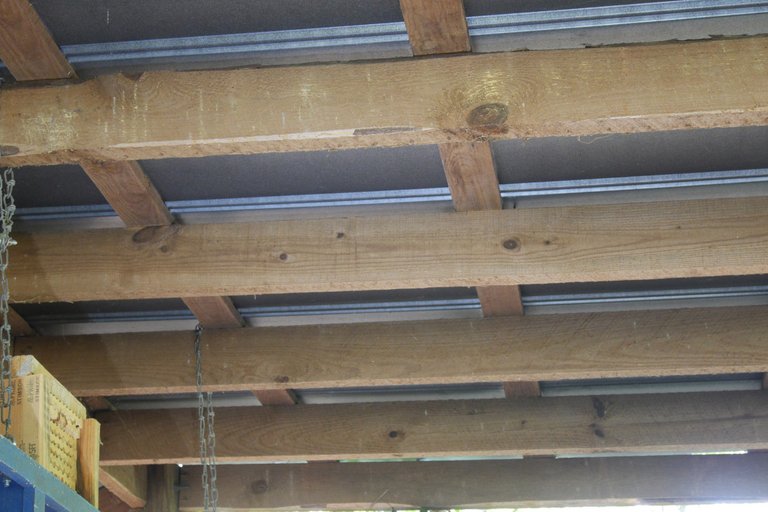 Lastly a picture of where the bee boards are, they are out by a garage under a car port. So its protected by the rain but the bees have easy access to it. Its also high up so the bees do not bump into you or make it easy for curious critters to mess with the homes.
More info on this species of bee:
https://en.wikipedia.org/wiki/Megachile_sculpturalis
Posted with STEMGeeks