Energy is an essential component of human society. From the breaking of a phosphate bond in Adenosine Triphosphate for biological processes to solar power we collect and convert to electricity, we can't do without it. One elusive, generations-long goal is to achieve stable, repeatable, safe, and cost-effective fusion.
It appears that nature, however, is against us. Humanity has demonstrated it can achieve fusion. The problem is that we can't produce it for very long. The plasma needed to achieve the required reactions isn't stable enough to sustain itself.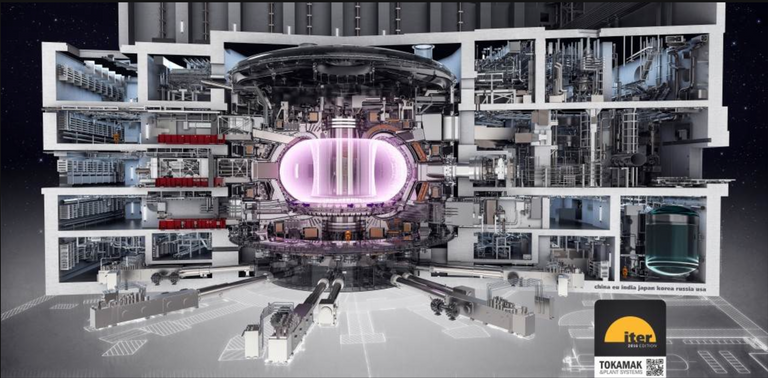 ITER - Technical Images
Welcome

Image by Prawny from Pixabay
Welcome fellow readers to our first installment in the Energy Series Phase II - Experimental Power Production. On Earth, we have produced power from fusion. Unfortunately, we have not produced it in a manner that will generate commercial electricity.
Currently, the amount of stable power we can produce pales compared to a process involving coal power. However, we have succeeded in producing power in a limited fashion for testing purposes.
What is Fusion?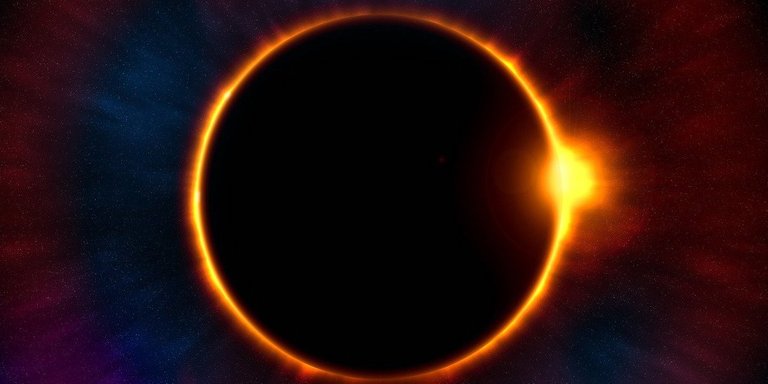 Image by ipicgr from Pixabay
Commercial nuclear power plants utilize fission to capture energy from splitting apart uranium atoms. Nuclear fusion combines atoms to form another atom of less mass than the sum of the two combined plus an energy release.
How does fusion occur?
The Giant of Our Solar System

Image by Lumina Obscura from Pixabay
Our sun, a G-class star, require three things to produce energy: temperature, pressure, and quantum tunneling. Temperatures measured within the sun's core are as high as 15,000,000 degrees Kelvin. Pressures are an astounding 250-billion ATM times greater than our atmosphere on Earth.
Hydrogen atoms under these conditions are stripped of their electrons, creating a plasma. The intense temperatures and pressures also reduce the distances traveled by the resultant Hydrogen protons. The closer proximity of these protons to each other raises the probability of a fission event. However, the electrostatic force, otherwise known as Coulomb's Force, acts against the possibility of fusion.
The closer these protons get, the greater the repulsion between them.
The Sun, Alone, is not Enough

Image by Roman Grac from Pixabay
Despite the sun's massive temperature, pressure, and gravitational forces, it is not enough for fusion to occur. Fifteen million Kelvin, for instance, is not high enough. You would need temperatures upwards of a billion degrees Kelvin for the energy needed to overcome the electrostatic force within this star. How then could fusion possibly occur within our Sun?
Quantum Tunneling

Image by Free-Photos from Pixabay
Light, or in this case protons, act as both particles AND waves. At the point of Coulomb's barrier, protons next to each other have a low probability of having their wave-functions interact just enough to surpass the electrostatic force and fuse together. The probability is low, but given the conditions we're discussed within the sun, it is enough to allow for the fusion process.
Fusion on Earth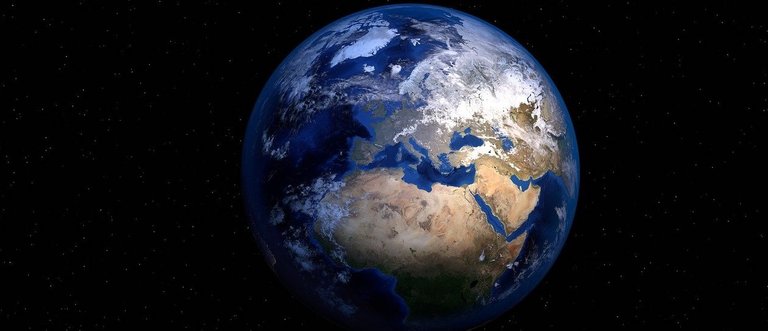 Image by PIRO4D from Pixabay
Our society does not have the capability to replicate the conditions of the sun on our planet. However, we endeavor to adjust for our lack of capability to utilize fusion for our benefits anyway. The more popular methods for achieving fusion on this planet involve using magnetic or inertial confinement.
ITER (Magnetic Confinement)

EuroFusion - Joint European Torus
ITER stands for the International Thermonuclear Experimental Reactor. It is a magnetic confinement fusion-type reactor with a design energy input of 50-MW to produce an outage of 500 MW of electricity. In other words, it will take up to 50-MW of electricity to produce 500-MW of electricity. It began construction in 2010 and is scheduled to generate its first plasma in 2025.
It utilizes carefully generated magnetic fields to heat and pressurize plasma to the point allowing fusion to occur. Contrary to the temperature in the sun, the ITER will need to reach around 100-million degrees-Kelvin to succeed at fission. When, and if successful, the plan is to transfer the fusion-heat generated to a secondary conventional system to generate electricity.
National Ignition Facility (Inertial Confinement)

Roving Mirror Diagnostic Enclosure
The National Ignition Facility (NIF) hails itself as the "world's most precise and reproducible laser system". In their attempts to study and achieve fusion, the NIF focuses almost 200 laser beams on a pea-sized fuel pellet. Fusion occurs when the lasers convert the pellet into plasma and compress it without the gravitational forces and pressures present in the sun.
One effect not mentioned in achieving fusion has to do with Newton's Third Law of Motion. There are two layers to the fuel pellet. The lasers focused upon the outer layer converts it to a plasma in a brief outward explosion that forces the inner layer's compression. The inner layer is where fusion is expected to be achieved.
As of July 2018, the NIF achieved fusion in one of their experiments at pressures that exceeded those found within the sun for the brief time the experiment ran. They still have a way to go before producing more energy than they consume, but I feel they're on the right track.
I was flattered to be offered an occupation at this facility following my departure from the military. At the time, the recruiter was notified that this project was the first of its kind on Earth. My duties and responsibilities included charting and measuring particles' interactions following each laser interaction with the fuel. It's been so long ago. I wonder what would have happened had I taken the job.
Environmental Impacts

Image by Pexels from Pixabay
Confession
I have worked in nuclear power production most of my adult life, specializing in water chemistry, radiation health, and data analysis. I've learned to spot cracks in the armor. I struggle to find adverse environmental impacts for this technology that would rival those of more conventional methods of power production for the life of me. I struggled at first, but only because of almost the blind praise society gives it.
Coolant Sources
There isn't much data about the type of coolant systems reactor facilities like these will consume during daily operations. It reminds me of a decision the Diablo Canyon Nuclear Power Plant (DCPP) needed to make with regards to its own cooling systems. DCPP processes about 2 billion gallons of water daily in what's called one-through cooling. It takes water from the ocean and pumps it directly into its secondary systems to condense exhausted steam. Water, approximately 10-degrees warmer, is pumped back into the ocean.
We don't currently know where or how much water we'll need for tomorrow's fully functional fusion reactors.
It Still Produces Radiation
I don't believe it will produce anywhere near what a nuclear fission facility will produce. Spent uranium control assemblies are still a thing and will remain a concern for a thousand years, given the stockpile the nuclear power industry is accumulating. Opponents to nuclear fusion can't argue against the benefits in this area over fission.
One concern I do have is concerning tritium. The fusion reaction generates tritium during this process, but the system may need to be replenished at some point from an outside source. From where will the supply originate? In the future, if successful, fusion reactors will require a much greater supply of fuel materials if it expects to compete commercially with other conventional means.
Higher neutron energies
Radiation shielding and planning will be much more necessary in this type of power production. The neutrons produced from fusion will be at higher energies and more damaging to plant equipment.
In Summary
Humanity will achieve stable, reproducible, and constant fusion power. Similar to any other endeavor we pursue, we achieve goals as ambitious as fusion. The question is whether or not we, as a society, are intelligent enough to vet the process and stave off disaster for another day. I believe we have that intelligence, but perhaps, not the patience to see it through.
There are certainly more than what I've listed in terms of obstacles and challenges. We just need to keep in mind that Fusion technologies are still in the experimental phase. The development of this area for power production is taking decades and with good reason. Society knows full well from fission what happens when you don't control technology for commercial use very well. We don't want to make the same mistakes with fusion.
In Closing


Image by Gerd Altmann from Pixabay

Thanks again, fellow readers, for following me along on this HIVE journey. It's been a great ride, and I've appreciated all the reviews and votes from everyone. I'll be continuing with STEM-related articles as always, but I will also be delving into finances, trading, and cryptocurrencies shortly!
Your thoughts?


Image by Free-Photos from Pixabay

What was your favorite article of the Energy series? Is there anything else you'd like to see covered? Share your thoughts by entering your comments below!
Posted with STEMGeeks